I Newton's Panacea Purifier Of The Blood Norwich, VT
I. Newton's Panacea Purifier Of The Blood Norwich, VT
Israel Newton, Norwich, Vermont
Cylindrical Amber Medicine Bottle
Provenance: Michael George Collection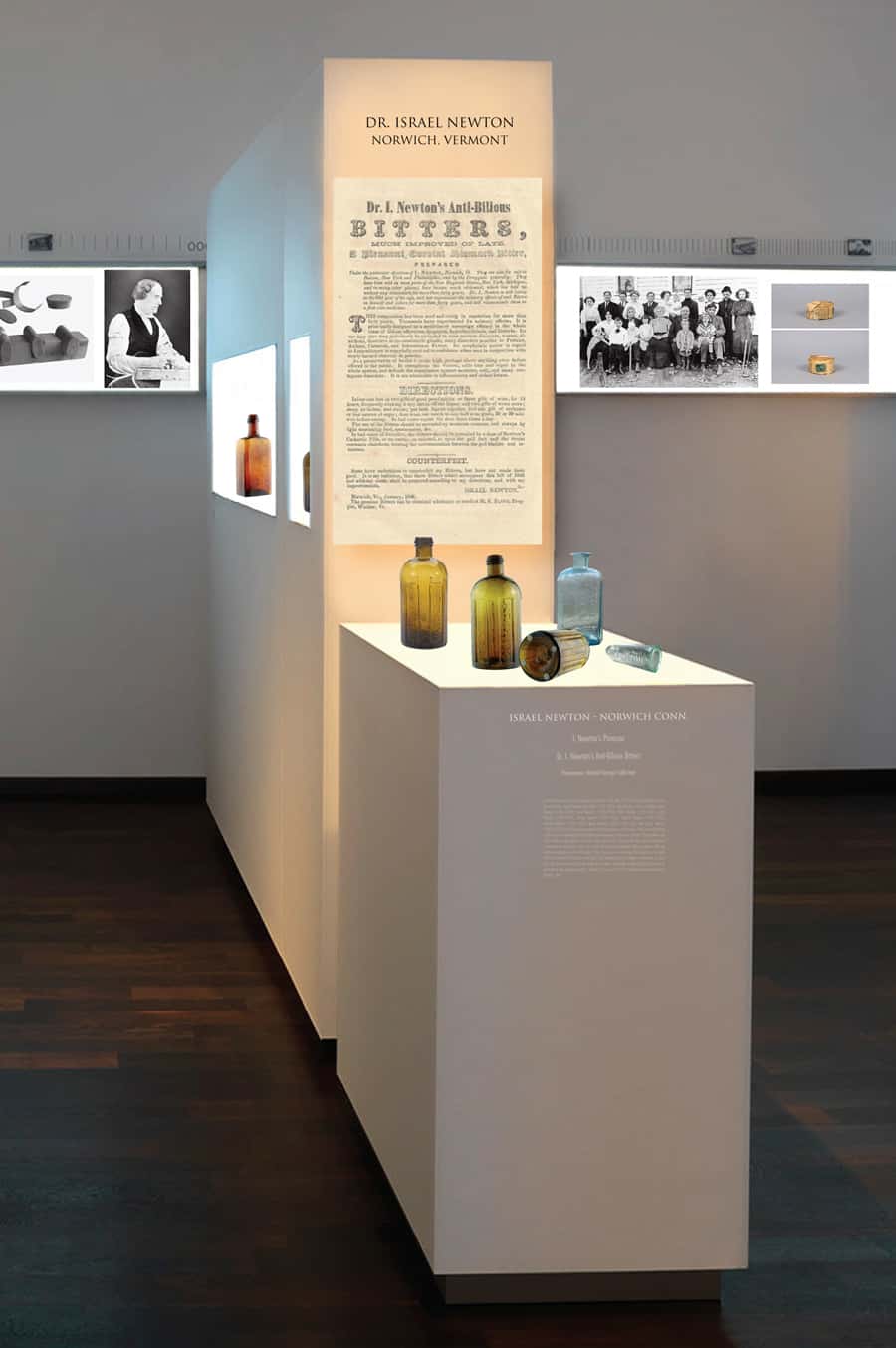 Swaim's Panacea was an extremely popular early American patent medicine sold by William Swaim (1781–1846) of Philadelphia, starting in approximately 1820. It was advertised to cure various diseases including scrofula, mercurial disease, deep-seated syphilis, rheumatism, sores, swellings, etc. The Panacea invited many other medicine-men to advance their own versions to capitalize on the success of Swaims. One of them was Israel Newton.
See the museum example of The Indian's Panacea
Our subject "I. Newton's Panacea Purifier of the Blood Norwich, Vt." is a pristine perfect example that was passed down through a Lebanon, New Hampshire family for three generations. Lebanon is only a few miles from Norwich, Vermont.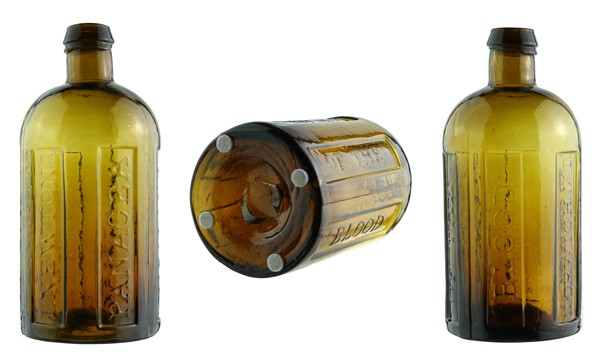 The cylindrical bottle is 7-½" tall and was blown in a honey amber glass with an olive tone. There are six debossed panels with embossed serifed copy within reading, 'I. NEWTON'S' (panel 1), 'PANACEA' (panel 2), 'PURIFIER' (panel 3), 'OF THE' (panel 4), 'BLOOD' (panel 5), and 'NORWICH, VT.' (panel 6). There is an improved pontil scarred base and a crude partially applied short double collar mouth. 
There is a rare variant of Newton's Panacea that has a misspelling of the word "Norwich", using instead "Nerwich." The bottle is represented in the museum.
Israel Newton
Israel Newton was born in Colchester, Connecticut on May 28, 1763, to James Newton III and Hannah Downs. Israel married Lucy Child and they had nine children, Calvin, James, Persis, Lucy, George, Lodema, Hannah, Maria, and Calvin Porter Newton. In 1765, these pioneers spent their first long winter on the banks of the Connecticut River in the section of wilderness that would become the town of Norwich, Vermont. The settlers and their families fought hard to turn the rough terrain into a thriving farming and manufacturing community that would soon boast twenty school districts and a prominent military academy. Although winters were harsh and the demands of daily chores were never-ending, the residents of Norwich still found time to lead full and varied lives.
Newton was a self-educated physician who was gifted with medicinal skills and was known far and wide for his patent medicines that sold extensively for many years throughout New England, New York, and Pennsylvania. In the preface of a small personal notebook, he wrote that he'd been engaged in medicinal research for 25 years but "I did not attend the practice of medicine", and "for several years I kept an apothecary shope."
Newton lived and operated out of Norwich, Vermont for over 70 years. Early newspaper advertising in 1805 stated that he was the inventor of well-known medical preparations such as Newton's Essence of Peppermint, Patent Effence of Tansy, Tooth Ache Tincture, and Eye Water which he sold in small glass vials. His early bitters, in the same 1805 advertising were Elixir of Health (stomach bitters pills) and Lady's and Gentlemen's Cordial Bitters. His Elixir of Health pills were put up in boxes and meant to be dissolved in rum.
He said his medicines were from his Botanic garden and that he used various kinds of Medical Roots and Herbs in their preparation. For payment for his wholesale and retail business, he would offer generous terms of credit and take "neat flock in the month of May and beef in the month of October" and that "English Goods will be received for exchange."
In an 1814 newspaper advertisement, he was selling Dr. Newton's Genuine Essence of Wormwood and Essence of Hemlock where you would get vials of the medicine and put 20 to 40 drops in a mixture of molasses and spirits so you could "Bath your stomach in it." By 1832, his son Calvin P. Newton had succeeded his father and was selling Dr. Newton's Jaundice Wine Bitters. Eventually, the bitters pills would be substituted with embossed bottles of the same, probably around 1846 which makes this one of America's oldest embossed bitters bottles.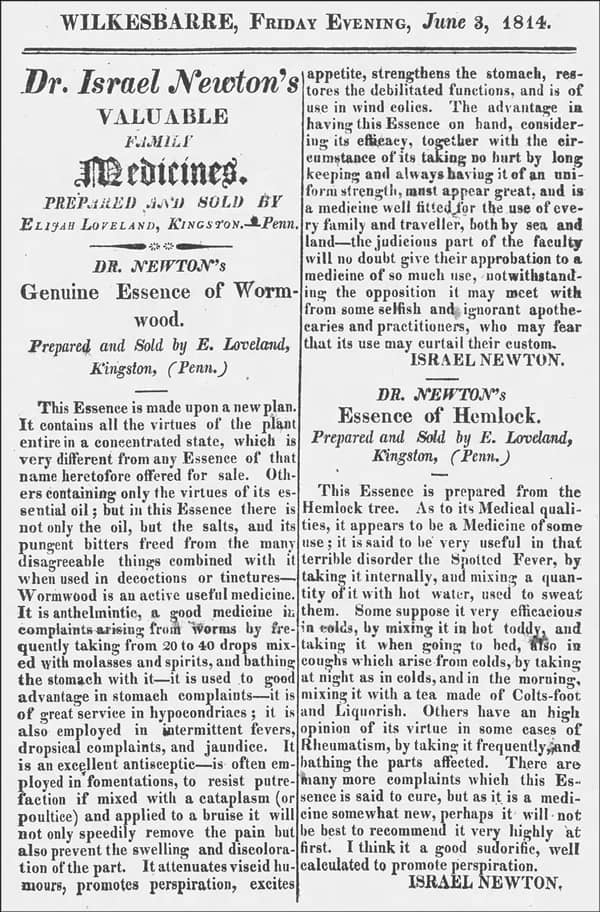 In 1835, Israel Newton placed his first advertising for Newton's Panacea saying it was "A New & Valuable Medicine prepared by Isreal Newton of Norwich, Vermont named Panacea or Purifier of the Blood." All of this copy is embossed on our subject bottle that was most likely made in Keene, New Hampshire, or another New England glasshouse. Notice that Israel Newton dropped the "Dr" from his advertising and his bottles for the Panacea. Advertising would stop in 1843.
Newton held many town offices, and in 1814 represented the town in the general assembly. He was a prominent member of the Congregational church, of which he was one of the deacons for about twenty-five years, beginning in 1812. He was a soldier of the Revolution, and the last of those soldiers to die in Norwich.
Besides his medicines, which were valuable, Newton was an inventor and also built church organs. He was gifted with rare mechanical skills, which he exhibited in many ways to the benefit of mankind. Israel Newton passed away on January 16, 1856, in Norwich at seventy-three years of age.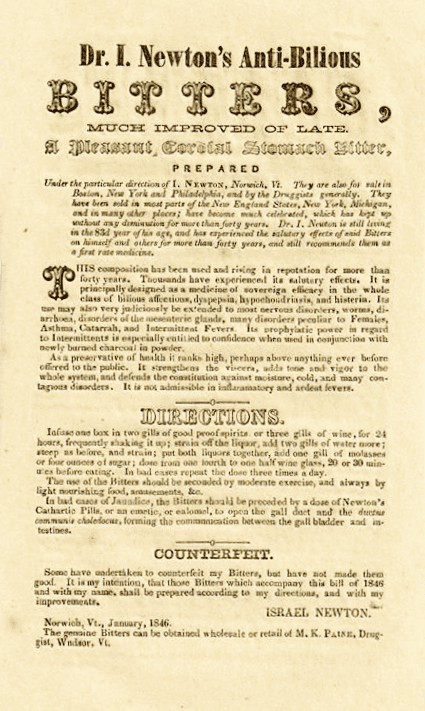 Primary Image: Newton's Panacea bottle imaged on location by the FOHBC Virtual Museum midwest studio led by Alan DeMaison.
Support: Reference to Images America – Norwich, October 26, 1998, by Margaret Cheney McNally and Francis L. Niles
Support: Reference to Dr. I. Newton's Anti-Bilious Bitters – Norwich, Vermont, Ferdinand Meyer V, Peachridgeglass.com, May 12, 2012
Support: Reference to Dr. Newton's Jaundice Bitters Pill Box, Ferdinand Meyer V, Peachridgeglass.com, November 8, 2013
Support Image: Auction Lot 219. "I. NEWTON'S – PANACEA – PURIFIER – OF THE – BLOOD – NERWICH, VT.", (Odell, pg. 177), Vermont, ca. 1840 – 1860, medium yellowish olive amber, 7 1/2"h, improved pontil scarred base, applied double collar mouth. A flat 1/4" by 1/8" chip is off the base at the edge, otherwise in perfect condition. This is the rare variant that has the misspelling of the word 'Norwich', instead of being 'Nerwich'. Bold impression on all six embossed indented panels, very pleasing to the eye form, and plenty of tiny bubbles. Here's one that is rarely offered for sale especially this misspelled variant! Sidney Genius Collection. – Jim Hagenbuch, Glass Works Auctions, Auction #124
Support Image: Auction Lot 1: "I Newton's / Panacea / Purifier / Of The / Blood / Norwich, VT." Medicine Bottle, three-piece mold construction, a Stoddard glasshouse, Stoddard, New Hampshire, 1846-1860. Cylindrical with six indented vertical panels, bright olive amber, applied sloping collared mouth with ring – pontil scar, ht. 7 1/2 inches. AAM pg. 381 A rare and eye-appealing early New England medicine bottle with strong embossing. Fine condition. – Norman Heckler Jr. & Sr., Norman C. Heckler & Company, Auction #184
Support Image: Auction Lot 90: "I. Newton's / Panacea / Purifier / Of The / Blood / Norwich, VT." Medicine Bottle, probably a Stoddard glasshouse, Stoddard, New Hampshire, 1846-1860. Cylindrical with eight indented panels, medium yellow olive, applied sloping collared mouth – pontil scar, ht. 7 1/8 inches; (1/8 inch flake from lower panel edge, two shallow flakes from the base edge the largest being 3/16 inch). AAM pg. 381 Generally fine condition. Strong embossing. Rare. – Norman Heckler Jr. & Sr., Norman C. Heckler & Company, Auction #118
Support Image: Dr. I. Newton's Anti-Bilious Bitters handbill, circa 1846 – Ferdinand Meyer V collection.