F.E. Suire & Co Cincinnati Round Medicine Bottle
F. E. Suire & Co.
Cincinnati
Francis Edward Suire, Cincinnati, Ohio
Cylindrical Cobalt Blue Drug Store Bottle
Provenance: Brian Bingham Collection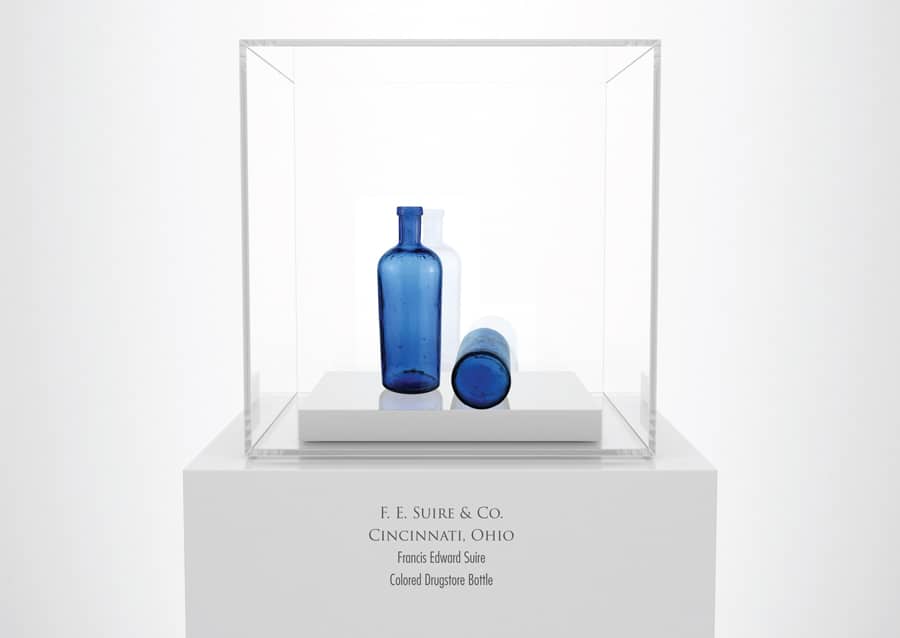 Francis E. Suire was a Cincinnati, Ohio druggist who had his name embossed on two blue and one amber glass bottles that he used to dispense medicines from his drug store on Fourth and Vine Streets.
Our feature specimen is cylindrical, 8 inches tall, and embossed horizontally, in a sans serif typestyle, 'F. E. SUIRE & Co.' on the front shoulder and 'CINCINNATI' on the back shoulder. Suire would have used the 16-ounce bottle between 1865 and 1874.
His second blue bottle is square and embossed vertically, shoulder to base, within the indented area on two opposite sides, 'WAYNE'S DIURETIC ELIXIR' and 'F. E. SUIRE & Co. CINCINNATI.' The type is also sans serif. The bottle has beveled corners, is 7 3/8 inches tall, held 12 ounces, had a tooled lip and smooth base. The bottle was used between 1866 and 1874. In both cases, paper labels would have been used to identify and provide supplemental information regarding the contents of the bottles. Suire also had an amber mold that is ½ inch taller and base embossed 'A&D H C' for the Pittsburgh glasshouse of Alexander & David H. Chambers.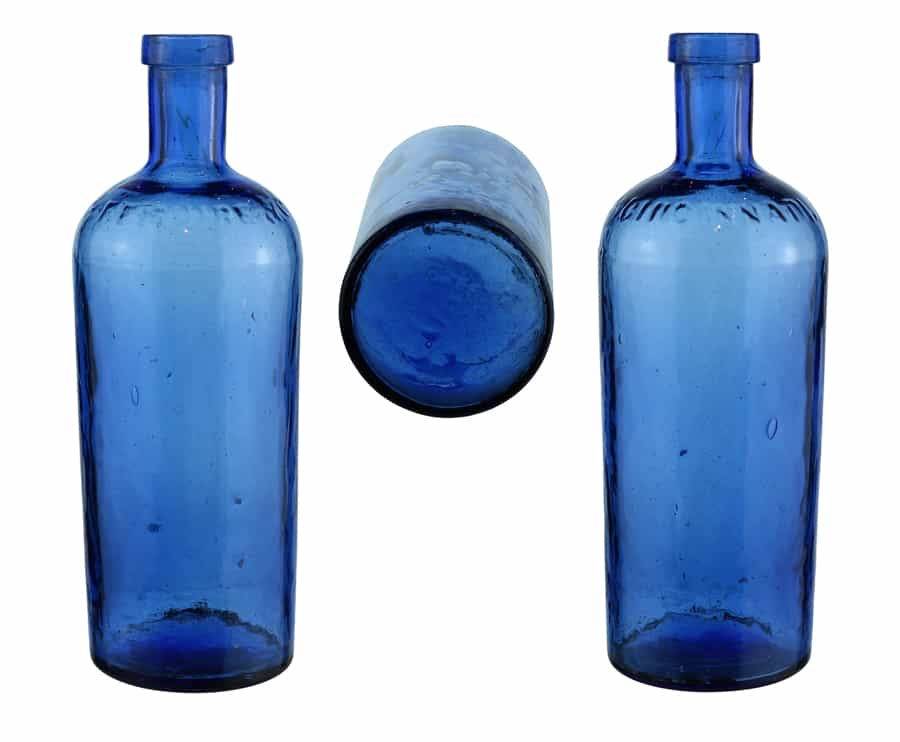 Francis Edward Suire
F. E. Suire's birthplace is a bit of a mystery. First, we see an entry in a Baltimore, Maryland seagoing passenger list that suggests he was, at age four, a member of the Suire family that claimed U.S. citizenship and arrived in Baltimore on July 1, 1821, aboard the Baltimore schooner Dandy from Aux Cayes on the island of Haiti. Suire being a French name and Haiti being a French colony, it makes perfect sense that they may have been fleeing the anti-colonial violence in Haiti at the time. Secondly, we have his son Frank Overton Suire's death certificate that says his father was born in Puerto Rico, which was colonial Spanish at the time. And finally, we have the 1850 United States Federal Census Report noting that he was born in Maryland. However, we do believe that he was born on August 17, 1819.
Like many families arriving in the New World, the Suire family was enticed to head west to what was then the frontier of Indiana with the promise of free land and opportunity. From Baltimore, they most certainly traveled by horse and wagon along the newly constructed "National Road" passing through the Appalachian Mountains in Cumberland, Maryland, and arriving at Wheeling, West Virginia. Here they would have had to buy a boat, build a boat or join another family with a boat for the treacherous journey down the Ohio River.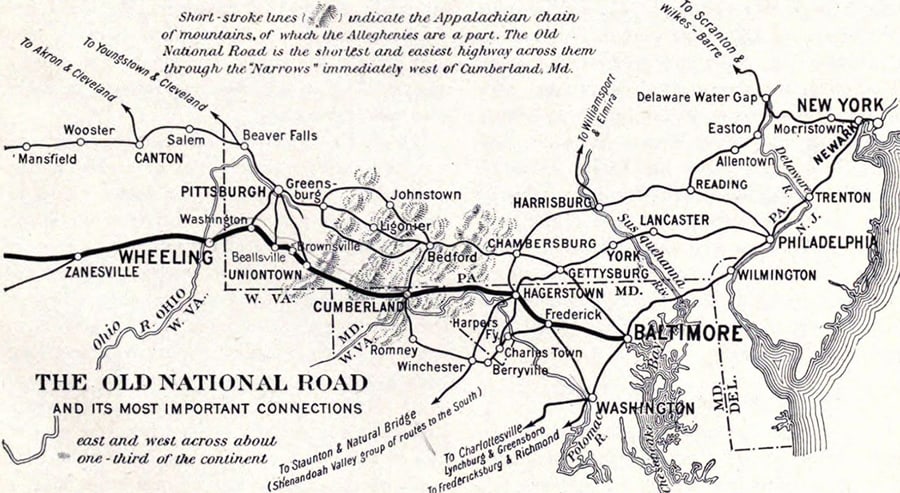 For whatever reason, they chose Madison, Indiana as their destination and on April 17, 1844, at age 25, Francis E. Suire married Hannah Ann Fitch, age 19, in Madison Township, Jefferson County, Indiana. Hannah Ann Fitch was born on September 30, 1825, in Baltimore. The following year, on June 10, 1845, they had their first of two sons, Hammond Suire. In the 1850 U.S. Census for Madison, Indiana, Francis E. Suire is listed with his wife Hannah and son Hammond with his occupation being a "druggist."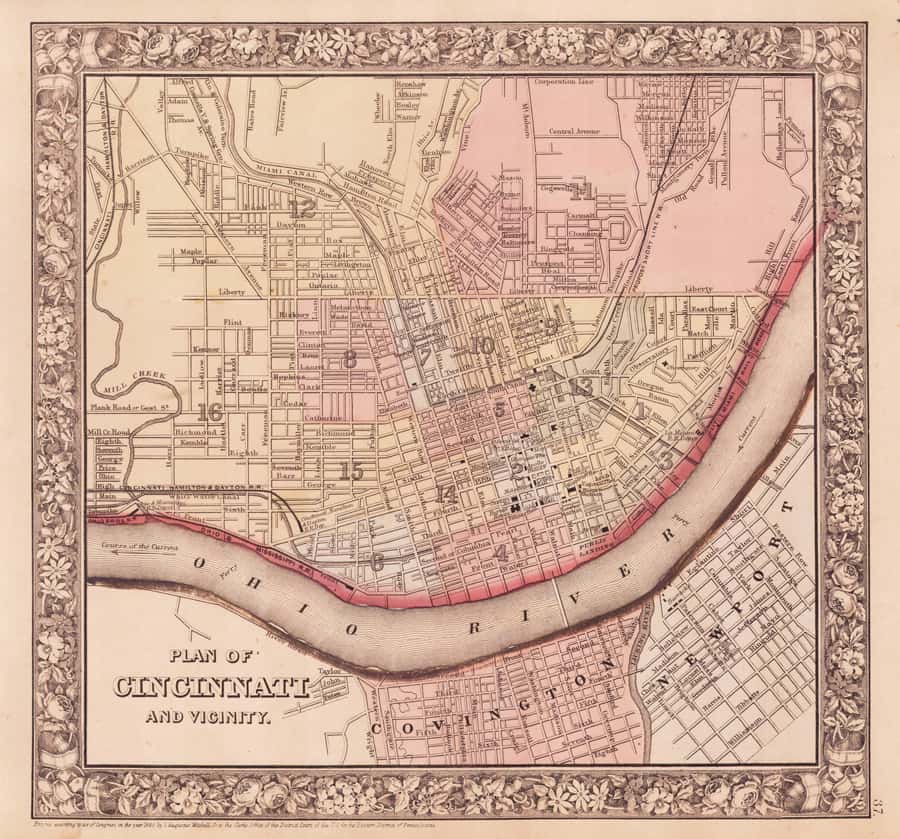 During the early 1850s, it was clear that Cincinnati, Ohio, was going to grow much larger than Madison, so by 1857, Francis E. Suire left Madison for Cincinnati and was listed in business as Suire, Eckstein & Co., druggists, northwest corner Fourth and Vine Streets. His partner Frederick F. Eckstein was born in Virginia on September 10, 1821. Before going into business with Suire, Eckstein had already been operating as a druggist in Cincinnati for ten years prior, from 1846 to 1856.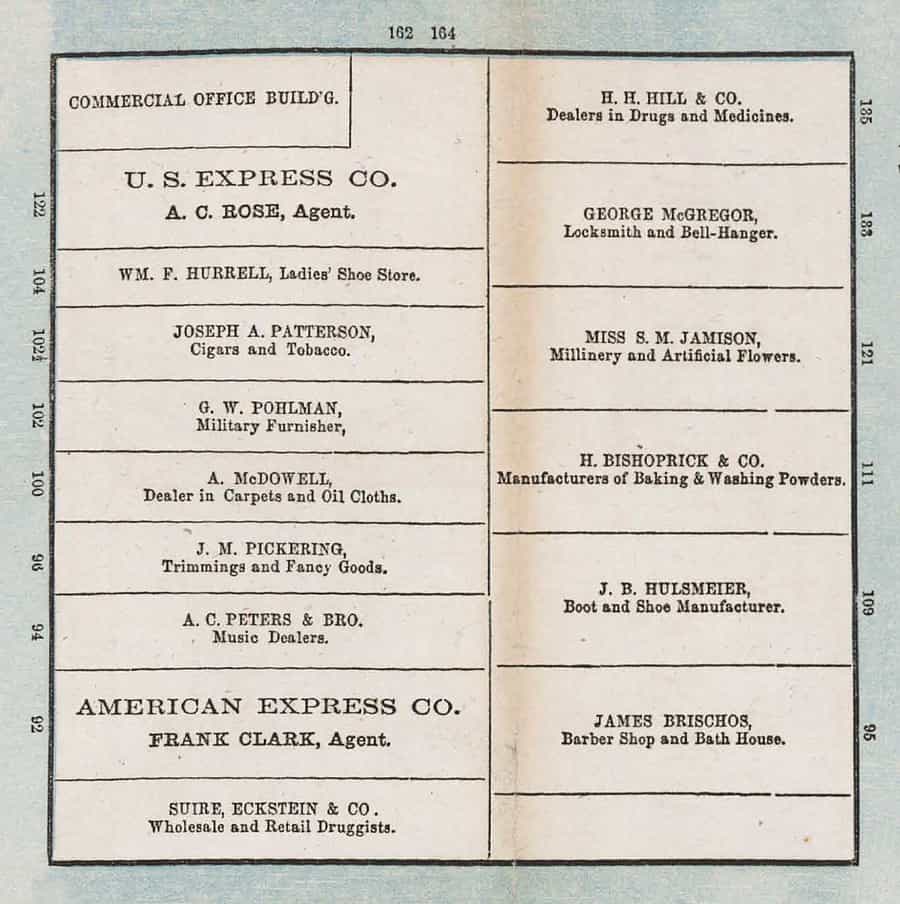 For the next eight years, from 1857 until 1864, Suire, Eckstein & Co. had at least two junior partners. They were Andrew B. Merriam, who was born on May 23, 1826, in Salem, New York. He had been working in Cincinnati as a clerk since 1849 before joining Suire, Eckstein & Co. in 1857. His name was dropped from the list of partners in 1865, and he went into business in 1865 as Merriam A. B. & Co., wholesale and retail druggists at Fourth and Main. He remained in business until at least 1880 and died on March 26, 1902, in Charles City, Iowa. A second partner was Isaac H. Taylor, who was born in 1815 in Maryland. He was in Madison, Indiana, at the same time as Suire working as a clerk in 1850. After having several children in Madison, Taylor joined Suire, Eckstein & Co. in 1859. His name was dropped from the list of partners in 1866, and he moved to Indianapolis, Indiana.
In 1865 Frederick F. Eckstein was dropped from the Suire, Eckstein & Co. business name, and he went into business with Townsend Hills as Eckstein, Hills & Co., manufacturers of white lead (base for paint) until at least 1880. He died on April 8, 1893, in Cincinnati, Ohio. With Eckstein's departure, the company name becomes F. E. Suire & Co. with existing partner Isaac H. Taylor and new partner James Prince. The following year in 1866, James Prince was dropped, and his most important partner Edward S. Wayne was added. The following year, Isaac H. Taylor, is dropped from the list of partners. For the next eight years, 1867 thru 1874, F. E. Suire & Co. would operate as a partnership between Francis E. Suire and Edward S. Wayne.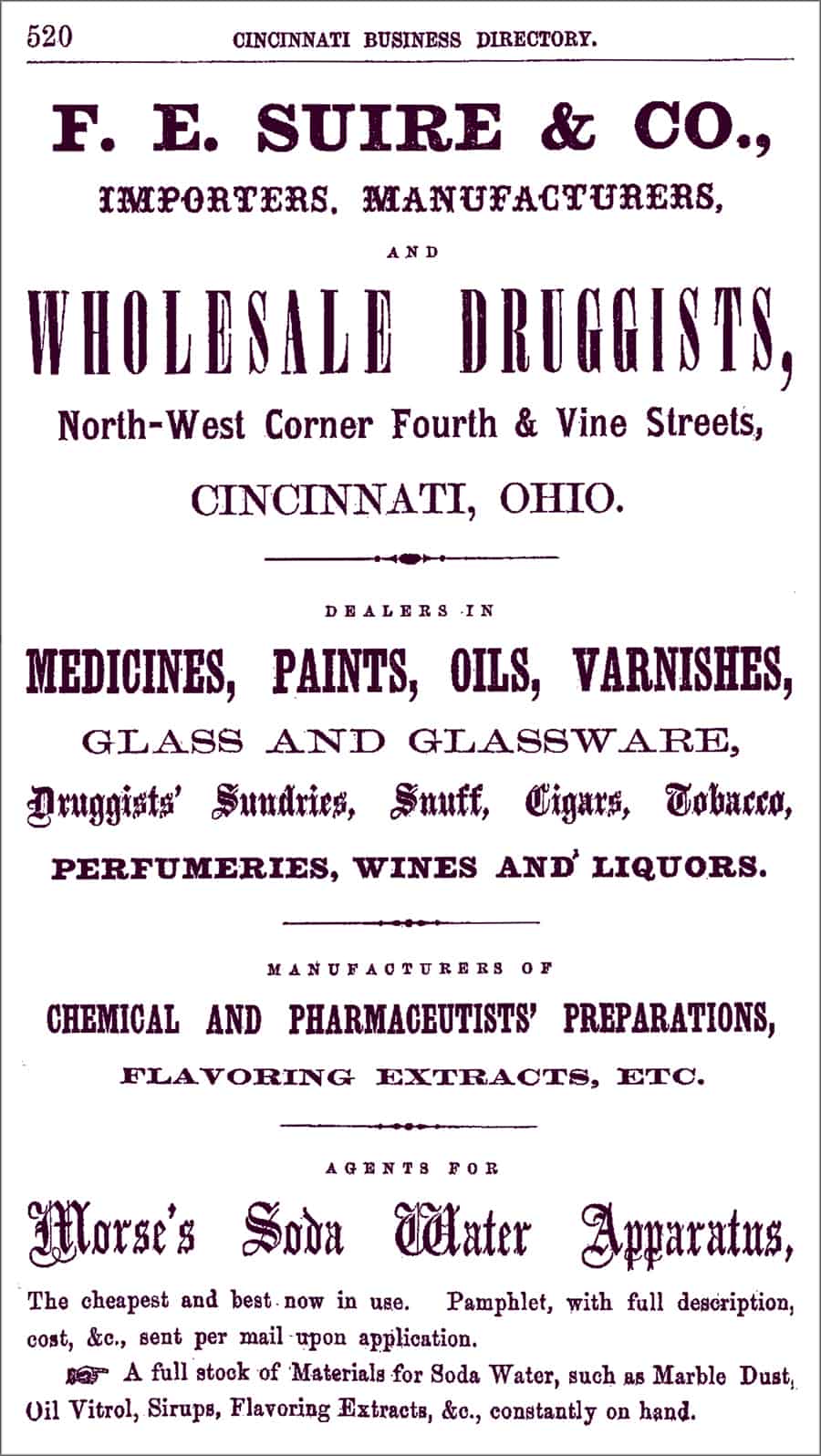 Edward S. Wayne was born on April 4, 1820, in Pennsylvania. He had been a druggist and chemist in Cincinnati since at least 1846. During the 1850s, he was associated with the Cincinnati College of Pharmacy as a corresponding secretary and the Medical College of Ohio as a lecturer in practical pharmacy. Prior to joining Suire, Eckstein & Co. in 1864, he had worked for W. C. Henderson & Co. at the Phoenix Oil Works. Now in 1866, as a partner in F. E. Suire & Co., he is undoubtedly the individual behind the embossed "Wayne's Diuretic Elixir, F. E. Suire & Co. Cincinnati" bottles.
On April 13, 1874, Francis E. Suire died in Cincinnati, and with him, the company ceased operation. Edward S. Wayne joined the wholesale druggist firm of James S. Burdsal & Co. for a few years and died on December 11, 1885, in Philadelphia, PA.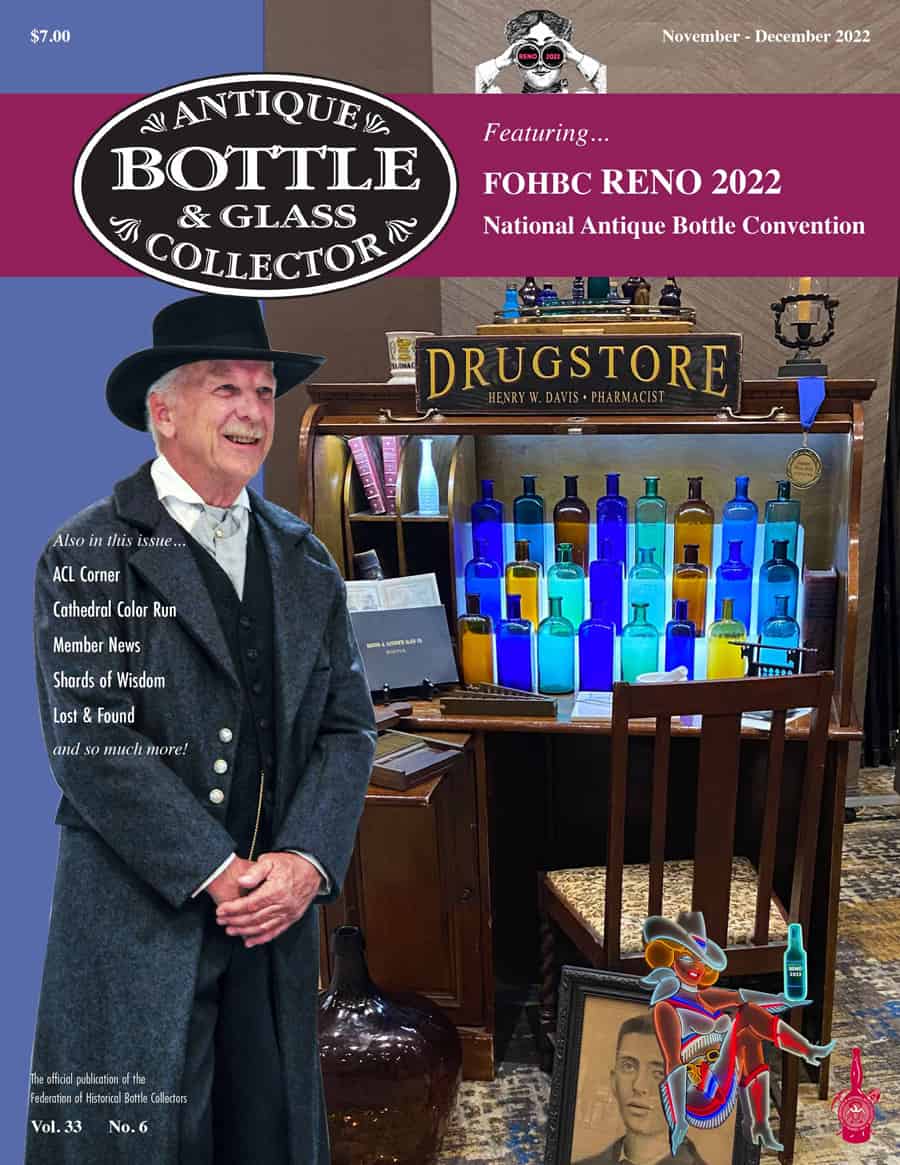 Primary Image: F. E. Suire & Co. Cincinnati bottle imaged by Alan DeMaison at the FOHBC Reno 2022 National Antique Bottle Convention mobile imaging station.
Support: Research by Brian Bingham.
Support Image: Embossed blue and amber "Wayne's Diuretic Elixir F. E. Suire & Co. Cincinnati" bottles from the Brian Bingham collection.
Join the FOHBC: The Virtual Museum is a project of the Federation of Historical Bottle Collectors (FOHBC). To become a member.