Atlanta City Brewing Co Atlanta Ga
Atlanta City Brewing Co
Atlanta Ga
Atlanta City Brewing Co., Atlanta, Georgia
Amber Porter Form
Provenance: Mike Newman Collection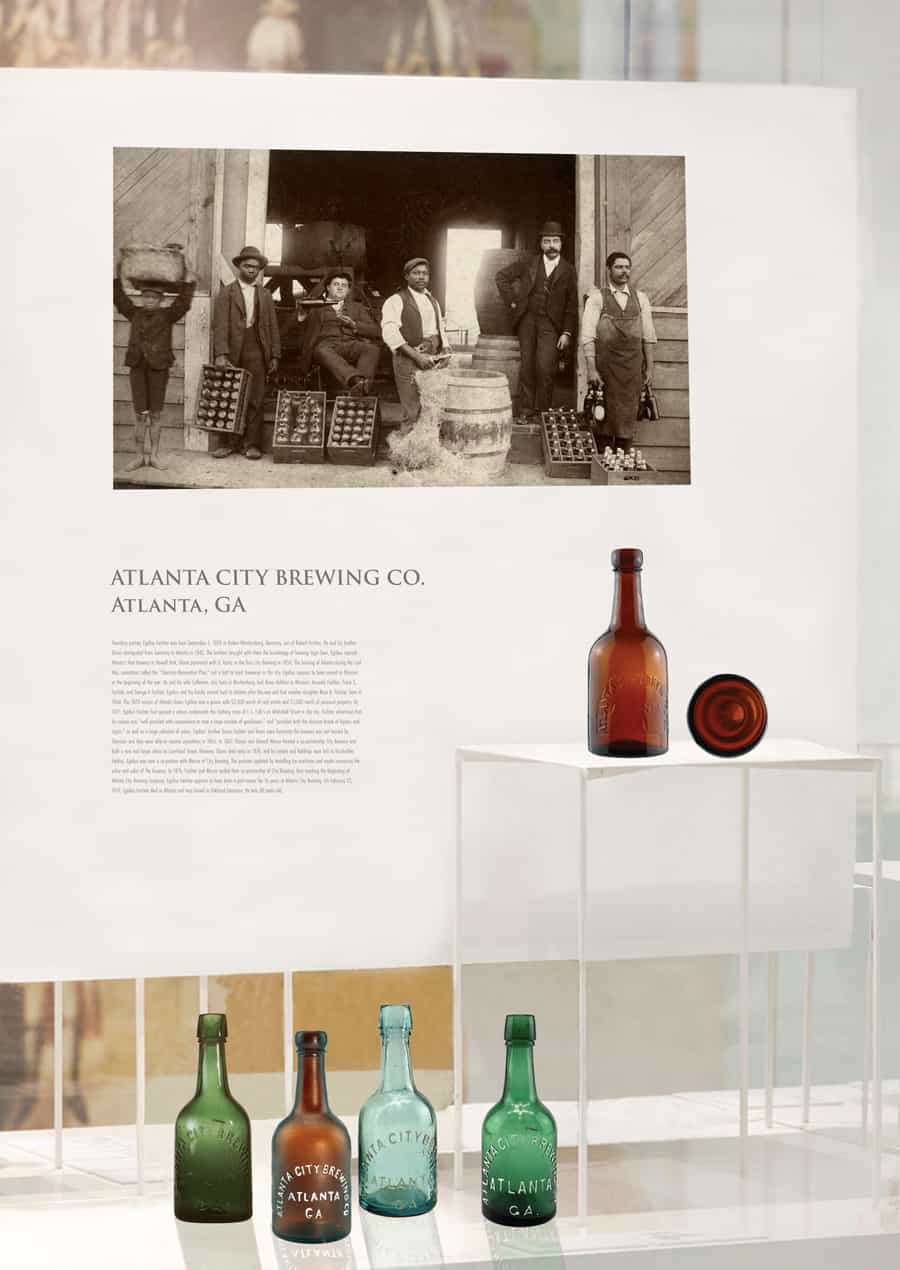 Atlanta City Brewery was in business for 16 years operating from 1876 to 1892 at 247 Courtland Street in Atlanta, Georgia. They were one of the largest brewing companies in the Southeast. The brewery manufactured lager beer, malt, and fermenting liquor. 
The brewery was situated on four acres of land with an underground spring. The water was pumped day and night for brewing, cleaning, steam production, and ice. The ice was made with a large ice machine powered by coal. Large coal-fired steam engines drove gears, pulleys, and belts that ran the pumps for the refrigeration machinery and moved the developing beer through its stages.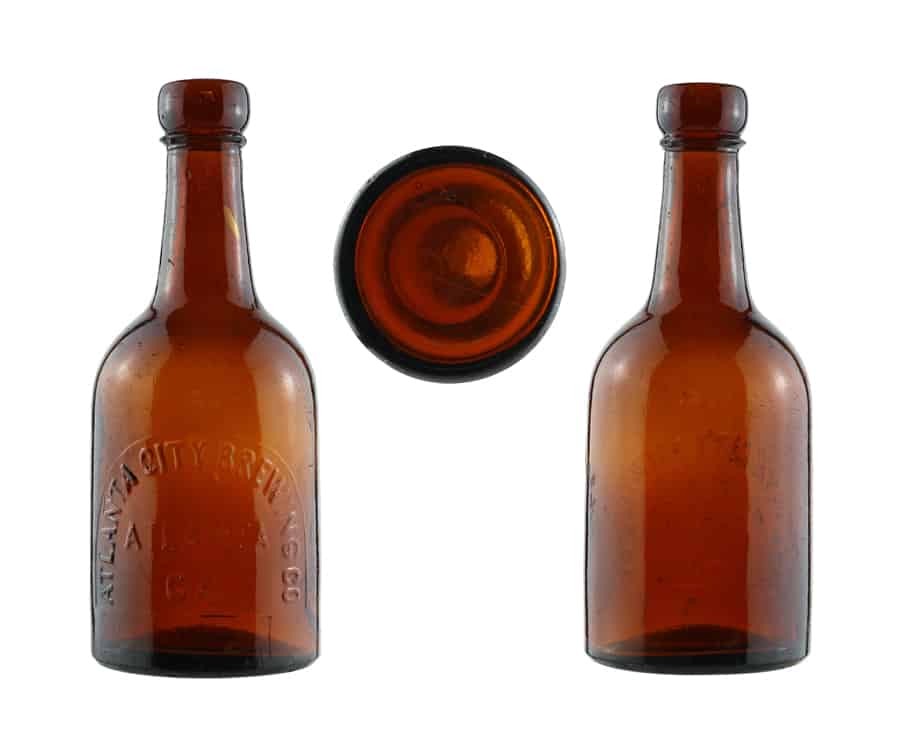 At least four embossed beer bottles are attributed to the brewery. Our museum example, in a Porter-form bottle, is embossed in arched uppercase sans serif type 'ATLANTA CITY BREWING CO' set in a horseshoe plate near the bottom half of the front face of the bottle. Embossed within is 'ATLANTA GA' in two horizontal lines. The amber bottle is 6-7/8 inches tall with a rounded collar and tapered ring. The base is smooth.
Three horses pulled flat-bed wagons to deliver 100 kegs of beer daily to brewery customers. In 1880, a fire burned down all the brewery buildings, and the owners rebuilt, this time with more brick and stone. The Sunny South newspaper reported that the new Atlanta City Brewery would cost $60,000 and require 110,000 feet of lumber and 600,000 bricks. The brewery buildings housed lager cellars made of masonry and accompanied by cathedral-like ceilings. There were nine 35 by 45-foot beer vaults below street level and brewing cellars of 1,000 to 2,000 gallons each for fermenting, storing, and clarifying. All beer was aged in wooden containers. Before the fire, beer stock was typically four thousand gallons and grew yearly to hundreds and thousands of gallons.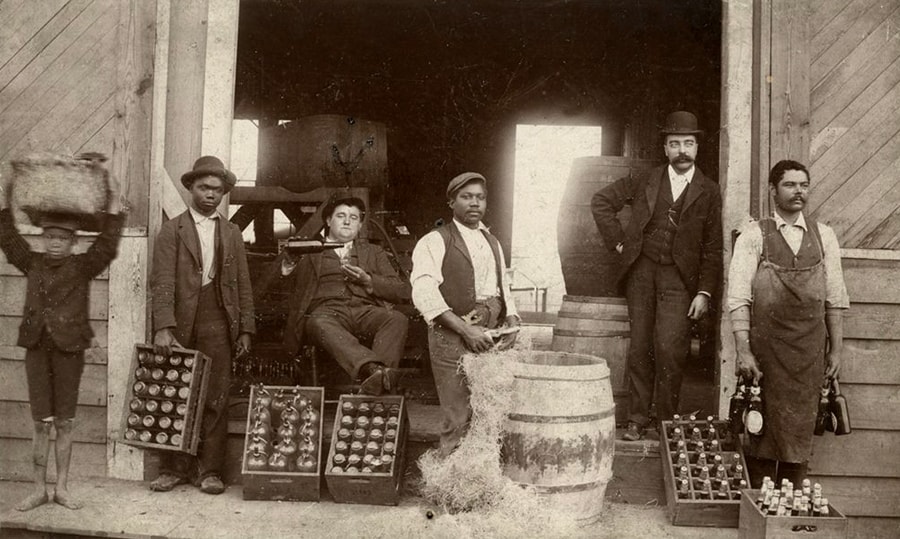 The brewmaster at Atlanta City Brewing Co. in the 1880s was Theodore Fechter, who imported hops from Bohemia, Bavaria, and California. A considerable portion of the beer was put into barrels of various sizes, and the remaining beer was bottled at a rate of 2,500 bottles per day. The brewery had sixty-five retailers in the city and distributed all over Georgia, Alabama, North Carolina, South Carolina, and Florida. Various beers were made at the brewery including Champagne Lager Beer and a seasonal May Bock, based on the time of year it was brewed. However, the brewery became best known for the frothy "Steinerbru" beer. 
Atlanta City Brewing Co. was formerly known as City Brewery (1867 to 1876) and was owned and operated by Egidius Fechter and Edward Mercer. In 1876, the brewery was incorporated into one-third partnerships between William Henry Tuller (1/3), Jacob E. Kriese (1/3), Egidius Fechter, and Herman Werner (1/6 each) and became Atlanta City Brewing Co. Egidius Fechter was the founder and Anthony Joseph Kuhn was superintendent of the brewery.  
Egidius Fechter was born on September 1, 1824, in Baden-Württemberg, Germany, son of Robert Fechter. He and his brother Dionis immigrated from Germany to Atlanta in 1842. The brothers brought with them the knowledge of brewing lager beer. Egidius opened Atlanta's first brewery in Howell Park, and Dionis partnered with O. Kontz in the firm City Brewing in 1858. The burning of Atlanta during the Civil War halted most breweries in the city. Egidius appears to have moved to Missouri at the beginning of the war. He and his wife Catherine, also born in Wurtemburg, had three children in Missouri, Amanda Fechter, Frank S. Fechter, and George A Fechter.
Egidius and his family moved back to Atlanta after the war and had another daughter Rosa A. Fechter, born in 1868. The 1870 United States Federal Census of Atlanta shows Egidius was a grocer with $2,000 worth of real estate and $1,000 worth of personal property. By 1871, Egidius Fechter had opened a saloon underneath the clothing store of I. L. Falk's on Whitehall Street in the city. Fechter advertised that his saloon was "well provided with convenience to seat a large number of gentlemen" and "provided with the choicest brand of liquors and cigars," as well as a large selection of wines. Egidius' brother Dionis Fechter and Kontz were fortunate Sherman did not burn the brewery, and they could resume operations in 1865. In 1867, Diones and Edward Mercer formed a co-partnership City Brewery and built a new and larger place on Courtland Street. However, Dionis died early in 1874, and his estate and holdings were left to his brother Egidius. Egidius was now a co-partner with Mercer of City Brewing—the partners updated by installing ice machines and vaults, increasing the value and sales of the brewery. In 1876, Fechter and Mercer ended their co-partnership with City Brewing, thus marking the beginning of Atlanta City Brewing Company. Egidius Fechter appears to have been a part-owner for 16 years at Atlanta City Brewing. On February 22, 1913, Egidius Fechter died in Atlanta and was buried in Oakland Cemetery. He was 88 years old.
In 1892, Atlanta City Brewing added ice to the company line and became Atlanta Brewing & Ice Company. Egidius Fechter seems to be the only surviving partner of Atlanta City Brewing Co., and it is unknown how long he stayed in the firm. This company survived prohibition in the 1920s by selling non-alcoholic beverages. The brewery became Atlanta Ice & Bottling Co. and then Atlantic Ice & Coal Co. during the 1930s. The brewery was then Atlantic Co. from 1937 until it closed in 1955. The brewery was at the original site for 79 years (1876-1955) until demolished in 1955. The surviving cellars stayed until 1973 and were destroyed to accommodate the modern high-rise Atlanta Hilton Hotel.
Primary Image: Atlanta City Brewing Co. bottle imaged on location by Alan DeMaison, FOHBC Virtual Museum Midwest Studio.
Support: Research by David Kyle Rakes, Belleview, Florida.
Support: Reference to Early Georgia Sodas, The Bottles & Proprietors, Atlanta, Augusta, Columbus, Macon, Savannah & Valdosta by David Kyle Rakes and Ferdinand Meyer V, September 2021.
Support: Reference to Soda & Beer Bottles of North America, Tod von Mechow
Support Images: Bottle image examples courtesy Jim Hagenbuch, Glass Works Auctions, Soda & Beer Bottles of North America, Tod von Mechow and Bruce Mobley.
Support Image: Atlanta City Brewing Company circa 1870s. Photo courtesy of the Atlanta History Center.
Join the FOHBC: The Virtual Museum is a project of the Federation of Historical Bottle Collectors (FOHBC). To become a member.