Phillip Young & Co. Savannah Ga (embossed eagle)
Philip Young & Co.
Savannah Ga
(embossed eagle)
Philip Young, Savannah, Georgia
Teal Green Soda Water
Provenance: Mike Newman Collection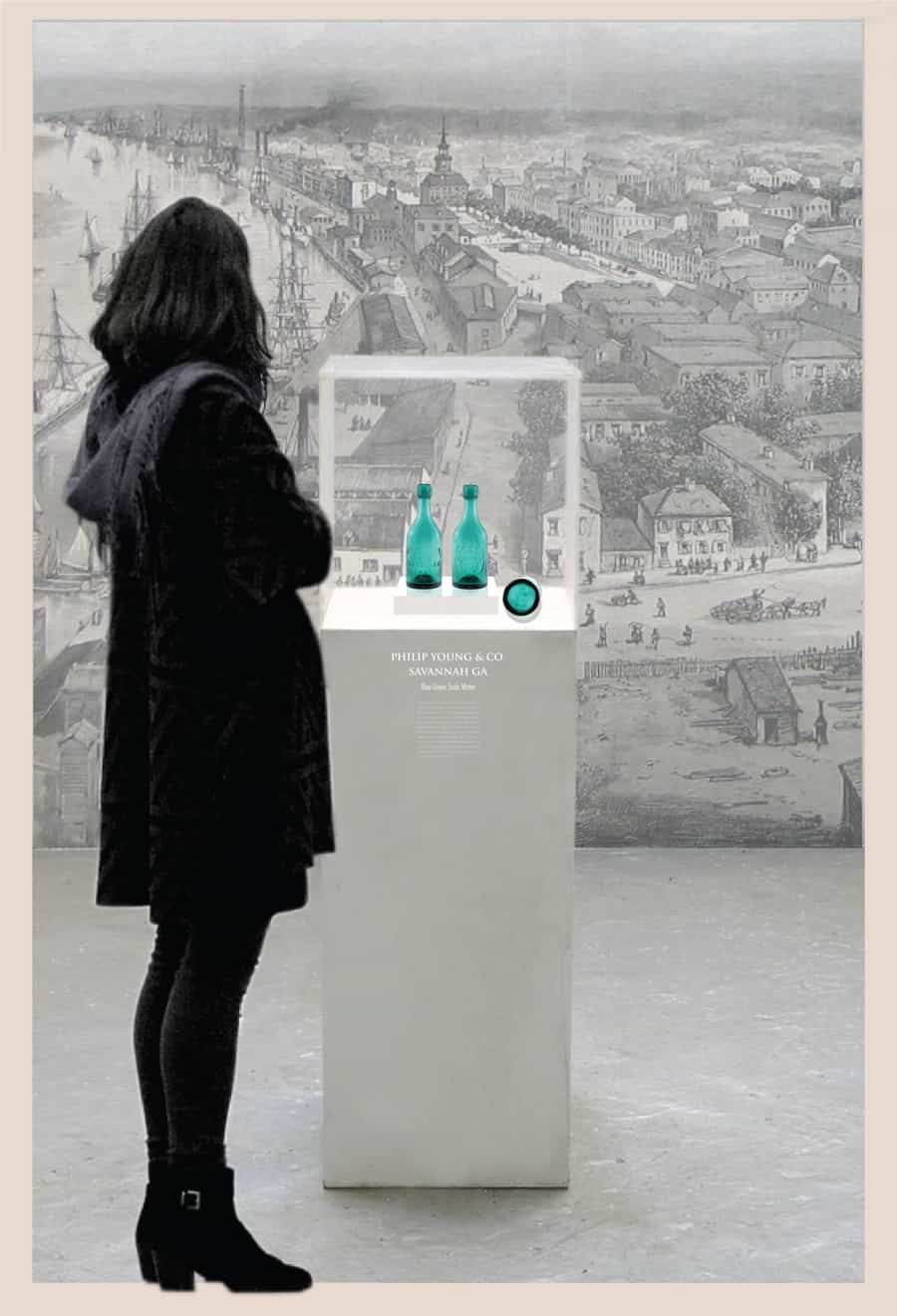 Our outstanding example of a 7 ¼ inch tall cylindrical teal green soda water bottle with an embossed motif of an eagle, shield and flags on the reverse is rare and was put out by Philip Young, a short-lived soda water manufacturer in Savannah, Georgia.
The bottle is embossed on the face in a sans serif typestyle 'PHILIP YOUNG' in a convex arch over three lines of centered horizontal straight-line copy reading '& Co.' (2nd line), 'SAVANNAH' (3rd line) and 'GA' (4th line). The "A" in "GA" is raised, smaller and underlined. There is an embossed pictorial motif of an eagle, shield, flags and stars on the reverse. The bottle has a smooth base and an applied rounded tapered mouth. Two slight variations of the mold exist. The bottle is found in green, teal green, medium emerald green, deep green aqua and dark blue-green. The bottle would not have used a paper label as the bottle was recycled.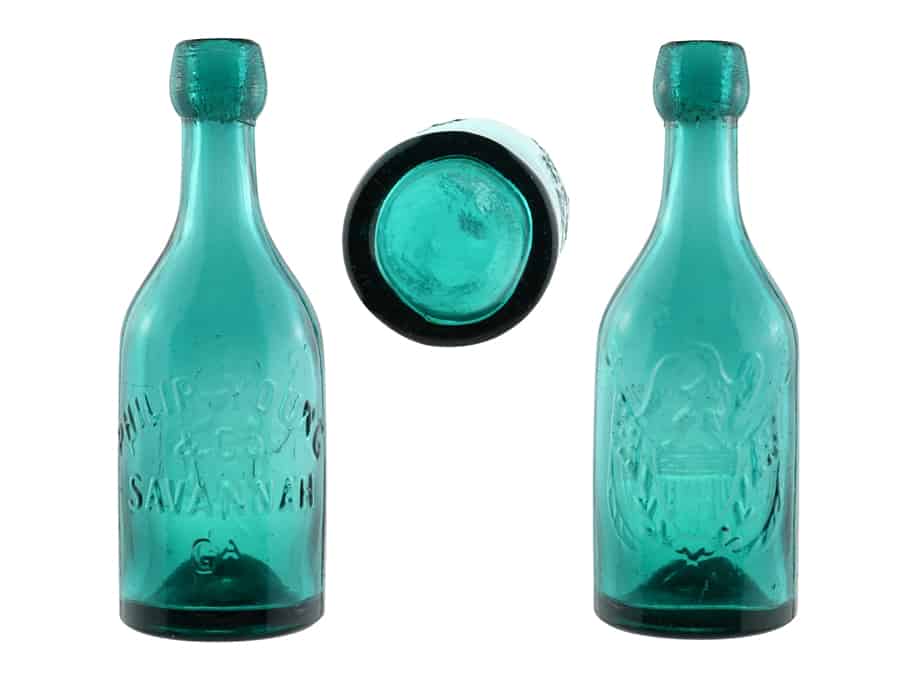 Philip Young was born in Baden, Germany in 1832. We first see him in Savannah, Georgia in 1858 as a lumber merchant at a sawmill near Canal Lock. In 1859, he was a boarder and barkeeper at George Gemenden's Planters' Hotel. In 1860, Young was listed as a cooper and boarder, and he could have made barrels for Gemenden. During the 1860s, Young was often called on to run Planters' Hotel while Gemenden was on trips abroad purchasing provisions for the hotel and saloon.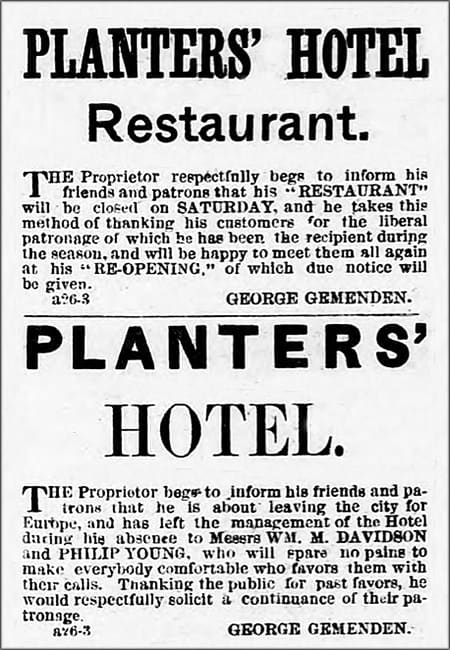 See the museum example "Geo. Gemenden Planters Hotel Savannah Geo. Brown Stout"
Not much more is known about Young. He seems to have started manufacturing soda water in the early 1860s, and may have gone into business with George Gemenden since one of his two eagle and shield bottles is pontiled and embossed with "& Co."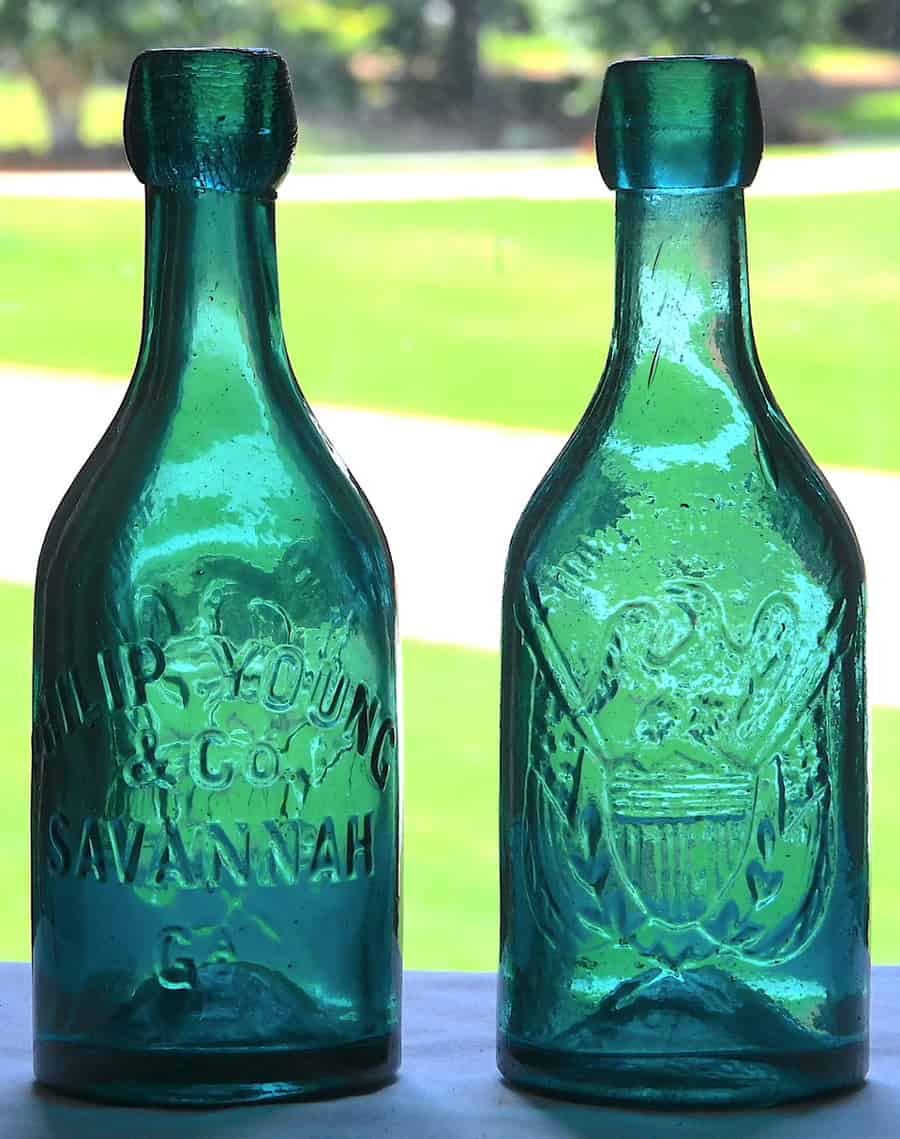 Primary Image: Philip Young & Co. Savannah Ga (Embossed Eagle) soda water bottle imaged on location by Alan DeMaison, FOHBC Virtual Museum Midwest Studio.
Support: Reference to Early Georgia Sodas, The Bottles & Proprietors, Atlanta, Augusta, Columbus, Macon, Savannah & Valdosta by David Kyle Rakes and Ferdinand Meyer V, September 2021.
Support: Reference to Soda & Beer Bottles of North America, Tod von Mechow.
Join the FOHBC: The Virtual Museum is a project of the Federation of Historical Bottle Collectors (FOHBC). To become a member.