Samuel Bros.
OK (Monogram SBCo)
Bottled By Samuel Bros. AND Co.
Louisville KY
San Francisco. CAL
Samuel Brothers, San Francisco, California

Red Amber
Provenance: Richard Siri Collection
Here is an interesting bottle that many collectors may have noticed before. Whiskey bottle authority John Thomas did not initially record this bottle as it was a square instead of a cylinder. He did come back in his Whiskey Bottles of the Old West book in 2002 and list.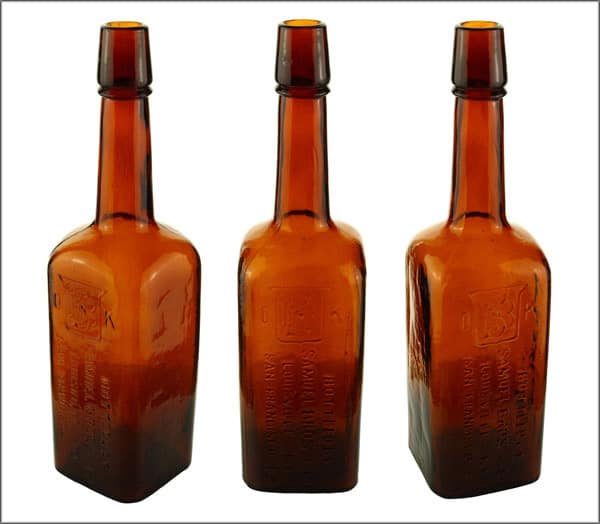 Our Samuel Bros. & Co. air-vented bottle is very whittled and was made in a red-amber glass. The bottle is square in form with arched shoulders and has a tall neck with a very large applied mouth with a ring. There is a large "SBCO" monogram in a crest or shield on the face of the bottle flanked by the letters "O K." Beneath the monogram, reading from shoulder to base are four lines of verticle copy reading 'BOTTLED BY' (1st line), SAMUEL BROS. AND CO." (2nd line), 'LOUISVILLE KY' (3rd line), and 'SAN FRANCISCO. CAL' (4th line). All typography on the bottle is serifed. This brand must have been short-lived as it was sold between 1896 and 1897. The bottle is German-made and was shipped to the United States for filling and use.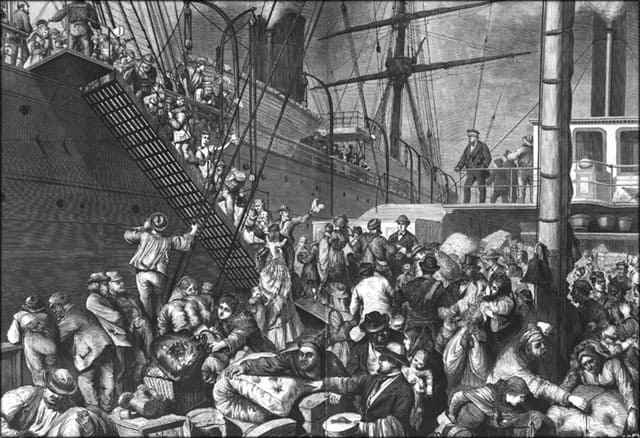 The Samuel Family Saga
What must have been going through the minds of a couple of German teenagers as they peered through the Atlantic fog heading for New York from Hamburg. Wolff, 15, and Moses, 13, the two oldest sons of Samuel Schmul and Hännchen Samuel, were off on the greatest adventure of their lives!
One wonders why so many of the Samuel children left home. Historically, after the 1848 revolutions, Prussia clamped down on all its citizens, and thousands of people from this area came to America between 1849 and 1860, both to avoid the harsh government and the possibility of being drafted into the king's army. The Samuel children might have been part of this migration. In addition, the lure of gold, discovered in 1849, brought thousands of European immigrants to California, crossing the Atlantic, and then either going around the Horn or traveling to Panama, which they crossed by foot or train, and taking another ship to San Francisco.
They sailed together to New York, where they were befriended by the Bloomingdale family and worked for a few months in the Bloomingdale store. They sent letters home referring to "Tante Bloomingdale" and describing the Hudson River, frozen in winter. When the ice began to thaw, in the Spring of 1860, the boys got themselves jobs as cabin boys on a ship heading for San Francisco, around Cape Horn. This was a voyage that took all summer (winter around the horn), and they arrived in San Francisco in the late Fall of 1860.
The boys then had to get to the Gold Country so they boarded a ship heading north, up to San Francisco Bay, to the "Delta" to Sacramento, a big port in those days, situated on a river leading into the bay. From Sacramento, they had to take a stagecoach to Nevada City, which meant going through the valley and heading up into the foothills, covered with trees. In summer, this trip might take only a few days, but in winter, during the rainy season, the coaches were mired in mud, and passengers had to get out constantly to help push the coaches out. The trip could take a month or more.
Wolff and Moses knew they were getting closer to the Gold Country because all the trees disappeared, and the hills were brown and barren. For example, the Empire Mine cut down all the trees within miles to burn for fuel for its heavy mining equipment, and what was not burned was used for building.
Finally, in November 1860, Wolff and Moses arrived in the twin cities of the Gold Rush, Nevada City, and Grass Valley, four miles apart, both bustling with activity. By 1860, ten years after the Gold Rush had begun, there were law courts, judges, a county seat in Nevada City, and large Victorian homes built of wood, some of which were owned by those who had come early and done well, and some used as boarding houses. The boys quickly found lodgings, Moses in a boarding house, and Wolff in a room above the Union Restaurant on Main Street. Moses began to work for H. Levy as a clerk in his store, and Wolff worked as a peddler, going into the mining camps with a pack on his back to sell supplies to miners who couldn't get into town.
The first records found began in 1865 when Wolf (sic) Samuel received his U. S. Citizenship on August 17, 1865, as cited in the minutes of the County Court in Nevada. He did not, however, register to vote. Also, in 1865 records, the first of many transactions in quartz mines (gold is found in quartz) was made by Moses Samuel, who sold his interest in a mine called "Little Anna" for one dollar in gold. By 1867, Moses became a United States citizen at the county court in Nevada City. He also sold, with a large group of other men, interests in two other quartz mines, one for ten dollars.
Moses had also risen to assume the lease of his boss's store, which became "M. Samuel and H. Levy, Tobacconist," and sold the right to live in two buildings behind the store for as long as he held the lease. According to the 1867 Grass Valley directory at the Nevada City Historical Society, M. Samuel, of H. Levy & Co., business at 91 Main Street, Tobacconists, resided on Church Street; W. Samuel (dry goods) boarded at the Union Restaurant, and Aaron Samuel, (dry goods) boarded at the Pacific Hotel. Later, both the Union Restaurant and the Pacific Hotel had been destroyed to put up a freeway, but the building across the street, according to a Grass Valley resident, housed a brothel, and the present owner, an auto mechanic, stores his equipment in the cribs on the second floor.
In 1867, Wolff Samuel, as part of a large group of investors, sold his interest in a quartz mine for $20 in gold. There was only one record of Wolff investing in anything in the area, but Moses was quite a high flyer, and he sold his quartz mine interests in 1869 and in January 1870, just before he left. Also in 1869, Moses bought 160 acres in Nevada City for $205 in gold. According to the 1870 census, Moses, 24, was listed as "retail liquor and tobacco" with a net worth of $4,000.
By 1871, Moses had relocated to San Francisco, and Wolff returned to Janowitz, (now part of a united Germany) where he took up German citizenship as "Wolff Schmul." Moses stated that he arrived in Grass Valley on November 15, 1860, and left for San Francisco on January 5, 1870. He went into partnership in the jewelry business with a friend from Grass Valley and married Sarah Rebecca Wolf in 1872. However, having been in the wine and liquor business in Grass Valley, he gradually went into that business, called M. Samuel, Wine & Liquor.
When his youngest brother, Benno, arrived in 1879, the business became Samuel Brothers, Wine & Liquors, which supported much of the family as they came over from Europe, as well as gave jobs to the children of his sister and brothers. The business was extremely successful and included several wineries. The oldest winery in Fresno county is the one at Lacjac, which was originally called the Sanford winery, date of origin unknown by the wine historians, but it is possible that Moses or the company owned it and it was named after Moses' son, Sanford. In 1899, Lachman & Jacobi (hence the name Lacjac) bought the Sanford winery and enlarged it in an attempt to fight the monopoly of the California Wine Association. There is also some connection with the Mt. Tivy winery in Fresno county, which was purchased from the estate of Paul Samuel in 1933.
Moses Samuel would continue his business through the 1880s and early 1890s when the Samuel Brothers & Co. filed articles of incorporation in May 1894 in San Francisco, California. The Directors were Moses Samuel, Samuel R. Samuel, Benno C. Samuel, Paul Samuel, and William Samuel. Their capital was listed as $150,000, of which $2,500 had been subscribed. The brothers were wholesale wine and liquor dealers located at 132-134 1st Street. There was also a Max Samuel listed as a salesman in 1897. The firm also had a New York City office in the very early 1900s that was headed up by Benno Samuel.
Primary Image: The Samuel Bros. bottle imaged on location by the FOHBC Virtual Museum Midwest studio led by Alan DeMaison.
Support Image: Auction Lot 59: BOTTLED BY SAMUEL BROS & CO LOUISVILLE KY SAN FRANCISCO CAL OK with MONOGRAM. Applied top. Here's a bottle that we see on occasion, maybe not as great as an example as we have here. Lots of whittle and in overall perfect condition. Why the long top? These were made between 1896-1913. Grades a 9.8. – Jeff Wichmann, American Bottle Auctions, Auction #71
Support: Reference to the Samuel Family Saga The Museum of the City of San Francisco
Support: Reference to Whiskey Bottles of the Old West by John L. Thomas, 2002
Join the FOHBC: The Virtual Museum is a project of the Federation of Historical Bottle Collectors (FOHBC). To become a member.