GXII-15 • "Union" And Clasped Hands – "E. Wormser & Co Pittsburgh PA" And Eagle Historical Flask
GXII – 15
"Union" And Clasped Hands – "E. Wormser & Co Pittsburgh PA" And Eagle
Historical Flask
E. Wormser & Co., Pittsburgh, Pennsylvania
Citron Green Quart
Provenance: Chip Cable Collection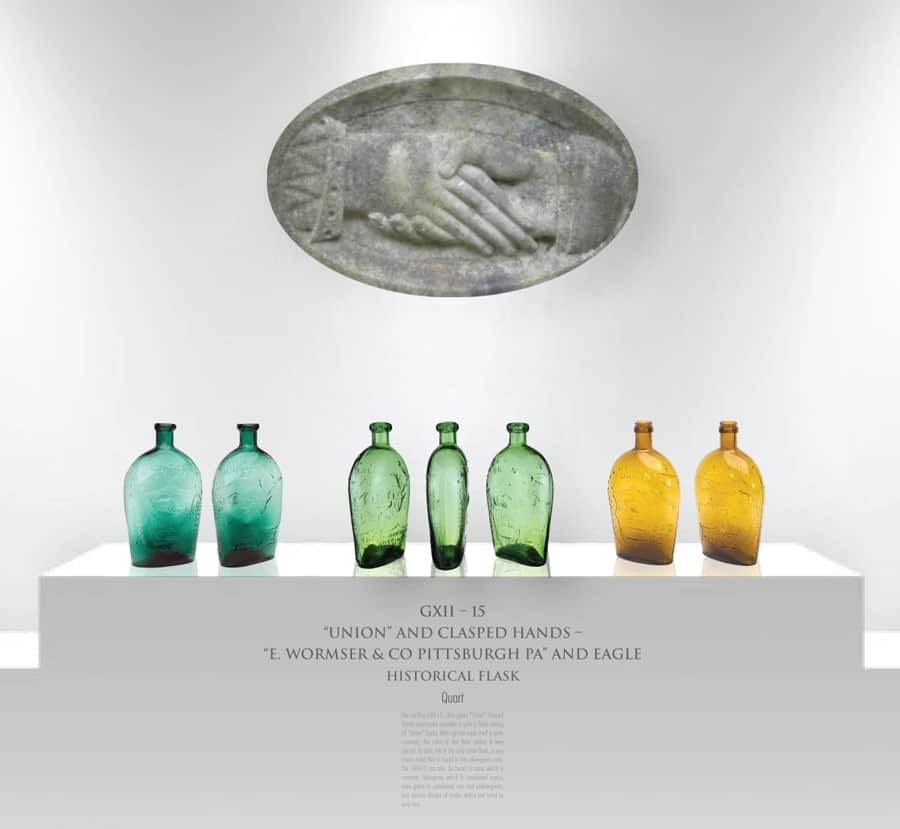 Our rich citron green quart Clasped Hands Eagle flask was made for E. Wormser & Company in Pittsburgh, Pennsylvania, at the Frankstown Glass Works, which was started in 1859 by William Frank and Ephraim Wormser.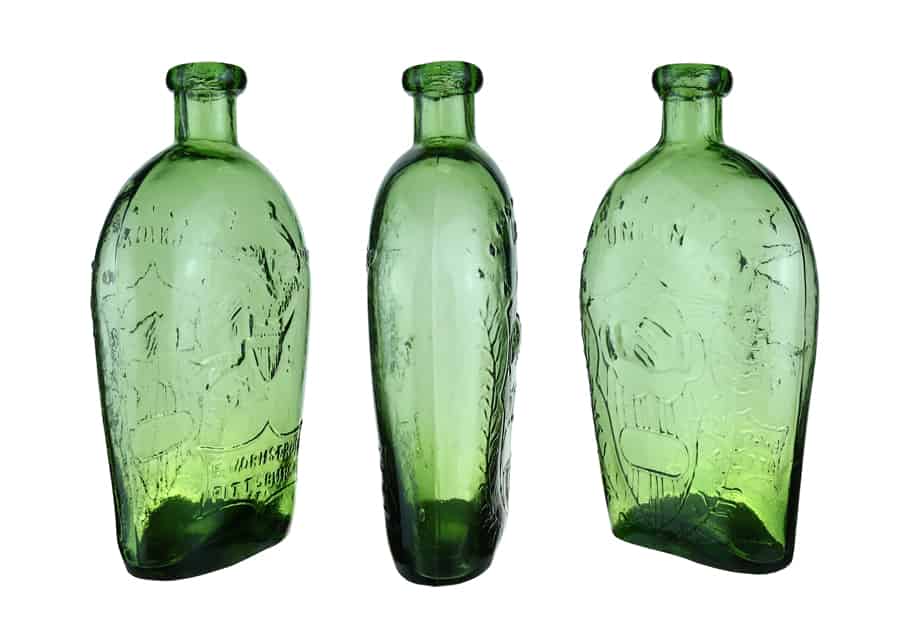 When looking at the obverse side of the flask, we see that it is similar to the McKearin charted GXII-3. A large embossed shield is featured with a high, wide point at the top that is more tapered in the lower field than the foregoing. The bottom point is about ½ inch from the base. There are horizontal bars above and at the upper side of the wide frame (about 1-3/16th) x 2-5/8" with very large clasped hands, showing a cuff and no part of sleeves. A short bar at a point occurs on the shield sides. The right group of three diagonal bars is to the side, The first of the left group or bars is to the side of the others to the top of a small oval frame (about 13/16 " x 1 7/8"); the first and third groups of three vertical bars are slightly diagonal from the bottom of the frame to the sides and middle group slightly right of center. Spindly laurel branches consist of 30 leaves (two vestigial) on the left and 32 on right. The stems joined at the "star" below the point of the shield. There are small Small stars arching over an embossed, serifed 'UNION.' The "I" is in line with the 6th star, the point of the shield with the right end of "I."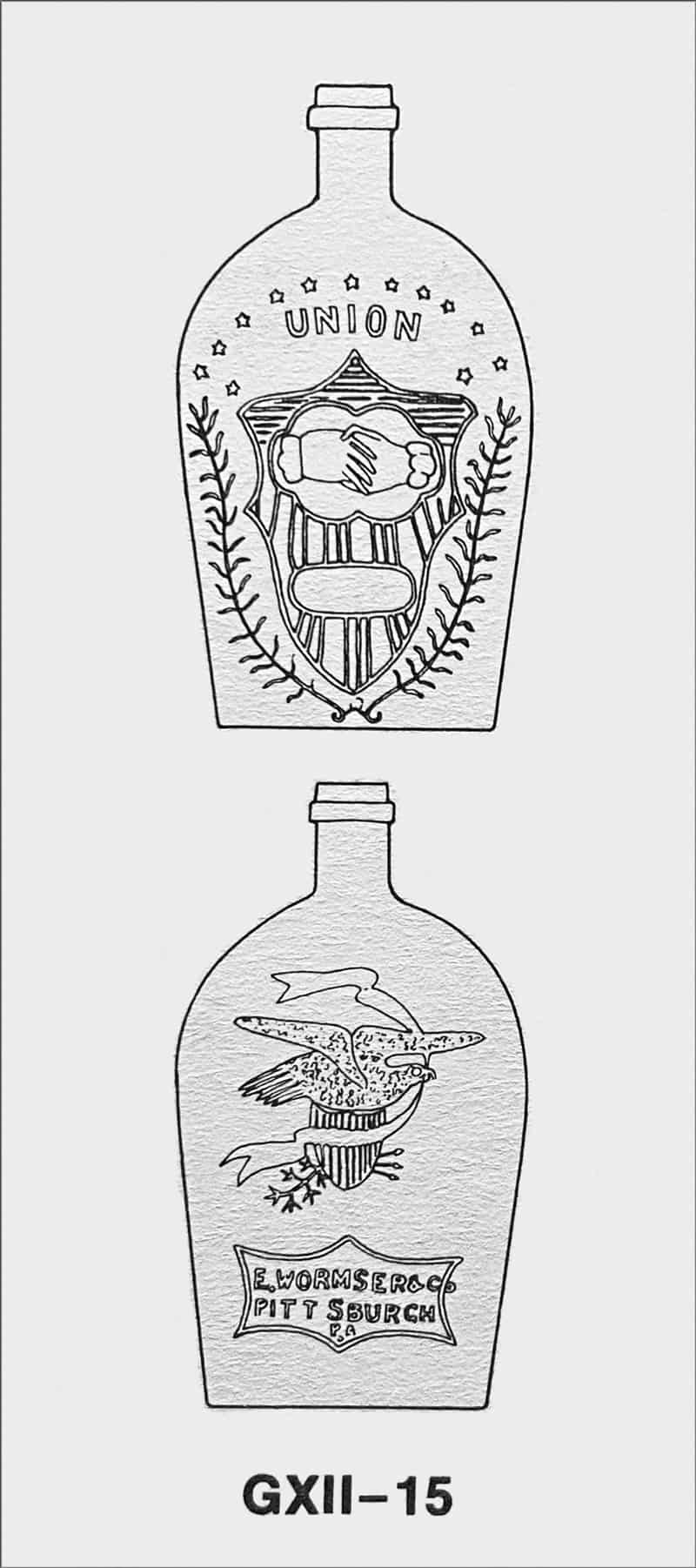 The reverse side of the flask is very similar to GXII-12. There is a small embossed chunky eagle with feathering of the neck, body, and wings by pebbling. The feathering is more prominent with the tail feathers pointed. The eagle's head has a large eye and a hooked beak but no legs. The Shield is less tapered, with the left end and point touching the body. A large olive branch is presented downward from the left. A thunderbolt of three arrows is at the right. A frame about 1-5/8" at center point x 3-3/16" is beneath, embossed within 'E WORMSER C ("o" of Co just outside the frame) above 'PITTSBURGH' and 'PA' at bottom point in line with "SB" of "Pittsburgh" below "PA."
The quart is found in blue and ice aquamarine, yellow-amber, olive-yellow, yellow-green (citron), and blue-green. There are applied round collared mouths and applied ring collars. The flask is considered common in aqua. The base is smooth with a mold seam through an oval depression about 3-1/4″ long.
See the museum example of an "E.W. & Co. (Eagle) Works" soda water bottle.
See an example of a "U.S. Monogram Patented May 12 1863" jar in the museum Jar Gallery that is attributed to Ephraim Wormser.
EPHRAIM WORMSER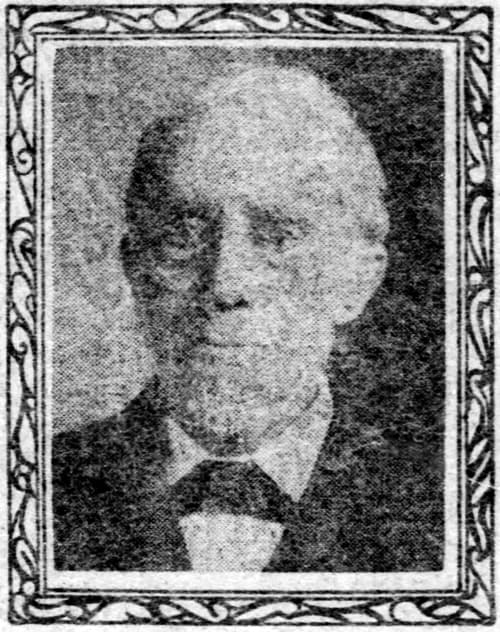 Ephraim Wormser was one of western Pennsylvania's pioneer glass manufacturers. He was born in Stuttgart, Germany, in 1817 and came to America in 1836, where he first settled in Philadelphia. Wormser would come to Pittsburgh in 1845, where he embarked in the drygoods business with his brother-in-law, William Frank, under the banner Frank & Wormser. They had a store on Market Street.
In 1854, Wormser partnered with Jacob Burgraff and William Frank as Wormser, Burgraff & Co. to establish the Pittsburgh Green Glass Company. In the depression year 1857, the firm was joined by William Frank. At the same time, Burgraff left the partnership, and the firm became E. Wormser & Company. The glassworks was located on 22nd Street near Pennsylvania Avenue. It is during this time period that the concern put out the GXII-15 (and similar GXII-16) "Union" And Clasped Hands – Eagle And "E. Wormser & Co / Pittsburgh / PA" historical flask with the company's full name embossed on the flask.
As noted above, the Wormser bottles were sold first by E. Wormser & Company. By 1875 or 1876, the company name had changed to Wormser Glass Company, then briefly Wormser Glass Co. Ltd; then by 1884, again the Wormser Glass Co. Wormser would use Frankstown Glassworks to make his bottles and jars, which was named after William Frank who became a glass pioneer himself. His glassworks was destroyed by fire in 1874.
Following the death of Ephraim Wormser in 1903, the firm was carried on by his son Joseph. The plant made a variety of bottles but seems to have specialized in beer bottles during the first and second decades of the 20th century. The advent of Prohibition in 1920 may have adversely affected the firm, forcing its closure for several years. By 1927, the firm again was listed, this time as Wormser Co., Inc., producing a variety of bottles. The final closure of the plant was circa 1928.
Primary Image: "Union" And Clasped Hands – Eagle And "E. Wormser & Co Pittsburgh PA" Historical Flask imaged by the FOHBC Virtual Museum midwest studio by Alan DeMaison.
Support Image: Auction Lot 37: "UNION" / CLASPED HANDS – EAGLE / "E. WORMSER & Co / PITTSBURGH / PA." Historical Flask, Frankstown Glass Works, 1861 – 1866. Gorgeous, deep blue-green, almost a teal coloration, large applied ring collar – smooth base, Qt, pristine perfect! GXII-15. This example has been referred to as, "The Jared Spencer of Union Flasks." An exceptional "UNION" flask and likely the finest example in terms of color, mold, and condition. Provenance: Ex. Judge Blaske collection. – John Pastor, American Glass Gallery, Auction #19
Support Image: Auction Lot 64: Clasped Hands And "Union" – Eagle And "E. Wormser & Co / Pittsburgh / Pa." Historical Flask, E. Wormser and Company Manufacturers, Pittsburgh, Pennsylvania, 1860-1870. Bright yellow amber with a topaz tone, applied square collared mouth – smooth base, quart; (shallow 1/4 inch flake from side of mouth, 1 inch crack at base edge). GXII-15 Beautiful, bright color. Strong embossing. – Norman Heckler Jr. & Sr., Norman C. Heckler & Company, Auction #110
Support Image: Auction Lot 48: Two "Union" And Clasped Hands – Eagle And "E. Wormser & Co / Pittsburgh / PA" Historical Flasks, E. Wormser and Company, Pittsburgh, Pennsylvania, 1857-1866. Aquamarine and olive yellow, applied round collared mouths – smooth bases, quarts. GXII-15 Two great examples with strong mold impressions. Fine condition. – Norman Heckler Jr. & Sr., Norman C. Heckler & Company, Auction #115
Support: Reference to American Bottles and Flasks and Their Ancestry by Helen McKearin and Kenneth M. Wilson, Crown Publishers Inc., New York, 1978.
Support: Reference to Standard History of Pittsburg, Pennsylvania, Volume 1, by Weston Arthur Goodspeed, 1898
Support: Reference to Wormser Glass Companies by Bill Lockhart, Beau Schriever, Bill Lindsey, Carol Serr, and Bob Brown
Join the FOHBC: The Virtual Museum is a project of the Federation of Historical Bottle Collectors (FOHBC). To become a member.