T. K. Hibbert Pittsburg
T. K. Hibbert Pittsburg
Thomas K. Hibbert, Pittsburgh, Pennsylvania
Cylindrical Blue Druggist or Master Ink Bottle
Provenance: Chip Cable Collection
Thomas K. Hibbert ordered our medium-blue glass druggist or master ink bottle in the first half of the 1850s. The cylindrical bottle, without a spout, is embossed in a serif typestyle in two flush-left lines from shoulder to base, 'T. K. HIBBERT' (1st line) and 'PITTSBURG' (2nd line). The spelling of "Pittsburg" is a correct early variant of "Pittsburgh," which eventually became the spelling for the city. The bottle shoulders are rounded, and there is an applied sloping thin square collar atop a tall narrow neck. The base has a rough pontil mark. The character and condition is excellent. The bottle was found at a construction site in 1978.
There are two blue bottles, both extremely rare. The larger is 7 inches tall by 3 inches wide. An aquamarine example is reported. The smaller one is 5 ½ inches tall by 2 ¼ inches.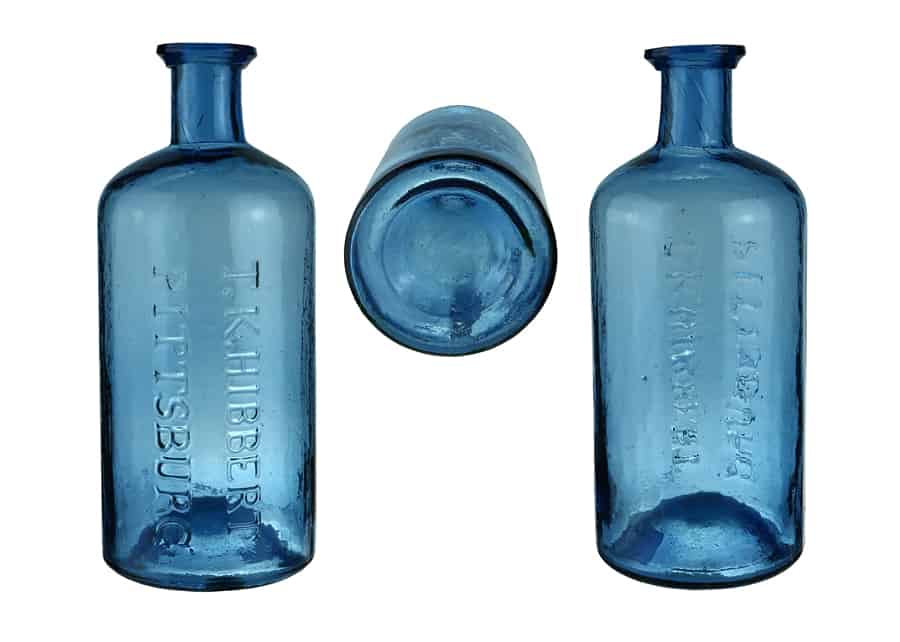 It is unknown when and where Thomas K. Hibbert was born, though he may have been from England, born around the turn of the century. We first see T. K. Hibbert listed as a laborer in the 1839 city of Pittsburgh directory. One year later, he is selling "Tree of Life Pills" for 25 cents per box listed as a "Druggist, located at No. 143 Liberty Street, Corner of Plum Alley, immediately opposite the Commercial Row."
In 1847, advertisements were placed in the Pittsburgh Gazette for Hibbert's Chemical Writing Fluid in part reading:
"In soliciting the patronage of the public for this article, it is but right and proper that its merits on which the claim for support is based should be fully and fairly set forth, and also some guarantees be given that the community will not be imposed upon by using it. In the first place, it is well known that the generality of black "inks" are composed of a precipitate, held together by gum Arabic, and when the water, either in whole or part, is evaporated, the gum and precipitate are left as a pasty mass in the pen or inkstand which contains it. It is also common to add vinegar to the ink mixture to make it more fluid, which increases the evil by acting on the pen, if a steel one, corroding it through in a very short time.
Now the "Writing Fluid" differs from these mixtures in every respect, as it is a chemical solution requiring no viscid matter to hold it together, therefore will never get thick, and being very fluid, a large quantity flows from the pen into the given space penetrating deeper into the fiber of the paper making a more permanent stain and one less easily moved by attrition than if it was only plastered on the surface.
It also contains no matter that has an affinity for metallic iron, therefore will not corrode steel pens—it will not mould, and although it writes of a bluish green color yet, in a few hours, it becomes a deep black which will endure for ages. it is warranted superior to the foreign article known by the name of "Arnold's Writing Fluid," and one-third more given for the same price."
See the museum example of "Albert's Writing Fluid."
Hibbert was selling his ink retail and wholesale from 143 Liberty Street. He signed off his ads as Thomas K. Hibbert, Druggist, Chemist and Manufacturer. B. A. Fahnestock & Co. was also selling the Hibbert inks.
See the museum example of a "B.A. Fahnestock & Co. Ink."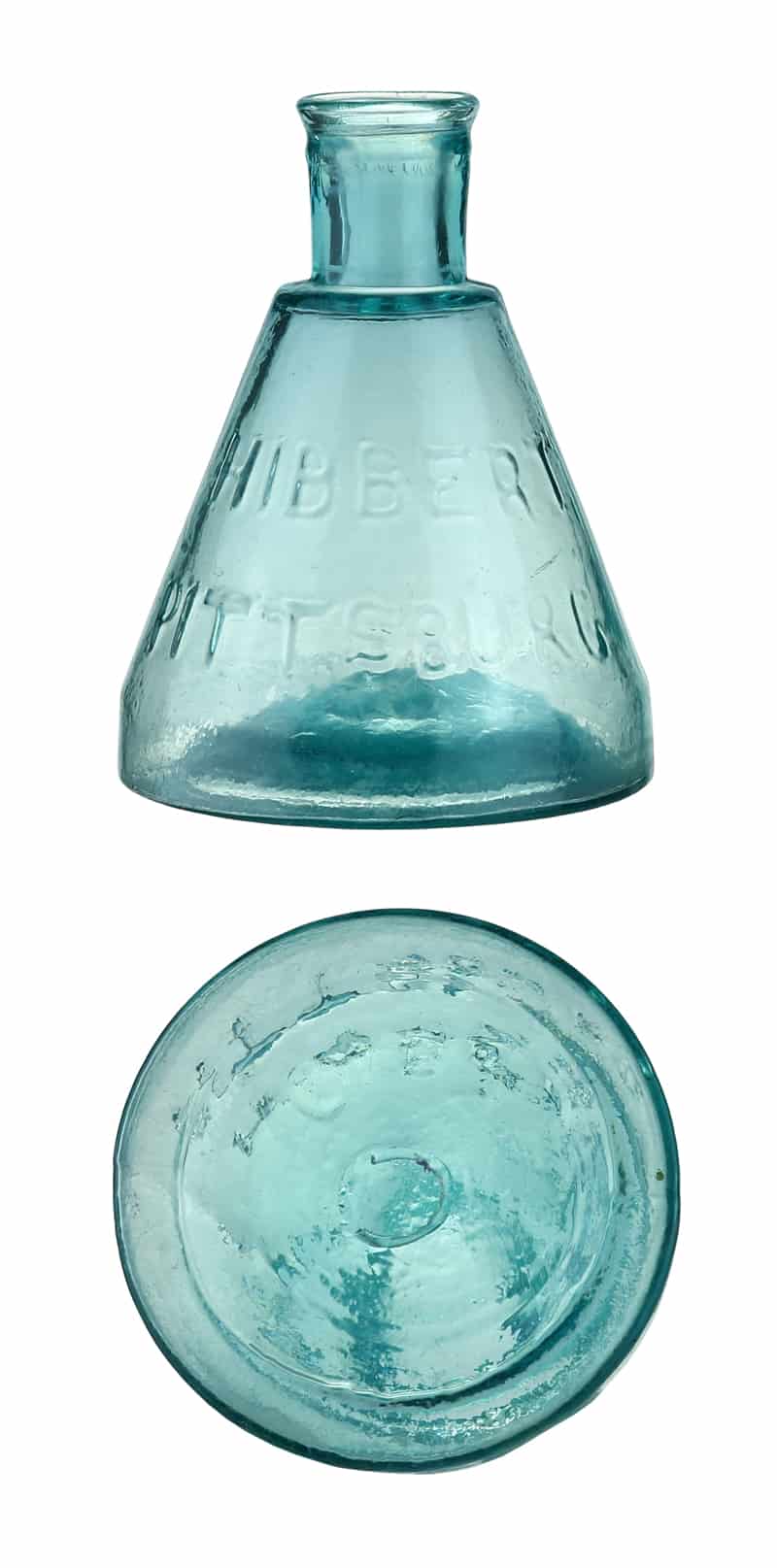 The second Hibbert piece in our museum Ink Gallery is this aquamarine cone ink pictured above, also from the consignor. It was purchased in a Glass Works Auctions sale in December 2013. The small bottle reads in two lines in a sans serif copy, 'HIBBERT' (1st line) and 'PITTSBURG' (2nd line). The oversized cone has an open pontil and inward rolled lip and is in perfect condition. It is considered extremely rare, with one of only two or three known examples.
See the museum example of the "Hibbert Pittsburg" aqua cone inkwell.
Thomas K. Hibbert's death was reported in 1855, which may attest to why his bottles are so rare.
Primary Image: "T. K. Hibbert Pittsburg" bottle imaged on location by Alan DeMaison, FOHBC Virtual Museum Midwest Studio.
Secondary Image: "Hibbert Pittsburg" cone ink bottle imaged on location by Alan DeMaison, FOHBC Virtual Museum Midwest Studio.
Support Image: Auction Lot 348: Cone Ink, "HIBBERT / PITTSBURGH," (Faulkner pg. 159), Pennsylvania, ca. 1840 – 1860, aqua oversized cone, open pontil, inward rolled lip. Lightly cleaned to perfect condition. Extremely rare, the first we've sold or seen and one of only two or three known examples! An impressive-looking ink bottle! – Jim Hagenbuch, Glass Works Auctions, December 2013.
Support Image: Two cobalt blue "T. K. Hibbert Pittsburg" druggist–ink bottles in the window. – Chip Cable collection
Support: Reference to Ink Bottles and Inkwells, William F. Covill, Jr., 1971
Join the FOHBC: The Virtual Museum is a project of the Federation of Historical Bottle Collectors (FOHBC). To become a member.