GII-62 • "Liberty" Eagle – "Willington / Glass Co" "West Willington Conn" Historical Flask
GII – 62
Liberty Eagle
Willington Glass Co
West Willington Conn
Willington Glass Works, West Willington, Connecticut
Blue Green Pint Flask
Provenance: Richard S. Ciralli Collection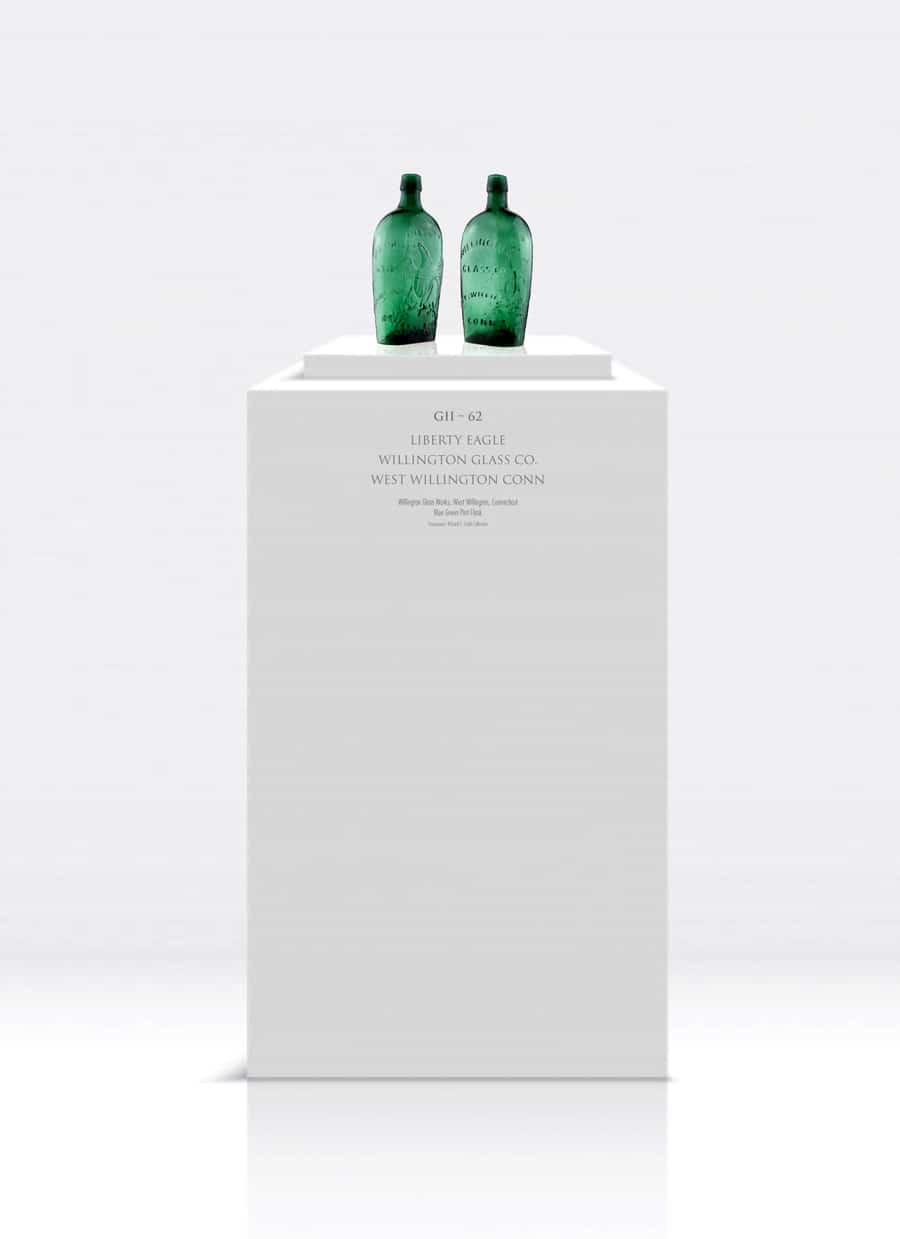 Our blue-green GII-62 Liberty Eagle – Willington Glass Co. pint flask represents the finest possible example of this mold. The glass color, clarity, and condition contribute to this assertion.
When describing the piece, there is a prominently embossed American eagle with a long neck and its head turned to the left presented on the primary face of the flask. The right eagle wing is slightly foreshortened in comparison to the left wing. The eagle stands on an oval wreath of laurel branches. The word 'LIBERTY' is embossed in a slight arch over the eagle which has a breast shield with five vertical bars.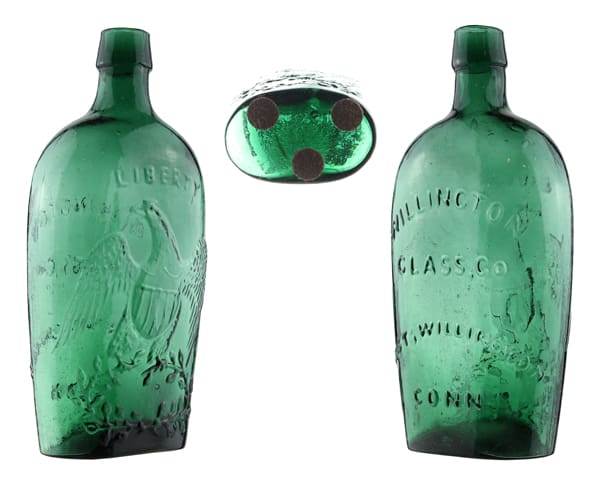 On the reverse side of the flask are four embossed lines of copy reading, 'WILLINGTON' (1st line arched), GLASS, Co (2nd line straight, a comma after "Glass"), 'WEST, WILLINGTON' (3rd line arched, a comma after "West") and 'CONN' (4th line straight, the "o" in "Co" is smaller and raised and without a period).
The pint flask can be found with either an applied plain lip, a double rounded "doughnut" collar, or a broad sloping collar. The flask has a smooth base and edges. The glass colors include a clear deep green, amber, olive-amber, blue-green, emerald green, moss green, forest green, and olive green.
Willington Glass Company
In a small town in Connecticut in 1814, just after the War of 1812, a small glassmaking venture was formed northeast of Coventry and only 26 miles from Hartford. Few facts of the early years of Willington Glass Works are known though by most accounts, they were moderately successful.
In 1847, six men purchased the glassworks and in April of that year incorporated the Willington Glass Company which is embossed on our flask. Their capitalization was $6,500 from 260 shares at $25 a share. Their main purpose was to "manufacture and sell glassware in all its various branches" and to establish a retail outlet for their products.
The concern, for various reasons, did not start producing bottles until the third quarter of 1849. They employed at least 26 men which included eleven glassblowers, one batch mixer, one for a "material borrow", one to fill the wood oven, three to tend the pot oven, one fireman, one choreman, and seven bottle packers. In addition to the core workers, were three sets of boys to carry off finished products and one set of boys to presumably break off moils from the blowpipes.
See the museum examples of GII-61 Liberty Eagle Willington Glass Co quart flasks.
See the museum example of a Willington Cathedral Pickle in the Food & Sauces Gallery.
The glasshouse initially produced a wide variety of green and black glassware and bottles such as inkwells, snuffs, demijohns, chestnuts, soda, mineral water, porter, wine, oil, syrup, varnish, druggist, and flasks including some Pitkin types, all blown to order. There were reportedly a few rare sealed bottles as well. From the 1860s to 1872, demijohns dominated the sales with wines, some bitters, and even a booze bottle cabin figural. Perhaps the most famous of the wares are the Willington gothic cathedral-type pickle jars of varying sizes and colors. They also produced base-embossed cylindrical bottles (there are 9 variants known), varying sizes of berry bottles in olive amber and olive green colors, and the popular Liberty Eagle marked flasks in half-pint, pint, and quart GII-61 through GII-65 molds. The Willington glassworks also produced utility bottles, insulators, rolling pins, and assorted tableware. The colors of the glass were similar to Pitkin and Coventry though the shades of greens are among the most beautiful glass ever produced in America.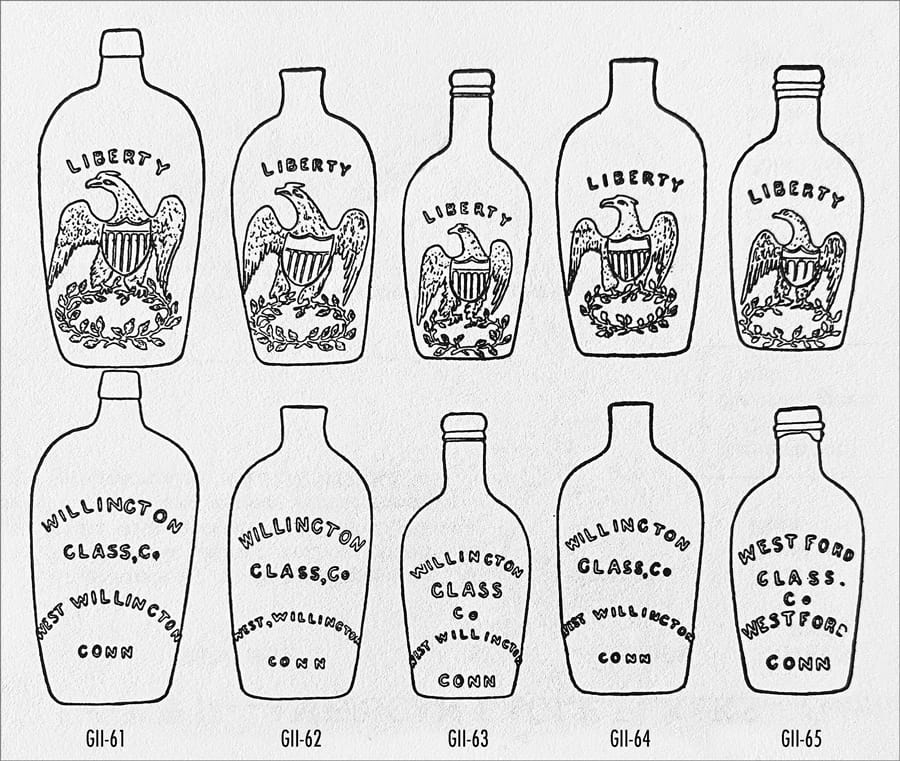 Primary Image: The GII-62 pint Liberty – Eagle Willington Glass Co flask imaged on location by the FOHBC Virtual Museum midwest studio led by Alan DeMaison.
Support: Reference to American Bottles and Flasks and Their Ancestry by Helen McKearin and Kenneth M. Wilson, Crown Publishers Inc., New York, 1978.
Support: Reference to The West Willington Glassworks 1814-1872 – The Connecticut Museum of Glass.
Support: Reference to Exotic Willington Flasks, by Mark Vuono, Antique Bottle & Glass Collector, June 2011
Support Images: Auction Lot 38: Eagle – "Willington / Glass, Co" Historical Flask, Willington Glass Works, West Willington, Connecticut, 1840-1860. Medium forest green, applied sloping collared mouth – smooth base, pint; (some exterior high point wear). GII-62 Beautiful and unusual color. Fine condition. – Norman Heckler Jr. & Sr., Norman C. Heckler & Company
Support Images: Auction Lot 303: Eagle – "Willington / Glass, Co" Historical Flask, Willington Glass Works, West Willington, Connecticut, 1860-1872. Medium moss green, applied double collared mouth – smooth base, pint; (3/8 inch area of roughness and crazing on top edge of mouth). GII-62 Crisp embossing and an orange peel exterior surface. Generally fine condition. – Norman Heckler Jr. & Sr., Norman C. Heckler & Company
Support Images: "Liberty" Eagle flask made by the Willington Glass Works of Willington, Connecticut between 1860 and 1873. The form is an unusual one among those I encounter in the marketplace and the color is a bright blue-green. This exact flask was formerly part of the collection of renowned American bottle collector Charles B. Gardiner (sic). The exact style is referenced in "American Bottles & Flasks & Their Ancestry" by Helen McKearin and Kenneth Wilson (1978, Crown Publishers, New York) as item "GII-62" [i.e., Group II, version 62]. The McKearin text was meticulously researched and serves as the Bible of flask collecting and production in early America. The imagery molded into the hand-blown bottle includes a spread-winged eagle with a federal shield upon its breast, perched on an oval wreath of olive branches. The eagle is leftward-facing with the wing, neck, body and legs in a sweeping crescent pose and above, in a slight arch, is the word "Liberty." On the reverse is the maker's name and location, "Willington Glass, Co" and "West, Willington Conn." In addition to the Gardiner (sic) provenance, the flask is also ex-Gail Ross. – Jeff R. Bridgman Antiques, Inc.