H. Brand & Co.
Toledo. Ohio.
Henry Brand, Toledo, Ohio
Light to Medium Blue Pony
Provenance: Doug Shuter Collection
Our embossed 'H. Brand & Co., Toledo, Ohio' bottle reveals a rich and complex history of young pioneer German-American immigrants involved in brewing and manufacturing mineral and soda water in Toledo, Ohio.
Toledo was founded in 1833 on the west bank of the Maumee River and originally incorporated as part of Monroe County, Michigan Territory. It was re-founded in 1837, after the conclusion of the Toledo War, when it was incorporated in Ohio.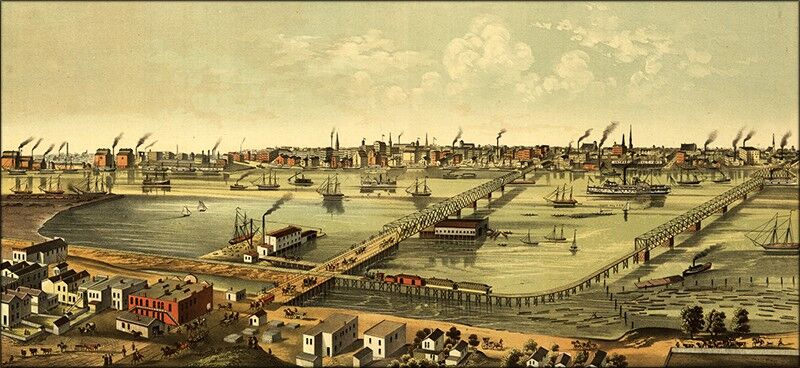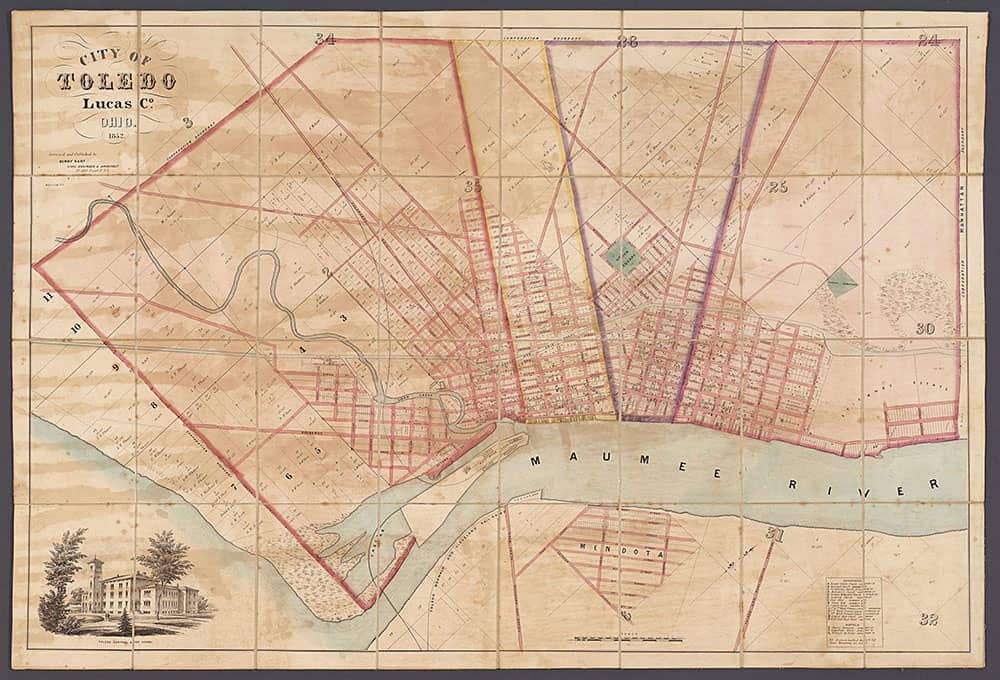 After the 1845 completion of the Miami and Erie Canal, Toledo grew quickly. The canal's purpose greatly assisted water transportation to eastern markets, including to New York City via the Erie Canal and Hudson River. The city also benefited from its position on the railway line between New York City and Chicago. The plentiful water supply and an abundant grain supply made Toledo and ideal location for brewing and distribution. The first of many glass manufacturers arrived in the 1880s, eventually earning Toledo its nickname "The Glass City."
Our subject 7-¼" tall cylindrical pony is embossed in an arch 'H BRAND & CO.' over two lines reading 'TOLEDO.' and 'OHIO.' The typestyle is serifed. The 'i' of Ohio is centered beneath the last 'o' of Toledo. There is an embossed period after the words Toledo and Ohio. The reverse is blank. The applied blob top mouth is set on a tapered neck on rounded shoulders on the bottle that has an improved pontil. The light to medium blue bottle is rare and was made and distributed circa 1858 to 1861.
We have a second Henry Brand cylindrical soda bottle in the museum (coming soon) that is aqua, 7-1¼" tall and embossed 'BRAND'S' in an arch over 'MINERAL WATER' (2nd line horizontal) and 'TOLEDO. O.' (3rd line horizontal). There is an embossed period after Toledo and O. The reverse has a 1-¼" tall embossed 'B' for Brand. An inverted applied blob top mouth is set on a tapered neck and rounded shoulders on the bottle that has an improved pontil. The bottle was made during the same time period. We have pictured darker blue examples here in the museum.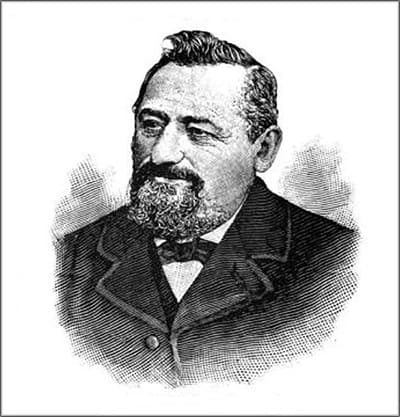 Heinrich Brand, or Henry, was born on May 9, 1828 (Baptized February 24, 1830) in Gau-Odernheim, Rheinland-Pfalz, Deutschland. He immigrated to America at a young age and was listed as a laborer in the 1850 Toledo Ohio City Directory. Henry would marry Francesca Henner (1836–1889) after his arrival and they would have five children; Henry (1857–1880), Augusta (1859–1914), Carl Rudolph (1863–1913), Louisa (1866), and Adolph (1871–1927).
Henry Brand would move into the grocery business sometime in the 1850s and this would become his prime occupation through 1861 or so. By 1857, Henry Brand would set out to manufacture and sell both mineral and soda water which had become a popular drink. His address was noted on Erie Street between Adams and Oak according to Polk's 1858 Toledo City Directory. By 1860, he was manufacturing porter, ale, cider vinegar, mineral water, and ginger beer using his wholesale grocery to distribute from the same address, 491 Erie.
Joseph Grasser was paralleling a similar course as he was an immigrant from Germany who would come to America in 1848 at the age of twenty years old. In 1850, he was working as a brewer at the Koehler & York Brewery which became the Buckeye Brewery. His first opportunity at proprietorship was with the Schmitt Brewing Company in Toledo, Ohio which was founded in 1838 by John Vogelsang who turned out his first brew of obergehr beer from a six-barrel iron kettle. Philip Koehler obtained control of the plant sometime around 1844, retaining possession for six years. Ernest Greiner and Joseph Grasser then became the proprietors. The former sold his interest to Joseph Welzhofer, who in 1856, was succeeded by John Villhauer. Henry Brand assumed the proprietorship in 1859. By 1860, Joseph Grasser and J. Vellhauer were partners of J. Grasser & Co., Brewery and Malt House, located on the north side of Michigan between Walnut and Cherry Streets.
In 1862, Joseph Grasser and Henry Brand reorganized and founded Grasser & Brand Brewery at the same Michigan Street address. Their output the first year was five thousand barrels of lager beer.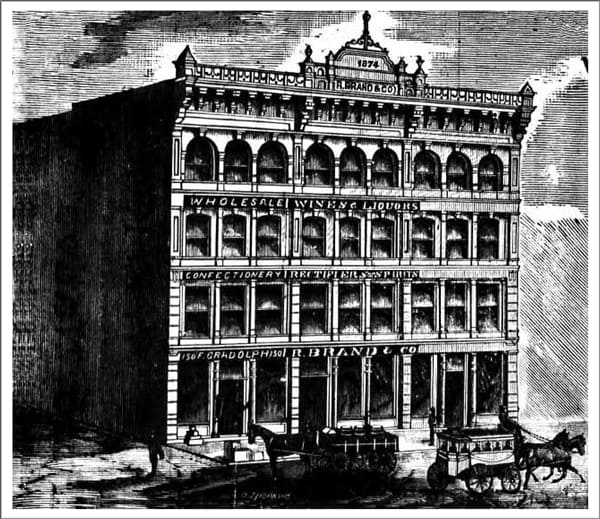 Meanwhile, R. Brand & Co. was established in 1849 by Rudolph Brand who was born in Germany in 1810. By 1860, the company was run by Guido and Adolph Brand, his son. R. Brand & Co. were the successors to Brand & Lenk. They were rectifiers of spirits and importers of brandies, gin, wines, etc. located at No. 36 Monroe Street in Toledo. Their four-story building adjoined the Grasser & Brand Union Brewery on St. Clair Street.
In 1866, the construction for Grasser & Brand's Union Brewery was completed with Henry Brand as president of Union Brewing Company. The address was 146, 148, and 150 St. Clair Street at Williams Street. The Grasser & Brand Brewery had a malt house, refrigeration building, office, and stables. Henry Brand's home was located next door. Cooling tunnels connected the brewery with Swan Creek for easy loading and shipping.
In 1871, Henry Brand was also listed as a bitters manufacturer using his house address on the brewery superblock. A look at the 1875 city directory noted that Frederick, Joseph, and Xavier Brand were working at the Grasser & Brand Union Brewery which would incorporate in 1878.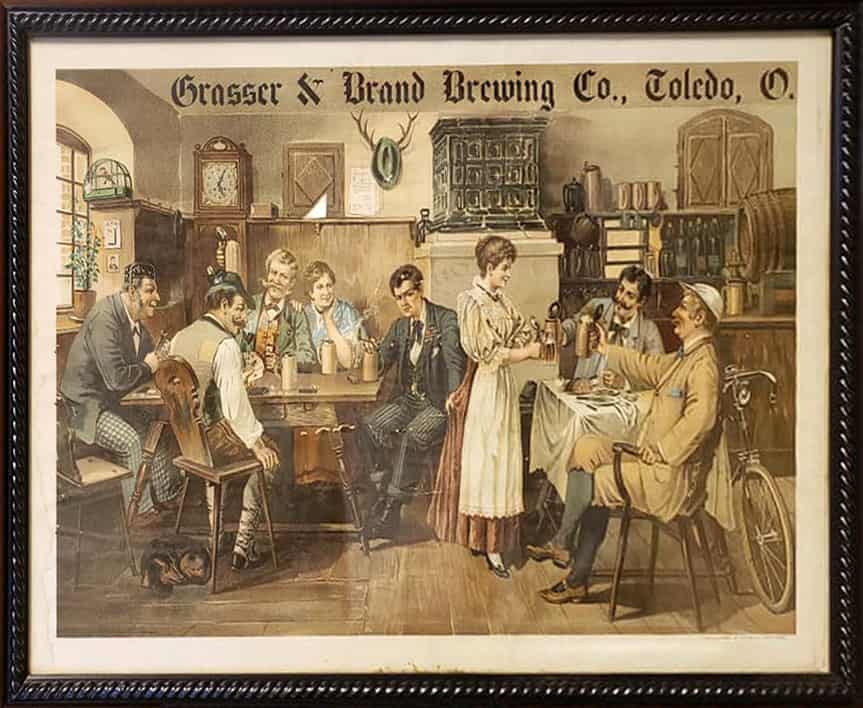 Henry Brand would die on April 13, 1889, in Toledo, Lucas County, Ohio. The Grasser & Brand name would last until 1906 or so until they merged with the Finlay and Huebner Breweries that year. You can find advertisements for the celebrated XXX Brand – Grasser & Brand beer up until the merger.
Primary Image: The H. Brand Toledo, Ohio bottle imaged on location by the FOHBC Virtual Museum midwest studio led by Alan DeMaison.
Support: Reference to One Hundred Years of Brewing: A Complete History of the Progress Made in the Art, Science and Industry of Brewing in the World, Particularly During the Nineteenth Century, H.S. Rich & Company, 1903
Support: Reference to Soda & Beer Bottles of North America, Tod von Mechow
Support: Reference to The American Pontiled Soda Database Project, Tod von Mechow
Support Image: Framed 24″ x 16″ Grasser & Brand Brewing Co. Toledo, Ohio advertising calendar circa 1900-1905. On loan from Laura and Chuck Grasser, Toledo Museum of History.