The Hero
The Hero

The Hero Fruit Jar Co. Philadelphia, Pennsylvania
Amber Quart
Provenance: Jerry McCann Collection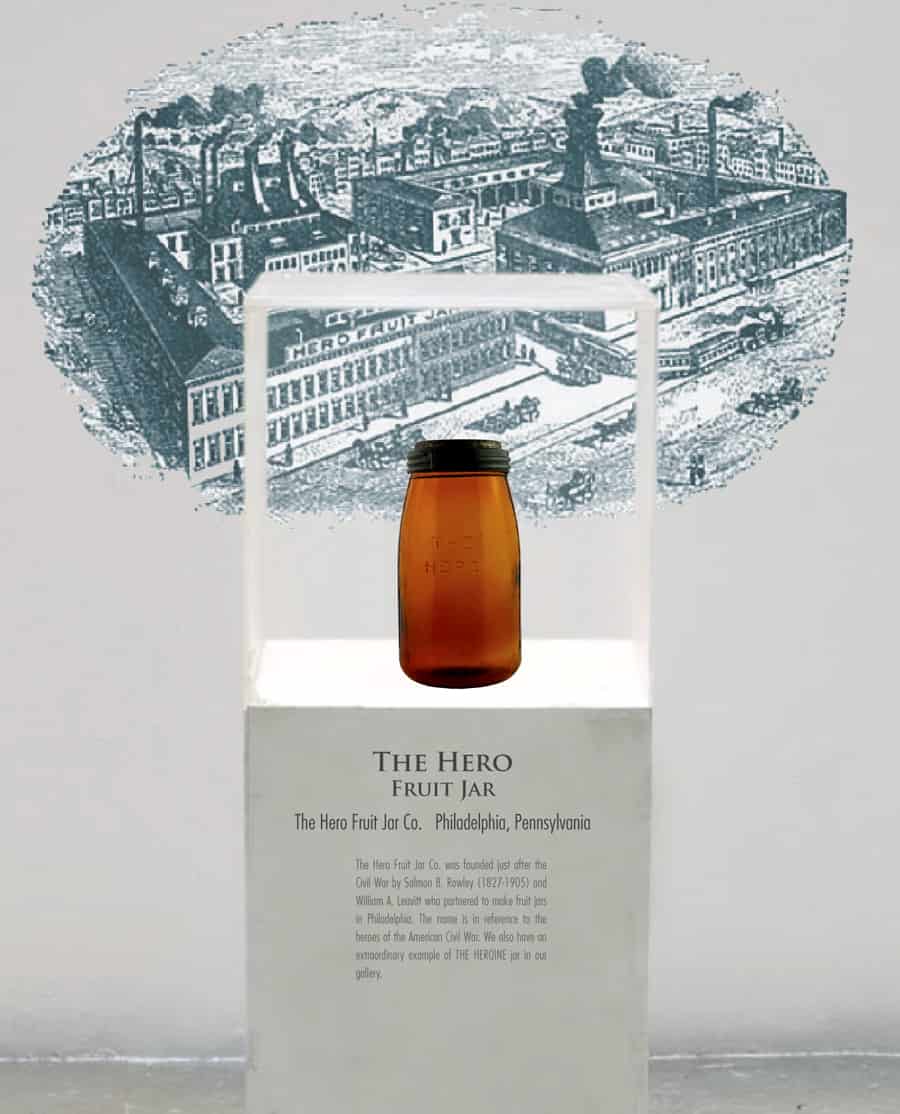 The Hero Fruit Jar Co. was founded just after the Civil War by Salmon B. Rowley (1827-1905) and William A. Leavitt who partnered to make fruit jars in Philadelphia. The name is in reference to the heroes of the American Civil War. We also have an extraordinary example of THE HEROINE jar in our gallery.
Rowley, a native New Yorker, had previously been a jobber with the Lockport Glass Works and specialized in lid design and listed every date possible on his lids and jars. Some of the jars associated with Rowley are Hero, Gem, Pearl, Crystal, and Porcelain Lined. Rowley's idea was a top-sealing jar with a metal or glass lid straddling the ground lip, held down by a zinc band. Their screw-on lid jars were competing with Mason jars which were extremely popular at the time. Rowley would sell his Hero jars throughout the country.
We see the first advertisements for Hero jars in 1868. Once the Mason patents expired in 1879, Hero adopted the Mason name, although it continued to make the Gem and Hero jars.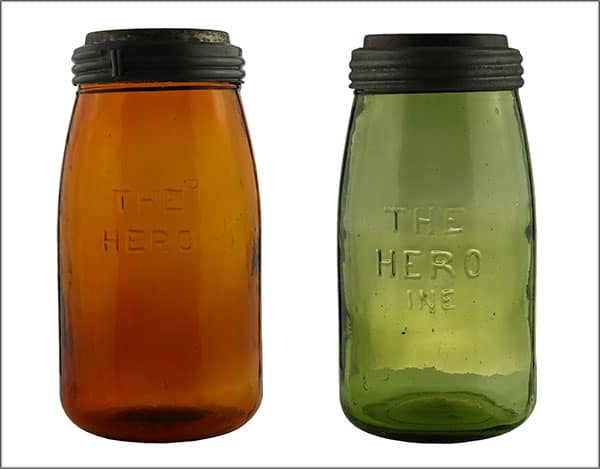 Our amber quart is extraordinary as the jar is usually found in aqua. It has a ground lip, tin lid, and screw band. The base is embossed with 'PATD. NOV. 26 1867.' This jar pairs nicely with its mate, "The Heroine."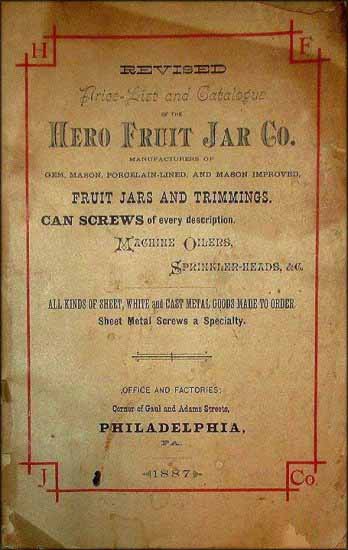 Primary Image: The Hero Fruit Jar imaged on location by the FOHBC Virtual Museum midwest studio led by Alan DeMaison.
Support Images: Auction Lot 4377: THE HERO Greenish Quart with Original Closure. Original zinc insert with circles of patent dates and correct original narrow zinc band. Shiny glass. Normal minor flaking of the ground mouth. Strong embossing. Unmarked, with sharply squared heel shape, making this an early version of the jar. Circa 1870. Scarce especially in this color variation – Greg Spurgeon, North American Glass
Support Images: Auction Lot 833: THE HERO Gallon, An aqua gallon size promotional jar that was probably made for display at the Philadelphia Centennial Exposition of 1876. Embossed in boldly-raised block lettering; "THE HERO." Shiny glass throughout with no damage or stains. Normal flaking of the ground rim edge. Comes with a replica metal 2-piece closure, a zinc band, and a brass insert. Base: "PATD NOV 26TH 1867" encircling: "BROOKE MOULD MAKER". Measures 12-½ inches in overall height, and 5-¾ inches in diameter. An extremely scarce oversize jar that has rarely been seen for sale. From the Philip Robinson Museum Collection. – Greg Spurgeon, North American Glass
Support: Reference to The Hero Glass Firms by Bill Lockhart, Beau Schriever, Bill Lindsey, and Carol Serr
Support: Reference to Red Book #11, the Collector's Guide to Old Fruit Jars by Douglas M. Leybourne, Jr. Use of Creswick illustration courtesy Leybourn.
Support: Reference to Fruit Jar Annual 2020 – The Guide to Collecting Fruit Jars by Jerome J. McCann
Support: Hidden History of Kensington and Fishtown By Kenneth W. Milano