Jos. Fleming Druggist Cor. Market & Dimond, Pittsbg Pa
Jos. Fleming Druggist
Cor. Market & Dimond, Pittsbg Pa
Joseph Fleming, Pittsburgh, Pennsylvania
Blue Aquamarine Round Druggist Bottle
Provenance: Chip Cable Collection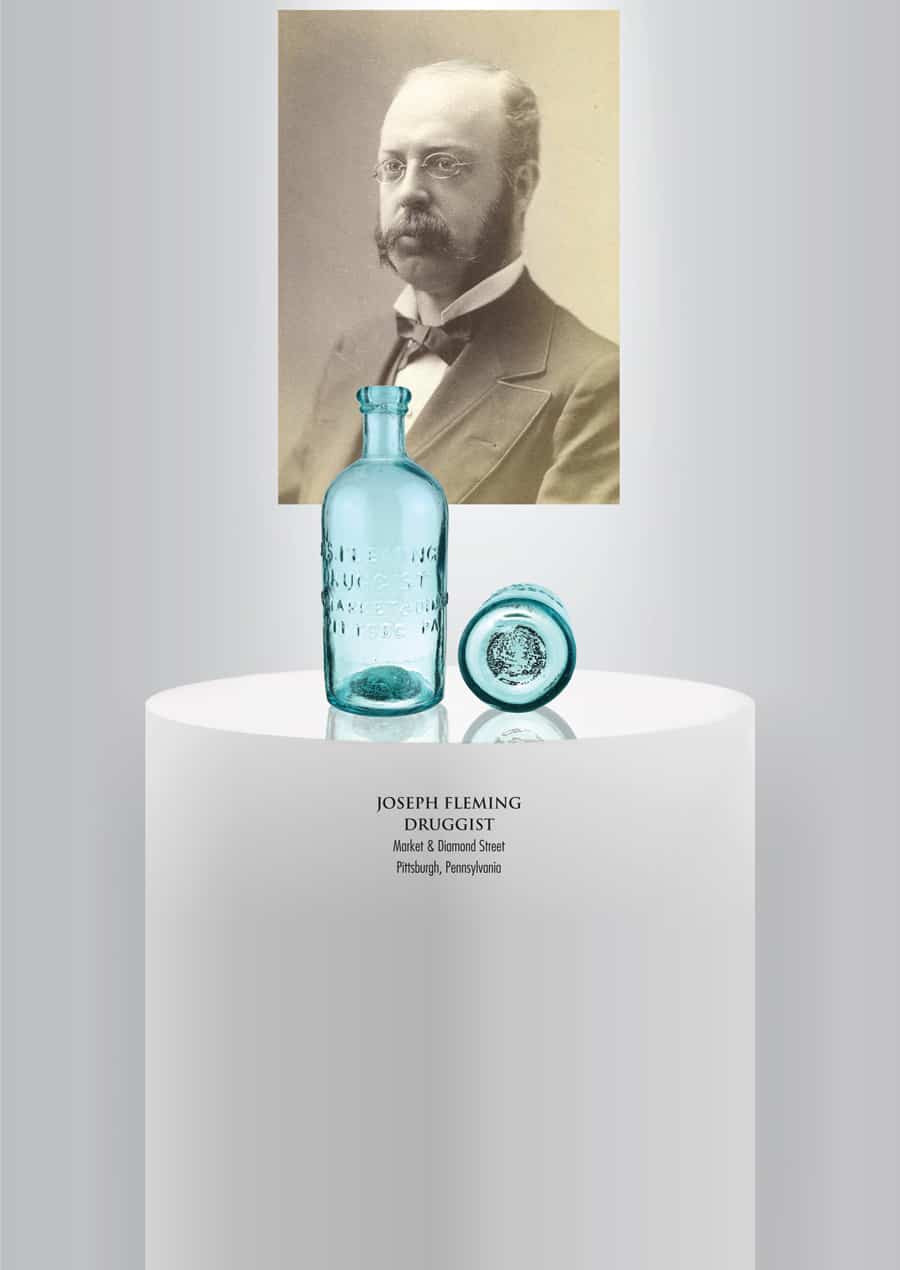 Our round, circa 1855 rich blue aquamarine druggist bottle is iron pontiled and embossed in four lines on the face of the bottle in a sans serif typestyle. The first line reads, 'JOS. FLEMING.' The second line says 'DRUGGIST,' the third line 'MARKET & DIMOND.' Diamond is misspelled "dimond." The fourth line reads, 'PITTSBG PA.' The shoulders are nicely rounded, connecting to a medium-size neck, terminating with an applied double ring mouth. The glass clarity is excellent.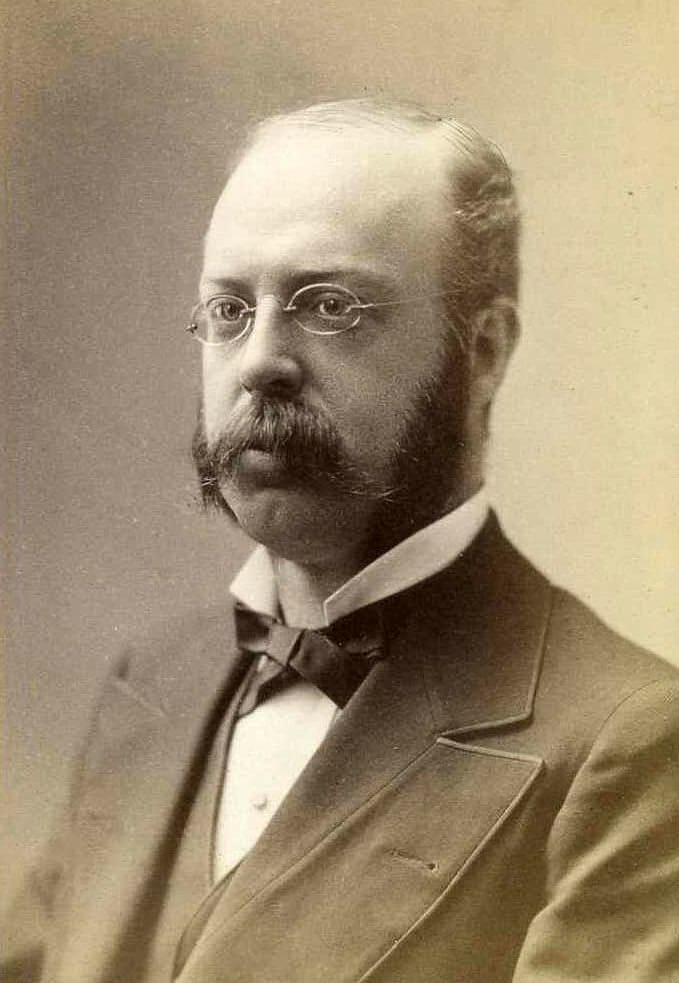 Joseph Fleming was a well-known and respected pioneer Pittsburgh druggist in business for almost a half-century. During this time, he became the holder of large amounts of property and died a very wealthy man. As a speculator, he often alarmed his friends by the magnitude of his deals.
Fleming was born on New Year's day in 1830 in Allegheny City, Pennsylvania. His parents were Cochran and Sara Fleming, who were honest Scotch-Irish settlers who came to America from Londonderry, in the north of Ireland in 1817, settling in Allegheny. They had ten children, and Joseph was one of the youngest.
Joseph's first venture in 1845 was when he apprenticed as a drug clerk in the store of his brother-in-law, Samuel Wilcox. He rose rapidly and nine years later bought out the interest of L. Wilcox Jr. as Samuel had died. Fleming's place of business was at the corner of Market Street and Diamond Street, which is embossed on our subject bottle. Advertising in 1854 said that he constantly kept on hand a full assortment of "Drugs, Medicines, Medicine Chests, Perfumery and all articles pertaining to his business." He was also compounding Physicians' prescriptions at all hours.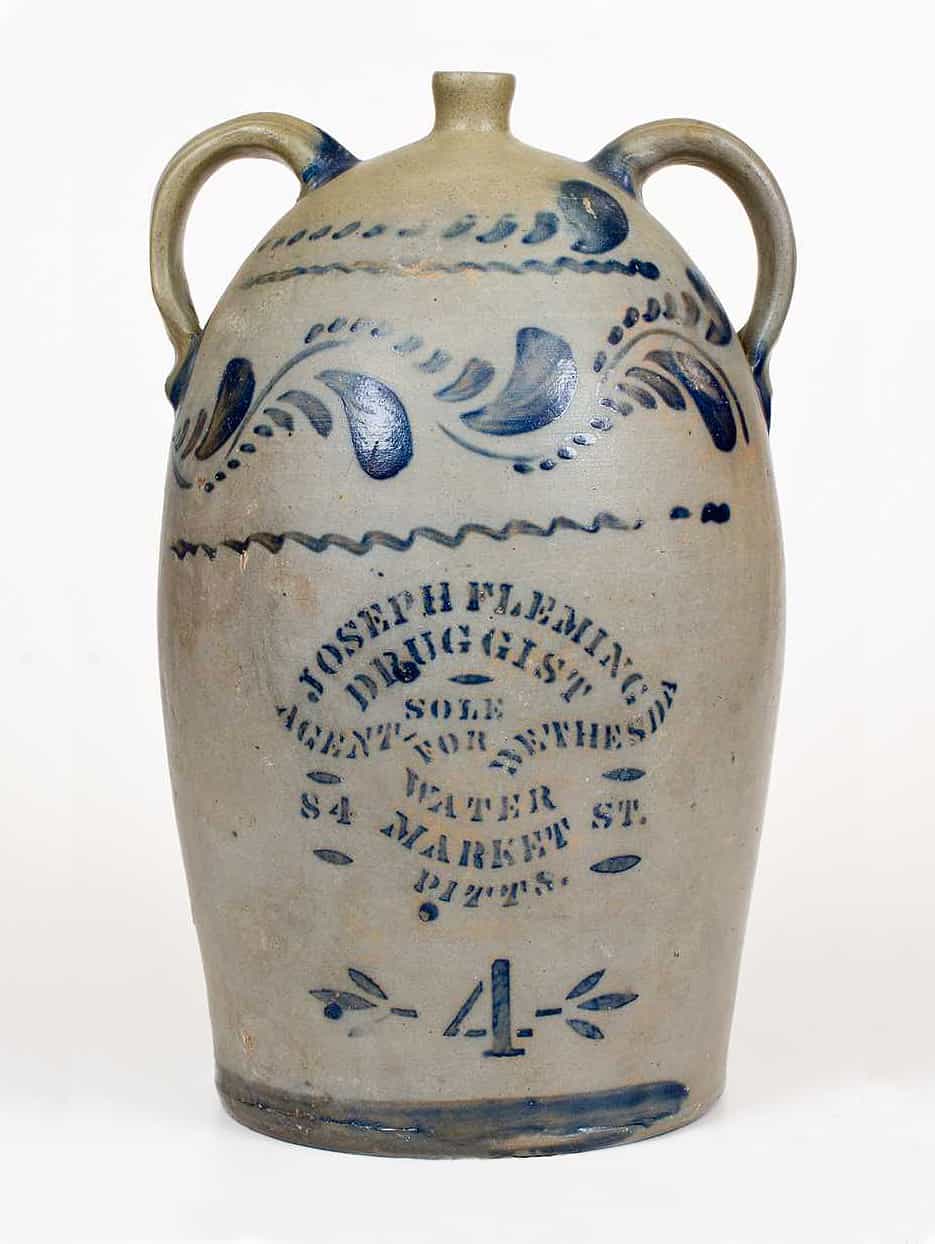 In 1855 he was advertising that he had just received 30 dozen fresh Congress Water cases direct from the spring. He was also selling Wistar's Balsam of Wild Cherry, Brown's Essence of Ginger, Baker's Cod Liver Oil, Murray's Fluid Magnesia, Citrate Magnesia, and Sands' Sarsaparilla, to name a few.
Not far away, in 1854, Joseph's father Cochran Fleming would go into business with his brother John as Fleming Brothers. L. Wilcox Jr. would join them. They were the successors to J. Kidd & Co. The brothers were wholesale druggists located at No. 60 Wood Street in Pittsburgh and the proprietors of Dr. M'Lane's Celebrated Vermifuge.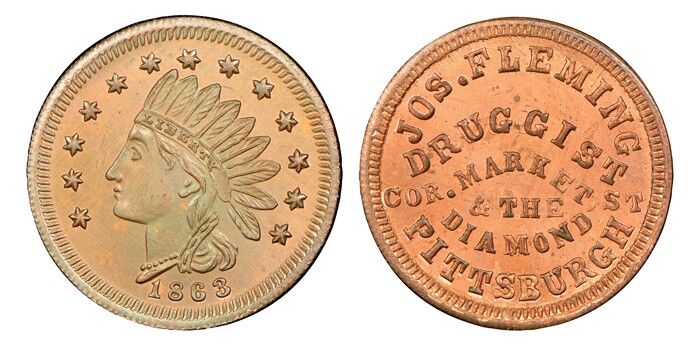 Joseph had six children, two sons, and four daughters. In 1874 he put one son, George S. Fleming, then 13 years old, to work as an errand boy. George eventually worked his way up to clerk, then manager, and in 1888 at age 27, was made a partner by his father. At that point, the elder Fleming changed the company name to Jos. Fleming & Son. Two years later, Joseph died, and George became the sole owner. His personal life involved a deep devotion to scientific sports and the love of athletics. He was the Undine Boat Club's pride patron and had a passion for horses. He kept a magnificent stable with horses who won fame and fortune. When he died on May 15, 1890, he left a record of sterling integrity, and a fortune estimated anywhere from $500,000 to $1,000,000.
George Fleming wasted no time in expanding the business. A contemporary account called him "undoubtedly the best-known druggist west of the Allegheny Mountains." Still doing business from Market and Diamond Streets, the company advertised "Fleming's Export Rye Whiskey" and "Fleming's Malt Whiskey" across the United States. One of their spirits bottle was embossed on two sides "Fleming's Export Pure Rye" and "Bottled Expressly for Family Use." George Fleming was a rectifier and not a distiller. He bought whiskey in bulk, mixed it with other ingredients to his taste, put a label on it, and called it his own.
George also featured as gifts to prime customers attractive paperweights and shot glasses. They frequently used physician endorsements, as might be expected for a druggist. Whiskey sales were not only brisk but highly profitable. A contemporary satirical poem about George Fleming averred: "For although he's a druggist, his earnings are high…From selling old rye."
The same 1892 poem gave some clues to George's personality. "He's a joker, you know, and will never let go, a chance to make merry with friend or foe." At age 31, he was still a bachelor, handsome, fun-loving, and a lady's man—but was adverse to marriage. In 1893, according to news reports, he had a narrow escape from death when the fishing boat on which he was aboard capsized off Atlantic City in a gale.
George would continue with the business until he died in 1912 when he was about 51. Shortly after that, other family members sold the pharmacy to a local druggist who continued to operate it under the Fleming name until Prohibition.
Primary Image: Jos. Fleming Druggist, Pittsburgh, Pennsylvania bottle imaged on location by Alan DeMaison, FOHBC Virtual Museum Midwest Studio
Support: Reference to The Flemings: Druggists Who Mixed the Drinks by Jack Sullivan, Those Pre-Pro Whiskey Men!, August 2011
Support Image: Auction Lot 218: Very Rare Four-Gallon "BETHESDA WATER" Stoneware Advertising Jug for Pittsburgh Merchant, Western PA origin, circa 1875, ovoid jug, featuring the stenciled cobalt advertising, "JOSEPH FLEMING / DRUGGIST / SOLE / AGENT FOR BETHESDA / WATER / 84 MARKET ST. / PITTS.". Shoulder with freehand swag, stripe, and vine motif. Base with stenciled "4" flanked by stenciled foliate designs above a freehand stripe. Cobalt highlights to handle terminals. Rare subject matter. Restored spout and handles. A small in-the-firing contact mark under one handle and to reverse. – Crocker Farm, March 24, 2018 Stoneware Auction
Support Image: Auction Lot LOT #98363: 1863 Pittsburgh, PA Fuld 765E-4a Jos. Fleming, Druggist, R.7, MS66 Red and Brown NGC. Copper. The obverse exhibits fully brilliant orange mint luster and the reverse is dark brown with splashes of orange color. An attractive Premium Gem pharmaceutical token. From The Rev. Dr. James G. K. McClure Collection. – Heritage Auctions, June 2016
Join the FOHBC: The Virtual Museum is a project of the Federation of Historical Bottle Collectors (FOHBC). To become a member.