Kane, O'Leary & Co. Flask
Kane, O'Leary & Co.
221 & 226 Bush St. S.F.

Michael Kane, Charles Carroll Kane & Fergus O'Leary
San Francisco, California
Amber Half Pint Flask
Provenance: Steven Hubbell Collection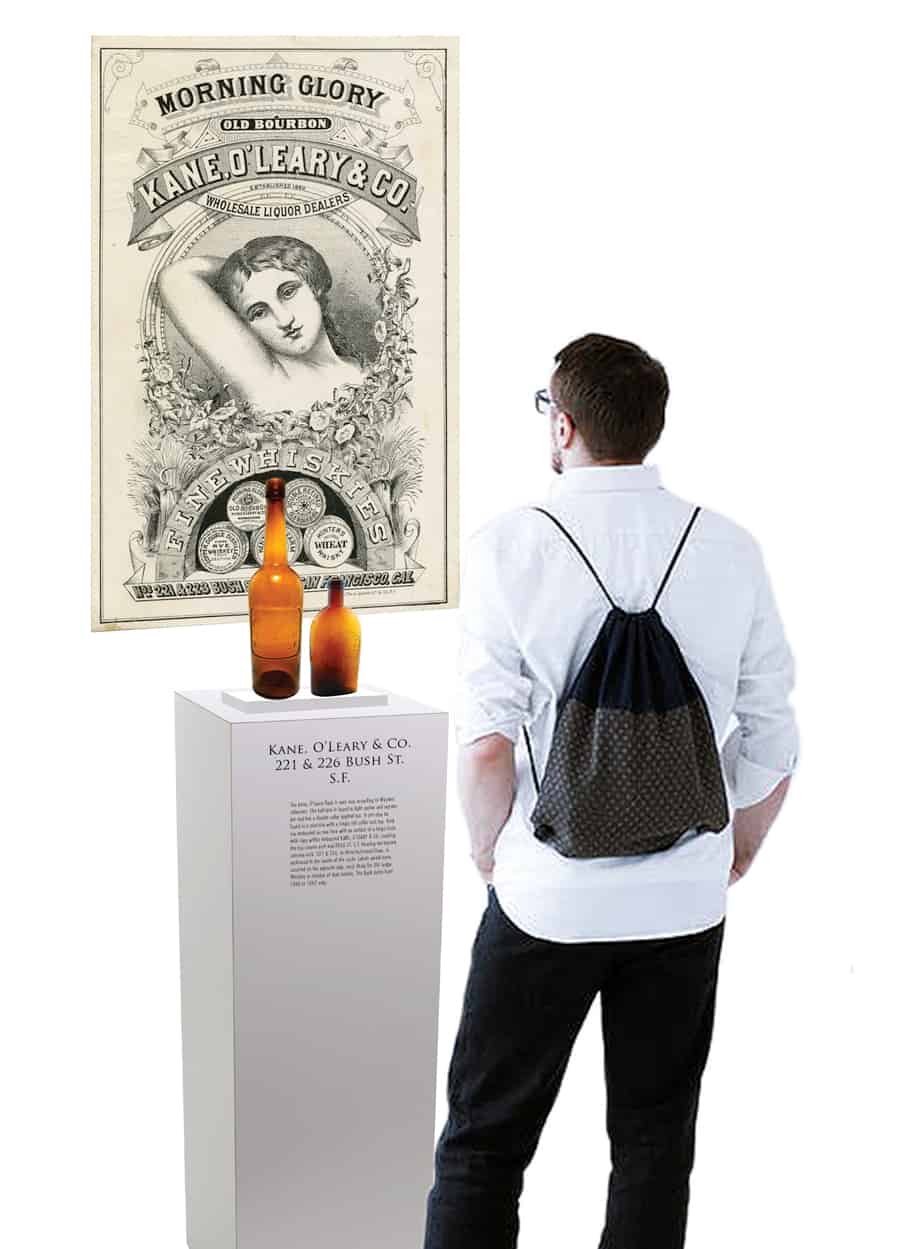 The Kane, O'Leary flask is very rare according to Western collectors. The half-pint is found in light amber and red-amber and has a double collar applied top. It can also be found in a pint-size with a single roll collar tool top. Both are embossed on one face with an outline of a large circle with copy within embossed 'KANE, O'LEARY & CO.' creating the top convex arch and 'BUSH ST. S.F.' forming the bottom concave arch. '221 & 226,' in three horizontal lines, is embossed in the center of the circle. Labels would have occurred on the opposite side, most likely for Old Judge Whiskey or another of their brands. The flask dates from 1880 to 1882 only.
Michael Kane was born in County Derry, Ireland in March 1814. His family came to America and settled in Pittsburgh in 1830. In 1848 he formed a group to go to California to engage in gold mining. They reached Hangtown, El Dorado (Placerville) in August that year.
Kane would go back to Pittsburgh in 1851 and again set off for California, this time via ship through Panama. He was acting as a United States Mail Agent at the time. Once in San Francisco, he was appointed an Inspector of Customs, and then after a year, was promoted to Government Storekeeper, under President Franklin Pierce. Under President James Buchanan, he was made United States Appraiser and held this position for four years.
Michael Kane next became a partner in a new firm called Hunter, Wand & Co. who were wholesale liquor merchants on Front Street in San Francisco. William H. Hunter had previously operated a saloon on the corner of Third and Folsom Streets in 1860 when he started his new wholesale liquor house on 612 Front Street. Tom N. Wand was his partner. This 1860 date is important as later labels from Kane, O'Leary & Co. said, "Established 1860."
The firm afterward became Wand, Kane & Co. and then Kane, O'Leary & Co. They obtained a Certificate of Partnership on June 11, 1874. The partners were Michael Kane, Charles Carroll Kane, and Fergus O'Leary.
In February 1880, Kane, O'Leary & Co. were listed as Importers and Wholesale Dealers in Wines and Liquors and had changed their address to Nos. 221 and 223 Bush Street between the Occidental and Cosmopolitan Hotels. It's interesting to note that the address on the flask is off one set of numbers as '226' is used instead of '223.' Probably just an addressing mistake.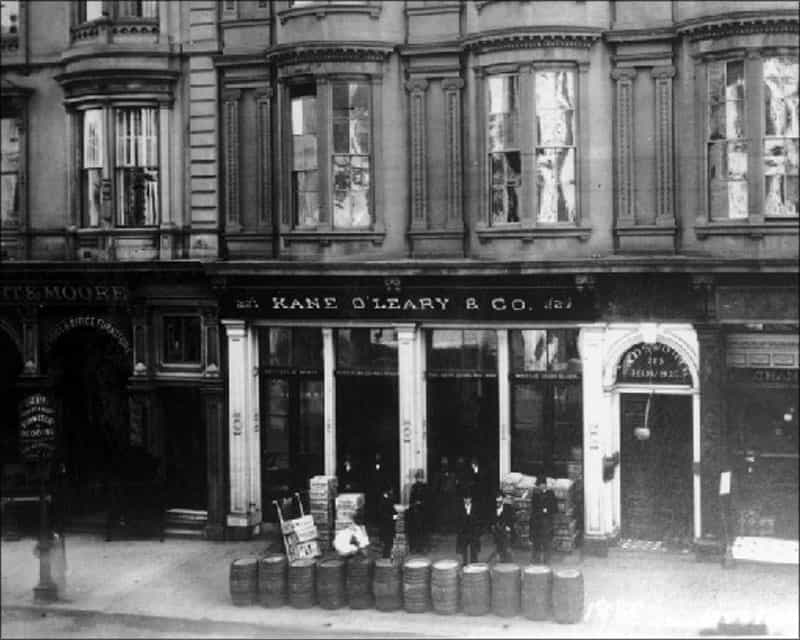 In August 1880, a trade-mark was filed in the office of the Secretary of State for Garfield Whisky (sic), and Hancock Whisky (sic) by Kane, O'Leary & Co. of San Francisco. In November, that same year, a trade-mark was obtained for Morning Glory Old Bourbon. In January 1881, they filed for a trade-mark for Paragon and Old Judge "for liquors put up by the firm."
On January 11, 1882, the firm of Kane, O'Leary & Co. was dissolved and the company sold to Newmark, Gruenberg & Co. (Myer J. Newmark and Max Gruenberg) who would continue the business at the same address. Kane would retire a wealthy man who spent the rest of his years investing his capital. He would settle in Alameda after a trip to Europe and die a well-known man in 1899. He will be remembered as a pioneer in his time.
See an example in our museum of Old Judge Bourbon, Newmark, Gruenberg & Co.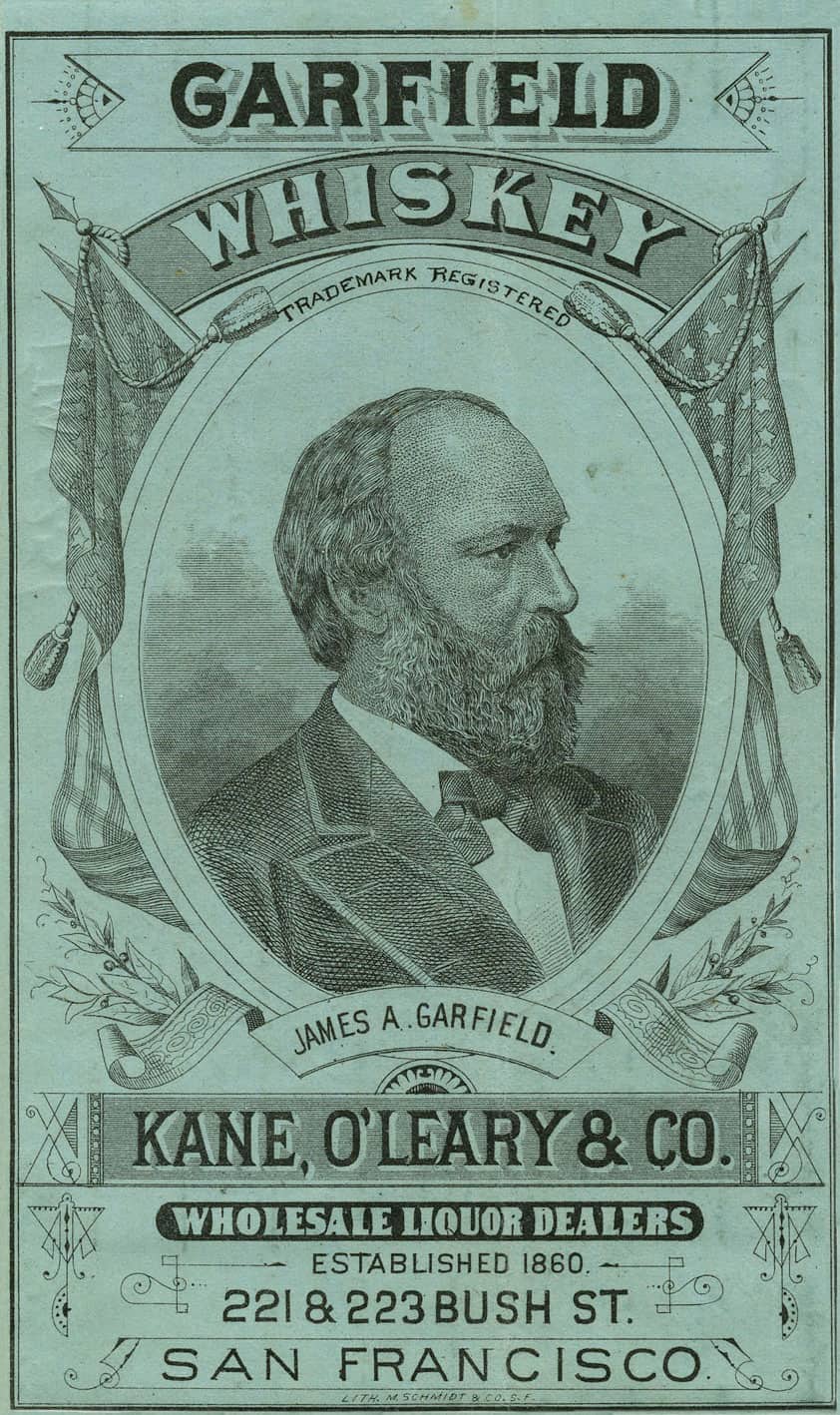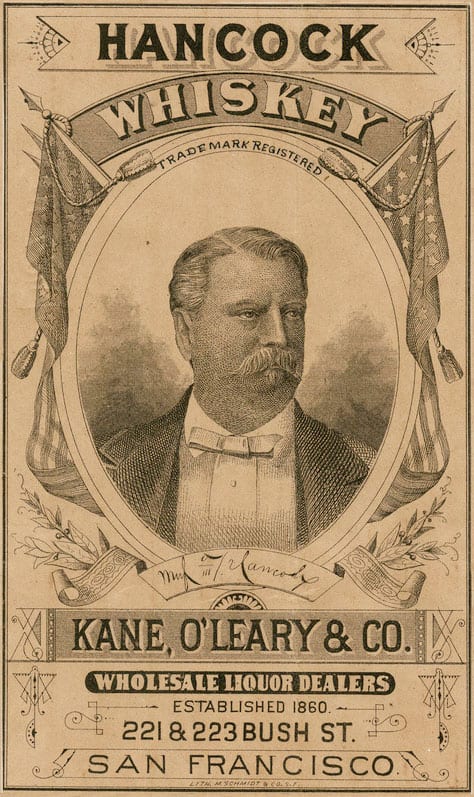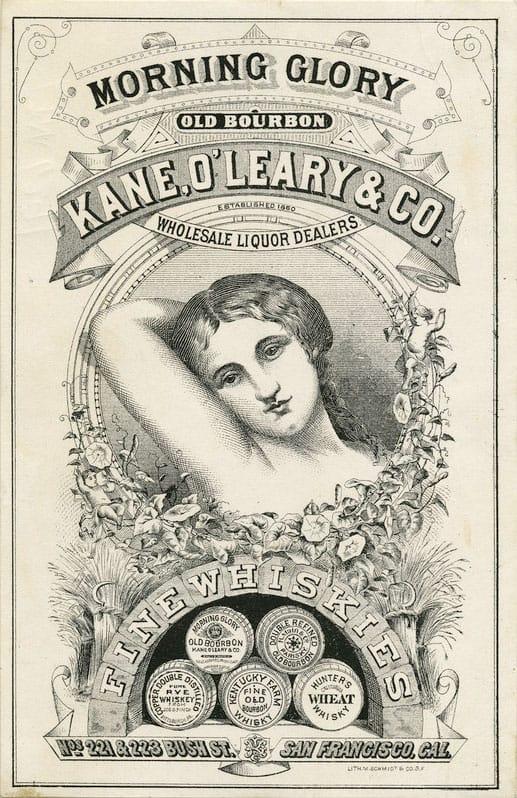 Primary Image: Kane, O'Leary & Co. bottle imaged on location by the FOHBC Virtual Museum midwest studio led by Alan DeMaison.
Support: Reference to Whiskey Bottles of the Old West by John L. Thomas, 2002
Support: Reference to WesternWhiskies.com. Inclusion of sunset image of Kane, O'Leary & Co. red amber fifth and half-pint.