Sauce Bottle (Amber)
Sauce Bottle
Paneled & Unembossed
Amber, Aquamarine & Green
Unknown Proprietor & Glasshouse
Provenance: Lou Pellegrini Collection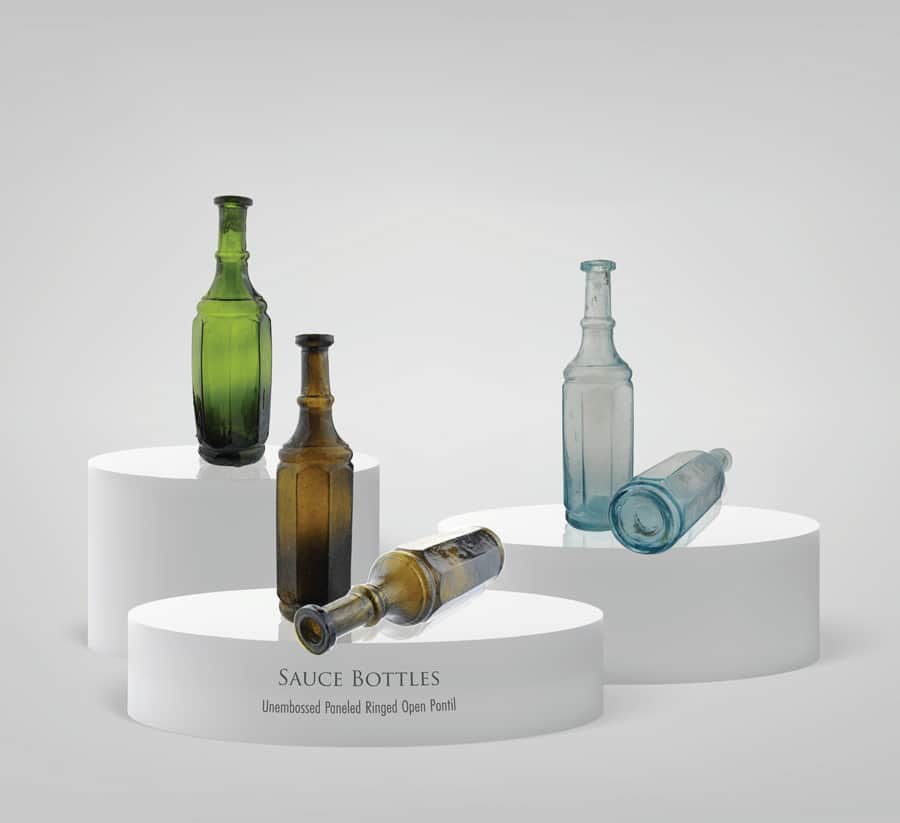 Sauces and condiments for foods were marketed as a necessity before the food preservation advances of the 20th century. The foods available during the 18th and 19th centuries were often bland, of dubious quality and origin, and effective date-stamping did not exist. This led the way for the preparation and use of a wide variety of sauces to enhance the food flavor or cover up any off-flavors.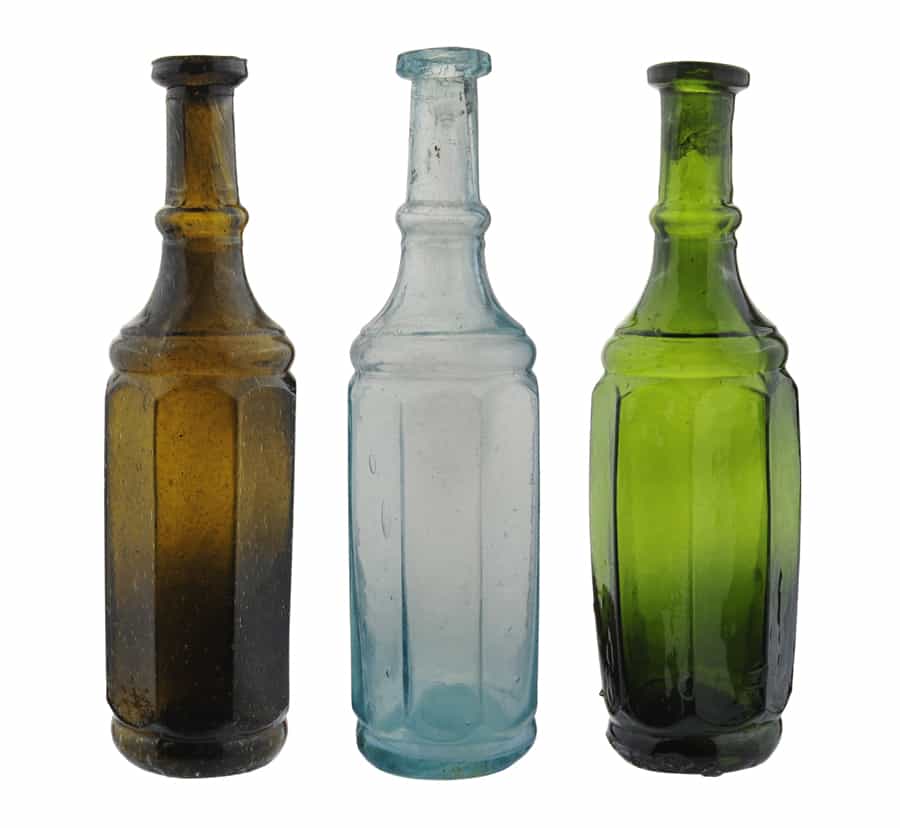 We have on display three early sauce bottles from the same Western collection. The featured bottle was blown in amber glass, accompanied by an aquamarine and green glass example. All three were included in the Food & Sauce Bottle Display that won the Best in Show ribbon at the FOHBC 2022 Reno National Antique Bottle Convention.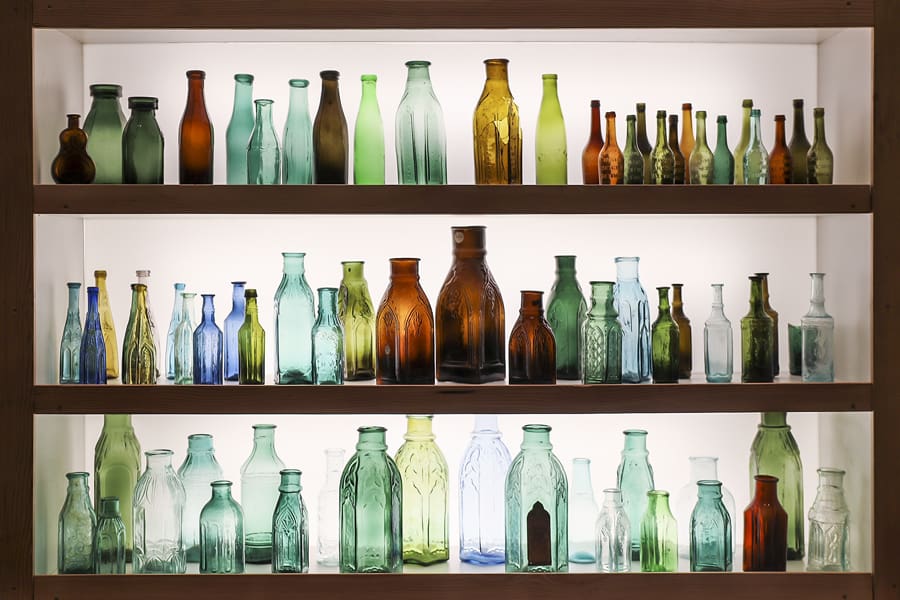 The crude unembossed amber bottle has paneled vertical finger panel sides and three distinct rounded horizontal rings segregating the body which is full of contained and surface seed bubbles. The first ring is the base pedestal; the second separates the side panels and bell-shaped neck, and the third is centered on the neck. A much smaller suggestion of a ring occurs above the shoulder ring and above and below the neck ring. The mouth is an applied flat ring collar, and the base has a rough blowpipe pontil scar. The aquamarine and green examples are of similar construction, with the green bottle being slightly shorter and having a misshapen body and neck. The proprietor(s) and glasshouse are unknown.
See the spinning museum example of the aquamarine Sauce Bottle.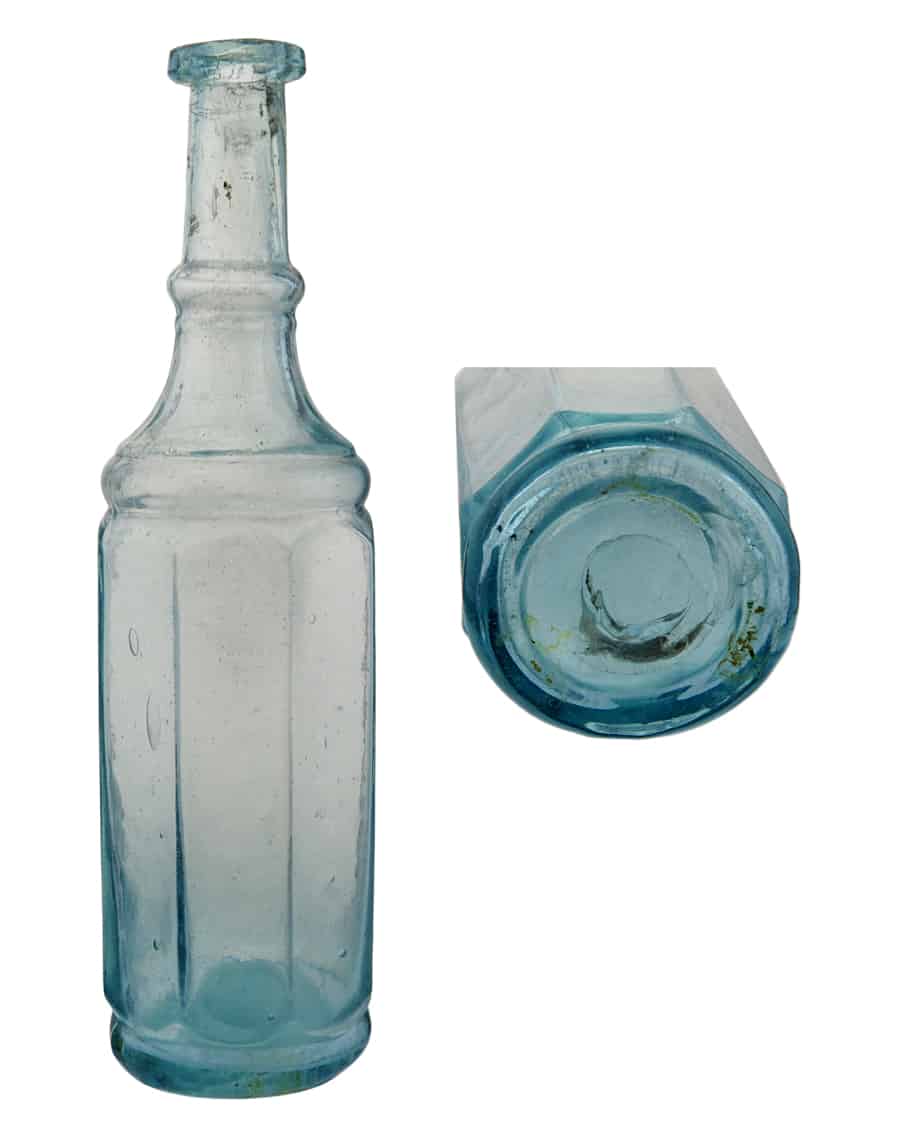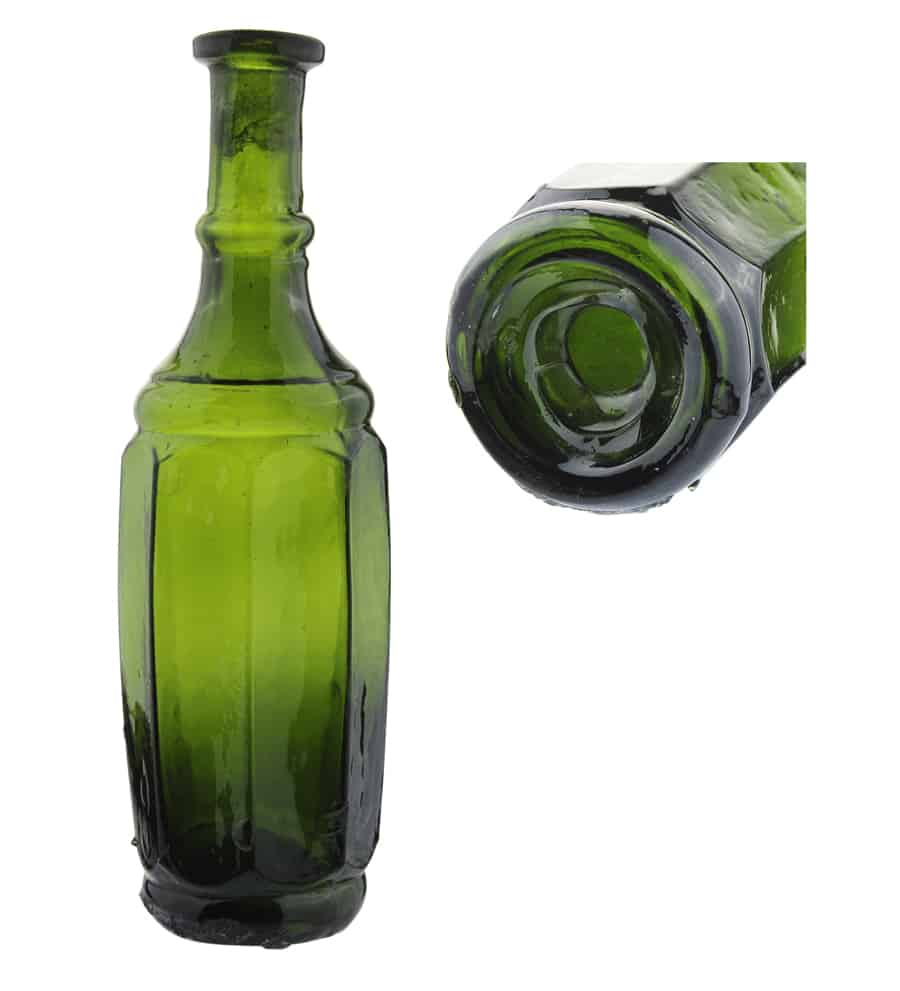 See the spinning museum example of the olive-green Sauce Bottle.
Early 19th-century newspapers and city directories often contained advertisements for sauces such as cayenne in Boston around 1807. These were probably homemade and similar to the English sauces. Sometime between 1840 and 1860, J. McCollick & Company of New York City produced a Bird Pepper Sauce in a large Gothic or cathedral-style bottle nearly eleven inches tall. We also know that in 1849, England's Lea and Perrins Worcestershire Sauce was first imported into the United States via New York City.
See the museum example of a Gothic Peppersauce Bottle.
See the museum examples of Shriver's Oyster Ketshup – Baltimore bottles.
In an 1858 Charleston, South Carolina newspaper advertisement, grocer Wm. M. Hale listed dozens of drink and food items for sale, including "3 dozen bottles Salad Sauce, 4 dozen bottles Reading Sauce, 3 dozen bottles India Soy, 5 dozen bottles Epicurean Sauce, 10 dozen bottles Worcestershire English Sauce, 10 cases Tomato Catsup, 2 cases Mushroom Catsup and 2 cases of Walnut Catsup" among various sizes of pickles, onions, and olives put up in jars and bottles. In period national newspapers, scores of other advertisements for pepper sauces without brand identification indicate that further merchandising would take place and product paper labels would have been adhered to bottles and sold by local merchants.
Sauce bottles such as pepper sauce, catsup/ketchup, and club sauces are typically tall and narrow, with narrow mouths reflecting their more or less liquid and pourable nature. These uniquely shaped bottles were probably manufactured by various processes such as free-blown, dip molded, or two- or three-piece molded, and would have pontil scarred or smooth bases and date from the 1830s to 1870s.
Primary Images: All three Sauce Bottles were imaged by Gina Pellegrini at the FOHBC Virtual Museum west coast studio.
Support: Reference to Ketchup Pickles Sauces – 19th Century Food in Glass by Betty Zumwalt, 1980
Join the FOHBC: The Virtual Museum is a project of the Federation of Historical Bottle Collectors (FOHBC). To become a member.