Dodge Sweeney & Co's California Butter
Dodge Sweeney & Co's California Butter

Henry Lee Dodge and Lorenzo Henry Sweeney
San Francisco, California
Aqua Quart+
Provenance: Jerry McCann Collection
This exciting example of a California butter jar is embossed on the top jar face, in a convex semi-circle, 'DODGE SWEENEY & CO's' over a straight-line horizontal 'CALIFORNIA'. Embossed beneath is 'BUTTER' in a concave half-circle on the bottom face of the jar. The jar is hand-blown with a ground lip. The closure is a top seal, straddle lip glass lid with a metal screw band. The lid is embossed 'MASON'S IMPROVED PAT MAY 10 1870' around two concentric circles. The maker is unknown though it is probably San Francisco Glass Works.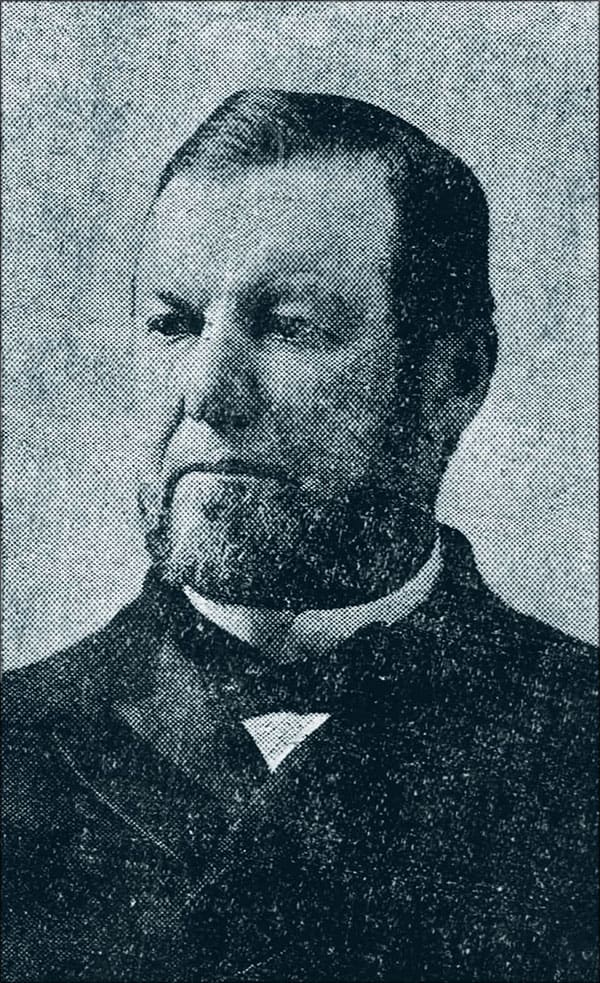 Henry Lee Dodge was born on January 31, 1825, to Nathan and Hannah Dodge in Montpelier, Vermont. The Dodge's were an old New England family and were among the early settlers of Vermont. Little is known of his early life other than he received a rudimentary education in the schools and academies of his native town. When he was 17 years old, in 1842, Dodge entered the University of Vermont. In 1847, he began the study of law in the law office of Platt & Peck in Burlington, Vermont until his studies were interrupted with exciting news from the California goldfields.
In 1849, Dodge set out westward with a party of twelve friends from New England. They were the first party to make the trip to San Francisco via Vera Cruz, Mexico, overland to San Blas, and thence by sail to San Francisco, arriving on June 1, 1849. This took them about three months.
Dodge immediately set out for the mines but was quick to realize that there were greater opportunities in San Francisco. After only weeks, he returned. In August 1849, John W. Geary, then Alcade of San Francisco, appointed Dodge as clerk of his court and in the following December, Dodge received the additional appointment of a clerk of the Ayuntamiento or Town Council. Dodge filled both of these positions until the Mexican form of government was abolished with the admission of California in the Union of the United States in September 1850. When this happened and the American system was implemented, Colonel Geary was elected Mayor who retained Dodge as his clerk. Dodge remained in this position for about a year until he resumed practicing law.
In 1851, Dodge returned to Vermont, and on December 2nd, married Omira in Orwell, daughter of the Hon. Roswell Bottum. The couple returned to San Francisco in May 1852 and Dodge was admitted to practice in the Supreme Court of the United States. His talents as a lawyer had built him a large and profitable group of clients to draw from.
In 1854, Dodge closed his law office and joined his brother L. C. Dodge and established a wholesale provision house. The business was successful over a twenty-one-year period and grew. During this time, Dodge held a number of political and government offices including being elected to the Board of Supervisors and was elected on the Union ticket as Assemblyman. He served in the State Senate from 1864 to 1868 and was eventually appointed Superintendent of the United States Mint in San Francisco.
In 1875, Henry Lee Dodge joined the wholesale grocery and provision business under the banner Dodge, Sweeney & Company. The firm was previously called Sroufe, Sweeney & Co. The new business included partners H. L. Dodge, L. H. Sweeney, and J. E. Ruggles. Lorenzo Henry Sweeney (1842-1917) was born in Magog, Quebec Province, Canada, and came to San Francisco when he was 20 years old.
The new outfit was located at 406 Front Street in San Francisco and they were listed as Importers, Pork Packers, and Wholesale Dealers in Provisions and Fish. Some advertising stated that they paid special attention to Butter and Cheese orders.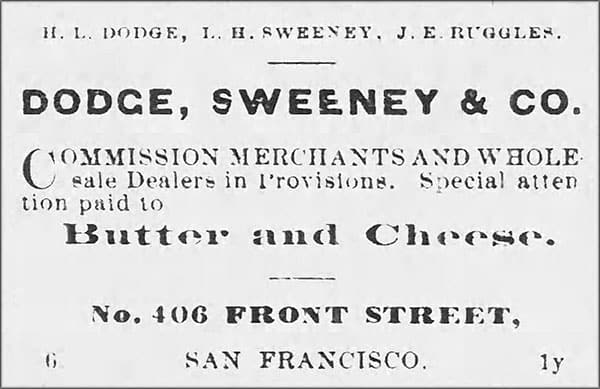 In 1879, Dodge, Sweeney & Co. moved from 406 Front Street to Nos. 114 and 116 Market Street, and Nos. 11 and 13 California Street, both in San Francisco. In 1896, there was a posted Notice of Dissolution of Co-Partnership as John E. Ruggles left the business. Now Dodge, Sweeney & Co. was comprised of Henry Lee Dodge, Lorenzo Henry Sweeney, and Frederick Wetherbee Van Sicklen.
Dodge would die on February 24, 1902, at the age of 76. The business would continue for quite some time.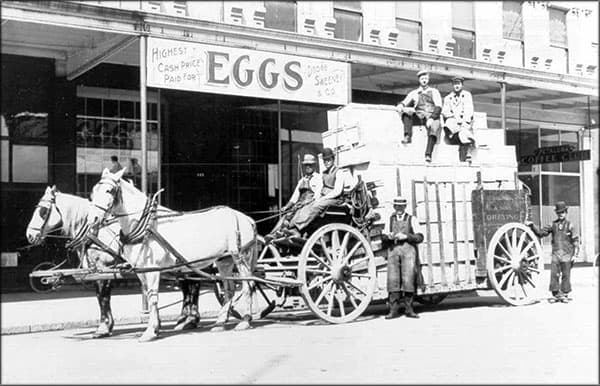 Support Images: Auction Lot 1193: DODGE SWEENEY & CO's CALIFORNIA BUTTER Jar Size: Quart+, measuring approximately 7-½ inches tall and roughly 4 inches in base diameter. Color: Aquamarine. Closure: correct original glass insert and lugged zinc band. Note the scarce version of the lid with embossed "PAT" Appearance: sparkling with crude glass character. Condition: no damage, normal flaking of the ground mouth. Strength of embossing: strong Base: unmarked. Age: late 1800s. Availability: rare – Greg Spurgeon, North American Glass
Support: Reference to Fruit Jar Annual 2020 – The Guide to Collecting Fruit Jars by Jerome J. McCann
Support: Reference to Red Book #11, the Collector's Guide to Old Fruit Jars by Douglas M. Leybourne, Jr.