U.S. Patended May 12 1863
U. S. (Monogram)
Patented May 12 1863

Attributed to Ephraim Wormser, Frankstown Glassworks, Pittsburgh, Pennsylvania

Aquamarine Quart
Provenance: Jerry McCann Collection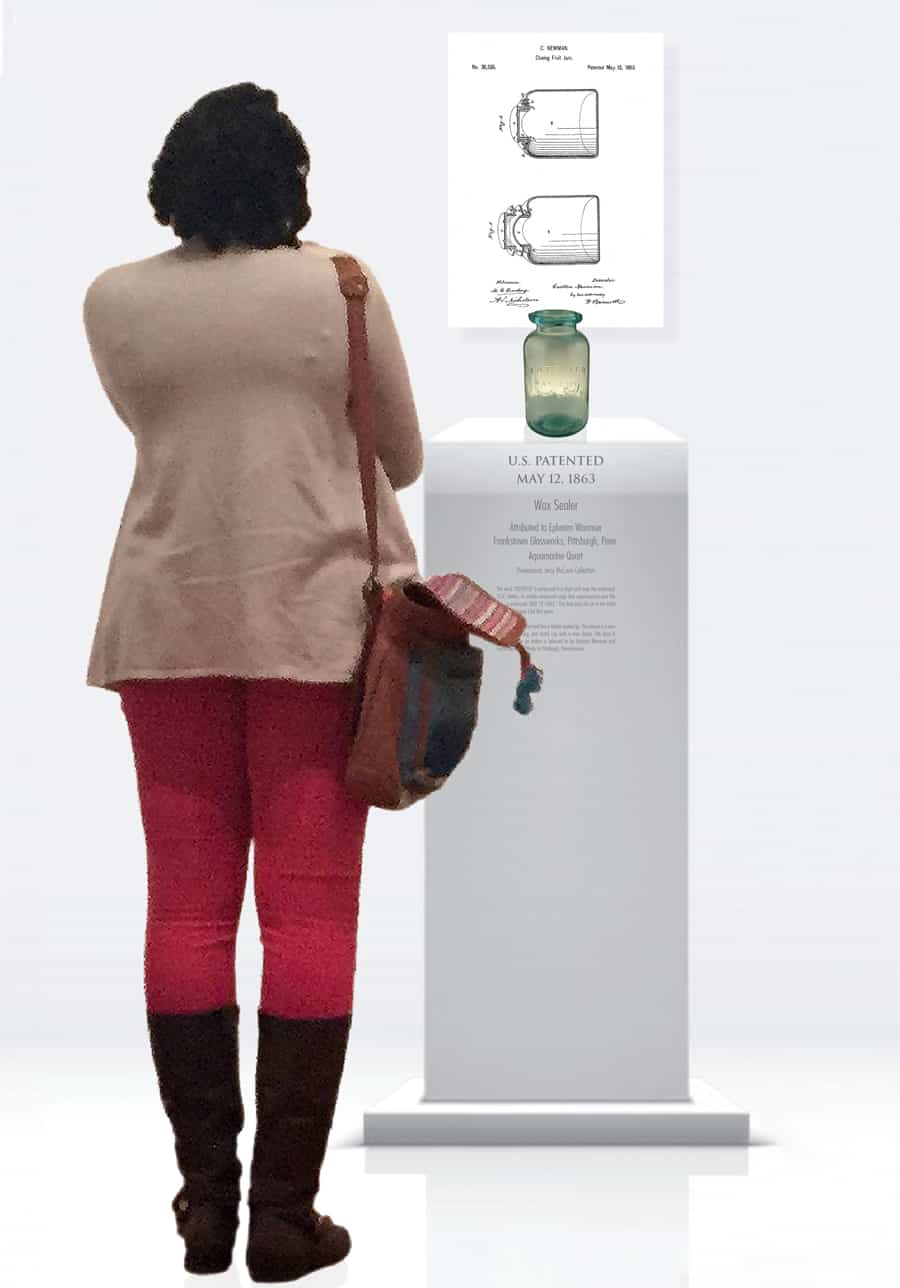 Here is an extremely rare aqua wax sealer quart that is embossed with a large outlined "U. S." monogram that takes up most of the space on the upper half of the face of the jar. The "U" is a block serifed type while the "S" is a sans serif type.
The word 'PATENTED' is embossed in a slight arch over the embossed 'U.S.' letters. In smaller embossed copy, also superimposed over the U.S., is embossed 'MAY 12 1863.' This date puts the jar in the midst of the tumultuous Civil War years.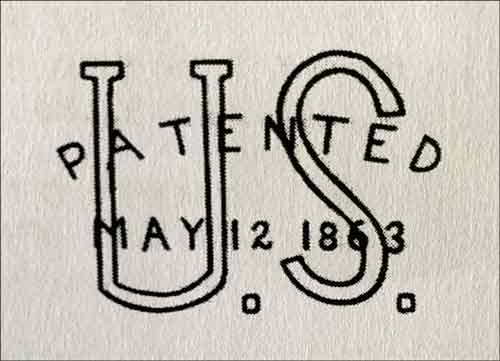 The jar is hand-blown and has a tooled applied lip. The closure is a wax seal, grooved ring, and metal cap with a wire clamp. The base is unmarked. The jar maker is believed to be Ephraim Wormser and Franktown Glass Works in Pittsburgh, Pennsylvania.
See the museum example of the "E.W. & Co. (Eagle) Works" soda water bottle and related GXII-15 historical flask.
In trying to identify the jar, we see that Carlton Newman of Pittsburgh, Pennsylvania filed a patent titled "Improvement in Closing Fruit Jars with the United States Patent Office, letters patent No. 38,536, dated May 12, 1863. Ephraim Wormser's name is also on the patent with Newman. Read Patent

Carlton Newman
Carlton Newman was born on June 26, 1829, in Wheeling, Ohio County, West Virginia. As a youth, he learned the glass-blowing trade which would guide his life. When he was 30 years old and residing in Birmingham, Pennsylvania, Newman received patent No. 26,515 for an "Improvement in Preserve Cans" on December 20, 1859. The patent was reissued as No. 1,105 on December 20, 1860, with the same drawing that included a more complex explanation for the process. Newman would later move to San Francisco, California, and manage and purchase the San Francisco and Pacific Glass Works.
See the museum example of Newman's Patent Dec 20th 1859 Jar
See the museum example of Victory Jar Pacific Glass Works
Primary Image: The U.S. Patented May 12 1863 jar imaged by the FOHBC Virtual Museum midwest studio by Alan DeMaison.
Support: Reference to Fruit Jar Annual 2020 – The Guide to Collecting Fruit Jars by Jerome J. McCann
Support: Reference to Red Book #11, the Collector's Guide to Old Fruit Jars by Douglas M. Leybourne, Jr.
Support Images: Auction Lot 531: Rare U.S. PATENTED MAY 12, 1863 Wax Sealer. Half-gallon. A rare Civil War-era applied mouth wax sealer half gallon that is embossed with a large, dual-outlined "U.S." logo, superimposed over: PATENTED MAY 12 1863. Great crude glass character with a nice whittled effect. Good condition with clean glass. There is one flake off the applied mouth. On the backside of the jar is a manufacturer's pot stone with radiations. Base: unmarked. – Greg Spurgeon, North American Glass
Join the FOHBC: The Virtual Museum is a project of the Federation of Historical Bottle Collectors (FOHBC). To become a member.