Mason's Patent Nov 30th 1858 – HGW (Monogram)
Mason's Patent Nov 30th 1858
HGW (Monogram)

Hero Glass Works
Amber Quart
Provenance: Jerry McCann Collection
Here is an outstanding Mason's Patent Nov 30th 1858 quart jar with the HGW monogram embossed on the reverse. These extremely rare amber quarts and half-gallons are very desirable and when they do show up, it usually is in the midwest region of United States.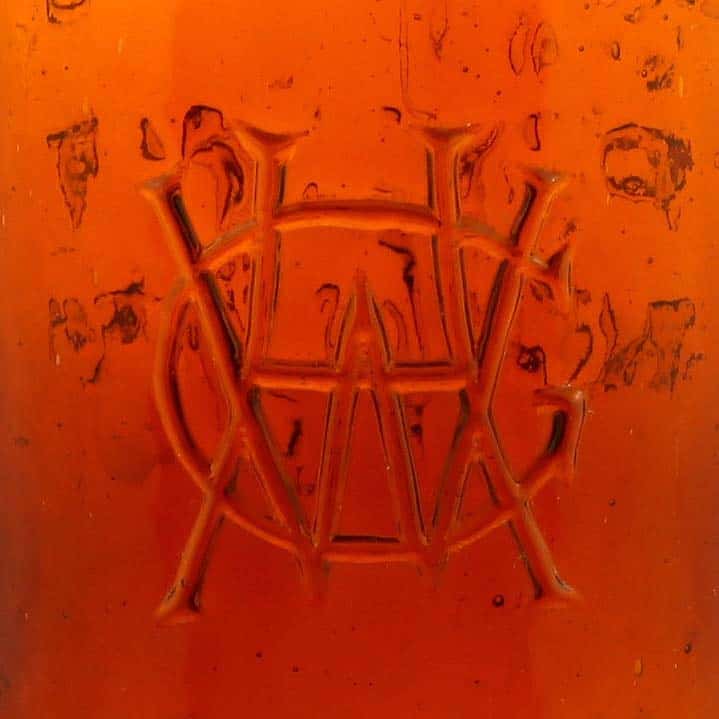 Salmon B. Rowley and William A. Leavitt opened the Hero Glass Works in Philadelphia, Pennsylvania in 1869. The name 'Hero' is in reference to the heroes of the American Civil War.
Rowley, a native New Yorker, had previously been a jobber with the Lockport Glass Works and specialized in lid design and listed every date possible on his lids and jars. Some of the jars associated with Rowley are Hero, Gem, Pearl, Crystal, and Porcelain Lined. Rowley's idea was a top-sealing jar with a metal or glass lid straddling the ground lip, held down by a zinc band. Their screw-on lid jars were competing with Mason jars which were extremely popular at the time. Rowley would sell his Hero jars throughout the country.
Once the Mason patents expired in 1879, Hero adopted the Mason name, although it continued to make the other noted brands. Rowley apparently separated from Leavitt in 1877 or so, and the firm fell into financial difficulty – culminating in a sheriff's sale of the plant and property in 1883. Rowley purchased the firm, incorporated, and renamed the operation as the Hero Fruit Jar Co. Hero was so successful that it could not keep up with its orders and had other glass houses, including the Illinois Glass Co., produce many of its jars. Eventually, the competition became so stiff that Hero ceased glass manufacture to concentrate on lids around the turn of the century. They eventually became the Hero Metal Co. in 1909.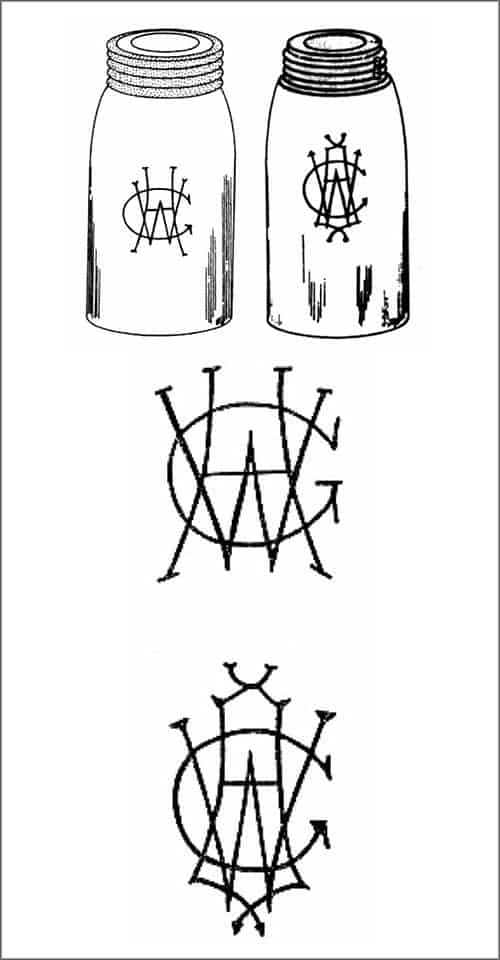 The Mason jars with the HGW monogram most likely date from 1880 to 1883. Many of the lids for the jars are marked with HERO GLASS WORKS and there are apparently two variations of the monogram.
See other Hero jars in the Virtual Museum like the The Hero ine and Gem Butter Jar.
Primary Image: The Mason's Patent Nov 30th 1858 HGW monogram jar imaged on location by the FOHBC Virtual Museum midwest studio led by Alan DeMaison.
Support: The Hero Glass Firms by Bill Lockhart, Beau Schriever, Bill Lindsey, and Carol Serr
Support: Reference to Red Book #11, the Collector's Guide to Old Fruit Jars and Creswick illustrations by Douglas M. Leybourne, Jr.
Support: Reference to Fruit Jar Annual 2020 – The Guide to Collecting Fruit Jars by Jerome J. McCann
Support Images: Auction Lot 10841: HGW Monogram MASON'S 1858 Quart, Amber, Whittled, Sharp, Closure: Zinc cap. Appearance: Hammered whittle effect all over and sparkling glass. Condition: Normal flaking of the ground mouth. Embossing: Very strong. Base: "711" Age: Late 1800s. Availability: An exceptional example of a rare early Mason jar. This example is fresh from an old-time collection in Missouri, which is the region from which most of the few known examples of this jar have surfaced. – Greg Spurgeon, North American Glass
Support Images: Auction Lot 452: HGW on Reverse MASON'S PATENT 1858 Aqua Quart. An aqua quart that is strongly embossed on the front: MASONS PATENT NOV 30TH 1858 and on the reverse with a large HGW monogram. Clean glass with no damage or stains and displays a nice light whittled effect. Base: 167. – Greg Spurgeon, North American Glass
Support Images: Auction Lot 7485: HGW Monogram MASON'S Patent 1858 Amber Rare Half-Gallon. Closure: Zinc cap. Appearance: Seedy, whittly and sparkling clean glass throughout. Condition: Normal flaking of the ground mouth, has one skin-deep bubble burst on the interior. Embossing: Strong. Base: "454" Age: 1870s Availability: Extremely rare, only a few examples known. This jar was recently found in a basement in Alton, Illinois, and is a fresh-to-the-market find. – Greg Spurgeon, North American Glass