Thos. J. Myer & Co – Baltimore
Thos. J. Myer & Co
Baltimore

Thomas J. Myer, Baltimore, Maryland
Aqua Pint
Provenance: Jerry McCann Collection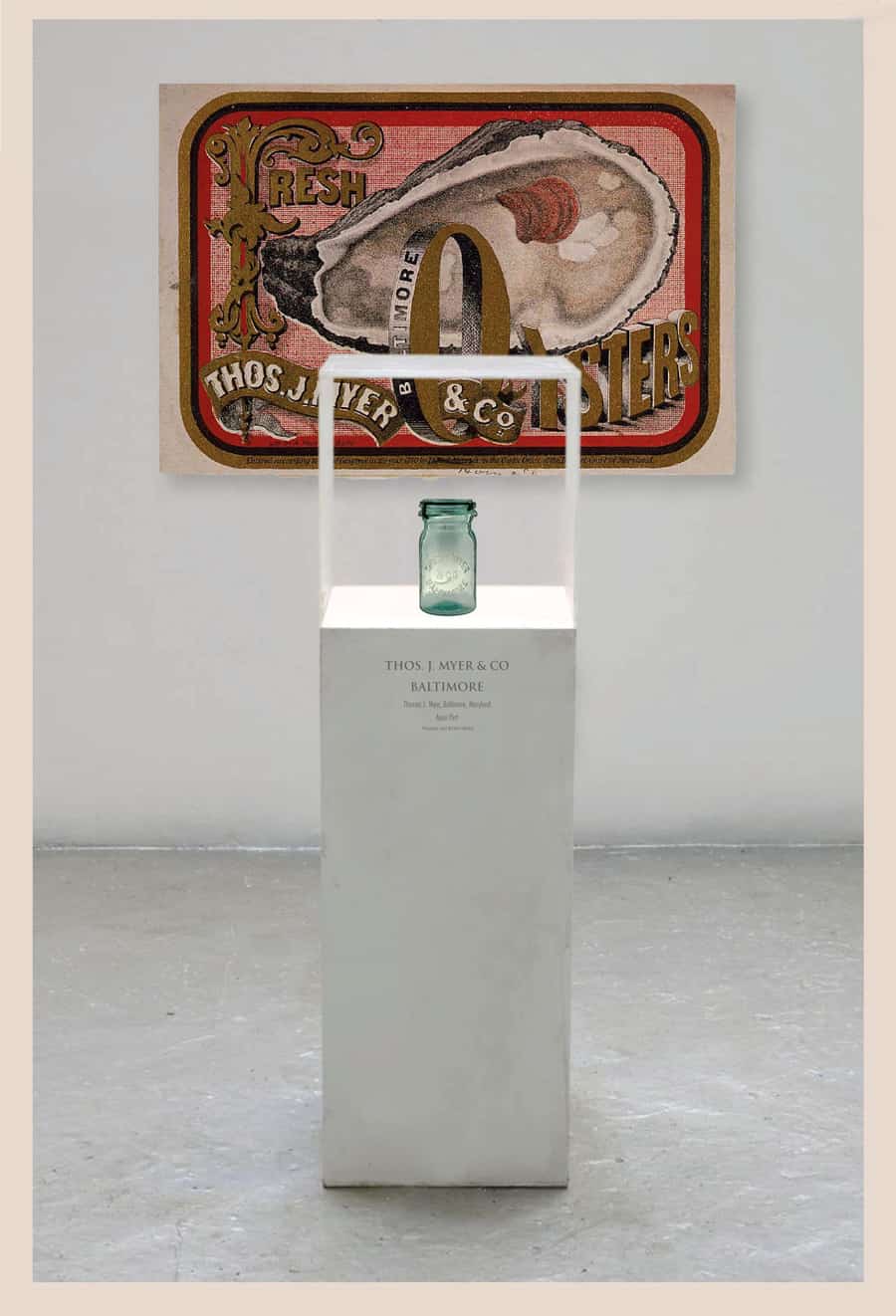 Here is an oyster and fruit jar that could be the 'brother' of the Dorlon & Shaffer Pickled Oysters jar that is also represented in our museum Jar Gallery. Dorlan & Shaffer was a New York City oyster house while Thomas J. Myer was a packing house located in Baltimore City.
Looking at our jar face, 'THOS. J. MYER' is embossed in a convex arch within a slug plate circle. 'BALTIMORE' is embossed in a concave arch at the bottom of the circle. This typography creates a circle. The copy '& CO' is embossed on a horizontal straight line centered in the circle. Both jars are pictured below for comparison.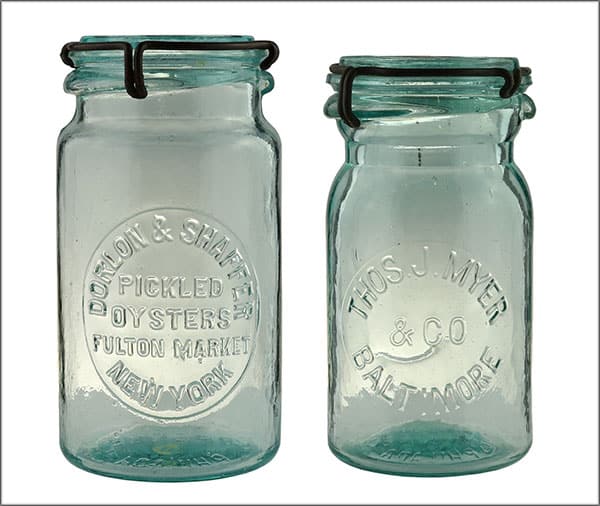 The Myer jar is hand blown with a ground lip. The closure is a top seal, straddle lip glass lid with a wire clamp. The lid and base are embossed COHANSEY GLASS MANUF. CO. PHILADA PA PAT JULY 16 1862 around PATENTED JANUARY 18 1876.
The jar was made circa 1875 by the Cohansey Glass Manufacturing Company of Philadelphia, Pennsylvania, and Bridgeton, New Jersey. The jar is considered extremely rare.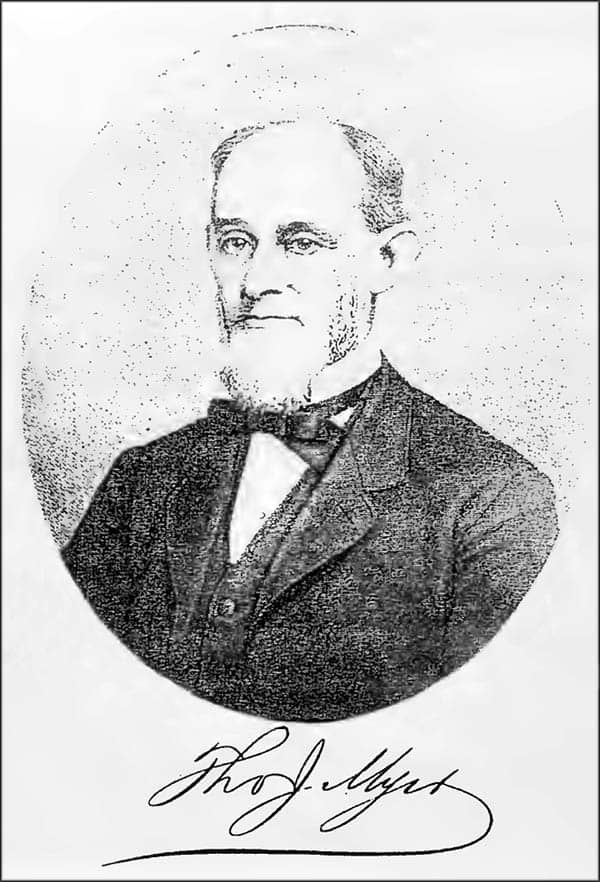 Thomas J. Myer was one of the pioneers of the oyster and fruit packing business in Baltimore, Maryland where he was born on November 23, 1820.
Myer was educated at the best schools of the day, including the old Baltimore City College. He started his business career at the age of seventeen in a grocery-house on the Light Street wharf at a small salary and followed with other jobs without much encouragement or success. Myer decided to leave Baltimore and looked for greener pastures in the south. He arrived in Natchez, Mississippi in January 1840, without money, but was fortunate in obtaining a job at a cotton commission house.
In 1843, with savings from his salary, he went to New Orleans and started on his own account a grain business, in which he accumulated about $4,000. He used this money and returned to Baltimore in 1847 to be with his father, who unfortunately died the next year. Myer then went into the brick business in Baltimore and then tried the hardware trade, but could not find his niche until he moved into the oyster and fruit packing business. This is where he found success in an important Maryland industry.
Thomas J. Myer first worked under the firm name Baldwin & Myer in 1850 and remained so until 1865 when he created Thomas J. Myer & Company. His business was probably one of the best known of its kind in the country, and his Maryland brand of goods that he produced and packaged was used extensively in the United States and in all parts of the world according to advertising and business reporting.
Along with his oysters which were acknowledged by the connoisseurs of every nationality to be the best in the market, Myer & Co. specialized in the following goods; "selected peaches of all varieties; peas, among their brands, the Pride of Maryland, have obtained the first rank in this country; early June's and white marrowfats, the standard of the country; and lima and string beans." They were also the proprietors of Shriver's Patent Process Kettle, which gave them unrivaled facilities for the production of a superior brand of goods.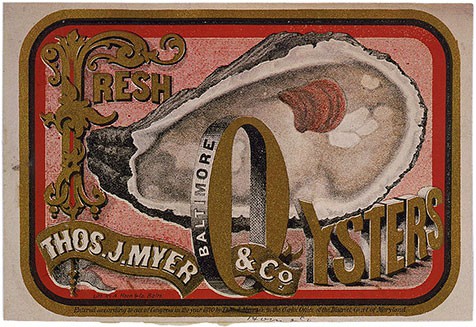 The Myer & Co. building that was devoted to the packing of canned goods was four stories in height, measuring 75 x 200 feet in dimensions. Seven hundred hands found employment at Thos. J. Myer & Co. during the busy season.
The individual members of the firm were Thomas J. Myer, Albert K. Shriver, Mark O. Shriver, and Albert T. Myer.
Many bottle collectors are aware of the great Shriver's Baltimore Oyster Ketchup bottles put out by James Shriver & Co. These bottles are represented in our Food & Sauces Gallery which is under construction. Two of the Shriver brothers were partners of Thomas J. Myer. Also, T. J. Myer was married to the eldest Shriver sister.
See our museum example of a Shriver's Oyster Ketchup Baltimore bottle.
Thomas J. Meyer would die on September 29, 1887, leaving behind a legacy of strong business practice that will be remembered.
Primary Image: Thomas J. Myer & Co. oyster jar imaged on location by the FOHBC Virtual Museum midwest studio led by Alan DeMaison.
Support: Reference to Fruit Jar Annual 2020 – The Guide to Collecting Fruit Jars by Jerome J. McCann
Support: Reference to Red Book #11, the Collector's Guide to Old Fruit Jars by Douglas M. Leybourne, Jr.
Support: History of Baltimore City and County, from the Earliest Period to the Present Day: Including Biographical Sketches of Their Representative Men by John Thomas Scharf, L.H. Everts, 1881
Support Image: Label for Fresh Oysters. Thos. J. Myer & Co., Baltimore, Lithograph by A. Hoen & Co., Balto., 1870, Library of Congress
Support Image: Three Shriver Oyster Ketchup Baltimore bottles. FOHBC Virtual Museum. Photograph by Gini Pelligrini. Bottles from the Lou Pellegrini collection.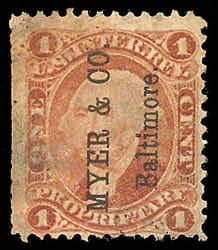 Support Image: Lot 231 o: (Thos. J. Myer & Co.) Myer & Co., Baltimore, printed cancellation on 1¢ Proprietary, slight soiling and s.e. at left, Fine appearance, a rare Thomas. J. Myer & Co. cancel, Mr. Myer was among the pioneers in the Oyster and Fruit Canning business in Baltimore, Md. Scott No. R3c, Sale 48: The Jonathan Bulkley Collection of United States Revenues – Schuyler, Rumsey Philatelic Auctions