H. Menze & H. Gattke Mineral Water
H. Menze & H. Gattke Mineral Water
Cincinnati O
M
This Bottle is Never Sold
Henry Menze and Henry Getker, Cincinnati, Ohio
Blue-Green Aquamarine Soda
Provenance: Doug Shutler Collection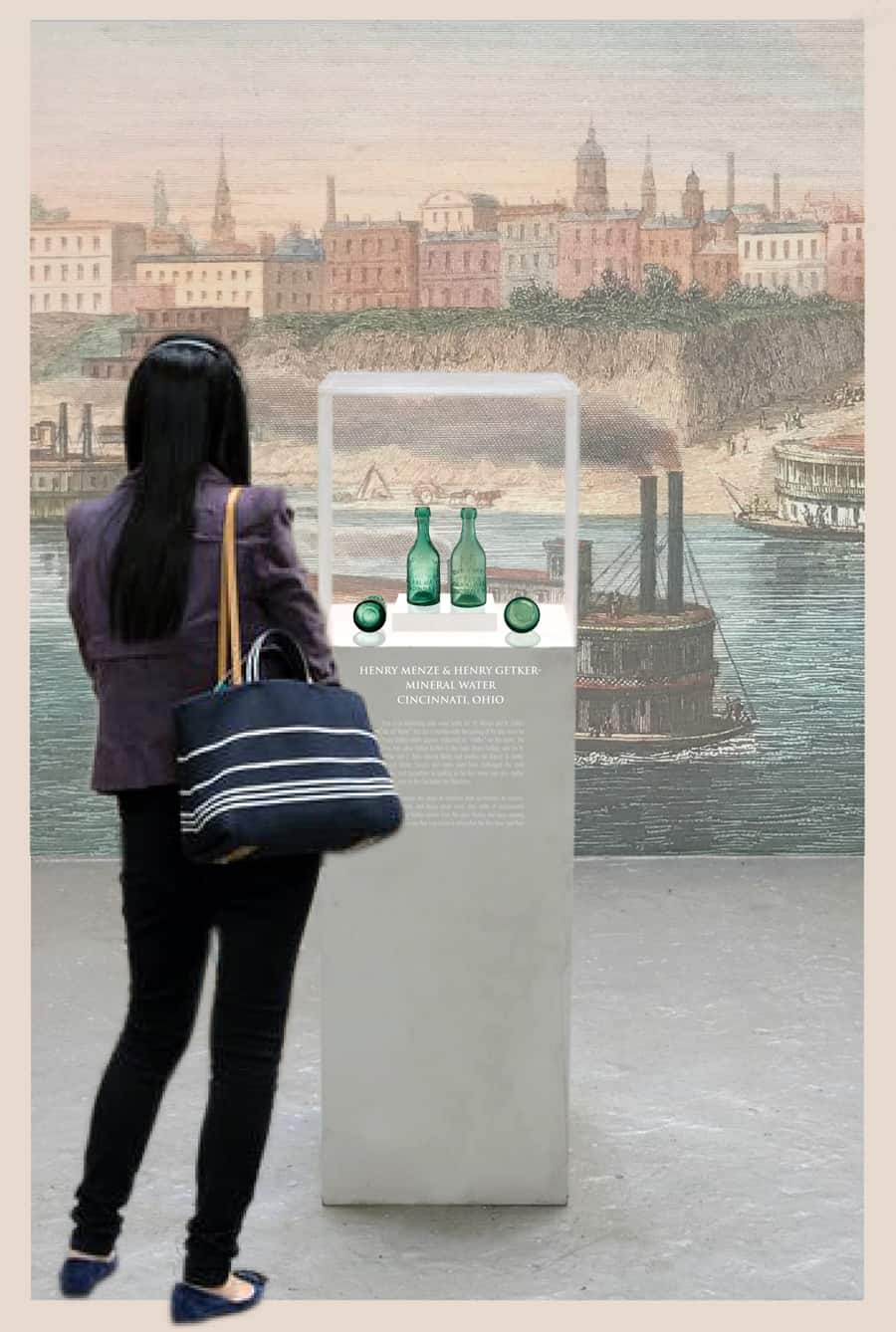 Here is an interesting soda water bottle for "H. Menze and H. Gattke Mineral Water" that has a mistake with the spelling of the last name for Henry Getker, which appears embossed as "Gattke" on the bottle. We have two other Getker bottles in the Soda Water Gallery; one for H. Gottke and J. Born Mineral Water and another for Menze & Gottke Mineral Water. Henry's last name must have challenged the mold makers and typesetters in spelling as his last name was also spelled various ways in the Cincinnati City Directories.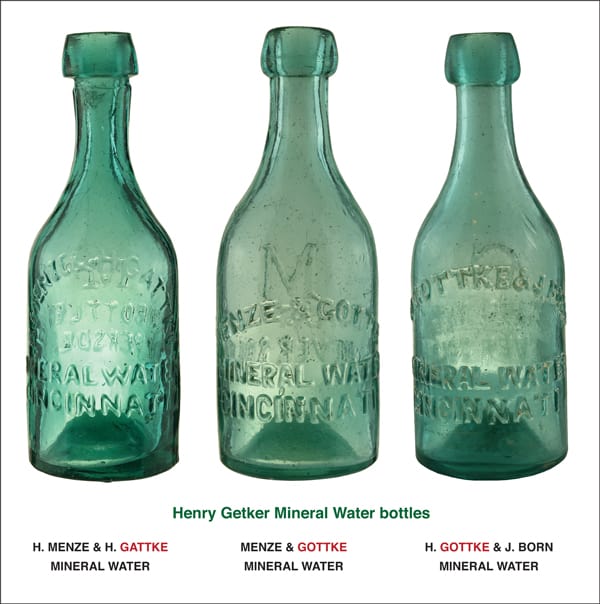 You can imagine the range of emotions from excitement to surprise, disappointment, and upset when your order of long-awaited mineral water bottles arrives from the glass factory. Upon opening the crates, you see that your name is misspelled the first time and then again.
The difference between "soda water" and "mineral water" during the 19th century was often vague. Soda water was generally considered flavored artificial mineral water with the purposeful addition of carbonation and various compounds and flavoring. Mineral or spring water, as it was also called, would generally be natural waters from spring sources that were typically highly mineralized with carbonates like alkaline, sulfurous compounds, and or various salts, which often carbonated naturally. The confusion sometimes arises when mineral water is used as a generic term applied to various natural and artificially carbonated, non-artificially flavored waters, including many utilized for their perceived medicinal qualities. Please visit the museum Spring & Mineral Water Gallery.
Our subject 7 5/8" tall bottle is cylindrical and was made in a two-leaf mold, has a tapered applied mouth, and an iron pontil. The face of the medium blue-green glass bottle is embossed copy in an arc that reads, 'H. MENZE & H. GATTKE' over a second straight line embossed 'MINERAL WATER' set over a third straight line embossed 'CINCINNATI O.' There is missing letter-spacing between the ampersand and last "e" of "Menze." There is no space between "Cincinnati" and "O," nor is there an abbreviation period.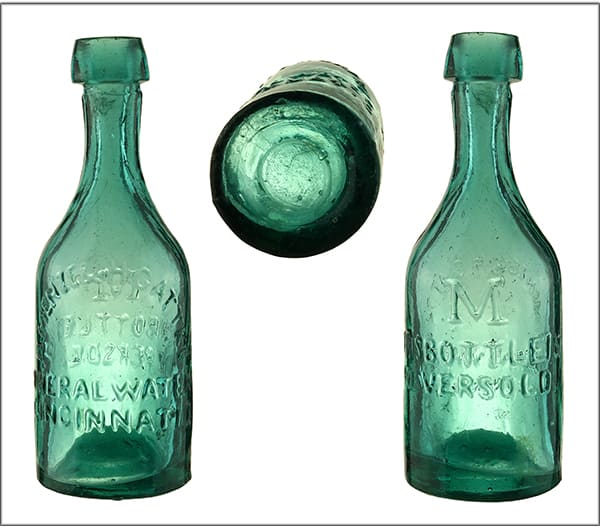 The reverse of the bottle has a ¾″ tall embossed serifed 'M' for the last name "Menze." Beneath this character, in two lines, is the embossed copy, 'THIS BOTTLE IS NEVER SOLD.' Many soda water bottles have extensive base and side wear as soda water bottles were reused and the property of the soda bottler. They were sometimes marked like our example, 'This Bottle is Never Sold' or similar embossed copy to that effect.
By 1851, the mineral water business was very competitive in Cincinnati as the city was host to eight mineral water factories with 64 employees who produced over $100,000 in annual output. In 1855, Henry Getker, a German, would form a partnership with Jacob Born, making ale and mineral water located at 56 W. 13th Street. Besides Getker & Born, other Mineral Water Manufactures listed in the 1855 Cincinnati City Directory that year were C. B. Owen & Co., H. & J. Alwes, Fred Goosmann, Hartwell & Baker, A. Ritter, and G. Mulhauser.
See the museum example of a J. Born Mineral Water Cincinnati.
When researching the name "H. Menze" in the mid-1850s, we see a couple of listings, again with some spelling inconsistencies, like the spelling issues with Henry Getker. In the 1855 Cincinnati City Directory, we see Henry Menzie, Mineral Water Maker, 982 Woodward. In the 1857 Williams' Cincinnati Business Directory, it is Henry Menser, Mineral Water Manufacturers, and in the 1857 Cincinnati City Directory, there is a listing for Menser & Co., (H.M.M & __ Bealer), vinegar and mineral water manufacturers, southeast corner of 7th and John Streets. So for Henry "Menze," we have "Menzie" and "Menser" listings.
The Henry Getker and Henry Menze bottles do not exemplify the needed perfection, and proofreading and prototype checks must not have occurred. This issue had to affect the popularity of the brands or, at minimum, confused the buying public.
We have a second Menze and Gottke Mineral Water bottle in our Soda Water Gallery. The blue-green aqua glass bottle is 7 1/2″ tall and has an applied rounded mouth. The typography is similar on the front and back. The first initial for both "Henry's" are not used. There is no "O" for Ohio. The embossed serif M' on the reverse is 1″ tall.
Primary Images: The "H. Menze & H. Gattke (sic) Mineral Water Cincinnati O," "H. Gottke & J. Born Mineral Water," and "Menze & Gottke Mineral Water Cincinnati" bottles imaged on location by Alan DeMaison, FOHBC Virtual Museum Midwest Studio
Support: Reference to The American Pontiled Soda Database Project, Tod von Mechow
Support: Reference to Soda & Beer Bottles of North America, Tod von Mechow
Join the FOHBC: The Virtual Museum is a project of the Federation of Historical Bottle Collectors (FOHBC). To become a member.