GI-89a • Lafayette / Masonic Portrait Flask
GI – 89a
"Lafayette" and Bust with Semi Wreath of Laurel Leaves
Masonic Arch and Emblems
Possibly Mount Vernon Glass Works, Vernon, New York
Vaseline Glass Color
Provenance: Michael George Collection
The half-pint GI-89a Lafayette–Masonic portrait flask is extremely rare in this Vaseline glass color. It is reported that only three examples are in collections. We have a second example displayed that was previously in the Vernon Hall, Robert Mebane, and Warren "Bud" Lane collections. The Heckler auction described the color as light apple green and noted that it was "still the only known example."
A GI-89 flask, in a different mold and a GI-89b flask, is also pictured for reference.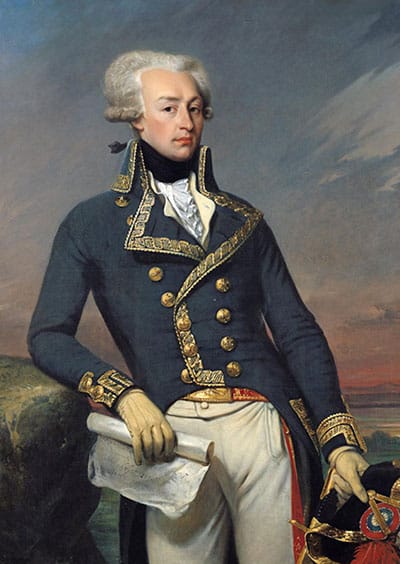 The obverse side of the flask images an embossed portrait of General LaFayette with his head turned to the right. Marie-Joseph Paul Yves Roch Gilbert du Motier, Marquis de La Fayette, known in the United States as Lafayette, was a French aristocrat and military officer who fought in the American Revolutionary War, commanding American troops in several battles, including the siege of Yorktown.
The Lafayette bust is surrounded by an embossed semi-wreath of laurel leaves from the "L," below the bust, to the "E" to the right. The center leaf is at the top of each branch. There are five leaves on each side. The reverse side of the flask pictures an embossed Masonic arch and emblems with thirteen six-pointed stars surrounding the arch. There is herringbone ribbing consisting of graduated diagonal ribs to a wide center rib. McKearin notes "Probably Mt. Vernon Glass Works, Vernon, N.Y., or works obtaining molds from the same mold makers as Mt. Vernon." There is a sheared mouth and a pontil scar.
Most Masonic flasks were manufactured between the years 1810 and 1830 in the United States during the period American Freemasonry, which was considered both a fraternal and patriotic organization, was at its zenith, During this period, it was not unusual for Masonic lodges to meet in local taverns or in rooms rented for the occasion. Following the meeting, the brethren would customarily assemble for a "festive board" or collation, at which toasts were offered and libations consumed. As likely as not, Masonic flasks came into use at this time.
Primary Image: GI-89a Lafayette—Masonic Arch portrait flask imaged on location by Alan DeMaison, FOHBC Virtual Museum Midwest Studio
Support: Reference to American Bottles and Flasks and Their Ancestry by Helen McKearin and Kenneth M. Wilson, Crown Publishers, New York, 1978.
Support Images: Auction Lot 11: "Lafayette" and Bust with Semi Wreath of Laurel Leaves – Masonic Arch And Emblems with Thirteen Six-Pointed Stars Surrounding the Arch, Herring Bone Ribbing at the Medial Rib Portrait Flask, the McKearin text suggests that there is a probability that this mold and bottle were from the Mount Vernon Glass Works, Vernon, New York, 1820-1830. Light apple green, sheared mouth – pontil scar, half pint; (exterior high point wear particularly on the high portions of the bust). GI-89a. Still the only known example, fine condition, strong embossing, a most unusual flask. Ex Robert Hall, ex Robert Mebane collection, Warren "Bud" Lane collection. – Norman Heckler Jr. & Sr., Norman C. Heckler & Company, Auction #100
Support Image: GI-89b Flask, Accession Number 60.4.93, Overall H: 18.6 cm, W: 10.5 cm, D: Diam (max): On Display, about 1824. Light green glass; mold-blown; plain lip, pontil mark. Obverse: Lafayette profile facing right. Reverse: Masonic arch and pavement. Inscription: "LA FAYETTE" in semi-circle above bust. McKearin Antiques – Corning Museum of Glass
Support Image: Auction Lot 94: LAFAYETTE/MASONIC. GI-89 Half-pint, 6 ½". 1815-30. Pontil. Another bottle from the West Virginia cache. This is an unusual light to medium green and entirely outside the standard olives or ambers. We've seen a fair amount of Lafayette flasks and this one kind of threw us for a loop. We believe this is one of the few examples of this color, possibly unique. We are aware of a GI-89a that is an apple green coloration, however, this example does not fit the example of that nor the GI-89b. Fresh to the market and one we're happy to present, Grades a 9.7 with some very light highpoint wear but and we in fact have redone the video to make sure you see every square inch of the surface. – Jeff Wichmann, American Bottle Auctions
Join the FOHBC: The Virtual Museum is a project of the Federation of Historical Bottle Collectors (FOHBC). To become a member.