Hunt & Hunkins Cayenne Pepper
Hunt & Hunkins Cayenne Pepper
Manufactured and Sold at the Eagle Steam Coffee & Spice Mills, San Jose, California
Charles A. Hunt and Stephen B. Hunkins
Labeled Aqua Rectangle
Provenance: Lou Pellegrini Collection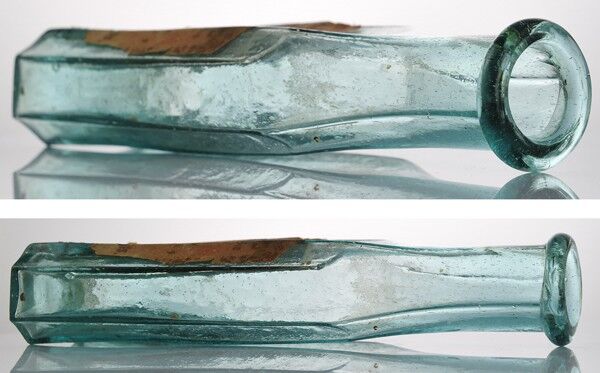 We are fortunate to have this labeled example of a Hunt & Hunkins Cayenne Pepper in our museum collection. The bottle is from the Eagle Coffee and Spice Mills in San Jose, California. As the bottle story starts around 1867, it will take us to the present day.
Our 6-¼" x 2″ tall aqua bottle is rectangular in shape, has beveled sides, a tapered neck, and has a nice rolled lip. It is not embossed with any copy but does have a partial label on the front and front bevels that reads, "HUNT & HUNKINS (eagle image) FRESH GROUND CAYENNE PEPPER. Manufactured and Sold at the EAGLE Steam Coffee & Spice Mills, 171 FOURTH ST. Bet. James & Julian SAN JOSE."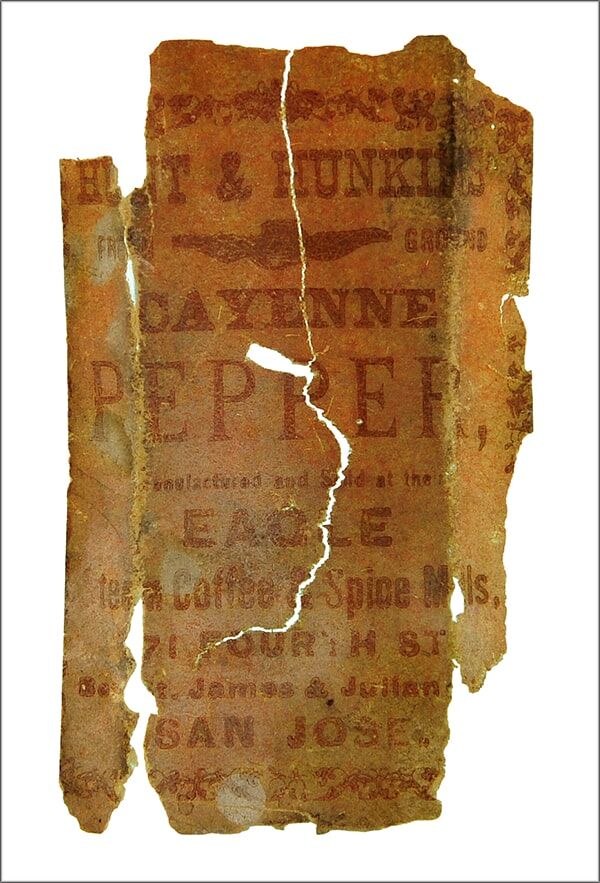 Eagle Coffee and Spice Mills
The Coffee and Spice Mills originated in 1867 managed by the group Barrett, Caswell & Hunt who was located at 373 Santa Clara Street, in the San Jose Opera House building. After a short time, Caswell severed his connections with the concern leaving Charles R. Barrett and Charles A. Hunt as partners. The 1874 San Jose City Directory listed the Barrett and Hunt Coffee Mills for the first time as Eagle Coffee and Spice Mills, a popular name that prevailed even in legal documents and property descriptions.
In 1875, another three-way ownership of the Eagle Coffee and Spice Mills developed. Charles R. Barrett sold out, and Richard F. Priest and Albert Lake, a box manufacturer, joined Charles A. Hunt. On February 10, 1875, the new ownership group bought a lot on what is now 251 North Fourth Street from Mrs. Mary Helen Hensley for about $1,460 and moved the Eagle Coffee and Spice Mills to that location. The lot had a frontage of almost 92 feet in depth by 137 feet. Its undivided portions figured prominently in the county's record books for several years as one partner or another sold his interest in the concern. Priest sold out to Jacob Bettinger for $3,300 on May 19, 1875, the transaction was subject to a mortgage of $3,500 held by the San Jose Savings Bank.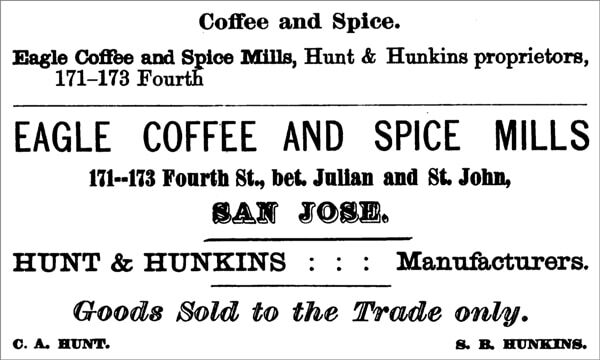 After Bettinger purchased the interest of Priest, Charles A. Hunt and Jacob Bettinger bought out Albert Lake. In January 1875, Stephen B. Hunkins purchased Bettinger's share and the firm became Hunt & Hunkins which is printed on our labeled specimen. They were listed as a wholesale distributor of teas, coffee, and spices with an excellent quality of flavoring extracts. Their coffee was obtained in a raw state from importers and their business specialized in the manufacture of coffee including roasting, grinding, and packing. The coffee was then shipped to customers in all the surrounding counties which amounted on average nearly fifty tons per annum.
Charles A. Hunt
Charles Augustus Hunt was born on April 20, 1832, in Pittston, Kennebec, Maine. His father was named Ephraim and his mother Phoebe. According to the 1850 United States Federal Census, Charles was 18 years old and living in Hallowell, Kennebec, Maine. He was farming at the time after attending school up to that age. Charles had younger brothers and sisters named Ellen A. Hunt 16, Octavia Hunt 14, John H. Hunt 9, Edward M. Hunt 8, and Merrit L. Hunt 1. The 1870 census noted that Charles A. Hunt and his wife Lucretia were living in San Jose, Santa Clara, California, and he was listed as a grocer. There is an indication that Hunt's coffee and spice interest was a side one as the 1870 San Jose City Directory listed "Hunt & Baraco, dealers in poultry, game, etc., 377 First." Charles A. Hunt would die on August 24, 1890, in Santa Clara, California.
Stephen B. Hunkins
Stephen Byron Hunkins was born on March 23, 1841, in New Hampshire, the son of Stephen and Hannah D. (Clark). He married Ella M. Searle in 1867 at Faribault, Minnesota where he was in the hardware business as late as 1870. They had three children, Arthur Byron Hunkins, Evadna May Hunkins (later Lapham), and "Roy" Romayne Searle Hunkins. Stephen's Mother – Hannah Dearborn Clark Hunkins, along with Ella's parents and more of Ella's family members, all moved across the country together. Mossie Hunkins was the adopted daughter of Stephen and Ella Hunkins. Mossie would go on to run a set of distinguished tea houses in the Monterey area of California including the "Blue Bird Tea Room and Gift Shop" in Carmel-by-the-Sea and later purchased farmland in Salinas where she grew and sold produce.
S. B. Hunkins & Company
Hunt and Hunkins remained in business until April 19, 1883, when Stephen B. Hunkins bought out Charles A. Hunt for $2,000. The name was then changed to the S. B. Hunkins and Company. By 1894, Hunkins had taken his two sons, Arthur B. and Romayne S. Hunkins into the business. The 1900 San Jose City Directory listed them as agents for California Condensed Juice, as well as dealers in coffee and spices. As time passed, outside interest prevented Stephen B. Hunkins from giving full attention to the coffee and spice business as he became interested in real estate development. He was reportedly the first man to recognize the residential possibilities of the foothills area east of San Jose. In 1898 he became president of the Garden City Bank, now Wells Fargo Company.
Arthur B. Hunkins operated Eagle Coffee and Spice Mills after his father's death on April 4, 1914. The following year, his coffee and spice business, stock, trade, goodwill, etc., and two or three employees were absorbed by the Keystone Company – a wholesale grocery firm founded by Ernest H. Renzel, Sr. in 1885. They remain in business today.
Primary Image: Hunt & Hunkins Cayenne Pepper bottle imaged by the FOHBC Virtual Museum west coast studio by Gina Pellegrini.
Support: Reference to San Jose: California's First City, Edwin A. Beilharz and Donald O. DeMers Jr., Grand Lake Media. LLC, Sep 10, 1980
Support: Reference to History of Santa Clara County, California, Alley, Bowen & Company, 1881
Support Image: The bottle can be found in a stunning array of pastel glass colors – Max Bell Collection
Support Image: Color lithograph by Smith & McKay Printing Co. featuring a view of the electric light tower from Santa Clara Street and Eagle Coffee and Spice Mills on the right-hand side. The caption at the bottom gives the history of Eagle Coffee and Spice Mills, parent to the Keystone Company. – History San Jose Collection