Red Star Catsup
Red Star Catsup
Prepared by Saunders, Stubbs & Reed
San Francisco, Cal.
Frederick Saunders, William F. Stubbs, and Mary E. Reed
San Francisco, California
Clear Labeled Condiment Bottle
Provenance: Lou Pellegrini Collection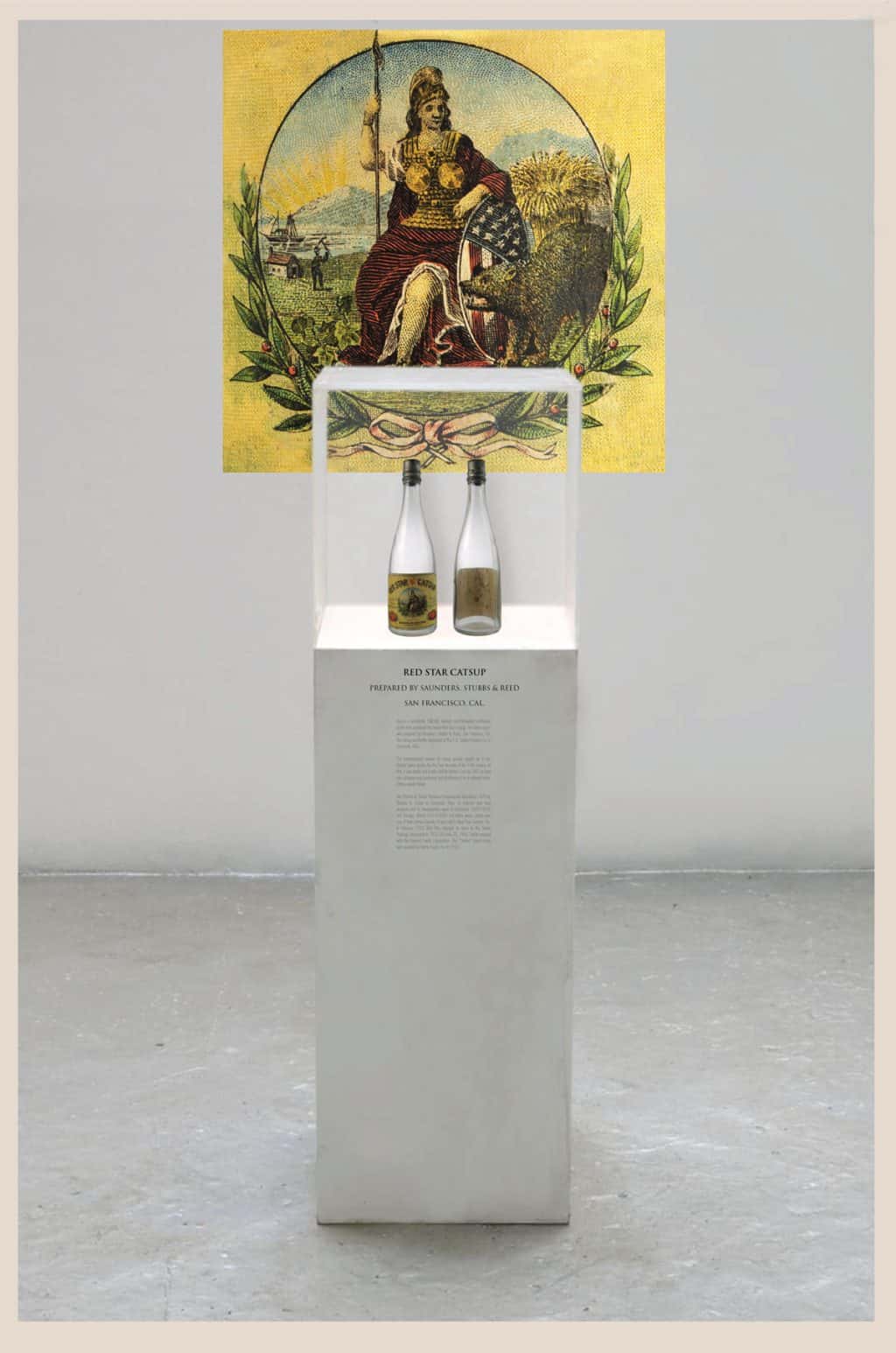 Here is a wonderful 10″ tall, labeled, and foil-sealed condiment bottle that contained the brand Red Star Catsup. The label says it was prepared by Saunders, Stubbs & Reed, San Francisco, Cal. The catsup and bottle originated at The T. A. Snider Preserve Co. in Cincinnati, Ohio.
The tomato-based version of catsup quickly caught on in the United States during the first few decades of the 19th century. At first, it was made and locally sold by farmers, but by 1837 at least one company was producing and distributing it on a national scale. Others would follow.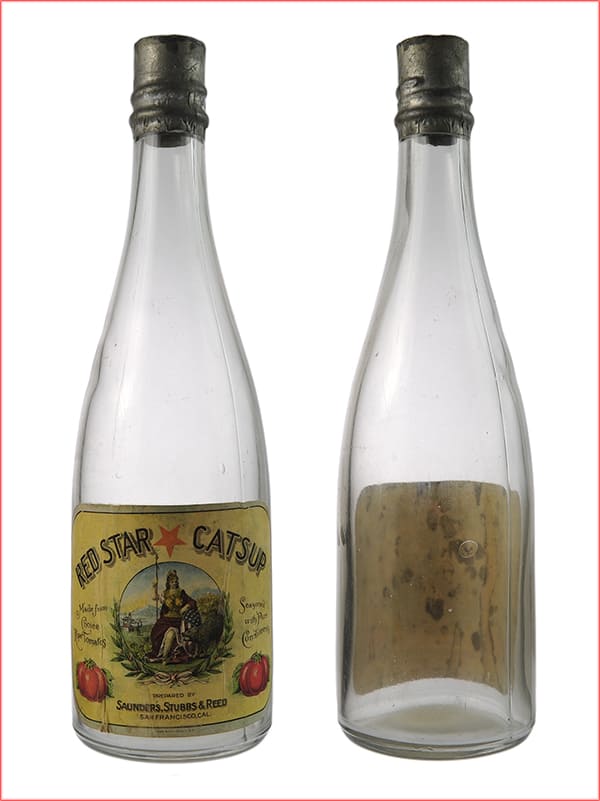 The Thomas A. Snider Preserve Company was founded in 1879 by Thomas A. Snider in Cincinnati, Ohio. Its industry was food products and its headquarters were in Cincinnati (1879-1913) and Chicago, Illinois (1913-1943). For many years, catsup was one of their primary brands. It was sold to New York Canners, Inc. in February 1923. That firm changed its name to the Snider Packing Corporation in 1927. On June 23, 1943, Snider merged with the General Foods Corporation. The "Snider" brand name was acquired by Hunts Foods, Inc. in 1953.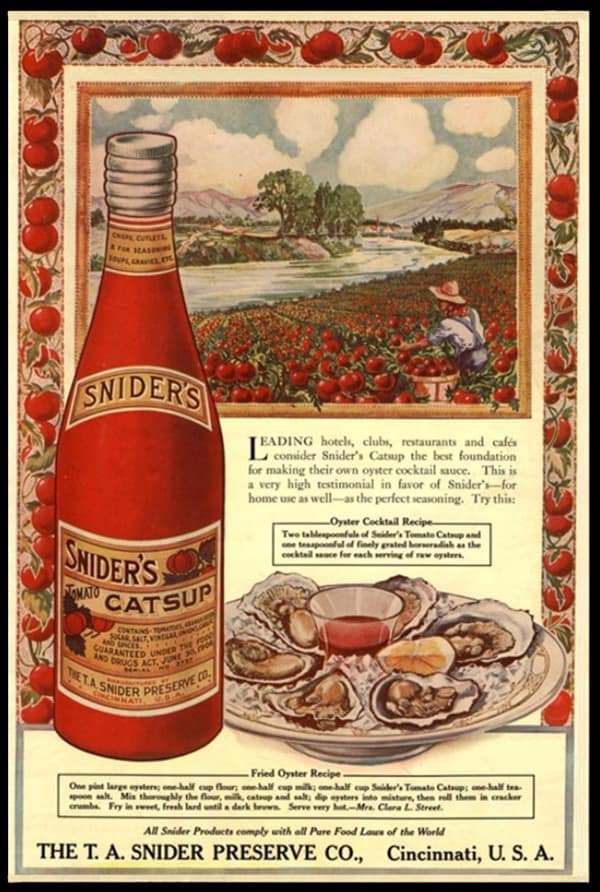 The H. J. Heinz Company, a name that's synonymous with catsup for most people today, was a relative latecomer to the game and didn't produce tomato-based catsup until 1876. They originally referred to their product as catsup, but switched to ketchup in the 1880s to stand out. Eventually, ketchup became the standard spelling in the industry and among consumers, though you can still find catsup strongholds sprinkled across the United States.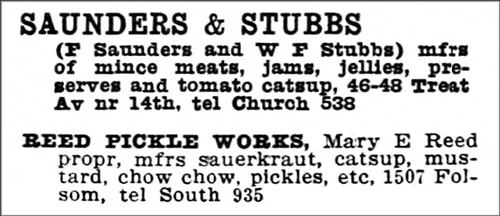 Frederick Saunders was a mince-meat and catsup manufacturer located at 703 Bryant Street from 1896 to 1901. In 1902 he took on William F. Stubbs and renamed their concern Saunders & Stubbs Preserving Works, now located at 48 Treat Avenue. In the 1904, Crocker-Langley San Francisco City Directory, Saunders and Stubbs had enlarged bold-face type stating that they were manufacturers of mince meats, jams, jellies, preserves, and tomato catsup. Their address expanded to 46-48 Treat Avenue. Though we are unsure of who the Reed name was on our label, it was probably Mary E. Reed who was the proprietor of Reed Pickle Works. They manufactured sauerkraut, catsup, mustard, and chow chow pickles. She was listed in bold-face type in the same 1904 San Francisco directory. Saunders & Stubbs weren't listed after 1905 as we just see F. Saunders Manufacturing Company at the same address.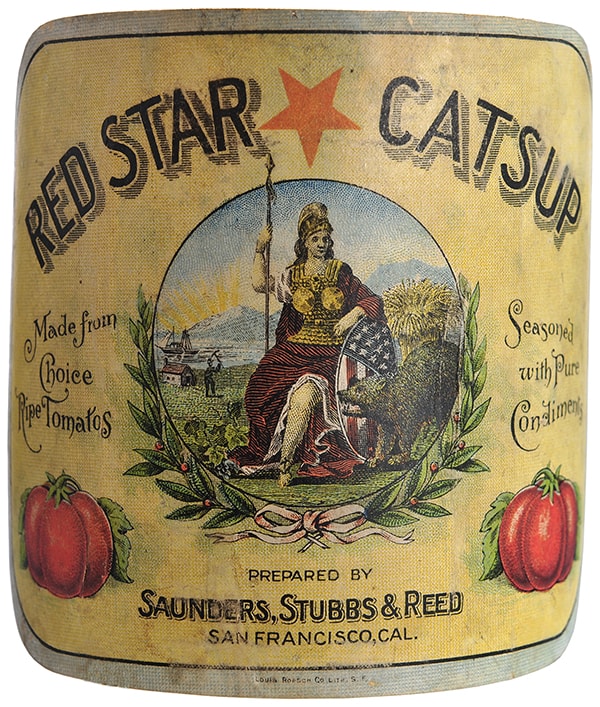 The Red Star Catsup label has a very colorful and detailed image depicting the Roman goddess Minerva, known as Athena in Greek mythology, the goddess of wisdom and war because she was born an adult. Her arm is resting and a shield decorated as a stylized American flag representing California gaining its statehood on September 9, 1850. There is a California grizzly bear, the official state animal, feeding on grapevines, representing California's wine production; a sheaf of grain, representing agriculture; a miner, representing the California Gold Rush and the mining industry; and sailing ships, representing the state's economic power. These are all elements from the State Seal of California.
The pale yellow Red Star Catsup label has a red star between the arched and shadowed primary black copy reading 'RED STAR' and 'CATSUP'. There are flanking tomato illustrations on the bottom left and right portions of the label. Secondary decorative copy reads. "Made from Choice Ripe Tomatos" (sic) and "Seasoned with Pure Condiments." Beneath this is the copy 'PREPARED BY SAUNDERS, STUBBS & REED (1st line) and SAN FRANCISCO, CAL. (2nd line). In a very small copy at the base of the label, it reads 'LOUIS ROESCH CO. LITH S.F.'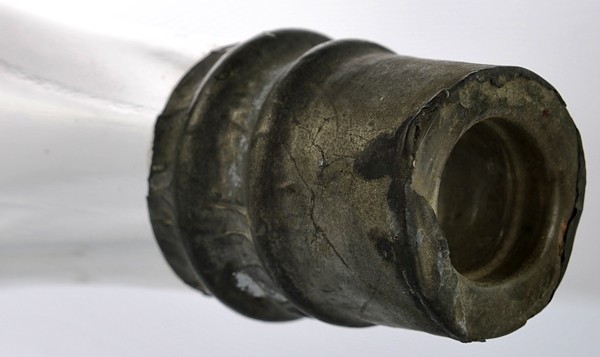 The base of the bottle has an embossed "S" sitting within a horizontal diamond. There is pin-inscribed copy reading 'THE T. A. SNIDER PRESERVE CO. CINCINNATI.'
The fully labeled, 14 ounce, Yolo Brand Tomato Catsup was also sold in San Francisco and packed by California Conserving Co.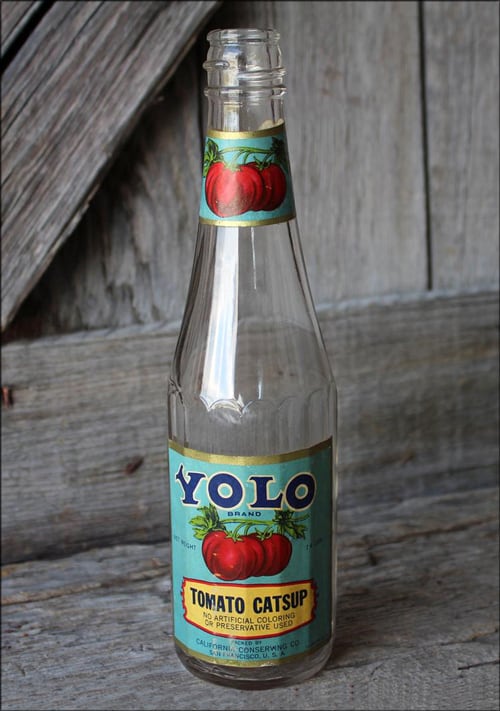 Support: Reference to Ketchup Pickles Sauces – 19th Century Food in Glass by Betty Zumwalt