Title on Mobile
Old Continental Whiskey
(Embossed Soldier)
1776
Campbell & Seaman, New York City, New York
Yellow Amber Fancy Square
Provenance: Michael George Collection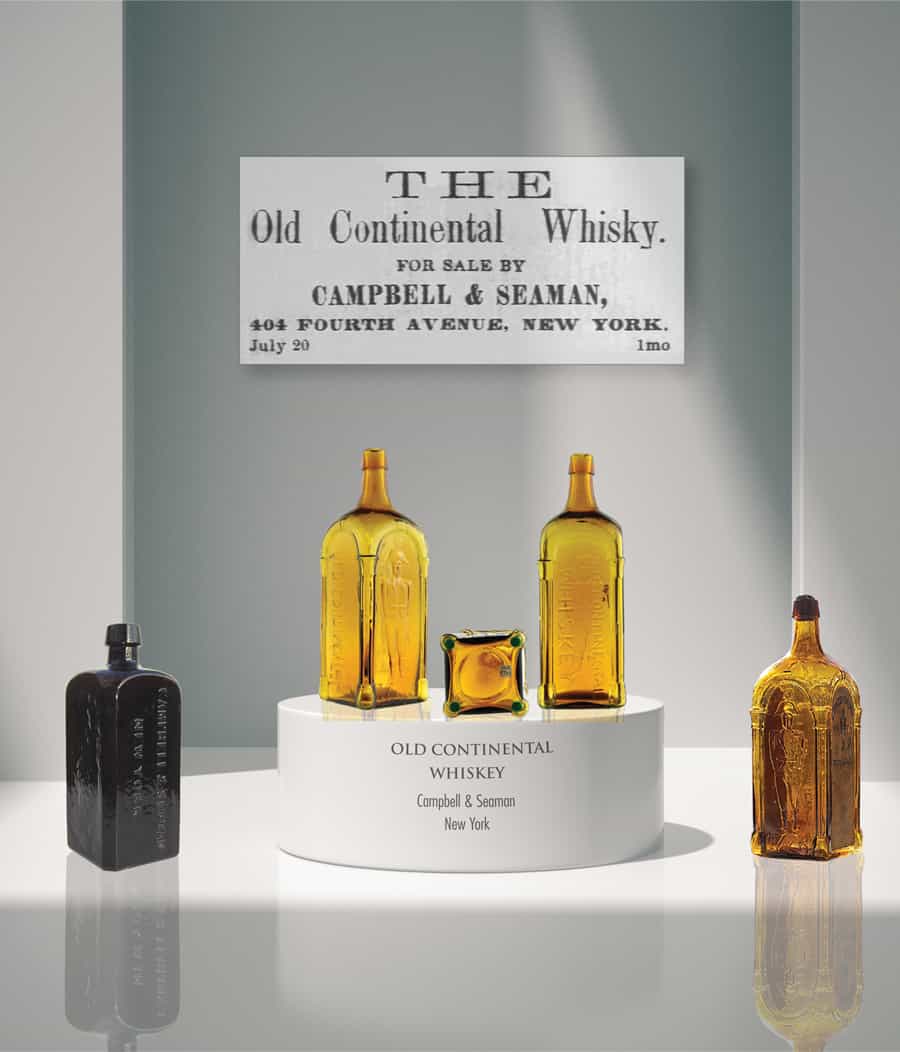 One of the most exciting historic "fancy squares" is the robust Old Continental Whiskey bottle. The embossed standing soldier is an extraordinary feature, proudly standing within one of the four arched panels flanked by columnar corners.
The brilliant yellow-amber bottle is rare and is embossed from shoulder to base 'OLD CONTINENTAL WHISKEY' in two lines on the opposite side of the embossed soldier panel. "Old Continental" occurs on the top line in uppercase sans-serif letters. "Whiskey," in larger letters, is embossed beneath. There is quite a bit of space between the two lines suggesting verbiage between the lines that was not used when making the mold.
The continental soldier stands over embossed decorative script reading "1776," commemorating the birth of our country on July 4th with the signing of the Declaration of Independence.
The graceful neck of the bottle is finished with an applied tapered mouth while the bottle base is smooth. The bottle's condition and character are excellent.
Campbell & Seaman
Andrew Campbell was a successful and established grocer located on 404 Fourth Avenue in New York City, New York. He was born in 1819 in Ireland and established his grocery in the early 1850s. In 1853, Willet Seaman Jr., born 1811 in New York, joined Campbell, and the business was renamed Campbell & Seaman, located at the same address. The partnership would last through 1865 when Joseph N. Galway replaced Seaman in the grocery partnership.
As noted in the advertisement above, Old Continental Whisky (Whiskey) was sold around 1859. Galway would leave the partnership, and Andrew Campbell would continue his grocery business until the late 1870s. One other bottle attributed to the Campbell & Seaman partnership is represented below. This bottle preceded our museum example and was probably made in the mid-1850s.
A "Lunch Break" Dive Revisited!

It was a sunny day on Friday, June 17, 1994. I went to my daily job in Peterborough, New Hampshire, with my diving equipment stuffed in the trunk. I had an hour lunch break and planned to put it to good use. There was a small river nearby that I had scouted the day before, revealing a riverbed full of glass and pottery shards. It seemed like time stood still that morning as the anticipation grew for my lunch-break dive. Finally, at noon time, I ran out the door! Just as I had hoped, there were pieces of bottles, redware, and other artifacts. Some bottles were quite early, with a couple of pontil-era examples recovered intact. Overflowing with enjoyment, I didn't realize that I was a half-hour past the end of my lunch break! Rushing back to the shore, I was walking through a sandbar when I felt something under my foot. I reached down and uncovered a rather large square yellow bottle, embossed with a soldier and "Old Continental Whiskey." Needless to say, I didn't get much work done that afternoon and couldn't wait to get home and clean my finds. The whiskey bottle was intact but had a small bruise in one of the thin corners. I kept the bottle for a year but ended up selling it because I was a young, hungry 25-year-old with a growing family. The money helped at the time, but I regretted it ever since.
Fast forward 25 years…With the Old Continental Whiskey still on my mind, I was eyeing an example coming up in an auction. A few previous examples had eluded me because of bad timing, so I really wanted this one. As the successful bidder, I was happy to get this fine bottle back in my hands. Although it wasn't the same example, the thrill of holding this bottle again gave me chills and some fond memories of my lunch break dive! You might be wondering how I remember the exact date of this super find? Well, I specifically remember cleaning my bottle while watching O.J. Simpson's white Bronco being chased down the highway! Crazy world! – Michael George
Primary Image: Old Continental Whiskey bottle imaged on location by Alan DeMaison, FOHBC Virtual Museum Midwest Studio.
Support Image: Auction Lot 2: "Old Continental / Whiskey / (Full Figure Of Soldier) / 1776" Whiskey Bottle, America, 1870-1880. Square with columnar corners and arched panels, brilliant yellow amber, applied sloping collared mouth – smooth base, ht. 9 1/8 inches; (minor loss to label edges). H #957 Retains both front and back original and extremely rare labels. A rare and beautiful bottle. Fine condition. – Norman Heckler Jr. & Sr., Norman C. Heckler & Company, Auction #131
Support Image: Auction Lot 53: "OLD CONTINENTAL / WHISKEY" – (motif of a standing Continental Soldier in full uniform) / "1776", (Denzin, OLD-43), American, ca. 1875 – 1885, medium yellowish amber, 9 1/4"h, smooth base, applied tapered collar mouth. A few tiny spots of wear are on the corner columns! Strong impression and highly sought after. Of all the embossed eastern whiskey bottles, the 'Old Continental' is rated as one of the best. Its embossing and form make it a 'top shelf' whiskey bottle! Probably produced to celebrate America's 1876 Centennial! – Jim Hagenbuch, Glass Works Auctions, July 2019
Support: Reference to Old Continental Whiskey—One Spectacular Bottle, Peachridgeglass.com
Support: Reference to: Look at this Campbell & Seaman New York on eBay, Peachridgeglass.com
Support: A "Lunch Break" Dive Revisited! – Reprinted from Antique Bottle and Glass Collector.
Join the FOHBC: The Virtual Museum is a project of the Federation of Historical Bottle Collectors (FOHBC). To become a member.