Cummings Blood Cure
Cummings Blood Cure
CBC
F. P. Cummings Co., Roanoke, Virginia
Labeled Clear Medicine Bottle
Provenance: Bob Jochums Collection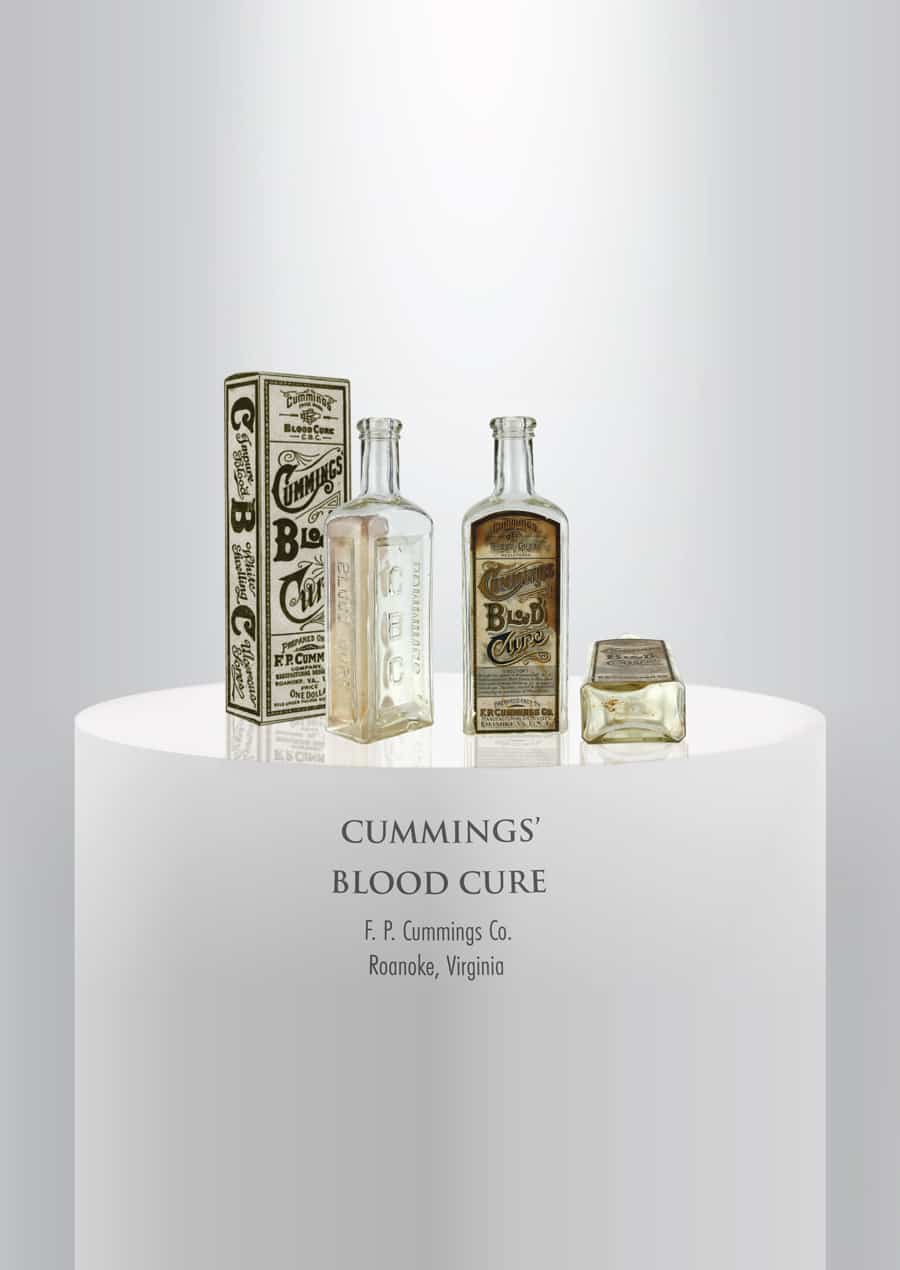 Our display specimen of a Cummings' Blood Cure is rare as an embossed cure, but even more rare with probably the best-known example of the original label. From the Kevin Kelly collection, the bottle is boldly embossed on the three unlabeled sides, 'CUMMINGS' and 'BLOOD CURE' from top to bottom in a sans serif typestyle on the two narrow sides and with large 'C B C' lettering in a sans serif typestyle stacked in an indented panel on the broad side opposite the fancy label. The bottle is rectangular, clear, smooth-based, and measures 8 ¾ inches by 3 inches by 1 ¾ inch. The mouth is a strong and neatly applied double ring collar.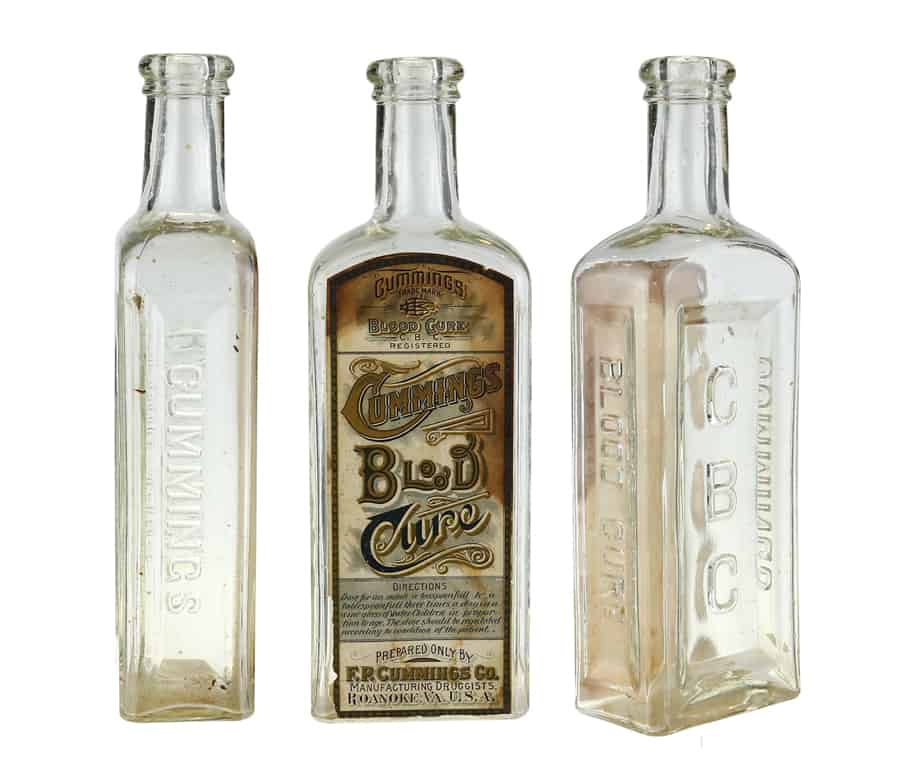 The label confirms that the product was offered by the F. P. Cummings Co. of "Roanoke, Virginia, U.S.A." The directions for use state, "Dose for an adult a teaspoonfull (sic) to a tablespoonfull (sic) three times a day in a wine glass of water. Children in proportion to age. The dose should be regulated according to condition of the patient."
The origin of disease as understood in the late 20th century is well stated by Dr. Edward B. Foote in his 900-page tome Plain Home Talk and Medical Common Sense published in 1872: "Disease of every character, except that which may be induced by poison or by accident to body or limb, originates in a derangement of the circulation of vital electricity, disturbance of the mind, or an abnormal condition of the blood." Blood cures, therefore, were commonly available nostrums that were affordable to citizens who desired treatment for an ailment but could not afford to seek professional medical care.
Blood cures were promoted to treat a myriad of diseases since "in plain language, the blood is fluid bone, fluid cartilage, fluid muscle, fluid nerve, and fluid every thing (sic) that goes to make up the human body," according to Dr. Foote. Body organs (liver, lungs, stomach, kidneys, and others) suffer when they are "deprived of the nourishing properties of good blood" and "the human machinery becomes clogged with poisonous humors" and "no organ or fibre (sic) of the body is safe when they are present." Blood cures were the quintessential cure-all of their day.
The life of Francis P. Cummings spanned just fifty-nine years. Born in the Confederate state of Virginia (November 15, 1860), five months before the beginning of the Civil War, Cummings lived in numerous Virginia towns (Dublin, Alleghany, Pocahontas, Roanoke, Christiansburg), all in a 110-mile stretch in the western part of the state, just south of the West Virginia state line and north of North Carolina, for his entire life.
Cummings' parents, Bernard and Margrett Cumming (no "s" per the 1870 decennial federal census) immigrated from Ireland in 1846, and they lived in Dublin, Virginia, named after Dublin, Ireland. Bernard became a section master (supervisor of workers responsible for assisting in yard operations) for the railroad, and Patrick was a railroad hand by the time he was nineteen years old. Living with the Cumming parents in 1870 were a 37-year-old house servant and her one-year-old female child.
At the age of twenty-two, Francis (listed in the 1900 federal census as Frank P. Cummings) married Georgia E. Pepper Cummings (age twenty, also listed as Georga). They had four children, all daughters, one of whom died in 1892 at the age of eleven months.
In 1893 at the age of thirty-three, Francis Patric (no "k") Cummings was a manufacturing druggist in Pocahontas, Virginia, and he trademarked his Cummings' Blood Cure and a monogram of the letters "C B C" with the United States Patent Office. A bill of sale in the same year shows products being sold by F. P. Cummings Drugs, Chemicals, Fancy Toilet Articles and the connection to the "Proprietor of Cummings Blood Cure."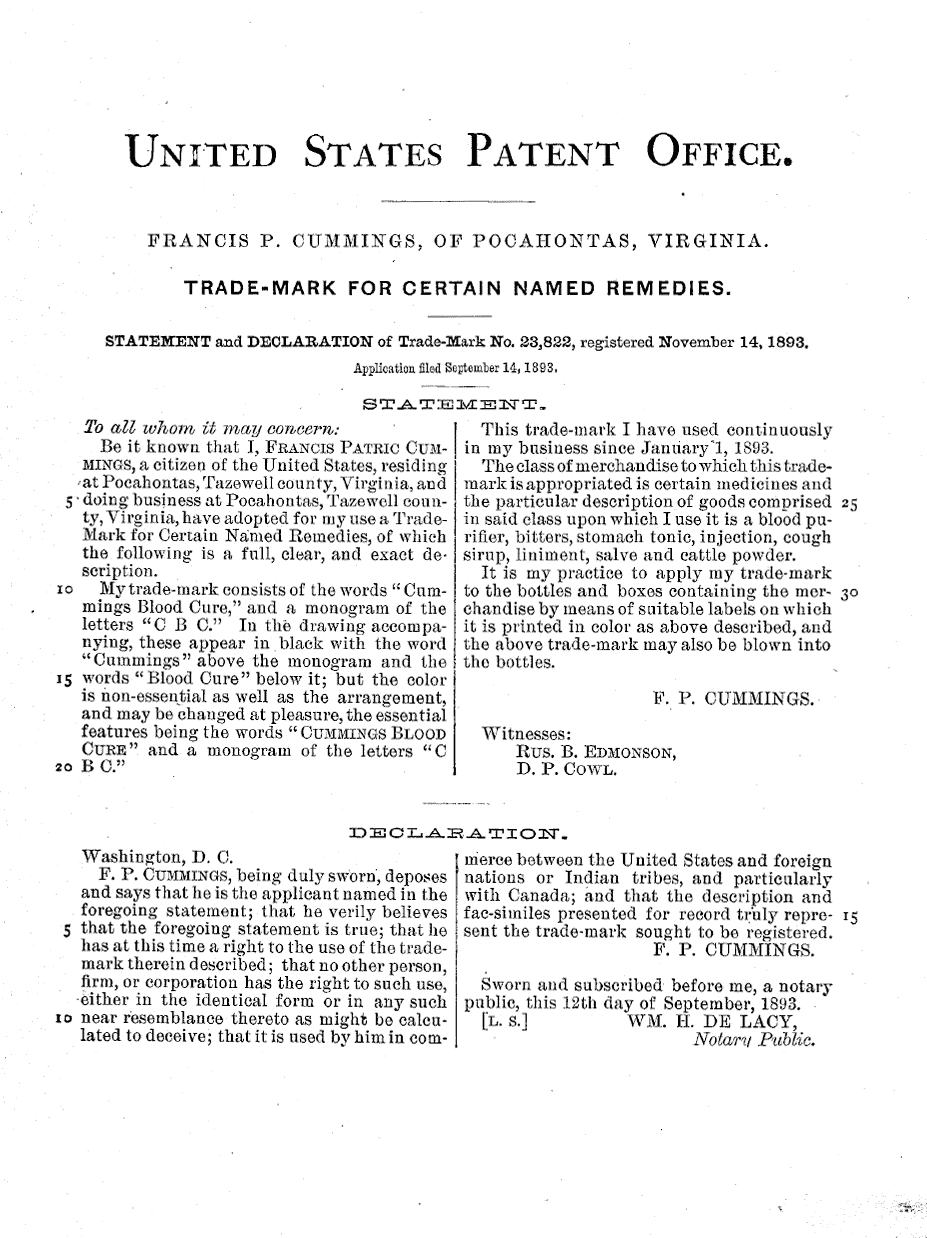 A 1902 city directory from Roanoke, Virginia, listed F. P. Cummings as president of the F. P. Cummings Co., operating as a manufacturing druggist. Newspaper advertisements for Cummings' Blood Cure and other products he produced, such as Cummings' Female Tonic, Cummings' Blood and Liver Pills, and Peerless Worm Syrup, continued to appear until 1904.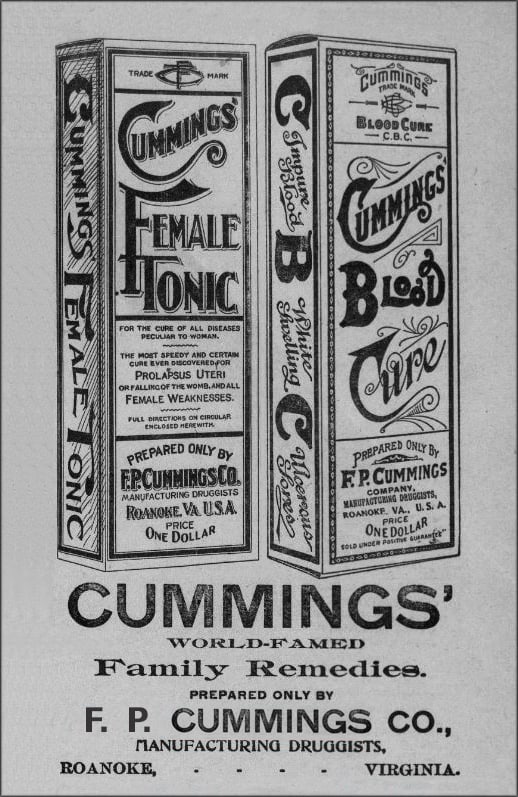 By 1910 Cummings' occupation had changed to being in the hotel industry in Christiansburg, Virginia. Living with and working for Francis and Georgia were a 39-year-old widowed cook and a 22-year-old male waiter. Francis P. Cummings was buried in Christiansburg following his death on January 3, 1920. He was survived by his wife Georgia, who died of pneumonia in 1933.
Primary Image: Cummings' Blood Cure imaged on location by Alan DeMaison, FOHBC Virtual Museum Midwest Studio.
Research: Bob Jochums, Berkeley Lake, Georgia
Support: Reference to Plain Home Talk and Medical Common Sense, Edward B. Foote, M.D., Wells & Company, New York, 1872; pages 26, 34, 36-37.
Join the FOHBC: The Virtual Museum is a project of the Federation of Historical Bottle Collectors (FOHBC). To become a member.