Damiana Bitters Baja California
Baja California
Damiana Bitters
San Francisco, California
Aquamarine Cylinder
Provenance: Eric McGuire Collection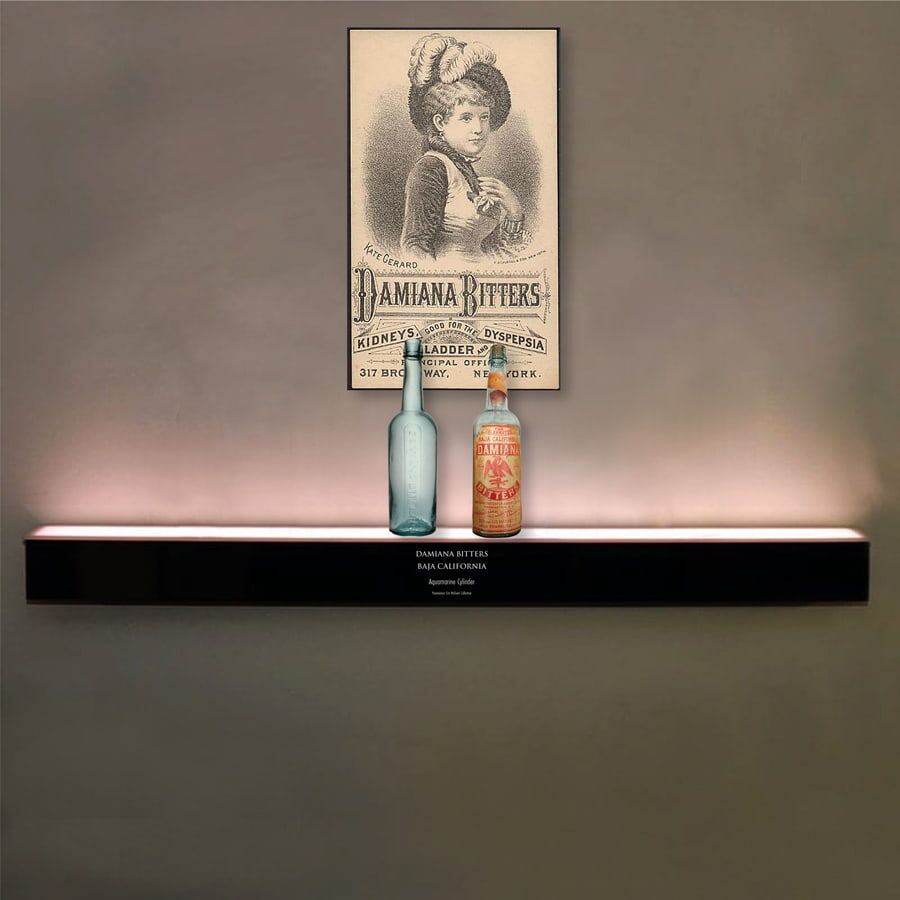 Lewis Hess was the first large-scale manufacturer of Baja California Damiana Bitters, which he first advertised in mid-1877. He purchased the brand in 1876 from Henry Weyl, who had been making and selling the bitters for three years. Damiana Bitters was first conceived and manufactured by Drs. Winder and Shearer of San Diego who were inspired by an infusion of tea that Mexicans drank as a tonic for the stomach and bowels. Hess would also sell Damiana in small packages for those who preferred tea and manufactured Fluid Extract of Damiana for druggists' use.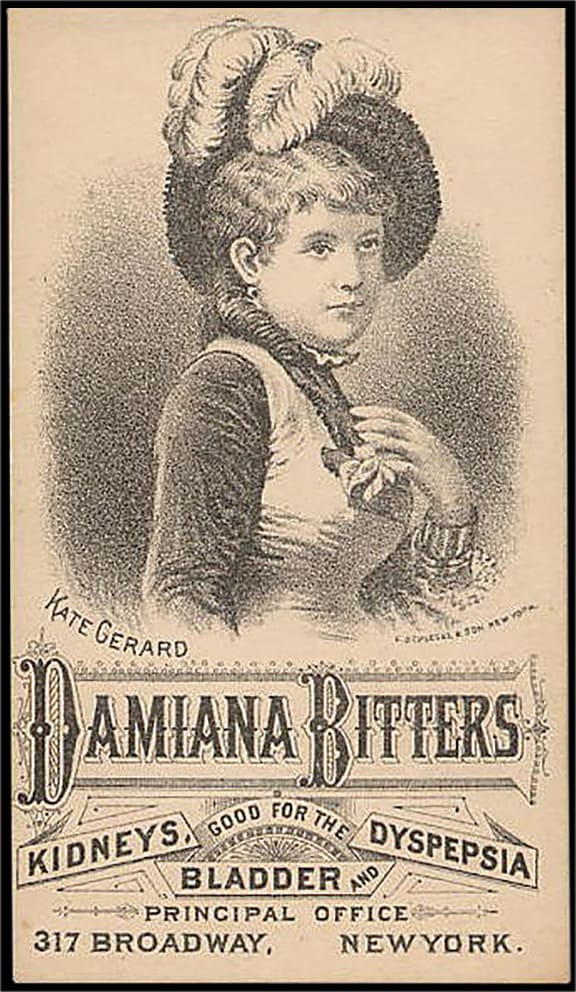 Hess, now the proprietor, advertised that Damiana Bitters were a "Vital Restorative, an Appetizer and Blood Purifier, a Tonic and Laxative" and that they were purely vegetable and equal to the choicest wine as a beverage. Hess described his principal ingredient as Damiana, a shrub in lower California, and said that for many years, the Spaniards used the remedy for sexual weaknesses, diseases of the bladder and kidney, etc.
The Damiana plant is peculiar to lower California and grows in a small section from San Lucas to San Rafael and, according to Hess, had not been discovered in any other part of the world. The herb is from two to three feet high, much branched, the stem being woody and suffruticose, and the branches form a curved base, cylindrical, with a smooth, reddish-brown bark, the branches all being downy towards the apex. The leaves are alternately arranged on the stem and are hairy on both sides. It belongs to the class of plants named Turneracea, of which little is known except Damiana.
Compounding the matter, the Official Gazette of the United States Patent Office for 1876 documents that on May 16, 1876, William A. Winder and Melville M. Shearer, San Francisco, California, obtained label patent #718 for the title "Baja California Damiana Bitters." One week later, the same two individuals were granted trademark patent #3,713 for Bitters with the words and letters "Baja California Damiana Bitters." On the same day, they also obtained another trademark patent, #3,712, which granted them a patent for bitters with "a picture or representation of an American eagle, perched or standing upon a cactus plant, with a serpent held in its beak." These patent dates are evident in an early advertising illustration of Damiana Bitters. Another August 1, 1876 patent date was printed on a label noting that Winder and Shearer, their address now given as San Diego, California, were granted patent #180,692 entitled "Composition Beverage." The entry reads as follows: "A composition beverage, consisting of the following ingredients, viz: tincture or fluid extract orange-peel, tincture or fluid extract cardamom-seed, tincture or fluid extract damiana, whiskey or proof spirits and water, substantially as described." Damiana Bitters was sold primarily in saloons as an equivalent to whiskey and gin. Like many other bitters, the brand was also sold in drug and grocery stores.
Winder and Shearer most likely crossed paths in the military, in San Diego or the Presidio in San Francisco, or it could have been Fort Alcatraz. Captain William Andrew Winder was born in September 1823 and was a U.S. Army Commanding Officer of Fort Alcatraz (1861–64). A native of Maryland, he served in the Army for eighteen years, having been promoted to lieutenant in the Mexican-American War, serving continuously until 1866. He was appointed second lieutenant, Third Artillery, March 24, 1848; first lieutenant, Third Artillery, August 22, 1853; and captain, Third Artillery, May 14, 1861. Dr. Winder was the son of General William Henry Winder, who was referred to as "one of Baltimore's brilliant lights," and one of the most eminent lawyers in the city. At the time of his death, Gen. Winder had the largest practice of any man at the bar in Baltimore and one of the largest in the United States Supreme Court.
Dr. Melville McVitty Shearer was born in Savannah, Ohio, on September 22, 1842. He graduated from the Medical Department of Iowa University in 1863, served in the 48th Illinois Volunteer Infantry, ranked as Major of Cavalry, and made the famous "March to the Sea" under General Sherman. He also served eight years with General Miles, Custer, Oaks, and Ward, spent two years at the Presidio and settled in San Francisco after the war. Dr. Shearer was a Knight Templar and a county physician for several years. He died on May 28, 1905, and is buried in the Santa Rosa Rural Cemetery.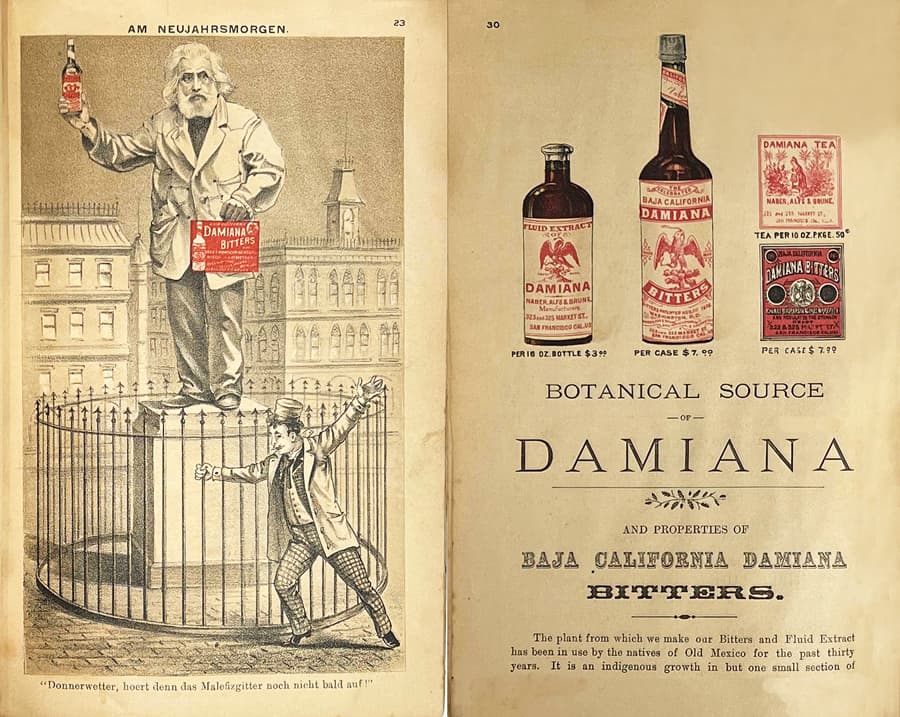 Lewis Hess would continue as the proprietor of Damiana Bitters until 1890. The company's address was 317 Broadway, New York City, with a Depot at 12 Montgomery Avenue, San Francisco, California. Hess would sell the Damiana Bitters brand to Naber, Alfs & Brune in 1890 who were well-known importers and wholesale wine and liquor dealers in San Francisco. They sold wines and liquors by the bottle or in bulk, in barrels and half barrels. Their most famous brands were Phoenix Bourbon and Damiana Bitters. Their history dates back to 1875 though they were established as Naber, Alfs & Brune in either late 1879 or early 1880.
See the museum example of a Phoenix Bourbon by Naber, Alf & Brune.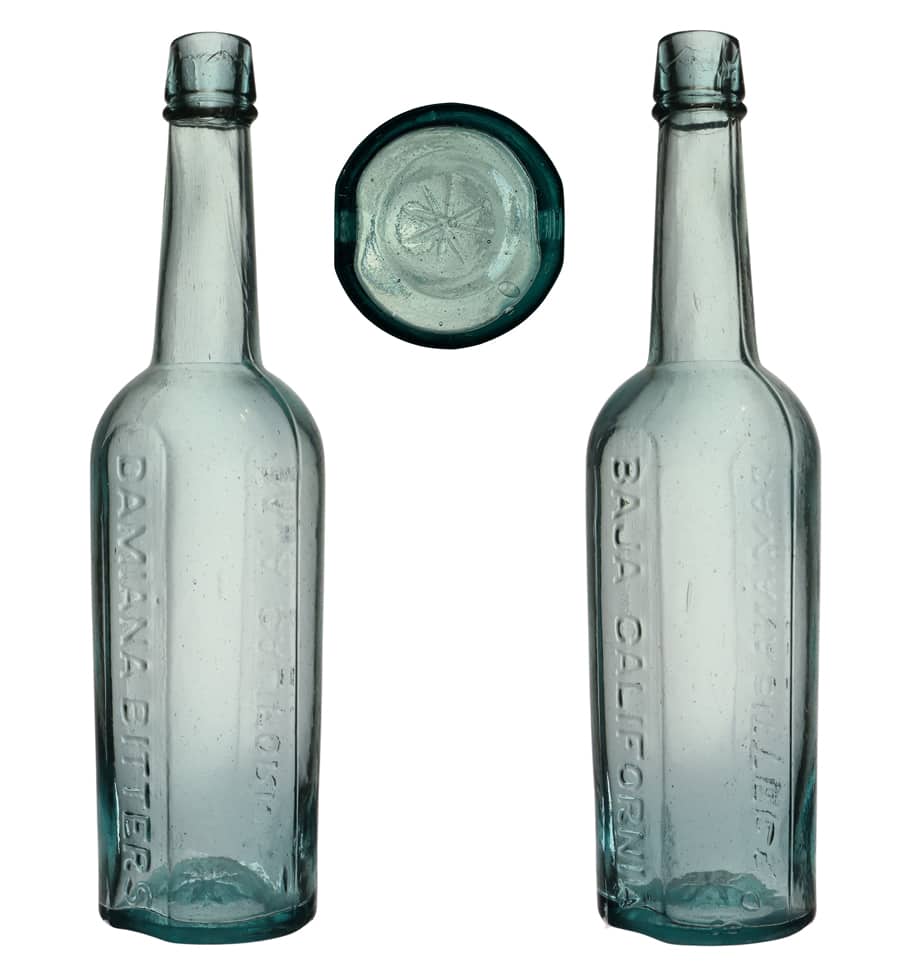 There are three variants of Damiana Bitters cylinder bottles. The first aquamarine glass bottle, variant one (D 4) from 1873 to 1876, has ½ inch tall sans serif lettering 'BAJA CALIFORNIA' and 'DAMIANA BITTERS' embossed shoulder to base on two sides, set within oblong ovals that interact with the base. There is an embossed 8-pointed star on the base. The common 11 ¾ by 3-inch bottle is found with an applied mouth and tooled lip.
Variant two (D 5) was used from 1877 to 1885 and has the same side-embossed copy along with embossed copy reading 'LEWIS HESS MANUF'R' embossed around the shoulder of the bottle along with the embossed 8-pointed star on the base. The common 11 ¾ by 2-¾ inch round bottle is found with an applied mouth and tooled lip, in a two and four-piece mold.
Variant three has 3/8 inch tall embossed 'BAJA CALIFORNIA' and 'DAMIANA BITTERS' with no Hess embossing on the shoulder and no embossed star on the base.
Many advertising pieces and trade cards were produced throughout the four decades that Baja California Damiana Bitters were made and sold.
Primary Image: "Damiana Bitters Baja California" variant 1 bottle imaged on location by Alan DeMaison, FOHBC Virtual Museum Midwest Studio.
Support: Reference to Stage Actress Beauties – Looking at some Damiana Bitters Advertising Trade Cards, Peachridgeglass.com, October 2016
Support: Reference to Bitters Bottles by Carlyn Ring and W. C. Ham. Reference to Bitters Bottles Supplement 2 by Ring, Ham & Meyer.
Support: Labeled "Damiana Bitters" bottle courtesy Bruce Silva. Trade card from the Ferdinand Meyer V collection. Variant 2 bottle from the Ferdinand Meyer V collection.
Join the FOHBC: The Virtual Museum is a project of the Federation of Historical Bottle Collectors (FOHBC). To become a member.