Mason's GCCo Patent Nov 30th 1858
Mason's Patent Nov. 30th 1858
GCCo (Monogram)

Giles – Clough Co., Redkey, Indiana

Citron with Amber Striations Pint
Provenance: Jerry McCann Collection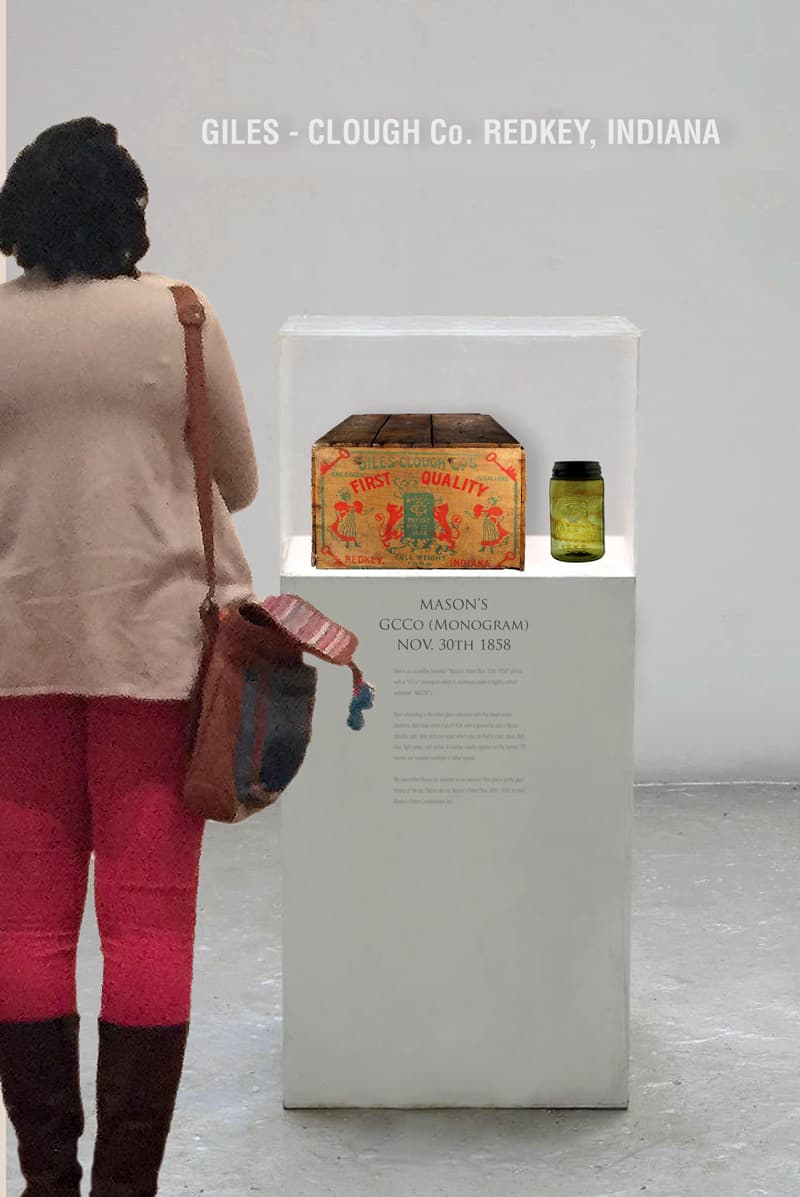 Here is a rather striking "Mason's Patent Nov. 30th 1858" pint jar with a "GCCo" monogram which is centrally positioned on the face of the jar beneath the word Mason's.
Most interesting is the citron glass coloration and the broad amber striations. Red Book notes it as #1934 with a ground lip and a Mason shoulder seal. Only pints are noted which you can find in clear, aqua, Ball blue, light green, and amber. A number usually appears on the bottom. The jar is attributed to Giles-Clough Cos. of Redkey, Indiana.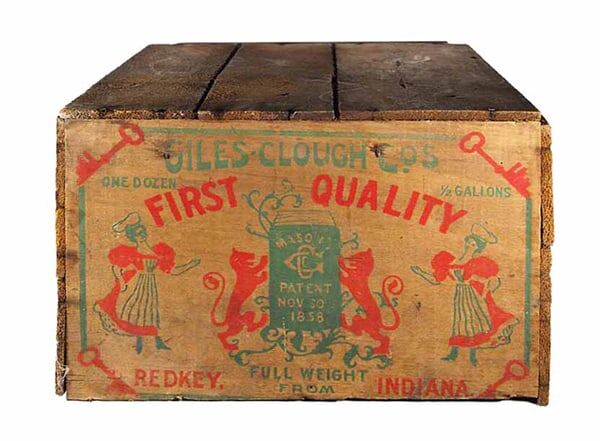 We have other Mason jar varieties in our museum that give a pretty good history of the jar. Please see our Mason's Patent Nov. 30th 1858 Jar and Mason's Patent Crowleytown Jar.
Alice M. Creswick illustrated two slight variations of the monogram on Mason jars. A variation only had the letter "T" rather than "TH" in the patent date. You can see her illustration in the sliding images at the top. She attributed the jars to the Giles-Clough Co. ca. 1896-1898.
Redkey Glass Company
John S. Giles bought the equipment of the closed Crystal City Glass Co. in Bowling Green and moved it to Redkey, Indiana. He brought in H. H. Clough and formed the Giles-Clough Co. In 1897, William Buttler bought out Giles' share, and the company was renamed after its new hometown, becoming the Redkey Glass Co. Giles-Clough and Redkey were both competitors of Ball Brothers in the fruit jar business, making the Fruitkeeper GCCo and the Redkey Mason, among others. Ball managed to survive the gas bust, but Redkey Glass did not. Following a fire in April 1902, it was decided that the failing gas supply did not warrant rebuilding the plant, and the glass-making equipment was sold off.
Primary Image: The Mason's Patent Nov. 30th 1858 GCCo jar imaged on location by the FOHBC Virtual Museum midwest studio led by Alan DeMaison.
Support: Reference to Fruit Jar Annual 2020 – The Guide to Collecting Fruit Jars by Jerome J. McCann
Support: Reference to Red Book #11, the Collector's Guide to Old Fruit Jars by Douglas M. Leybourne, Jr.
Support: Giles-Clough Glass Co. and Related Companies by Bill Lockhart, Beau Schriever, Bill Lindsey, and Carol Serr
Support Image: Auction Lot 12730: Fruit Jar Shipping Box GILES CLOUGH REDKEY IND Rare, Made to hold 1 dozen half-gallon Masons Patent 1858 jars. The box was opened from the bottom, with the top boards all still intact. Measures about 19-1/4″ long by 14-1/2″ deep, by 9-1/2″ tall. Fairly decent condition as shown. The graphics on one end are brighter than the other. A great-looking old box. – Greg Spurgeon, North American Glass