Ball Standard
Ball Standard
Ball Brothers, Muncie, Indiana
Wax Sealer Jar
Olive Amber Quart
Provenance: Ron Hands Collection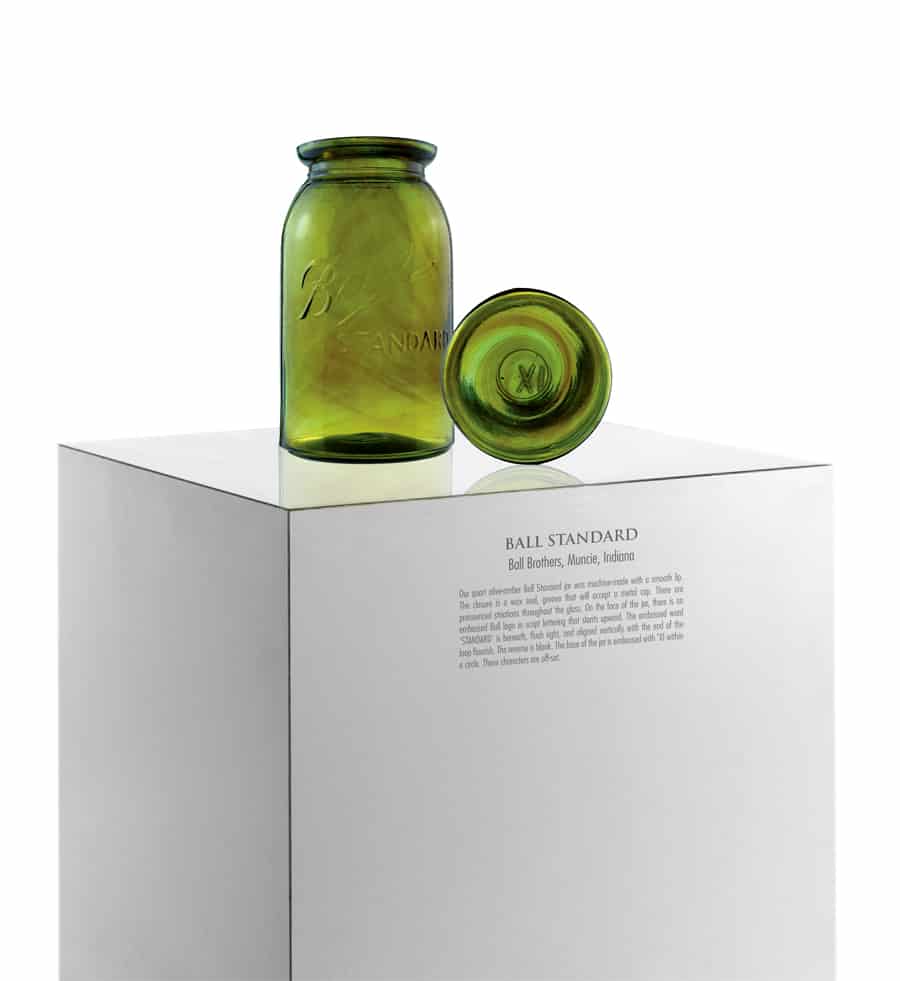 Our quart olive-amber Ball Standard jar was machine-made with a smooth lip. The closure is a wax seal, groove that will accept a metal cap. There are pronounced striations throughout the glass. On the face of the jar, there is an embossed Ball logo in script lettering that slants upward. The embossed word 'STANDARD' is beneath, flush right, and aligned vertically with the end of the loop flourish. The reverse is blank. The base of the jar is embossed with 'XI within a circle. These characters are off-set.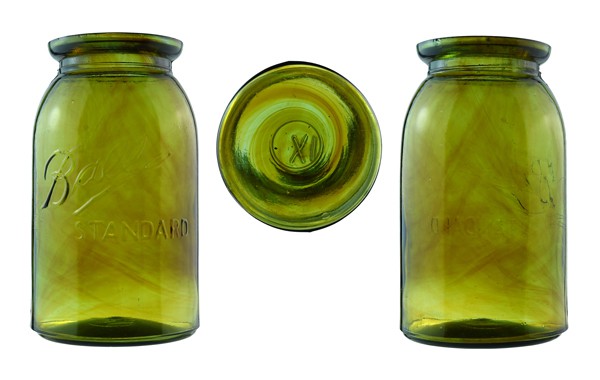 Initially, two Ball brothers were manufacturers of preserve cans in Buffalo, New York. The brothers happened into the glass business by chance. They soon brought their other three brothers into the business, called themselves the Ball Brothers, moved to Muncie, Indiana, and became one of the largest producers of fruit jars in the United States. They expanded their business, adopting semiautomatic and fully automatic machinery, engulfed competitor after competitor, and saw the term "Ball jar" become synonymous with "fruit jar."
See our museum example of a quart BBGMCo jar in amber glass.
The Ball Standard was Ball's version of the wax seal fruit jar. The jar has a circular groove in the top, which would have been filled with hot wax for sealing. A shallow tin lid was held in place with a thin wire that clamped over the lip of the jar. All Ball Standard jars were machine-made. It may have been the first jar Ball made with the new semiautomatic glassmaking machine invented by Alva Bingham and F. C. Ball and patented in 1898. Later, the jars were made on the Ball-Bingham machine introduced in 1904. Jars made on this machine have the finished seam and the body seam aligned.
Back in the 1890s, when the Ball Brothers Glass Manufacturing Company first considered making fruit jars by machine, they were anxious not to upset their workers. They had an operating glass factory in Muncie with a dedicated force of skilled workers making jars the old-fashioned way, blowing them by mouth. Using one of the newly invented glassmaking machines to do the same job was a tempting idea. Jars could be made faster, more uniform, and, most importantly, cheaper. Machines were the wave of the future.
The five Ball brothers were hesitant to make this move to machinery. As George A. Ball, then treasurer of the company wrote in a November 14, 1896 letter to his sister: "We dare not throw out all our blowers and put machines in all at once—as that would make trouble." Some of Ball's skilled glassblowers had been enticed to come from Buffalo, New York in 1888 to start the new branch factory in Muncie, Indiana. They were shareholders in the company; the stock was given as an incentive.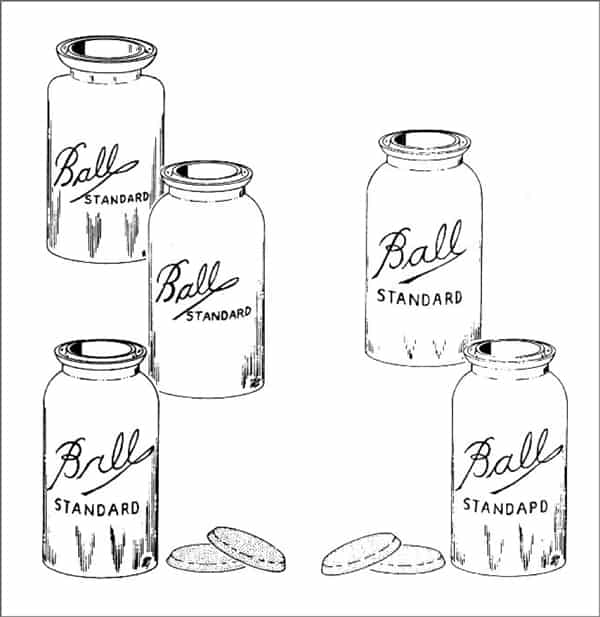 Two varieties of Ball Standard jars exist. The earliest ones have Logo 1, with the triple L loop, and would have been made between 1897 and 1910. Some exist with Logo 2, which was introduced about 1910. Ball Standard jars were offered as late as 1917 to customers, but these were probably warehoused jars leftover from previous years. The dates of production are as follows:
Ball Standard, logo 1, offset neck seams, 1897-1906
Ball Standard, logo 1, matching neck seams, 1904-1910
Ball Standard, logo 2, 1910-1912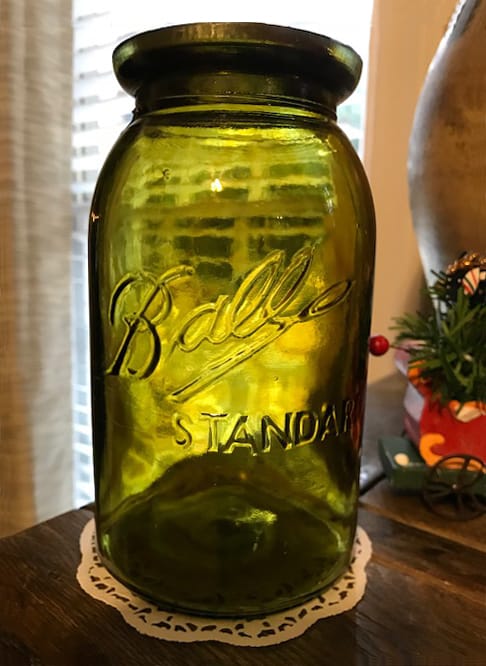 Primary Image: Ball Standard jar imaged on location by Alan DeMaison, FOHBC Virtual Museum Midwest Studio
Support Image: Auction Lot 36: Great Color Ball Standard Quart. A strong green-colored quart BALL STANDARD wax sealer which also displays some subtle amber swirling throughout. Sparkling glass with strong embossing. There is a thin chip under the outer ring, otherwise no damage or stains. The base has an embossed "V". A great-looking jar that is actually a little darker in color than shown. – Greg Spurgeon, North American Glass
Support: Reference to Fruit Jar Annual 2020 – The Guide to Collecting Fruit Jars by Jerome J. McCann
Support: Reference to Red Book #11, the Collector's Guide to Old Fruit Jars by Douglas M. Leybourne, Jr. Ball Standard typography variation illustration by Creswick. Use granted by Doug Leybourne.
Support: Reference to Ball Brothers Glass Mfg. Co. by Bill Lockhart, Beau Schriever, Carol Serr, and Bill Lindsey with contributions by Jim Sears.
Support: Reference to FruitJar.org, The First Ball Machine-Made Jar?
Join the FOHBC: The Virtual Museum is a project of the Federation of Historical Bottle Collectors (FOHBC). To become a member.