Tea Cup Extra Old Bourbon (Fully Labeled)
Tea Cup #1 Whiskey
Shea–Bocqueraz Co. San Francisco, Cal.
James Shea & Antoine Bocqueraz, San Francisco, California
Fully Labeled Orange Amber Fifth
Provenance: Richard Burgarella Collection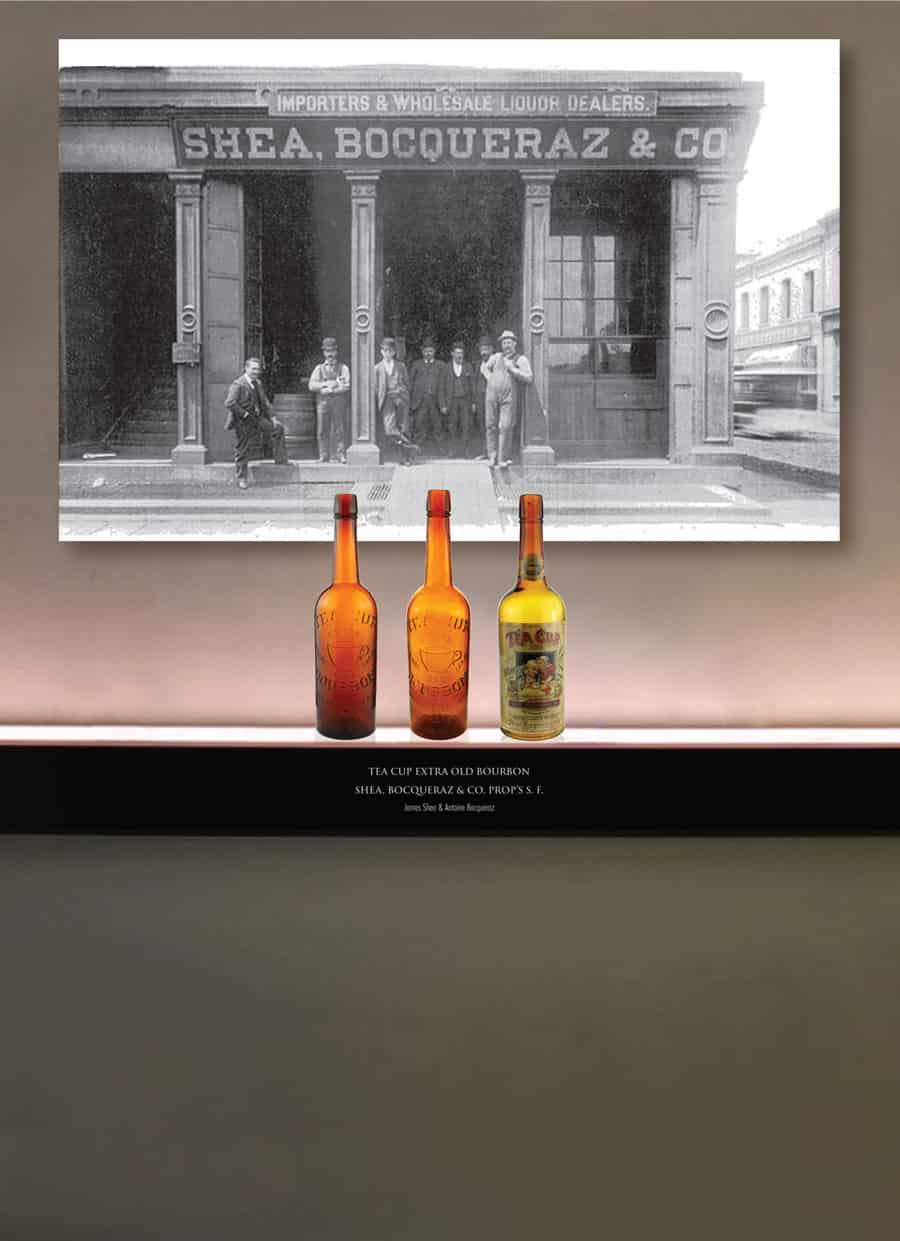 Undoubtedly, the "Tea Cup Extra Old Bourbon" tooled-top fifth is a collector's favorite. Why wouldn't it be with such an intriguing quaint name and visual appeal? An actual embossed "teacup" image occurs on earlier examples. Our example is embossed, shoulder to base, opposite the label side 'SHEA–BOCQUERAZ CO.' on the top line and 'SAN FRANCISCO, CAL.' beneath. Each initial capital letter is much larger than the other letters. The consignor adds that this example, in this condition, is extremely rare and possibly unique.
See the museum example of an earlier Tea Cup Extra Old Bourbon with an embossed Tea Cup.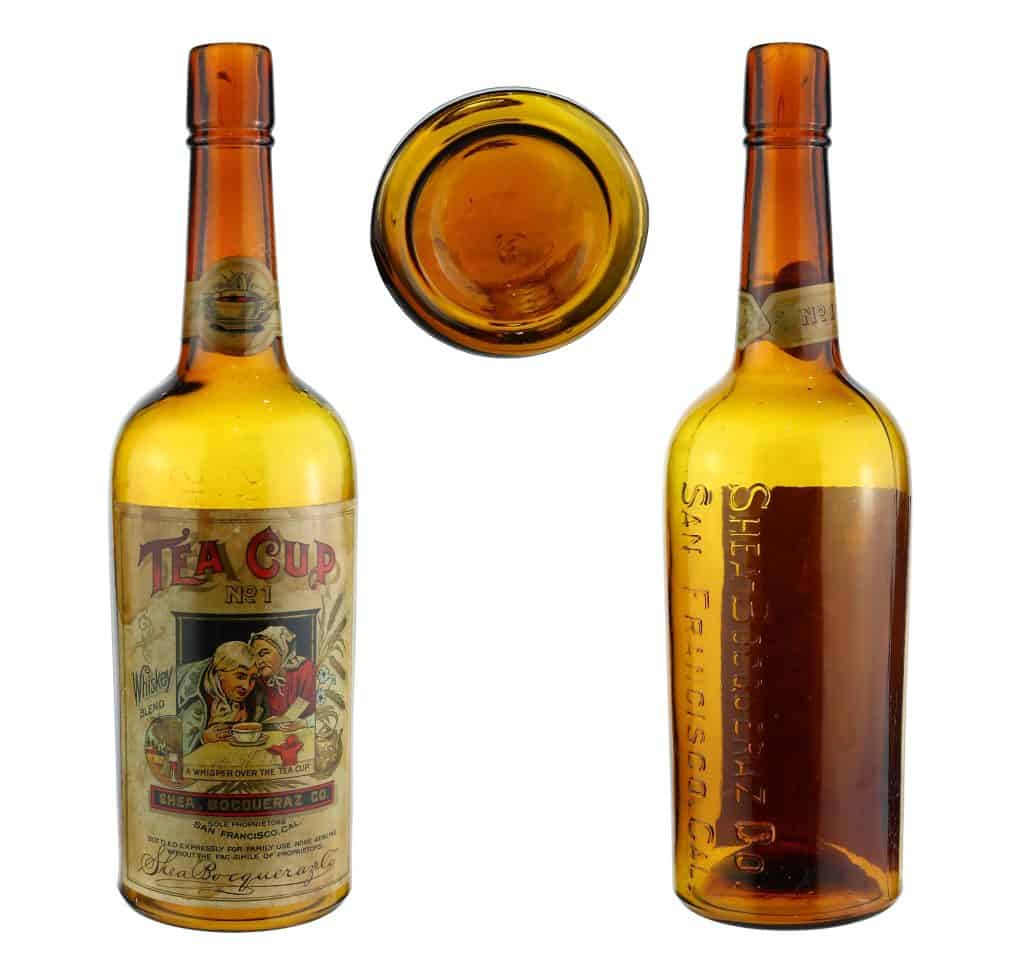 The labels on later bottles present an illustration in a window banner of an older; presumably, husband and wife huddled and sipping whiskey from a cup. The man appears ill and is bundled to keep warm while the wife leans to his ear, reading from a folded letter. The caption is "A Whisper Over the Tea Cup." Back then, whiskey was advertised as a medicinal product under temperance eyes.
The label has "TEA CUP No. 1" printed above the feature illustration. A collage of secondary images surrounds the couple, which includes a tea kettle, various grains, grain harvesting, and the small words "Whiskey Blend." Beneath all this, reversed out in a band is "SHEA, BOUQUEREZ CO. SOLE PROPRIETORS SAN FRANCISCO, CAL." and BOTTLED EXPRESSLY FOR FAMILY USE, NONE GENUINE WITHOUT THE FAC-SIMILE OF PROPRIETORS." with a signature script, all in one line and connected, "SheaBocquerazCo." A small neck label band has an image of a teacup and grain flanked by "No. 1."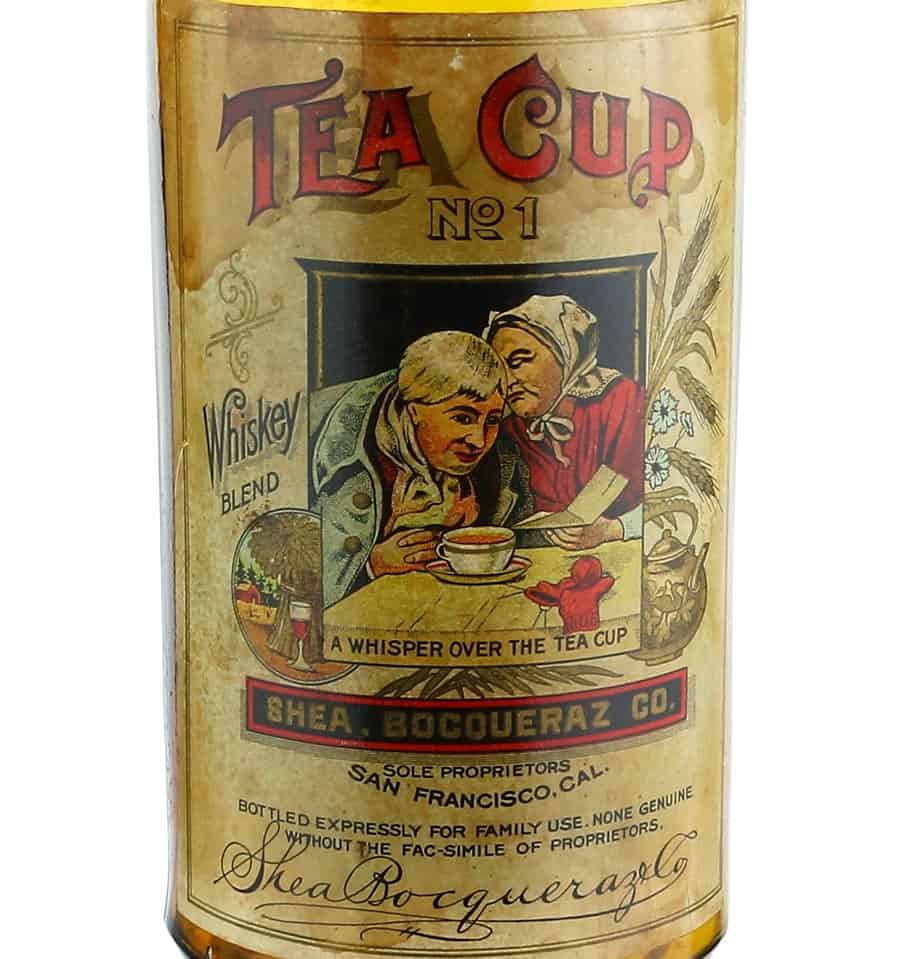 James Shea (Sheehy)
James Shea was born in Skibbereen, County Cork, Ireland. James left Ireland and arrived in San Francisco by way of Cape Horn. His fiance, Annie Shipsey, was born on Cape Clear Island, southwest of County Cork in Ireland. She traveled from Ireland to San Francisco via the Isthmus of Panama, and the couple was married in San Francisco in the 1850s. They lived on Golden Gate Avenue in San Francisco. The trip and relocation must have been a monumental change for the couple.
Shea's original name was James Sheehy, and Sheehy was the name used by his brothers in commerce in Watsonville, California. He applied for citizenship under the name James Sheehy, then changed his name to Shea when he formed Shea, Hussey & Co. in 1868. As you might imagine, this upset the Sheehy brothers.
In 1871, Shea, Bocqueraz & McKee was formed. They were the successors to Sullivan & Cashman and Shea & Hussey Co. Hussey was now gone and Shea was in business with three new partners: the Bocqueraz brothers and Robert McKee. Antoine and Leon Bocqueraz were European immigrants, and McKee had a history of dealing with San Francisco liquor concerns. They were located at the corner of Front and Jackson Streets and were the Sole Agents for Golden and Tea-Kettle Bourbon in the western states and territories. Interestingly, they were located next door to Myer J. Newmark and Max Gruenberg, whiskey wholesalers and competitors. See museum example, Old Judge Bourbon – Newmark, Gruenberg & Co.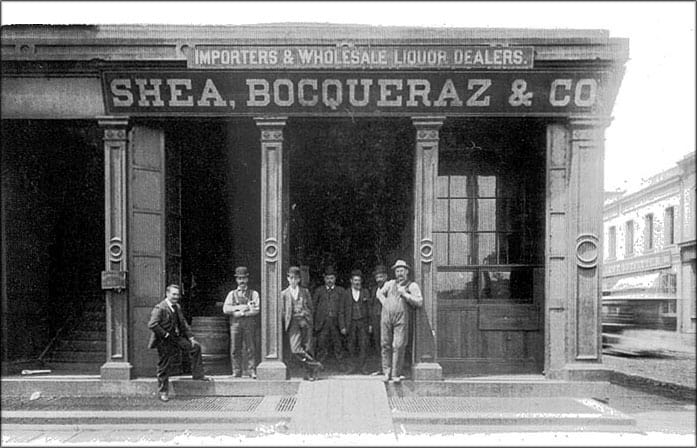 In 1885, McKee died and several years later, the firm changed its name to Shea, Bocqueraz & Co. The Tea Cup Bourbon brand originated on April 1, 1891, with Shea, Bocqueraz & Co. listed as sole proprietors. Notice on the billhead below, "Proprietors of the Celebrated Brands of Golden & Tea Cup Whiskies."
Tea Cup Bourbon is a reference to Tea Kettle Bourbon from earlier days. You can see both trademarks below. The Wilsons surmised that the brand was probably of low quality given the absence of bottles bearing the name, perhaps indicating that it was a rectifier's concoction.
Tea Cup Bourbon was advertised heavily, as witnessed by the number of shot glasses and signs that still survive. The company also used the brand names "Astor," "Carlton (dry gin)," "Golden," "Roanoke," "Roanoke Rye – Honey & Horehound," "Springfield," "Tea Cup," "Tea Cup Extra Old Bourbon Whiskey," and "Tea Kettle."
After the great San Francisco earthquake and fire in 1906, the marsh adjacent to the Shea, Bocqueraz & Co. waterfront address was used for debris and was later completely filled in for the 1915 Panama Pacific International Exposition. It is now considered the Wharf in San Francisco. Shea, Bocqueraz survived all the way until 1919, when they shut down due to the looming National Prohibition.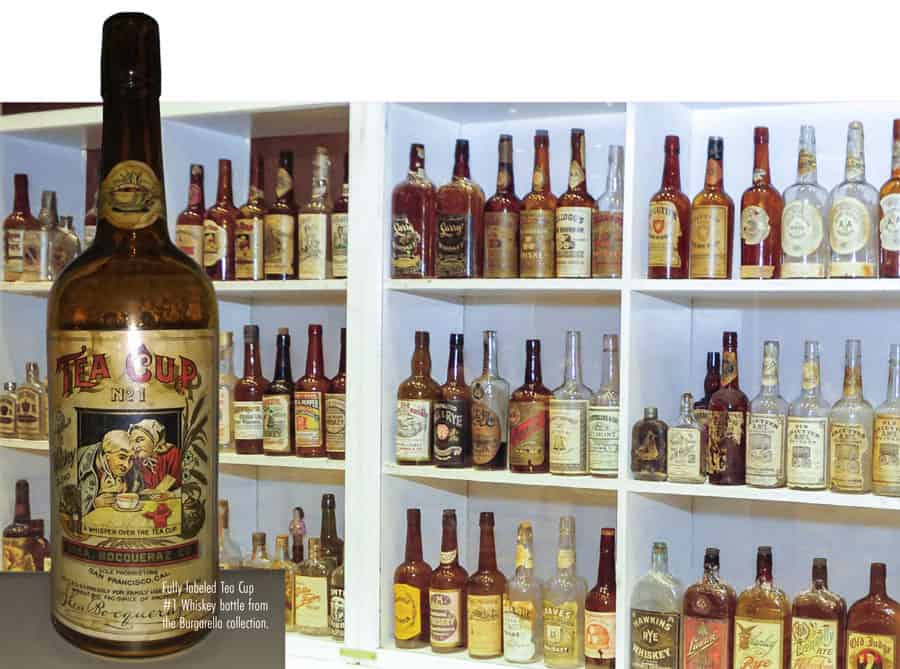 Primary Image: Labeled Tea Cup #1 Whiskey bottle imaged by Alan DeMaison at the FOHBC Reno 2022 National Antique Bottle Convention mobile imaging station.
Support Image: "Tea Cup Extra Old Bourbon" pair from the FOHBC Virtual Museum, Richard Siri collection.
Support Image: Museum example displayed at the FOHBC 2022 Reno National Antique Bottle Convention. Picture from the November–December 2022 issue of Antique Bottle & Glass Collector.
Support: Reference to What's In a Name? For James Shea, a Lot by Jack Sullivan
Support: Reference to the Wilsons (p. 131) previously suggested that James Shea was originally a Boston liquor dealer, but a descendant (great grand-daughter Peggy) provided the true story and images according to Pre-Pro.com
Support: Reference to Whiskey Bottles of the Old West by John L. Thomas, 2002
Join the FOHBC: The Virtual Museum is a project of the Federation of Historical Bottle Collectors (FOHBC). To become a member.