"E H V B" Cathedral Pickle
"E H V B"
Cathedral Pickle Bottle
Elias Henry Van Benschoten, New York City, N.Y.
Blue Green Gothic Design
Provenance: Lou Pellegrini Collection
Our primary "E H V B" museum example of a Gothic pickle container was blown in a rich medium blue-green glass. The bottle is 9″ tall and has a hexagonal body and a slightly curved shoulder (above left). This size is considerably smaller than the deep aquamarine 14-1/8″ tall (above middle) and the blue-green aquamarine 11-5/8″ tall (above right) EHVB molds in our museum indicating popularity with a range of sizes for this brand.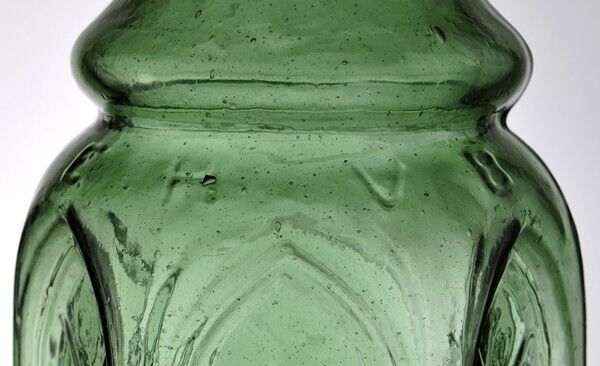 Embossed on the shoulder, in very open letter-spacing, are the initials 'E H V B' standing for Elias Henry Van Benschoten. His larger bottles have 'N Y' after 'E H V B' embossed on the shoulder signifying New York City. This copy is also embossed beneath the windows on the larger bottle foot panels.
Above this shoulder is a wide collar-rib ring at the base of a tall cylindrical neck bisected by a second ringed rib. There is a round turned-over collar mouth while the bottom is smooth with a depressed circle with a depressed hexagon. On each of the bottles, six sides is a sunken Gothic arch window with stepped beveled framing. Five of the panels are filled with a diamond lattice pattern. The sixth panel is blank and is where a paper label would have been placed.
See the museum examples of Hexagonal Cathedral Pickle Jars.
See the museum example of a yellow-green Cathedral Pickle Gardner 325.
See the museum example of a blue-green Cathedral Pickle Gardner 2287 also attributed to Willington Glassworks.
Elias Henry Van Benschoten
Of Dutch stock, Elias Henry Van Benschoten was born in Beekman, Dutchess Co., New York on April 28, 1814 to Henry Teunise Van Benschoten (also spelled "Van Bunschoten" or "Van Bunschooten" and Mary Jackson. Elias would marry Phoebe Kissam Underhill and they had four children, William N., Mary E., Agusta, and John N. Van Benschoten.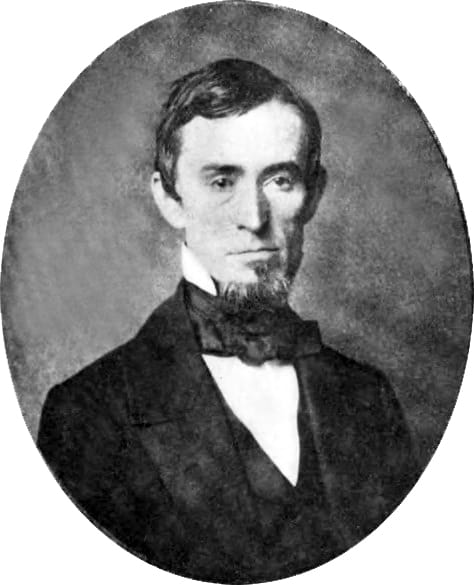 In his early years, Elias Henry Van Benschoten formed a friendship with a man named Samuel Arnold who was a youthful teacher at the district school. Samuel moved in with the Van Benschoten family for several years in preference to "boarding around," as was then the custom. Samuel was a musician, especially a violin player, and Elias became infected and very much wished for a violin. His father did not approve of his having "a fiddle" which he deemed "a device of the Devil." Elias was bent on owning one; and, being ingenious with tools, at odd moments and by stealth, he himself made one of very good tone.
Immediately after his father's death, Elias went to White Plains to attend John Swinburn's school and while there boarded with the Rev. Smith Arnold, Samuel's father. From there, sometime in 1833, he went to New York in the employ of Sleight, Green & Wendover.
In the fall of 1836, in the same employ, he went to Michigan City (Northern Indiana) where he remained for something like a year and suffered seriously from the miasma of the new country. His son in later years recalled Elias telling of "horseback journeys through the Kankakee region, of the abundance of game, and of the marvelous shots he encountered, in particular of one man at whose cabin he had passed a night who, as they were washing at the slab bench in the morning, beheaded with his rifle, as he banteringly said he would, a wild pigeon that had lit in a dead tree on the other side of the large clearing."

By 1840, Elias Henry Van Benschoten was listed in the directories as being in the flour business in New York City. He had particularly good business judgment and sense. For a few years, he conducted a bonded warehouse but soon after went into the manufacturing business with pickles, condiments, and preserves at 252 Front Street. Elias writing to a relative in 1850, after some unusually large and remote sales, said "Think of it, Galveston, Offenbach, Wurzburg! This bringing the ends of the earth together makes my pickle business almost sublime."
Elias's son also recalled his father telling of the winters in the city, of the snow, piled up in the narrow downtown streets till from a sleigh one, could look into the second-story windows; of skating on the East River and of one time making a fearful leap on his skates to clear a great crack in the ice which he had suddenly came upon unawares. He also recounted his father saying that dangling his feet over a dock-side, he watched the famous clipper-ship President as it sailed off down the bay, a thing of beauty, on what proved to be the last voyage, one from which it never came into any port.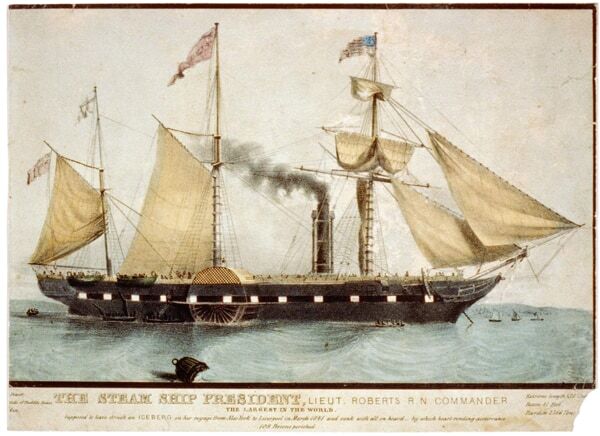 The SS President was a British passenger liner that was the largest ship in the world when she was commissioned in 1840, and the first steamship to founder on the transatlantic run when she was lost at sea with all 136 onboard on March 11, 1841. The President cleared New York bound for Liverpool on her third eastbound voyage. She was overloaded with cargo to compensate for her roll. The President was last seen the next day struggling in a gale. Her disappearance was major news for several months and even Queen Victoria followed the story. The ship's owner, the British and American Steam Navigation Company, collapsed as a result of the disappearance.
Elias Henry Van Benschoten would move out of New York City and the pickle business and move to Poughkeepsie, New York sometime in the mid-1850s. He would die in August 1872 and is buried in Lakewood Cemetery, Cooperstown, Otsego County, New York. He spent his last chapters in life farming.
Support: Reference to Concerning the Van Bunschoten & or Van Benschoten Family in America: A Genealogy and Brief History, William Henry Van Benschoten, A. V. Haight Company, 1907, 813 pages
Primary Image: E H V B Cathedral Pickle bottle imaged by the FOHBC Virtual Museum west studio by Gina Pelegrini.
Support: Reference to American Bottles and Flasks and Their Ancestry by Helen McKearin and Kenneth M. Wilson, Crown Publishers Inc., New York, 1978.
Support: Reference to Ketchup Pickles Sauces – 19th Century Food in Glass by Betty Zumwalt
Support Image: Blown-Molded Gothic / Cathedral Pickle Jar, 11 3/4″ H, 4 1/2″ DOA base, aquamarine, hexagonal form with "E H V B / N. Y." embossed below one window, five windows with latticework, remaining unpatterned, rounded tooled mouth, deeply domed base with iron pontil ring. Lightly whittled surface. Elias H. Van Benschoten, New York City. 1850-1860. Undamaged with no wear. From the estate collection of Russell and Doris Evitt, Jackson, California. Note: Elias H. Van Benschoten is listed in the 1850 New York Mercantile Union Business Directory as running a Pickle Warehouse at 252 Front St. – Jeffrey Evans, Jeffrey S. Evans & Assoc.
Support Image: Auction Lot 38: "E H V B / N-Y" Cathedral Pickle Bottle, America, 1849-1854. Hexagonal with crosshatch arched panels, deep aquamarine, tooled round collared mouth – iron pontil mark, ht. 14 1/8 inches. Similar to Z pg. 411, top right Elias H. Van Benschoten manufactured pickles from 1849 to 1854 at 252 Front St. in New York City. Attractive size and mold design. Fine condition. Dr. Charles and Jane Aprill collection. – Norman Heckler, Norman C. Heckler & Company, Auction #174
Support Image: Auction Lot 75: "E.H.V.B. / N.Y." Cathedral Pickle Bottle, America, 1845-1860. Hexagonal with five lattice panels and one label panel, light to medium blue green, tooled round collared mouth – iron pontil mark, ht. 11 5/8 inches. Similar to Z pg. 411 Intricate mold design and light color. Fine condition. – – Norman Heckler, Norman C. Heckler & Company, Auction #164