Engel & Wolf's No. 26 & 28 Dillwyn St Philada
Engel & Wolf's
No. 26 & 28 Dillwyn St
Philada
Charles Engel & Charles Wolf, Philadelphia, Pennsylvania
Emerald Green Early Lager
Provenance: Tod von Mechow Collection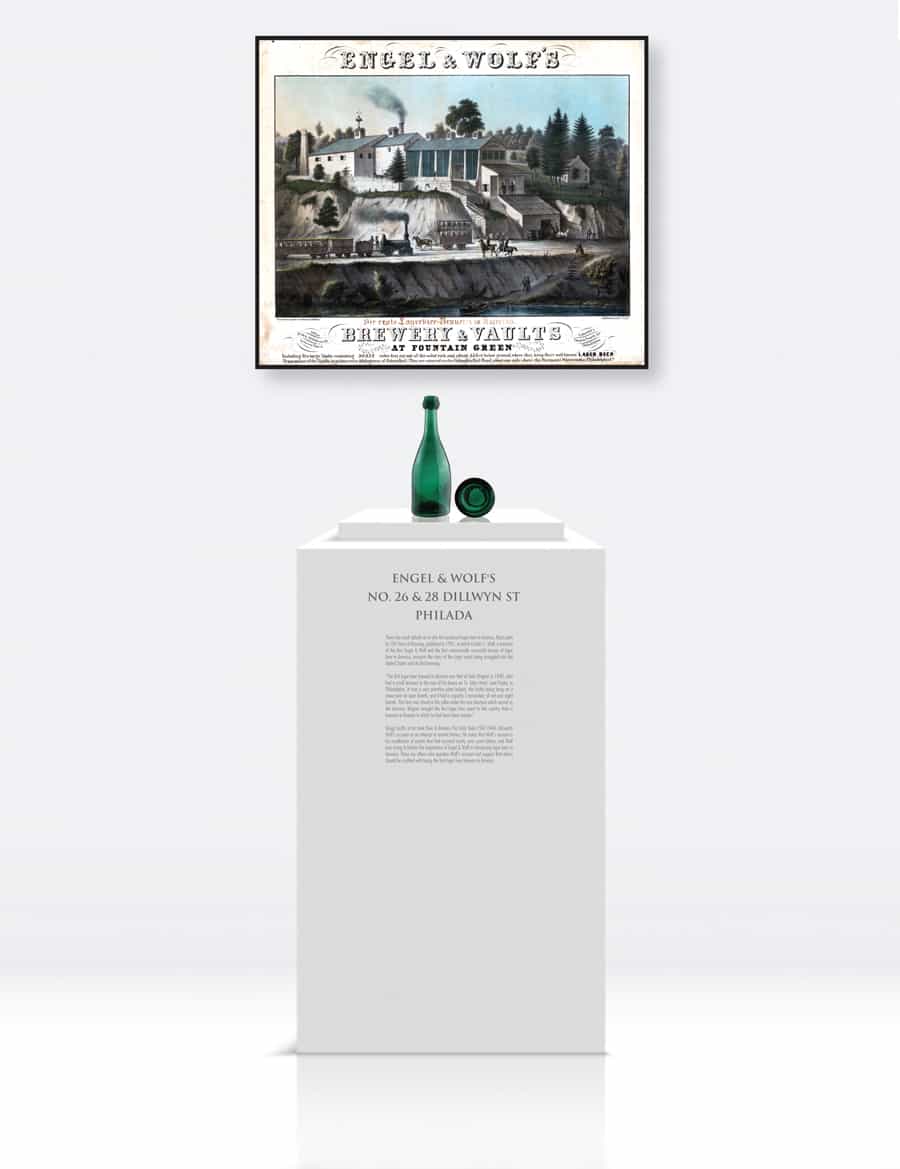 Our museum bottle is embossed "Engel & Wolf's No. 26 & 28 Dillwyn St Philada." The Engel & Wolf Brewery was established in 1844 by Charles Engel and Charles C. Wolf. The brewery was located on Dillwyn Street at Fountain Green, now part of Fairmount Park in Philadelphia, Pennsylvania. Engel & Wolf is considered America's first and oldest large-scale brewer of Lager Beer. This makes our subject specimen America's oldest glass Lager beer bottle dating back to 1847.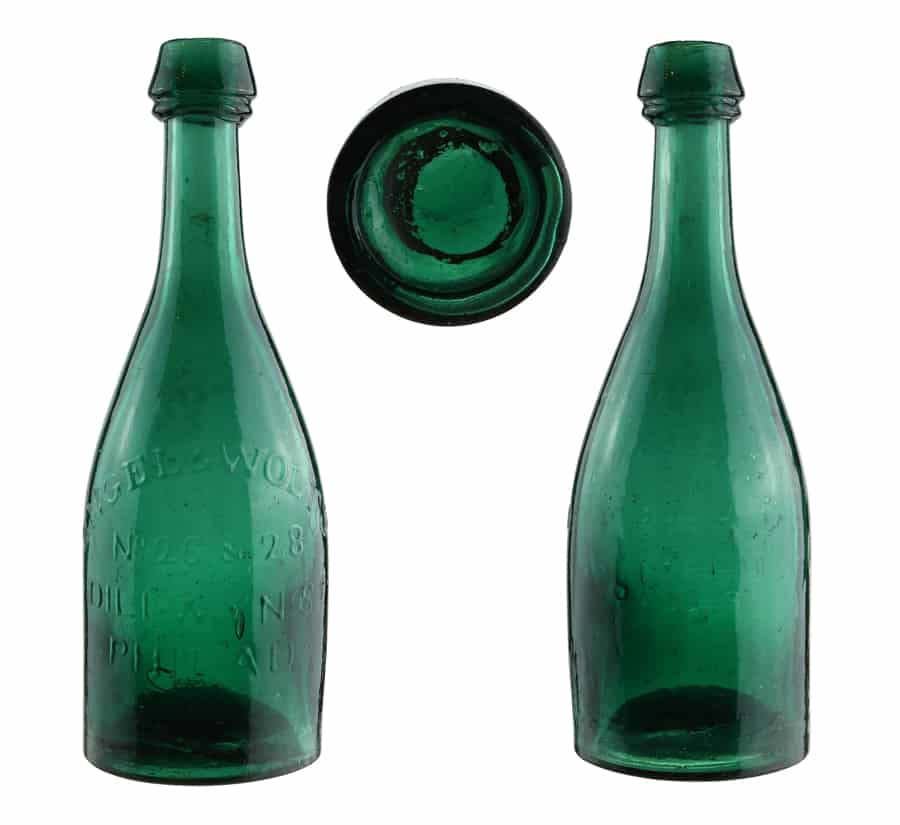 The cylindrical early Lager-type emerald green bottle measures 8 1/8 x 2 15/16 inches. The bottle is embossed in four lines on the face and reads 'ENGEL & WOLF'S' in arched convex type using a serif typestyle (1st line). The second, third and fourth horizontal lines read 'No 26 & 28′ (2nd line), DILLWYN St' (3rd line), and 'PHILADA' (4th line) in a sans serif typestyle. The "o" in "No," the "t" in "ST," and the "A" in "PHILADA" are raised and have a dot under them. The "F" is missing the crossbar. The bottle is hand blown with a double tapered collar and an improved iron pontil. A cork stopper would have been used. The extremely rare bottle is also found in yellow-green glass. A second variant measures 7 ¾ x 2 15/16 (2 ½) inches.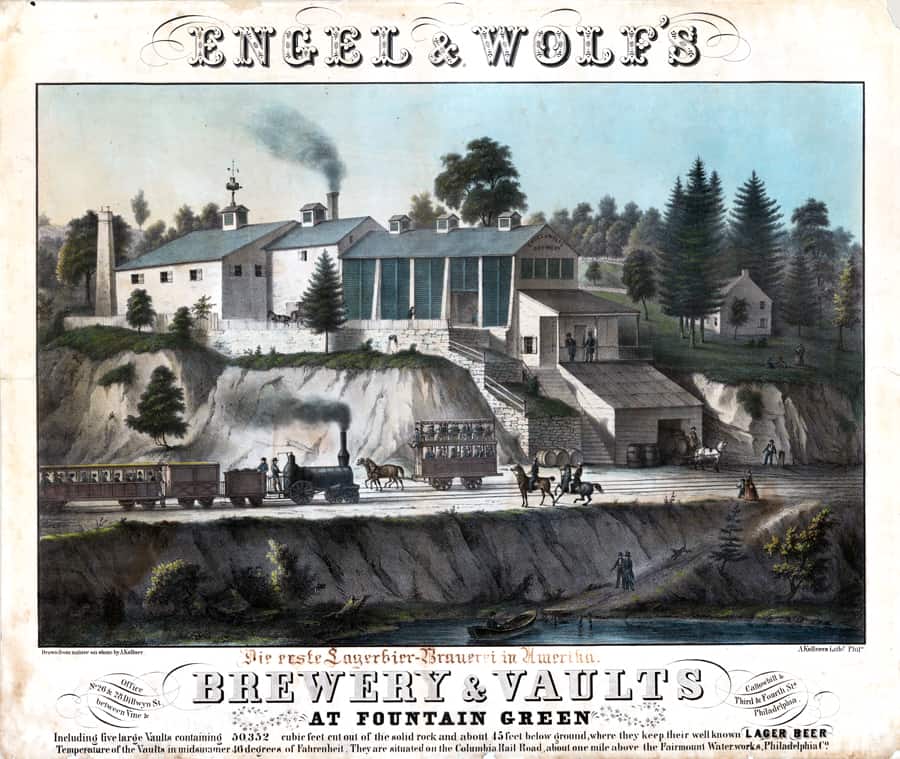 The 1855 Engel & Wolf's advertisement above reads "Brewery & Vaults at Fountain Green." The illustration depicts the wash house and entrance to the vault (on the lowest level of the hill); the office (middle level); the fermenting and brewing building, and the storage house with fermenting cellar (upper level). A weathervane designed as a beer barrel adorns the storage house. Horse-drawn wagons loaded with barrels exit from entries on different levels, and a laborer working on a barrel toils inside the brewery. Two gentlemen stand on the office porch. On the right, a woman with children uses the property for recreation. In the foreground, a Columbia-Philadelphia Railroad locomotive pulls a train car full of passengers, a double-decker horse-drawn omnibus is passing on one side of the train, and men ride on horseback. A woman, child, and two men stroll and descend the river embankment to greet a man arriving by rowboat.
The text at the bottom reads, "Including five large Vaults containing 50,352 cubic feet cut out of the solid rock and about 45 feet below ground, where they keep their well known Lager Beer. Temperature of the Vaults in midsummer is 46 degrees of Fahrenheit. They are situated on the Columbia Rail Road, about one mile above the Fairmount Waterworks, Philadelphia."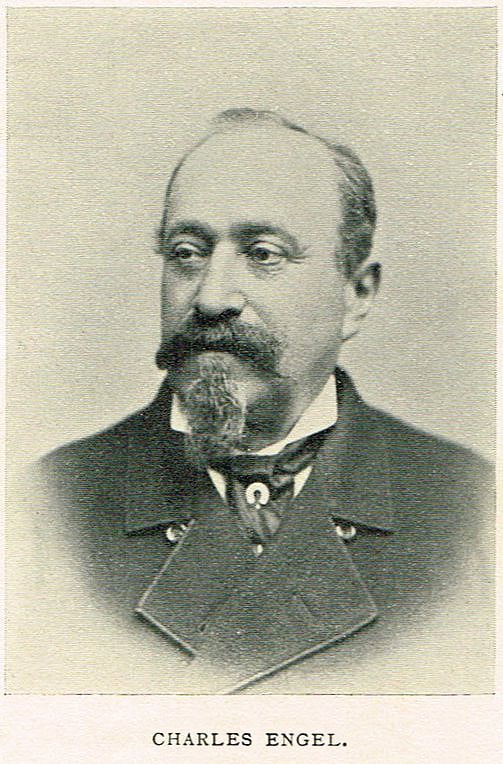 Charles Engel was born on February 11, 1816, in Kaiserslautern, in Bremen, Germany and was a companion of Charles C. Wolf in his youth. Engel once worked in Wolf's sugar house and was described as a practical brewer who had occupied important positions in Germany and France. The first beer Wolf brewed in Germany, with Engel's assistance, was made in a sugar pan and stored in sugar hogsheads. This beer was made for friends, employees, and Germans who came to Wolf's place for private consumption.
Charles Engel emigrated to Philadelphia when he was 29. He established a small brewery in Lewisburg, Pennsylvania, in 1844, where he brewed ale and Schankbier. The brewery was destroyed by fire the same year. The small kettle used by Engel was documented as preserved and was used to adorn a brewery float more than once on special parade occasions. That same year, 1844, Wolf's sugar house was partially destroyed by fire during the Catholic riots, and he closed the refinery and followed Engel to America.
Charles Wolf claimed that the first lager beer brewed in America was that of John Wagner in 1840, who had a small brewery in the rear of his house on St. John Street, near Poplar, in Philadelphia. He recalled that it was a very primitive plant with the kettle hung on a crane over an open hearth, with a capacity of not over eight barrels. The beer was stored in the cellar under the rear structure, which served as the brewery. Wagner had brought the first lager beer yeast to Amnerica from a brewery in Bavaria where he had been the brewmaster. At this time, in 1837, Wolf was engaged in sugar refining at the corner of Crown and Vine Streets. Wolf employed George Manger, but being a practical brewer, he was given some of Wagner's yeast and started a brewery on a somewhat larger scale at New Street near Second.
Now together in Philadelphia, Charles Engel and Charles Wolf rented and eventually purchased Fountain Green, the former estate of businessman Samuel Meeker. The pair started a Lager beer business on Dillwyn Street in conjunction with a distillery, the new firm named Engel & Wolf. They dug Lager beer vaults on site in 1845 to ferment and age the beer. Advertising also said they were brewing Ale and Porter.
Engel & Wolf was, for many years, the resort of the Germans of Philadelphia, who drank the brewery dry more than once. When this happened, the partners were compelled to display the placard that beer would again be dispensed after a certain date. With the steady influx of Germans, the business grew, and additional cellars were rented under the buildings of the Mitchell Grindstone Works at York Avenue and Wood Street. Engel & Wolf's annual sales at this time were approximately 3,300 barrels. In 1849 the Fountain Green property on the Schuylkill River was procured, where extensive vaults were excavated, totaling over 200 feet. A third story was added to the storage house around 1855, and the plant was remodeled in 1859.
Charles Engel eventually purchased Wolf's interest, and the brewery ceased operations in 1870 when Fountain Green was either sold or acquired by the city for Fairmount Park. Charles Wolf retired and Charles Engel became associated with Gustavus M. Bergner, in 1871, in the brewing firm of Bergner & Engel. In 1879 the firm was incorporated. In 1886 Engel retired from the business and went abroad, never returning to America. He died at his residence on June 2, 1900, in Kaiserslautern, Rhenish Palatinate, Germany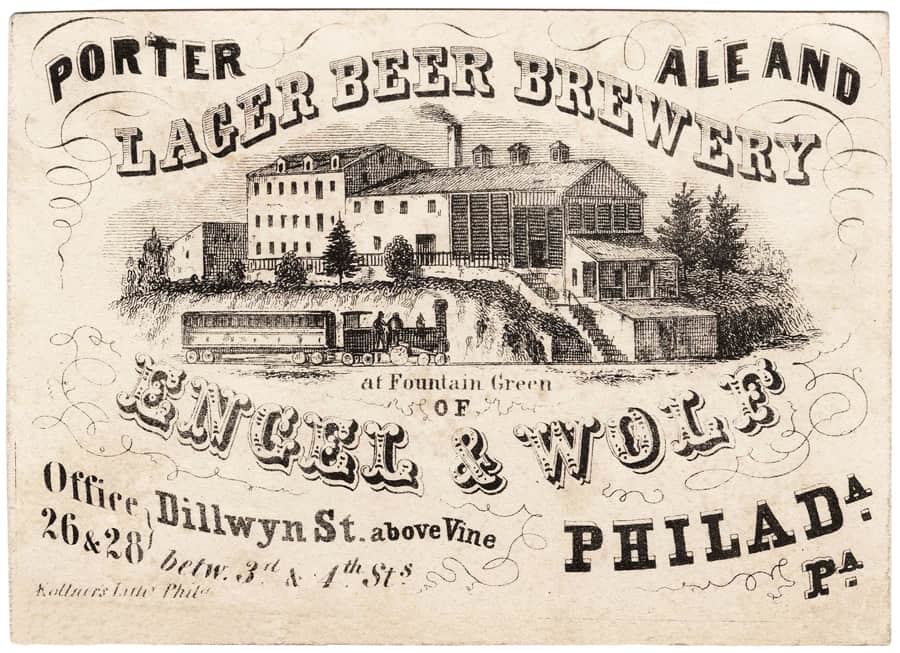 Primary Image: Engel & Wolf's No. 26 & 28 Dillwyn St Philada bottle imaged on location by Alan DeMaison, FOHBC Virtual Museum Midwest Studio.
Support: Reference to America's First Lager Beer Brewer, May 2017, Tod von Mechow.
Support Image: 1855 advertisement depicting Engel and Wolf's Brewery and Vaults at Fountain Green. Office Number 26 and 28 Dillwyn Street between Vine and Callowhill and Third and Fourth Streets, Philadelphia. Artist: Kollner, Augustus, born 1813. A. Kollners Lithography, Philadelphia. The hand-colored lithograph was completed by Augustus Kollner (1812-1906) who was born in Germany. Kollner began his career there before moving to Paris and then to the United States in 1839. He came to Philadelphia in 1840 and quickly established himself as a distinguished artist, etcher, engraver, and lithographer. Circa 1851, he established his own firm, publishing labels, advertisements, maps, and city and landscape views. – Library of Congress
Join the FOHBC: The Virtual Museum is a project of the Federation of Historical Bottle Collectors (FOHBC). To become a member.