Brutche & Tughshmith Newport Ky
Brutche & Tughshmith
Newport. Ky.
Frederick Brutsche, Newport, Kentucky
Ulrich Tughschmidt, Cincinnati, Ohio
Blue-Green Aqua Soda
Provenance: Doug Shutler Collection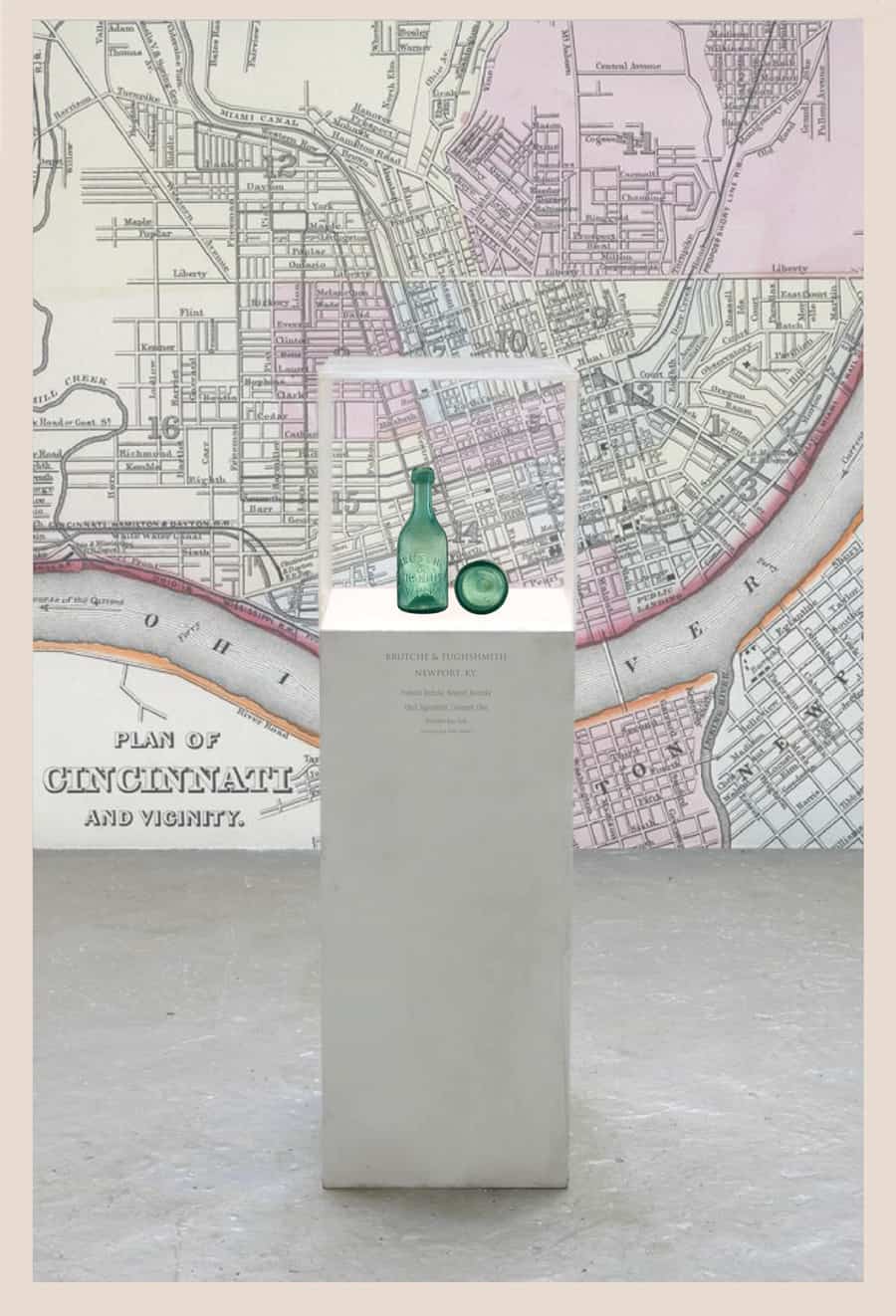 The "Brutche & Tughschmith Newport Ky" soda water bottle was produced by two enterprising Germans, who came to America late in the 1840s and early 1850s and settled in the Cincinnati, Ohio area on different sides of the Ohio River. These men were looking for opportunities and traveled with means to start a business. Fridolin Brutsche and Ulrich Tughschmidt must have been upset when their soda water bottles were delivered with misspelled last names. This spelling situation could have also been when the pair were trying to simplify their names to be more "accepted" in America. Even the city directories for both Cincinnati and Newport use various spellings throughout the relevant years.
Our 7-½" tall cylindrical blue-green aqua soda bottle is embossed 'BRUTCHE & TUGHSHMITH NEWPORT. KY.' in five lines on the face of the bottle. The copy 'BRUTCHE' is arched and represents Fridolin or Frederick Brutsche. The embossed 'S' is missing in his last name on the bottle. The reverse is blank. There is an applied rounded collar mouth and an improved pontil. 'TUGHSHMITH' is probably misspelled and should be 'TUGHSCHMIDT' for Ulrich Tughschmidt.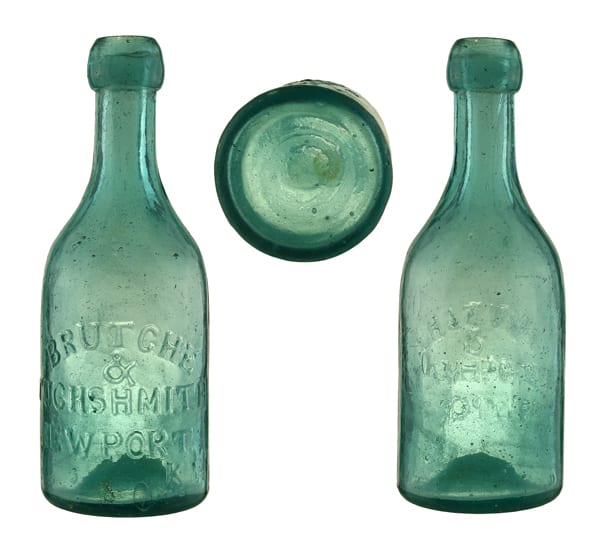 Newport, Kentucky, was settled in 1791 by James Taylor Jr. on land purchased by his father, James Sr., from George Muse, who received it as a grant. Taylor's brother, Hubbard Taylor, had been mapping the land twenty years prior. It was not named for its position on the river but for Christopher Newport, the commander of the first ship to reach Jamestown, Virginia, in 1607.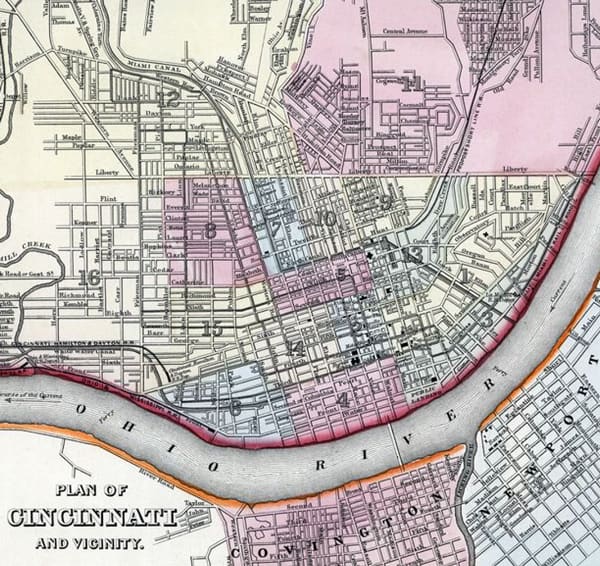 Newport was established as a town on December 14, 1795, and incorporated as a city on February 24, 1834. In 1803, the Fort Washington military post was moved from Cincinnati to become the Newport Barracks. A bridge first connected Newport to Covington in 1853, and the first bridge spanning the Ohio River to Cincinnati, the John A. Roebling Suspension Bridge, opened in 1866. Newport, like Covington and Cincinnati across the river, experienced large German immigration in the 19th century. By 1900, Newport was the third-largest city in Kentucky, after Covington and Louisville, although Newport and Covington were rightly considered satellites of Cincinnati, Ohio.
Fridolin Brutche was born on January 14, 1814, in Germany. The first time we see F. Brutsche (note spelling) listed in the 1856 Cincinnati City Directory, he is the proprietor of the Jefferson House located on the southwest corner of Jefferson and Monmouth Streets in Newport Kentucky. He would remain at the Monmouth and Jefferson address and start a coffee house and mineral water manufactory by 1860. He also had soda water bottles made with his name and Newport, Ky. By 1863, he was also making lager beer and "carbonated water," as he called it, and now listed himself as a liquor dealer. In 1866, he turned the establishment into a saloon and ran it with Margaretha or Margaret. He would die in 1877, leaving his wife to run the bar.
There was also Edward Brutsche, who was either a son or brother of Fridolin, who was born in 1831 in Germany and initially operated a Coffee House in the early 1860s in Cincinnati. He would eventually own a salon for many years. His wife was named Fredericka.
Ulrich Tughschmidt was born on July 23, 1821, in Germany. We see him in Cincinnati, Ohio as the proprietor of German Home in 1853 until he opened a coffee house at 252 E. Front Street in Cincinnati in 1862. Sometime during this period, he partnered with Frederick Brutsche, and they had their Brutche & Tughschmith soda water bottles made. They probably sold them regionally on their side of the Ohio River. From 1864 to 1868, he was listed as the proprietor of the American Hotel at the same 252 E. Front Street address in Cincinnati. In 1871 he was at the Union Hotel located at 106 Plum Street. He was also operating a saloon at these establishments.
As a testament to the partnership and relationship between Brutsche and Tughschmidt, Aemilia Tuchschmidt was born on November 26, 1864, and baptized on March 2, 1879. Ulrich Tuchschmidt and Catharine Ziegler were her parents. Margaretha Brutsche was listed as the sponsor indicating that the families were closely tied.
By the mid to late 1870s, John F. Myers was listed as operating a "Mineral & Soda Water Manufactory" at the same Jefferson and Monmouth address in Newport, so he must have purchased the business from Margaretha Brutsche.
Primary Image: Brutche & Tughshmith Newport Ky soda bottle imaged on location by the FOHBC Virtual Museum midwest studio led by Alan DeMaison.
Support: Reference to The American Pontiled Soda Database Project, Tod von Mechow
Support: Reference to Soda & Beer Bottles of North America, Tod von Mechow
Support Secondary Images: Both "Brutche & Tughschmith Newport Ky" bottles courtesy Jim Hagenbuch, Glass Works Auctions
Support Secondary Image: "F. Brutche Newport Ky" bottle courtesy John Pastor, American Glass Gallery
Join the FOHBC: The Virtual Museum is a project of the Federation of Historical Bottle Collectors (FOHBC). To become a member.