Dr A.J. Sherman's Rupture Curative Compound New York
Dr. J. A. Sherman's
Rupture Curative Compound
New York
Dr. John A. Sherman, New York, New York
Cobalt Blue Rectangular Medicine
Provenance: Bob Jochums Collection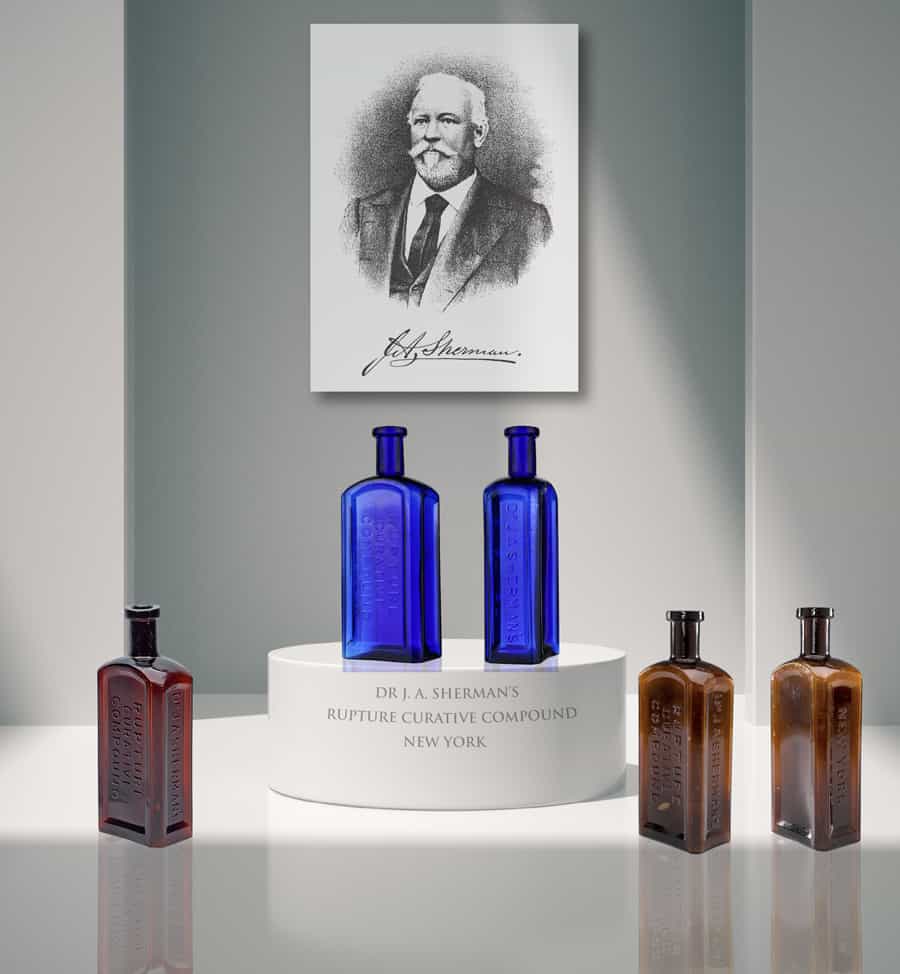 Dr. J. A. Sherman was a rupture and truss specialist. In medicine, a truss is a kind of surgical appliance, particularly one used for hernia patients. A truss supports the herniated area, using a pad and belt arrangement to hold it in the correct position when it is put on before moving from the bed. Of historical interest, various trusses were listed in the Snowden & Brothers catalog during the American Civil War era.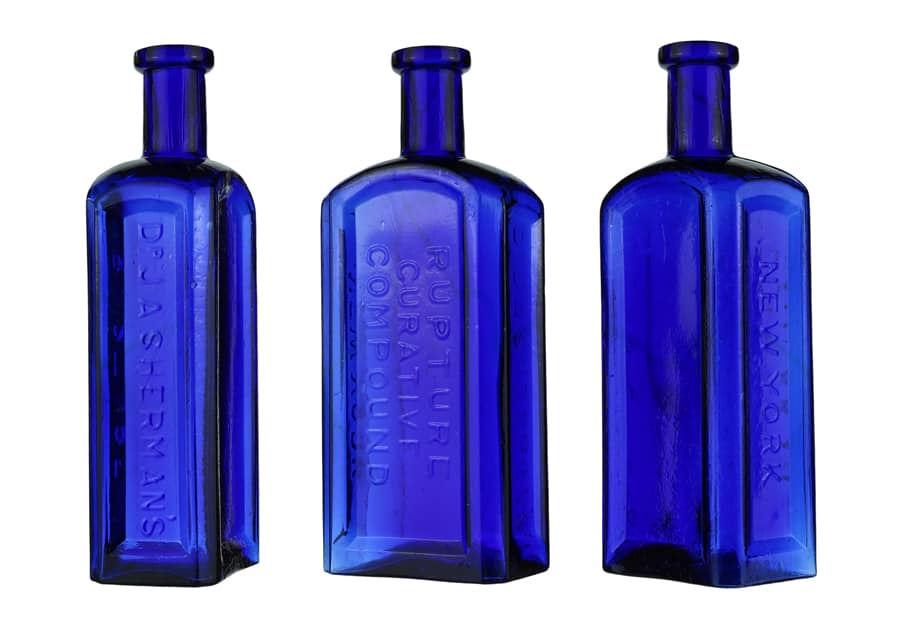 Dr. Sherman also had his name embossed on a rectangular medicine bottle with beveled corners. Our outstanding cobalt blue Dr. Sherman's bottle measures 8 ¼ by 3 ¼ by 2 inches and is embossed in a sans serif typestyle, shoulder to base, on three of four indented panels. The first thin side panel is embossed 'DR. J. A. SHERMAN'S.' The "R" of "Dr." is smaller and raised. The primary panel is embossed 'RUPTURE CURATIVE COMPOUND' in three centered stacked lines. The third panel, opposite the first side panel, is simply embossed 'NEW YORK.' The fourth blank panel is where the proprietor would have placed a paper label. There is an applied square collar mouth and a smooth base. Besides cobalt blue, the bottle can be found in dark amber and dark red amber glass.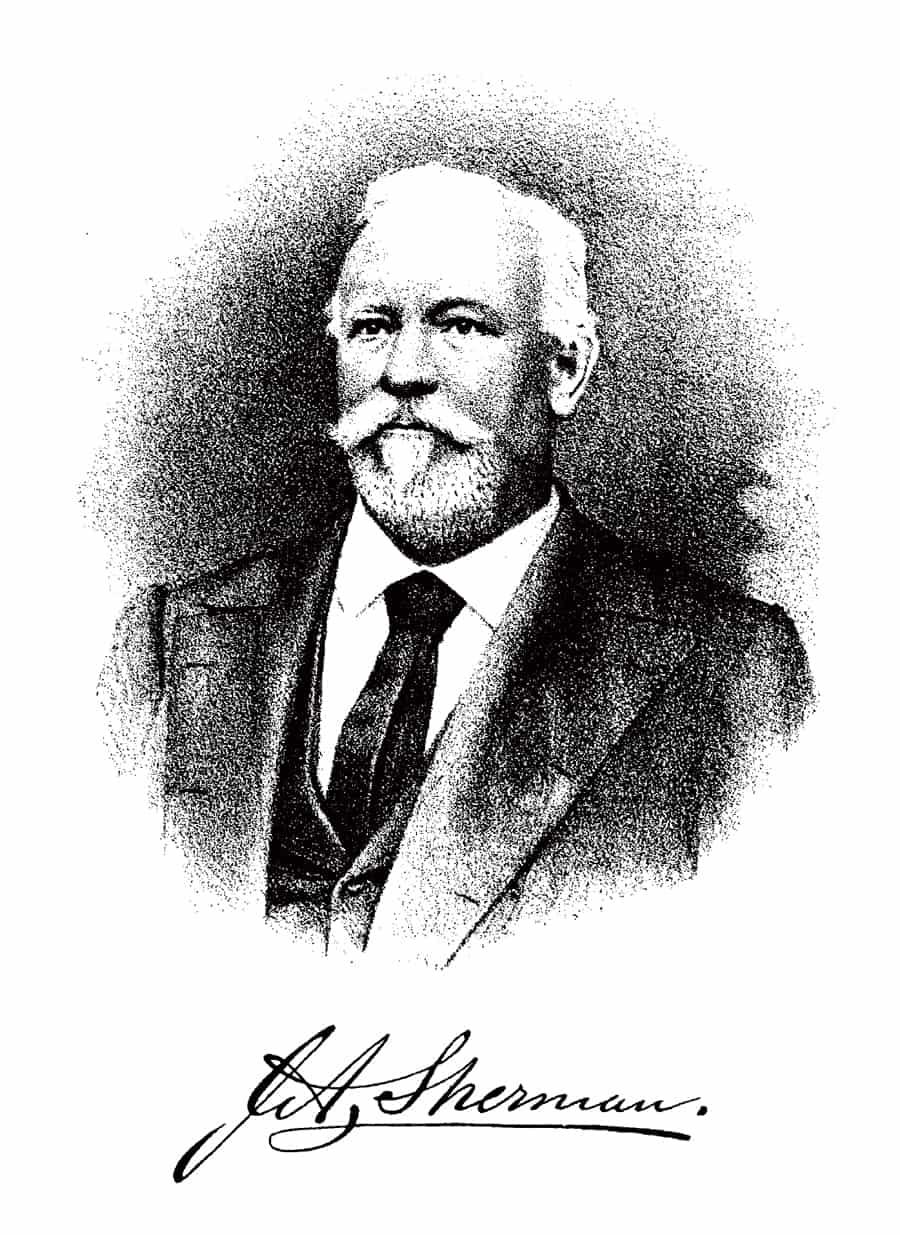 John A. Sherman was born in New York around 1824 and grew up in Sanford, Broome County, N.Y. In the mid-1840s, he moved south and worked in New Orleans, first selling medicines and then as the proprietor of Sherman's Establishment, 48 St. Charles Street, selling braces, trusses, belts, and other types of medical supports. Mrs. M. Sherman would also sell abdominal supports for the ladies.

At some point, Mr. J. A. Sherman "became" Dr. J. A. Sherman, in advertising at least. By 1861 he reported that he was prepared to relieve and cure all personal cases of rupture, or those having "ruptured slaves," by the application of his "Patent Silver Truss" and "Curative Mixture" from his store and office at No. 70 St. Charles Street. Ads also said that he was the principal of the Rupture Curative Institute of New Orleans for more than 15 years and that he had cured the worst cases of rupture in the country and the West India Islands.
Dr. J. A. Sherman moved back to New York City in the late 1860s as newspaper advertisements boldly called out "Ruptures Cured by Dr. J. A. Sherman." He was now an "Artistic Surgeon" who offered to apply his Rupture Curative Appliances from his office at No. 697 Broadway, corner Fourth Street. His ads said he had great experience resulting from his long and constant devotion to the treatment and cure of the disease, which gave him the ability to "relieve all, without regard to the age of the patient or duration of the infirmity, or the difficulties which they may have heretofore encountered in seeking relief." He set up pricing to suit all classes and said he offered the cheapest remedy ever to the afflicted.
Dr. Sherman was known in his advertising for using "Before and After" illustrated cases of bad ruptures that were radically cured by the application and use of his Dr. J. A. Sherman's patent appliances and curative compound. You could see dozens of testimonials and illustrations if you sent him two three-cent stamps. Dr. Sherman would also travel to places like Buffalo in 1869 and sell his Dr. Sherman's Rupture Curatives from the Continental Hotel for "ten days only."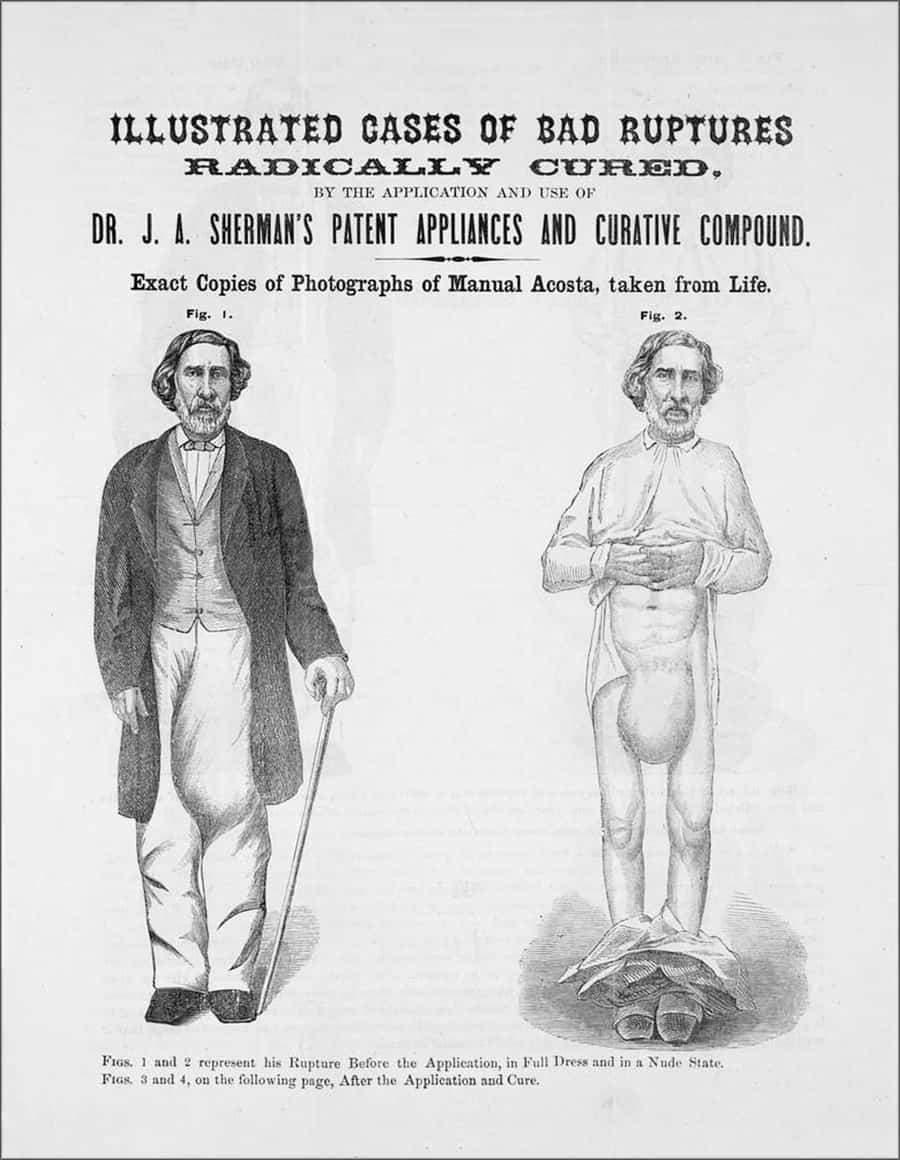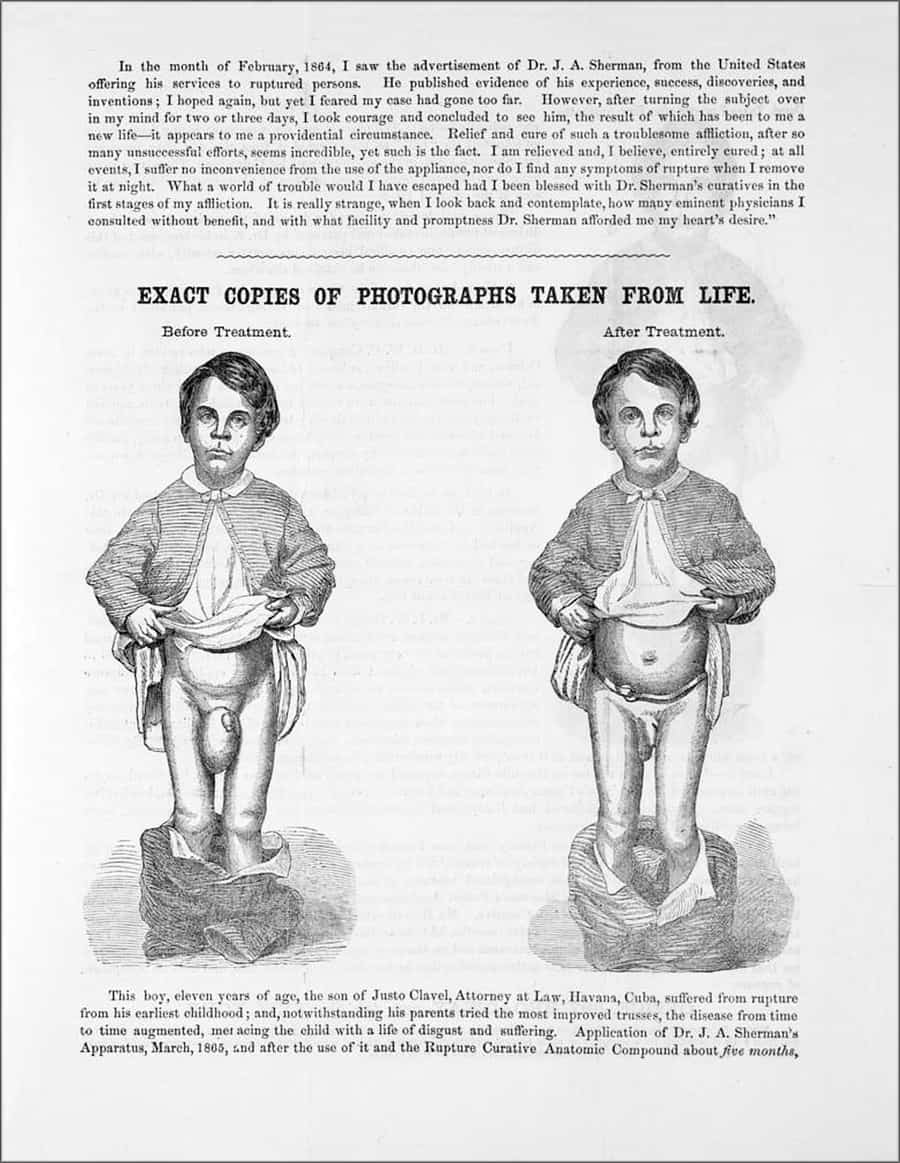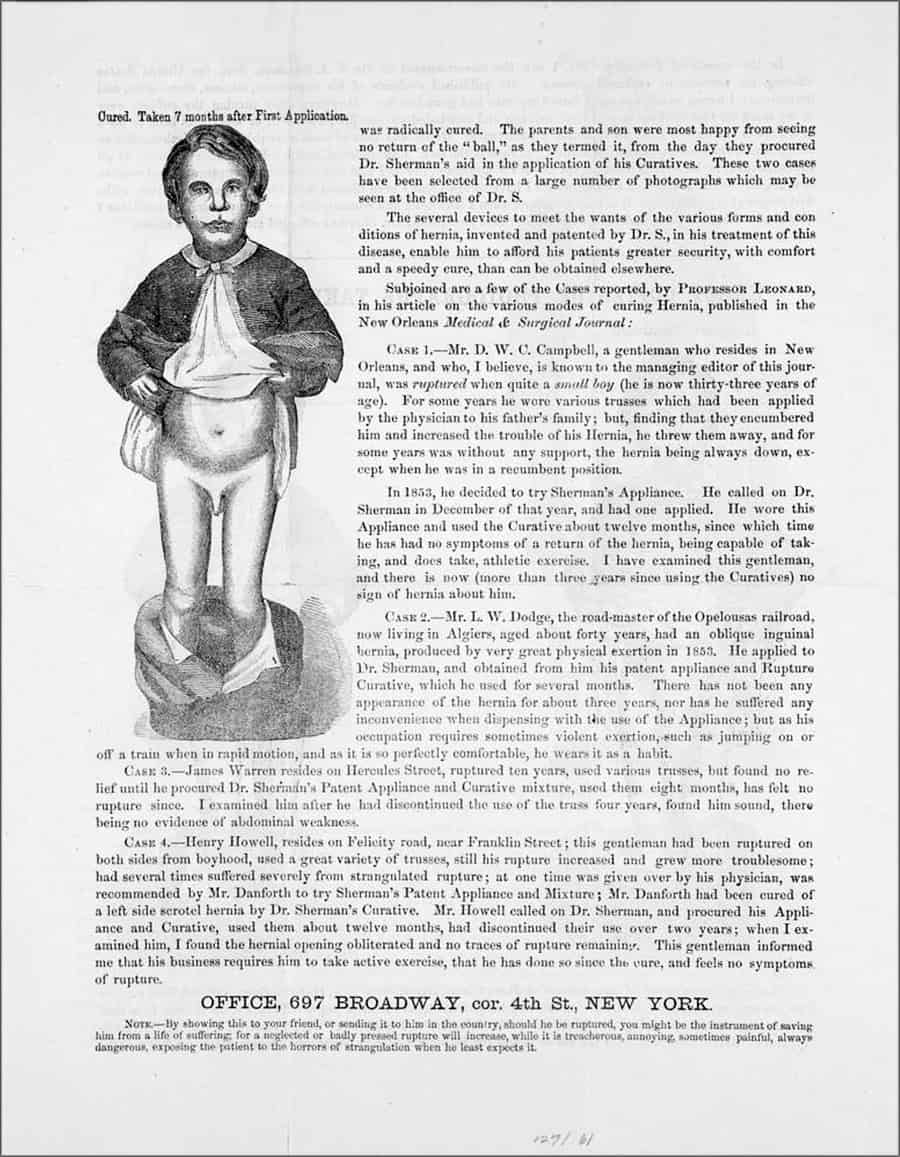 In 1880, a 100-page booklet was published and distributed titled "Rupture, and its Radical Cure by Dr. J. A. Sherman's Method, with an Extract from an article on the Radical Cure of Inguinal Hernia by W. T. Leonard, M. D., formerly Professor of Anatomy in the Washington University of Baltimore, with a supplementary pamphlet of photograph likenesses of patients, before and after treatment, whose statements are herein contained, Office No. 251 Broadway, New York."
By 1890 a whole new market opened overseas as United States sales waned. Full-page ads were purchased in various London area newspapers touting "The Sherman Rupture Treatment" using dozens of testimonials with accompanying illustrations of the afflicted. In a few years, there was no more mention of Dr. J. A. Sherman and his Rupture Cures.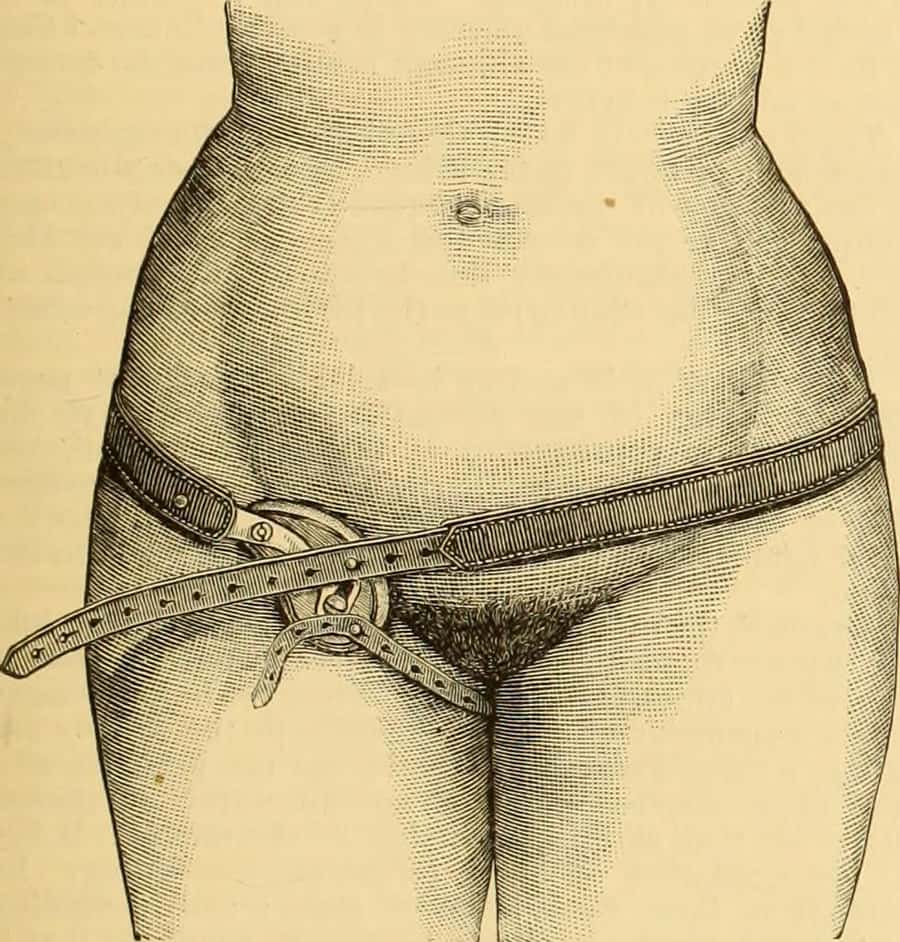 Primary Image: "Dr. J. A. Sherman's Rupture Curative Compound New York" bottle imaged on location by Alan DeMaison, FOHBC Virtual Museum Midwest Studio.
Support Image: J. A. Sherman's portrait illustration from Rupture, and its Radical Cure by Dr. J. A. Sherman's Method, 1800
Support Image: Truss pad illustration from A Reference Handbook of the Medical Sciences: embracing the entire range of Scientific and Practical Medicine and allied Science. 1885, Buck, Albert H. (Albert Henry), 1842-1922, Publisher: New York, William Wood Contributing Library: Yale University, Cushing/Whitney Medical Library.
Support Images: 1867, three-page pamphlet titled Dr. J. A. Sherman's Patent Appliances and Curative Compound, Library of Congress.
Support Image: Auction Lot 30: "Dr. J.A. Sherman's / Rupture / Curative / Compound / New York" Medicine Bottle, America, 1860-1880. Rectangular with beveled corners, deep red amber, applied square collared mouth – smooth base, ht. 8 1/4 inches; (minor exterior wear on panel edges). AAM pg. 471 Fine condition. A scarce cure bottle. – Norman Heckler Jr. & Sr., Norman C. Heckler & Company, Auction #107
Join the FOHBC: The Virtual Museum is a project of the Federation of Historical Bottle Collectors (FOHBC). To become a member.