Clements' "Certain Cure"
Clements' "Certain Cure"
Clements Certain Cure
Frederick Moore Clements, Sydney, NSW, Australia
Pair, Olive-Green and Amber
Provenance: Bob Jochums Collection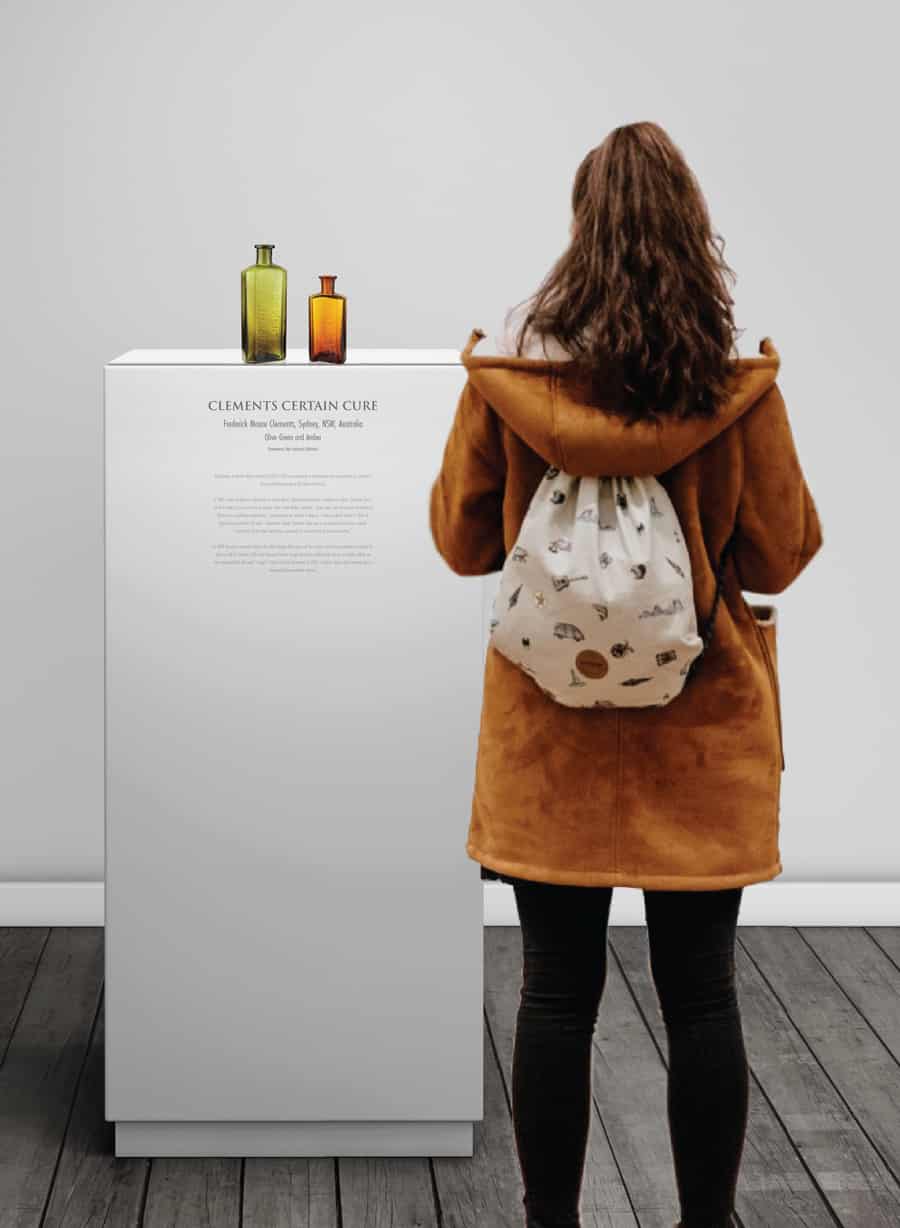 Our display pair of an Australian cure are prominently embossed from shoulder to base in a sans serif typestyle on the flat panel faces of the bottles. The larger olive-green bottle is much less common, measures 6 1/4 x 2 1/4 x 1 1/4 inches, and holds six ounces. A '6' is embossed on the base, denoting that volume. The amber bottle measures 4 1/4 x 1 3/4 x 1 inch and holds only two ounces. Both have tooled square-band collars and chamfered corners. The collar on the amber bottle is crudely tooled and there is some mold-leakage glass on the base of the face. Three of the four sides on each bottle are blank and flat and where paper labels may have been used.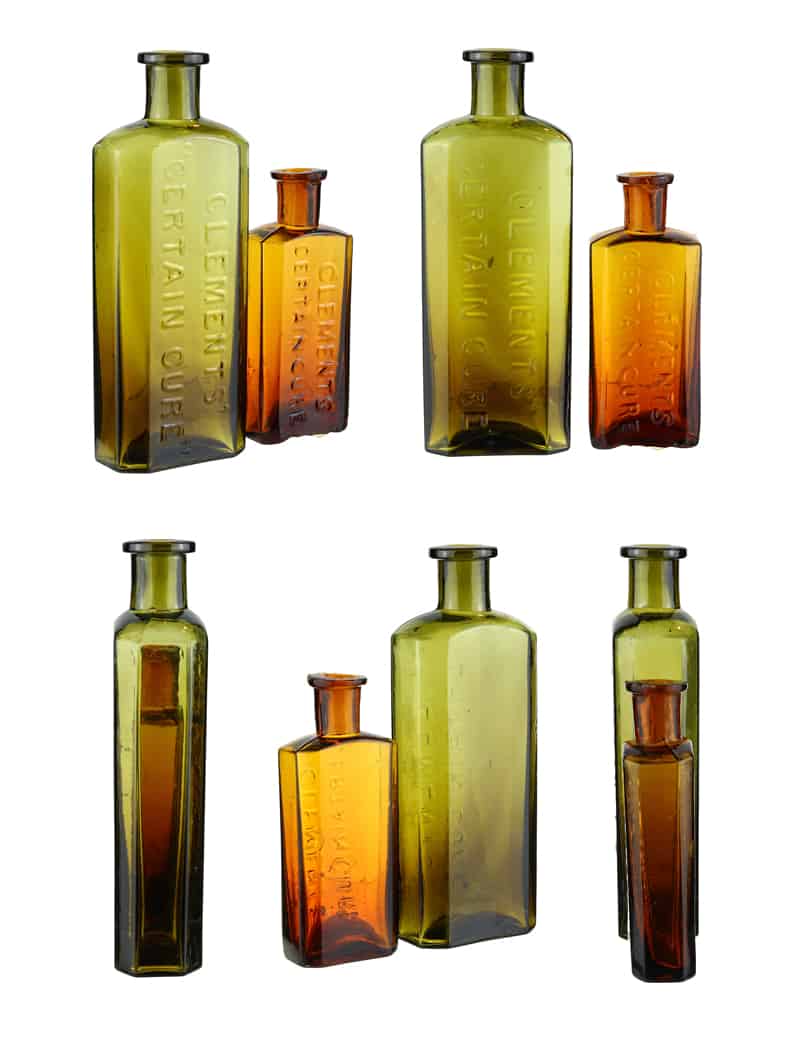 Englishman Frederick Moore Clements (1859-1920) was educated in Birmingham and apprenticed as a chemist forming lifelong bonds to this field of interest.
In 1881, while working in a pharmacy in South Africa, Clements formulated a product he called "Clements Tonic," which he took to his new home in Sydney, New South Wales, Australia. Three years later he passed the Board of Pharmacy's qualifying examination. Subsequently, he opened a shop in a Sydney suburb where in 1886 he began to manufacture his tonic. Advertised widely, Clements Tonic was a commercial success as a superb "restorative of all power and tissue consumed by mental work or physical exertion."
In 1894 Clements opened a factory he called Brahea (the genus of fan palms), where he continued to produce his tonic as well as Fletcher's Pills and Clements Certain Cough Cure (the product that was in our bottles which are not embossed with the word "Cough") which was first advertised in 1890. Evidence shows that Clements was a registered pharmaceutical chemist.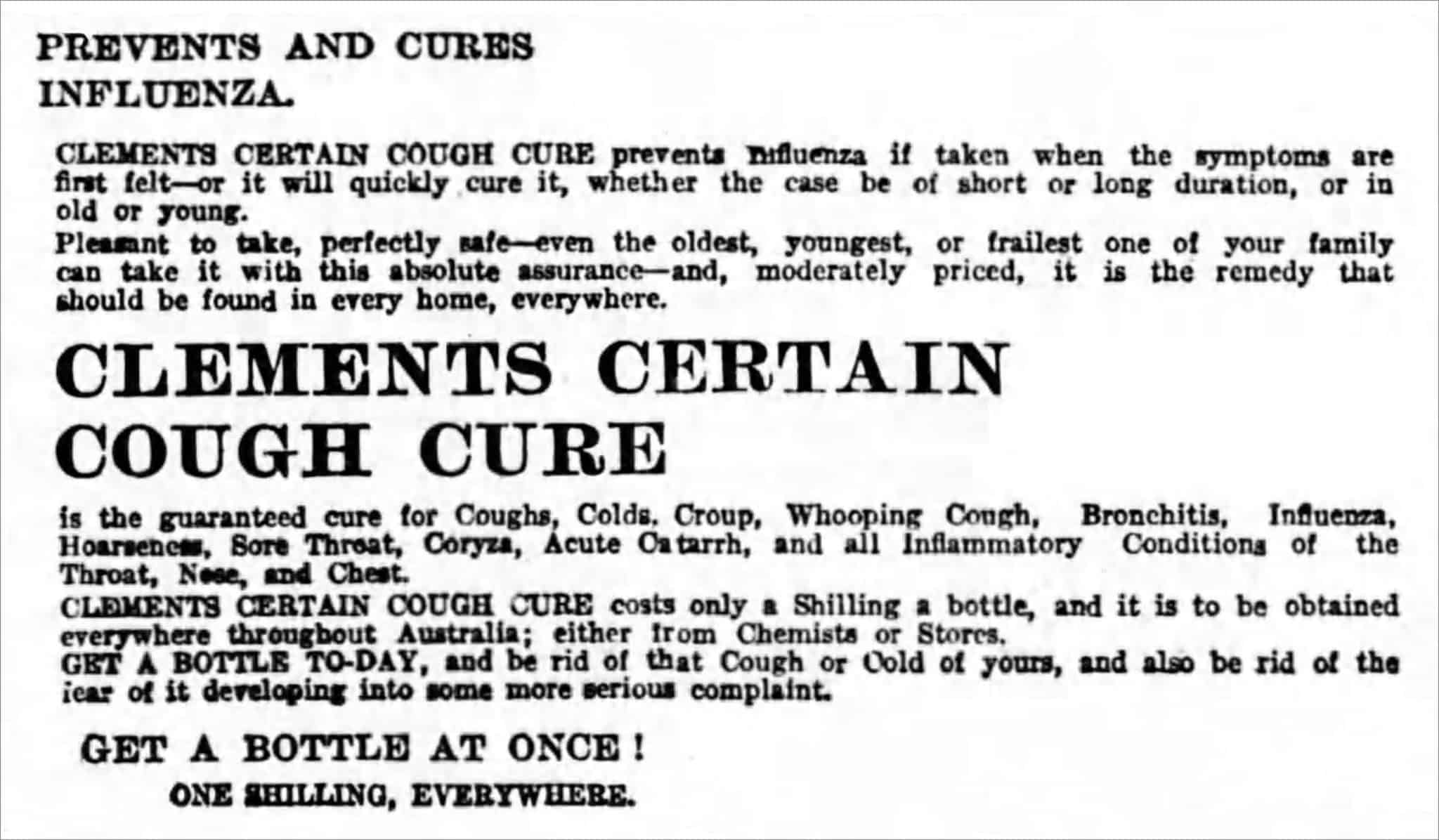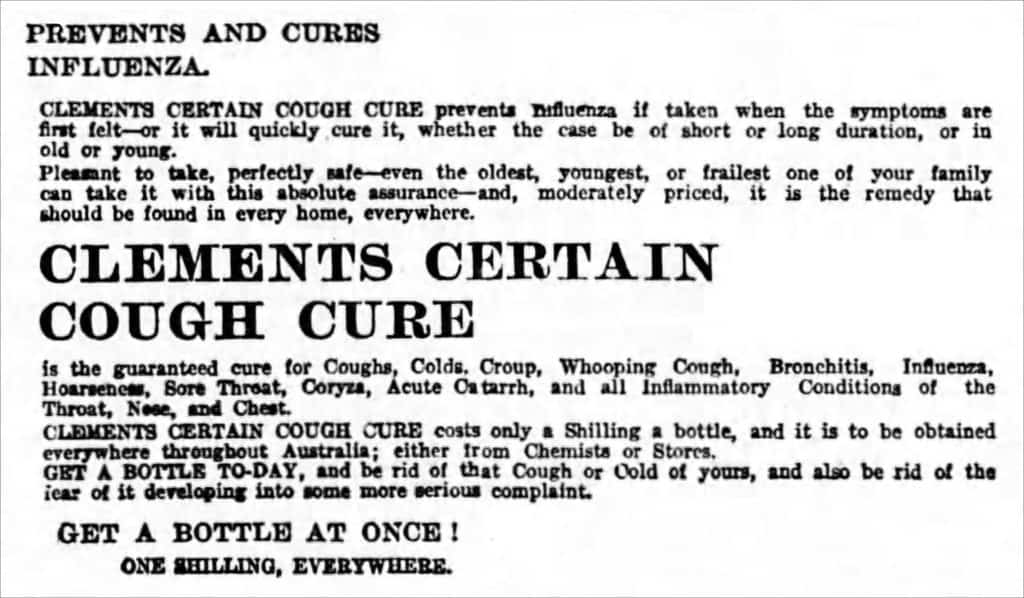 "Before the end of the 19th century, medicines were concocted with a mixture of empiricism and prayer. Trial and error, inherited lore, or mystical theories were the basis of the world's pharmacopoeias." – Pharmaceutical Century. Clements' product, however, was most likely safer than many as advertising stated it was "free from alcohol, morphia, opium, and all narcotic poisons" and "therefore quite safe to the most delicate constitution" whether the patient is a child or an adult. Advertisements claimed the product capable of curing not only coughs but consumptive cough, colds, influenza, whooping cough, croup, bronchitis, hoarseness, acute catarrh, sore throat, coryza, and quinsy. Doctors saw pharmacists or pharmaceutical chemists as unfair competition, but the "cost differences were significant. A bottle of patent medicine might cost one shilling and sixpence, but a doctor's visit ten shillings and sixpence." – Medicine in colonial Australia, 1788-1900
In 1905 Clements sold most of his interests in the nostrums he had developed to Elliott Bros Ltd., manufacturing chemists. Marketing of Clements Certain Cough Cure by the new manufacturer was creative and active in 1906 and 1907, but all newspaper advertising ceased in 1908.
Primary Image: Both Clements Certain Cure bottles imaged on location by Alan DeMaison, FOHBC Virtual Museum Midwest Studio
Research: Bob Jochums, Berkeley Lake, Georgia
Support: Reference to Frederick Moore Clements (1859–1920) by Gregory Haines, Australian Dictionary of Biography, National Centre of Biography, Australian National University, published first in hardcopy 1981, accessed online April 29, 2022.
Support: Reference to Medicine in Colonial Australia, 1788-1900 by Milton J. Lewis, Med J Aust 2014; 201 (1): S5-S10. || doi: 10.5694/mja14.00153
Support: Reference to The Pharmaceutical Century, Ten Decades of Drug Discovery, 1880s to 1919, Patents & Potions
Join the FOHBC: The Virtual Museum is a project of the Federation of Historical Bottle Collectors (FOHBC). To become a member.