Baker & Cutting Glass & Pickle Mfrs San Francisco
Baker & Cutting
Glass & Pickle Mfrs
San Francisco
Augustus D. Baker and Francis Page Cutting
Yellow-Olive Cathedral Pickle
Provenance: Lou Pellegrini Collection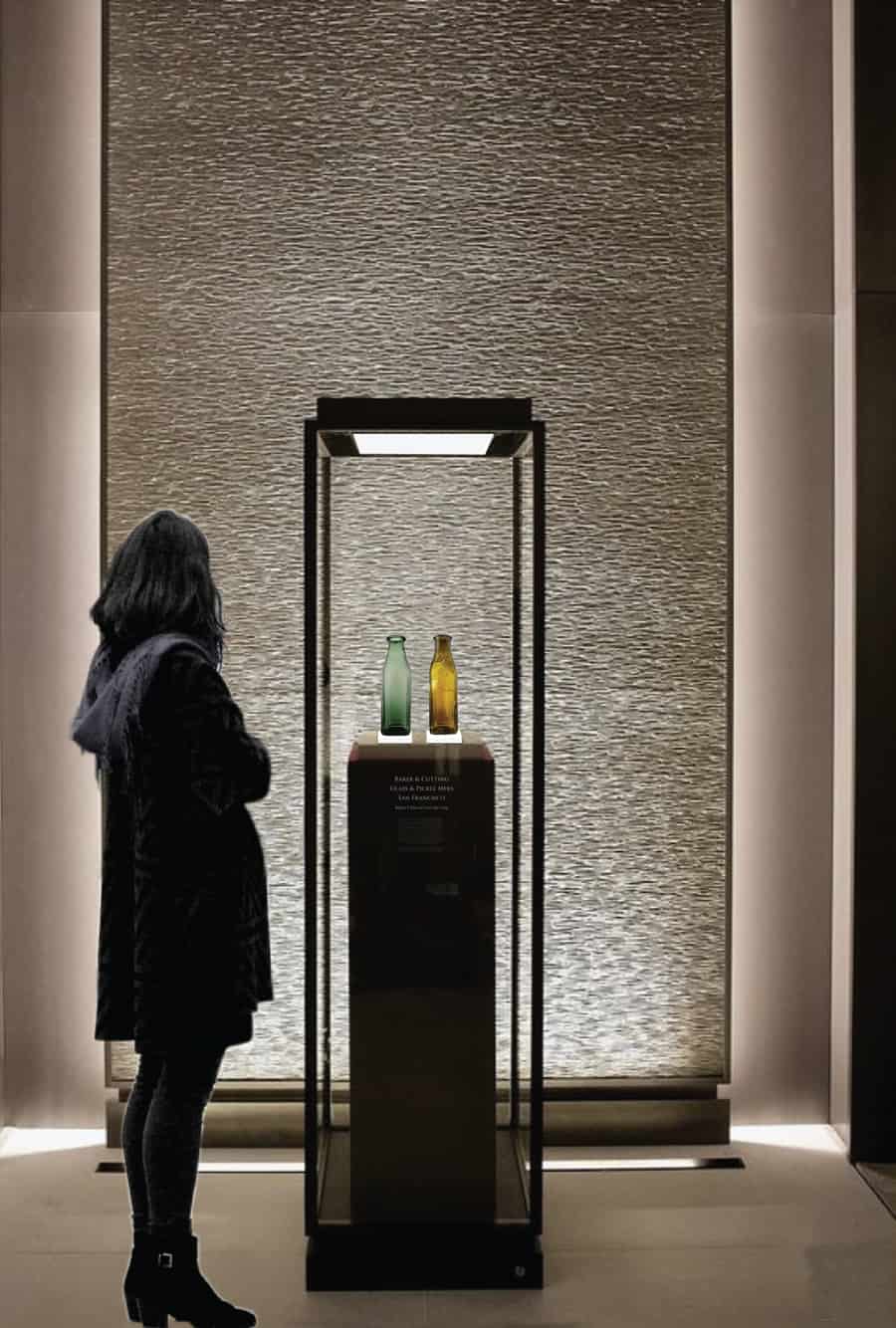 The Baker & Cutting cathedral pickle bottle is considered the holy grail of all California-blown bottles as it is known to be the first bottle blown in California in 1859. It is considered by many to be the most elusive and desirable bottle of any from the Western region.
In the late 1970s, on a lot at 2nd & 3rd Broadway in Oakland, California, a rich deep green aqua example was excavated by Mel Hughes. According to western glass authority Eric McGuire, "I handled Mel Hughes' intact example of his Baker & Cutting pickle several times and can attest that it was not damaged in any way. I took several pictures of it including the color shot included in the Virtual Museum. The actual color was a medium greenish aqua." For many years the bottle simply disappeared in a collection. This changed as the example made an appearance and was displayed at the FOHBC Reno 2022 National Antique Bottle Convention.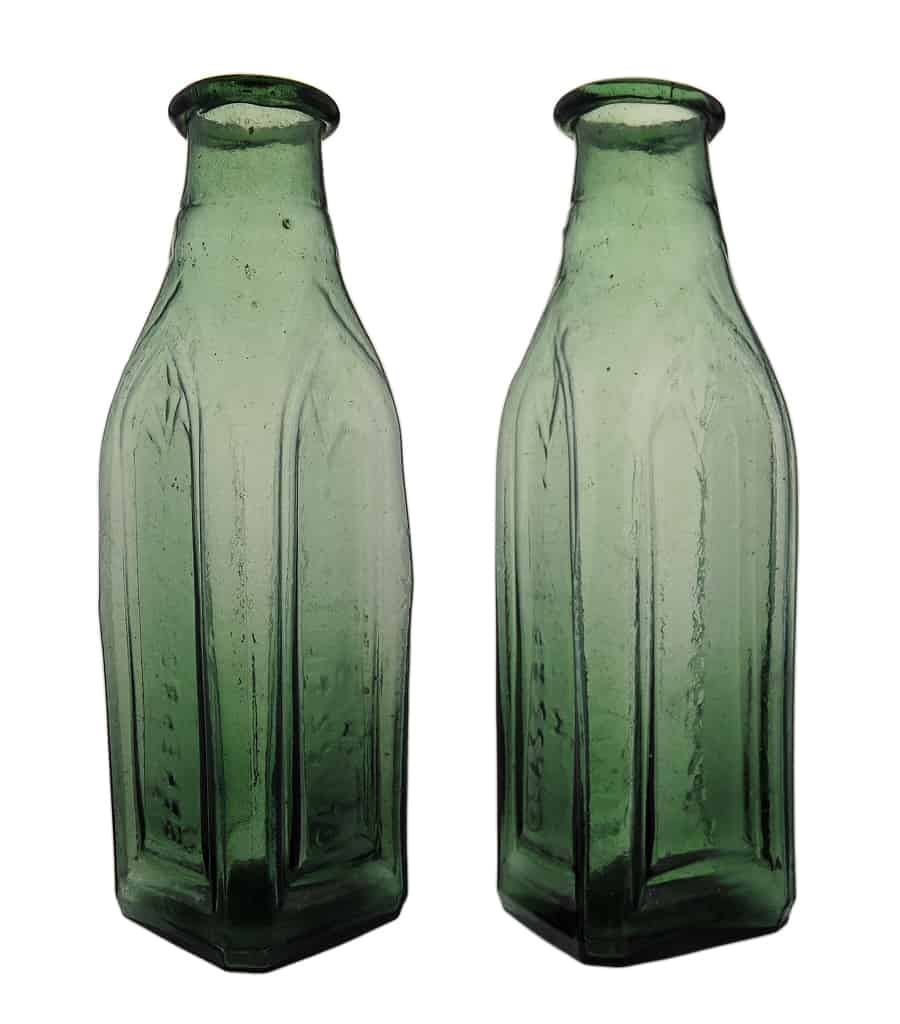 See the museum example of the dark green aqua Baker & Cutting pickle.
Many broken pieces of the Baker & Cutting cathedral pickle have been found over the years in shades of amber, aqua, olive-yellow, and shades of green.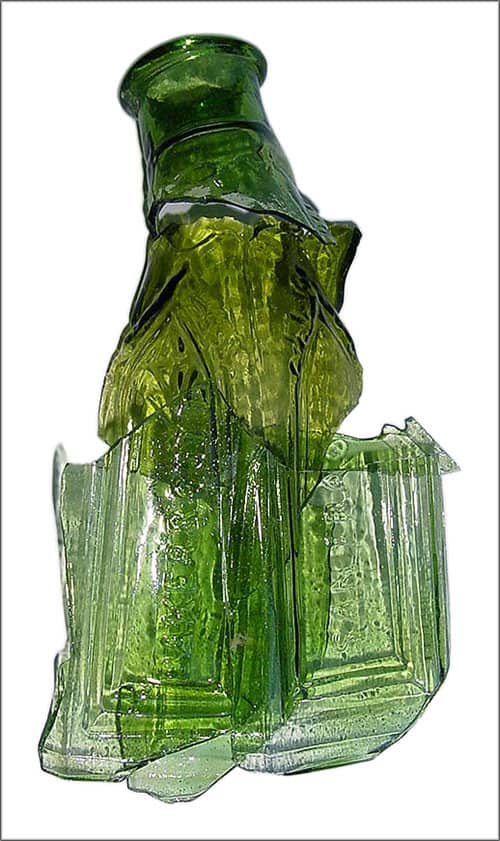 The Baker & Cutting cathedral pickle is rectangular in cross-section and has four (4) recessed chamfered arched window panels with a flourish design at the top of the pointed arch. Three of the four panels have embossed copy. 'BAKER & CUTTING' occurs in panel 1. The second panel reads 'GLASS & PICKLE MFRS.', while the third reads, 'SAN FRANCISCO.' The fourth blank panel would have been used for a paper label. The base has a circular pontil scar and the wide neck is encircled by an embossed ring for the mouth.
It is interesting that the bottle references the packing firm, glass-making, pickles, and the city. This bottle was probably part of the initial manufacture in 1859 and most likely was one of the bottles on display at the San Francisco Mechanic's Fair in 1860. There have not been any other embossed lettering bottles reported that can be directly attributed to Baker & Cutting.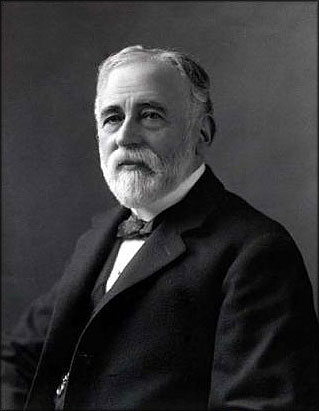 Francis Page Cutting was born on August 22, 1834, in Lowell, Middlesex County, Massachusetts. He was educated in Boston and began his career working in a commission house where he stayed for seven years. Like many easterners, Cutting headed west to California passing through the Isthmus of Panama where he arrived in San Francisco in 1858 and established a small cannery with Augustus D. Baker.
In 1854, Baker opened California's first plant to produce vinegar located at 152 and 154 Battery Street in San Francisco. On November 25, 1855, in the Daily Alta California (San Francisco) newspaper, Baker heralded "Pickles! California Pickles" as he had 3,000 kegs of pickles, along with 100 barrels of champagne cider and 500 barrels of white wine and cider vinegar in stock. By 1857, Baker had added tomato catsup and other condiments to his inventory. Baker formed A. D. Baker & Co. in late 1857, advertising the same foods, although some were now packed in pint, quart, and half-gallon glass jars. This is when he and Francis Page Cutting became partners, and the business most likely got a cash infusion.
The new firm was known as Baker & Cutting. Along with the older product list, the duo added onions, sauerkraut, New England cider, and English malt vinegar. They claimed they had the largest manufactory on the Pacific Coast. Unfortunately, Baker & Cutting had to bring in all the glass containers from the east coast at a high cost so they set about building their own glass house, California's first.
Baker & Cutting had the glass plant built on Beale Street between Howard and Folsom. They advertised for glassblowers throughout the region and planned to use glass-making ingredients found in California. In addition to glass containers for their own business, Baker & Cutting planned to make other types of bottles and jars. The plant began with an eight-pot furnace.
Not long after, Baker left the company, apparently distraught over the inferior quality glass and little profit. Cutting continued by himself, although he discontinued producing his own glass and instead ordered his products outside of California. Because of the poor quality of the glass, few of the Baker & Cutting bottles have survived. At this time in 1861, Francis Cutting & Co. were listed as manufacturers of pickles, sauces, cider, and vinegar located at 115 and 117 Commerce at the northwest corner of Bryant and Rincon Place.
For more on early San Francisco glass see the museum examples of Newman's Patent 1859 Jar and Victory Jar – Pacific Glass Works.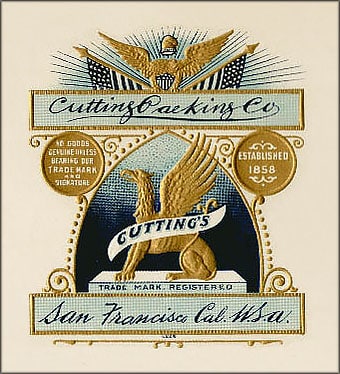 Francis Page Cutting would die on October 1, 1913, in Oakland, California where he resided for most of his life. He will be remembered as a pioneer in California primarily for his Cutting Packing Co. he established in 1875. His trademark was a Griffin with a Cutting's banner. Throughout his life, Cutting was also involved in railroads, mining, oil, fruit growing, and banking to name a few.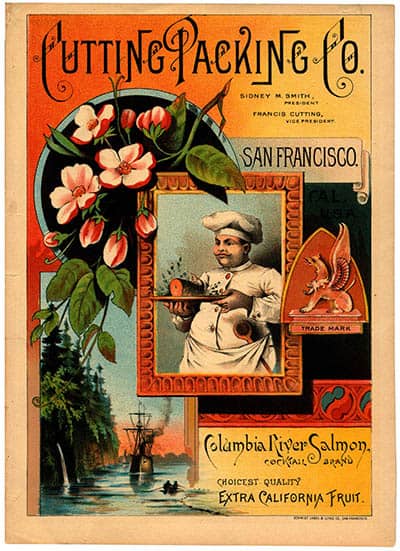 Primary Image: The broken and reassembled Baker & Cutting pickle jar imaged on location by the FOHBC Virtual Museum west coast studio led by Gina Pelligrini. Lou Pellegrini collection.
Secondary Image: Legendary green aqua Baker & Cutting pickle jar imaged on location by the FOHBC Virtual Museum west coast studio led by Gina Pelligrini. Lou Pellegrini collection.
Support: Reference to Early Glassworks of California by Warren Friedrich
Support: Reference to Ketchup Pickles Sauces – 19th Century Food in Glass by Betty Zumwalt
Support: Reference to Baker & Cutting and the Firms of Francis Cutting by Bill Lockhart, Carol Serr, Pete Schulz, Beau Schriever, and Bill Lindsey
Support: Reference to web article History of Glass by Jeff Wichmann, American Bottle Auctions.
Support Image: Reassembled glass shards for a Baker & Cutting Glass & Pickle Mfrs San Francisco bottle – Oldwestbottles.com, 2011
Join the FOHBC: The Virtual Museum is a project of the Federation of Historical Bottle Collectors (FOHBC). To become a member.