J. Palmer O'Neil & Co.
From
J. Palmer O'NeIl & Co.
Pittsburgh
J. Palmer O'Neil & Co., Pittsburgh, Pennsylvania

Medium Amber Target Ball
Provenance: Ex: Ralph Finch Collection, American Glass Gallery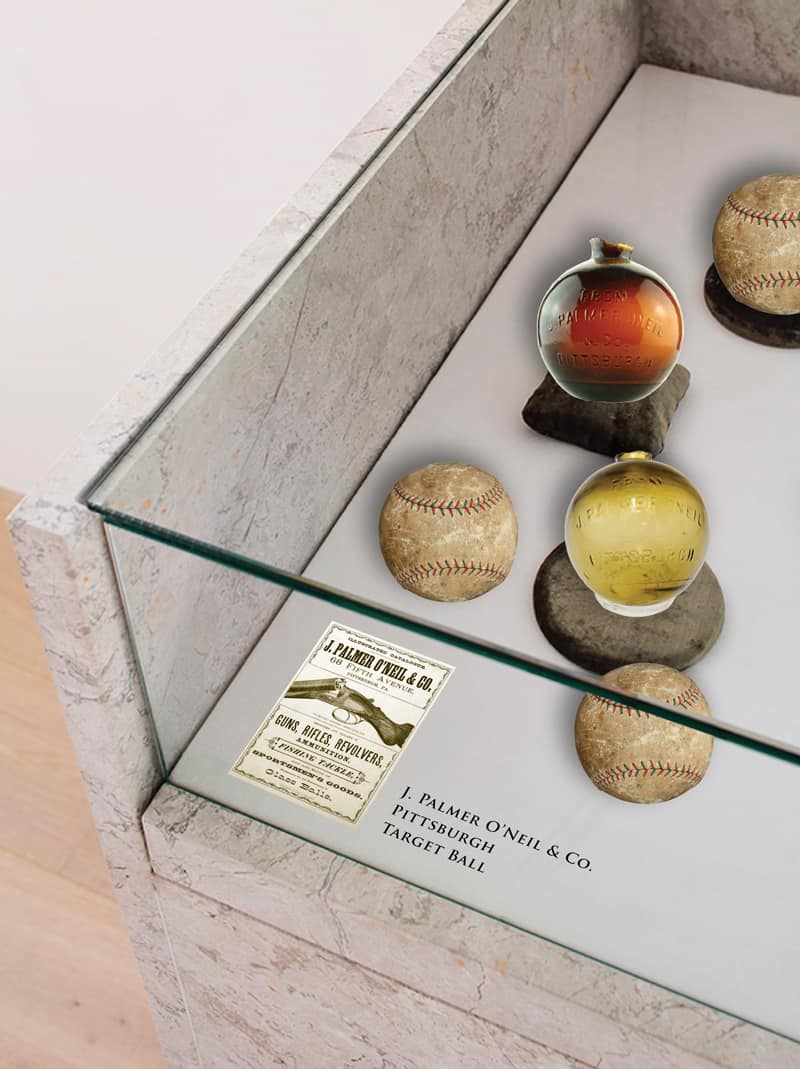 This rather innocuous glass target ball has a story behind it involving "America's favorite pastime," baseball. Our medium amber, 3-piece mold target ball has a rough sheared mouth and measures 2-¾" in diameter. It is one of only two, or possibly three known examples.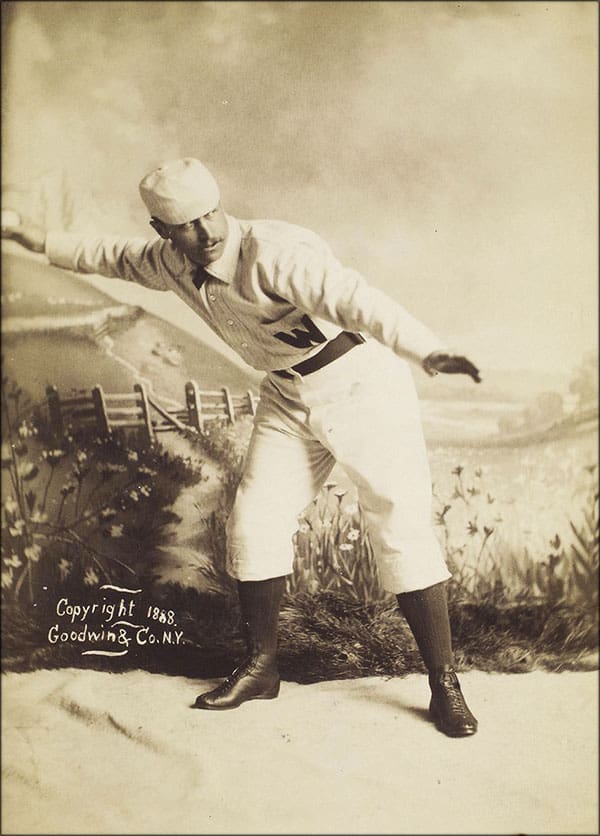 James Palmer "Pirate" O'Neil was born on the Hudson River in Ulster County, New York on September 30, 1843. He received his education in his native town and later went to New York City to strike out on life. From 1870 to 1872 he was vice president of a life insurance company and in the later part of 1872 came to Pittsburgh as the general manager of the United States Life Insurance Company. He remained in this position until 1877.
O'Neil then organized the Pittsburgh Firearms Company located on Fifth Avenue. By 1885, it was called J. Palmer O'Neil & Co. He put out an illustrated catalog stating that they were Importers and Dealers of Guns, Rifles, Revolvers, Ammunition, Fishing Tackle, and all kinds of Sportsmen's Goods. They were also the "Headquarters for, and Manufacturers of Glass Balls." This pretty much dates our museum target ball.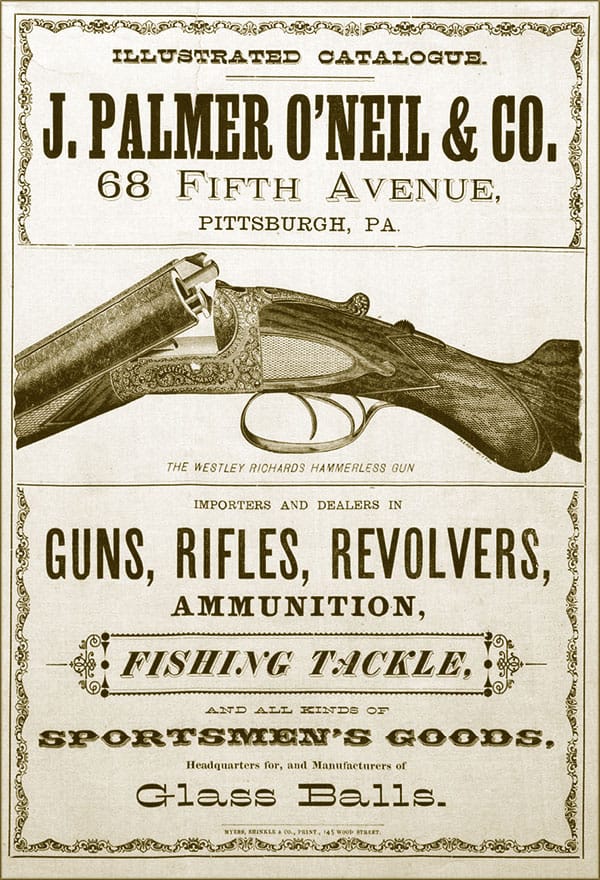 O'Neil continued in this business until 1892 when he organized the Chamberlin Cartridge Company of Cleveland and became its president. At about the same time, he organized the Western Arms & Cartridge Company in Chicago and was also its president. In 1892, he resigned from both positions and returned to Pittsburgh.
Immediately upon his return, O'Neil accepted the presidency of the Pittsburg Athletic Association which controlled the Pittsburg Allegheny's National League baseball club. This ball club would eventually become the Pittsburgh Pirates baseball organization.
O'Neil is known for his work in helping to financially shepherd and run the team through the 1890 season when the club set a league record for losses in a season while facing competition from the upstart Brotherhood Players League team, the Pittsburgh Burghers. It seemed that just about all the good players defected to the new Pittsburgh team leaving a meager crew to play out the season for O'Neil and his manager Guy Hecker. How the team survived and played out the season is still one of the great mysteries and stories in baseball.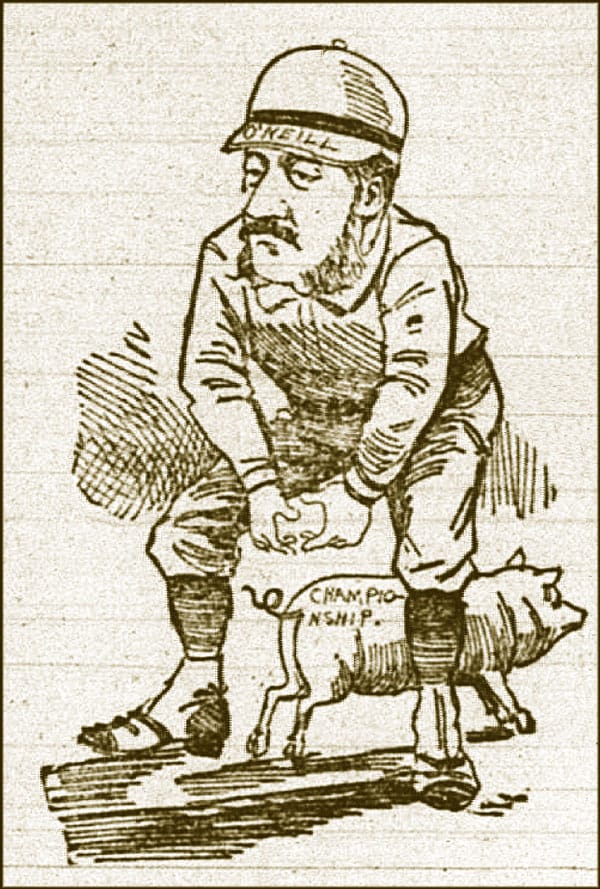 It is also said that the Pittsburgh Pirates baseball team got its name from J. Palmer "Pirate" O'Neil, who was so-called because he signed a player from another club, pirating him away rather unscrupulously. O'Neil died on January 6, 1908, at the age of 64.
Primary Image: The J. Palmer O'Neil and Co. target ball imaged on location by the FOHBC Virtual Museum midwest studio led by Alan DeMaison.
Support: "FROM / J. PALMER ONEIL / & Co. / PITTSBURGH" Target Ball, America, 1878 – 1886. Medium amber, 3-piece mold, rough sheared mouth, dia. 2 ¾", near mint; (a very minor, paper-thin 1/8" flake on the reverse, and a couple of light scratches, otherwise perfect). An exceptional target ball, one of only two, or possibly three known. J. P. O'Neil was president of the Pittsburgh Firearms Co. from 1878-1886. He later became the owner of the Pittsburgh Pirates. American Glass Gallery – The Ralph Finch Collection of Target Balls, Traps and Ephemera, An Absentee Auction in Six Parts – 2017-2019
Support: The Pittsburgh Pirates, Frederick Lieb, 1948, SIU Press