H.E. Swan
H. E. Swan
Horace Everett Swan, Fall River, Massachusetts
Fancy Colorless Cologne
Provenance: Eric McGuire Collection
H. E. Swan & Company was a cologne, pomade and dentifrice manufactory founded by Horace Everett Swan in 1849. The business was located at Swan's home at 12 Bank Street in Fall River, Massachusetts. Swan's partner in 1855 was Elijah Gleason. An 1860 Fall River Daily News notice reported that "Mr. H. E. Swan had beautiful specimens of perfumery on exhibition, pronounced by connoisseurs equal to anything manufactured." Swan was born about 1819 in Attleboro, Massachusetts. He would die in September 1863 when he was 47 years old.
In our gallery, we display three H. E. Swan fancy and decorative cologne bottles. All are embossed with the H. E. Swan name and were made and used between 1849 and 1863. Cologne is one of the oldest terms for perfume and would have been an addition to water for scenting, bathing and washing the skin.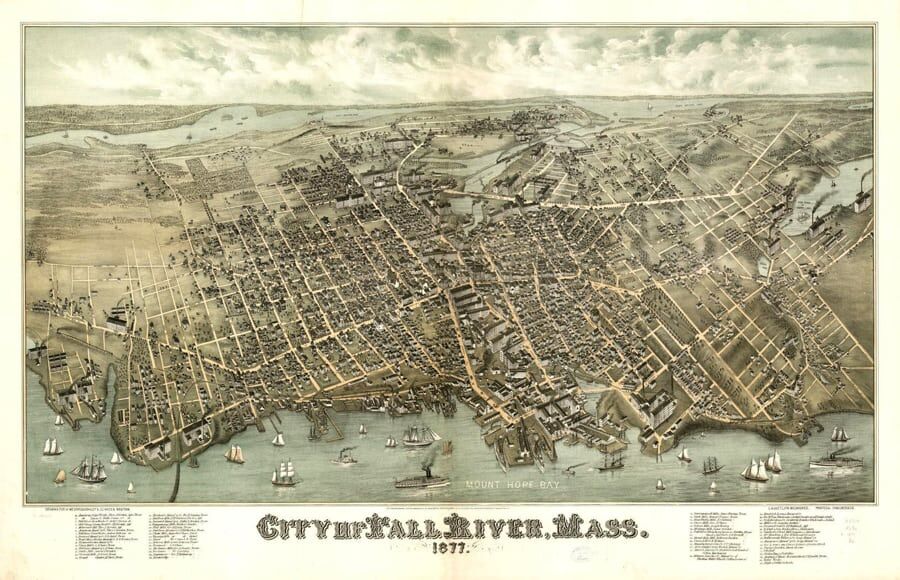 The city of Fall River is located in Bristol County, Massachusetts, located about 49 miles south of Boston. For much of its history, Fall River has been defined by the rise and fall of its cotton textile industry. From its beginnings as a rural outpost of the Plymouth Colony, the city grew into the largest textile-producing center in the United States during the 19th century, with over one hundred mills in operation by 1920. Even with the demise of local textile productions during the 20th century, there remains a lasting legacy of its impact on the city.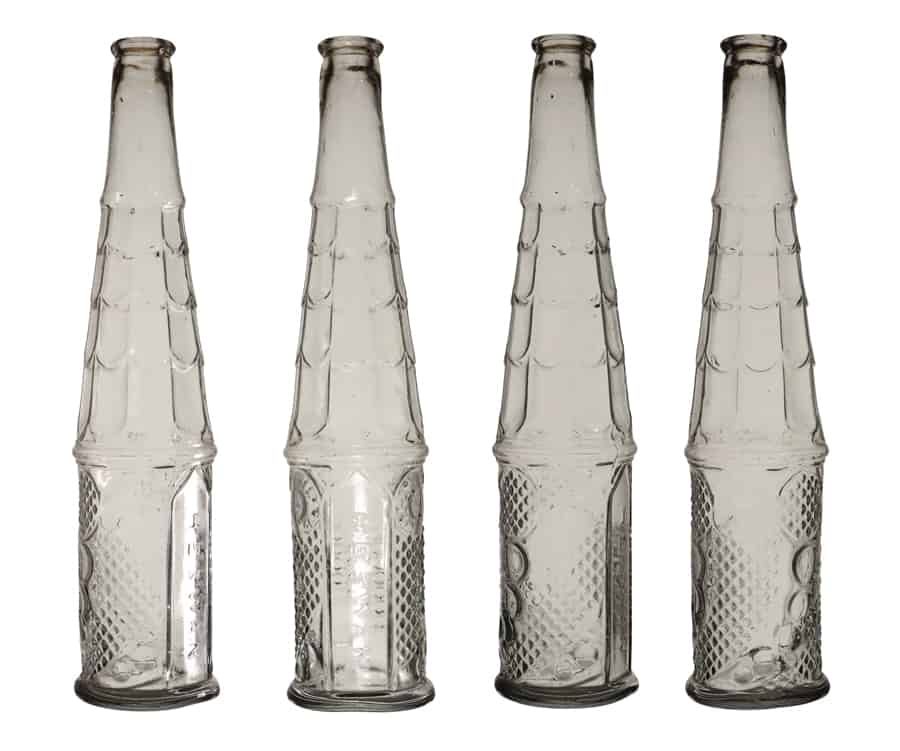 Our feature cologne bottle was made of clear, colorless glass. The fancy 11-inch tall bottle is cylindrical with a draped conical neck in four layers. There is a decorative six-panel segmented base. Within five base vertical arched segmented panels are embossed diamonds and large circles. One panel is a bordered vertical rectangle with a pitched top. Within this shape is embossed sans serif copy, from shoulder to base, reading 'H. E. SWAN.' Four horizontal rings complete the design; one for the rolled mouth, one atop the drapes, one separating the draping and body and one on the smooth base. This bottle was made between 1860 and 1863 by an unknown glasshouse.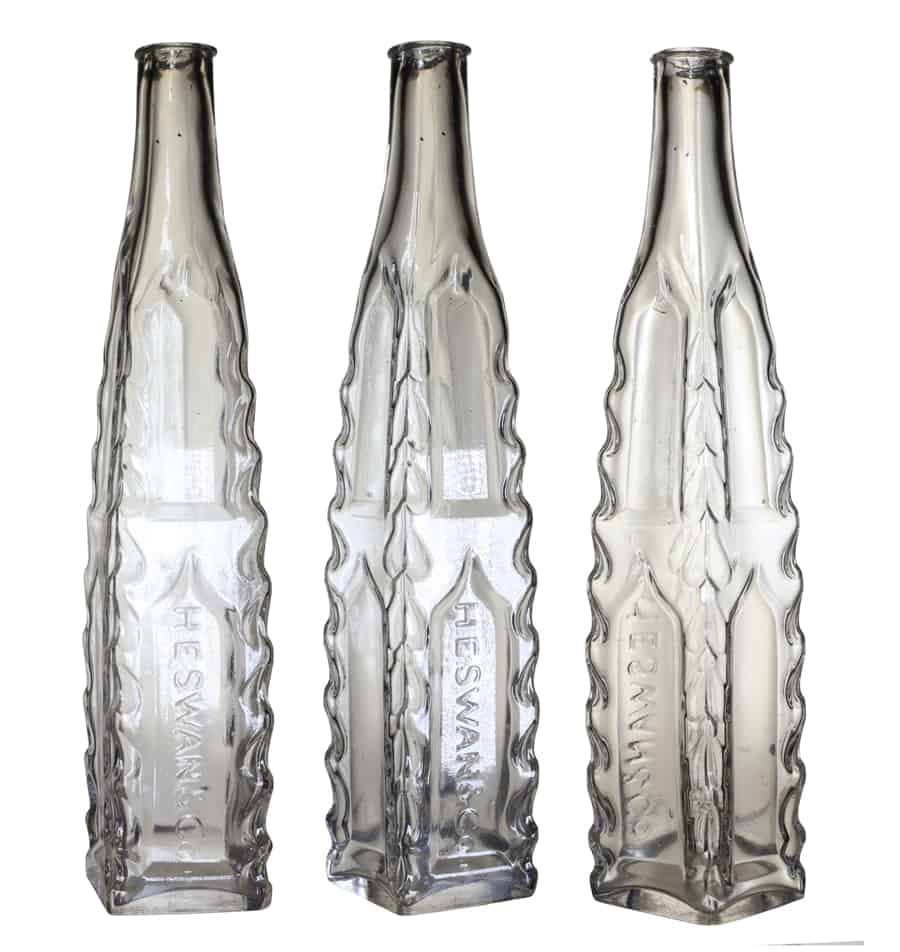 Our second cologne bottle was made of clear colorless glass in a cathedral or gothic form. The fancy 11-inch tall bottle is square with tapered "wavy" sides. There are four vertical tapered recessed "door" insets on the base portion of the bottle. One of these inset panels is embossed in a sans serif copy, from shoulder to base, reading 'H. E. SWAN. & Co.' Four similar recessed "windows" are on the upper portion of the bottle. Some blank inset areas may have been used for displaying a paper label. The mouth is turned, and the base is smooth. The bottle would have been produced between 1860 and 1863.
See the spinning Museum example of the "H. E. Swan & Co." cologne bottle. (coming soon)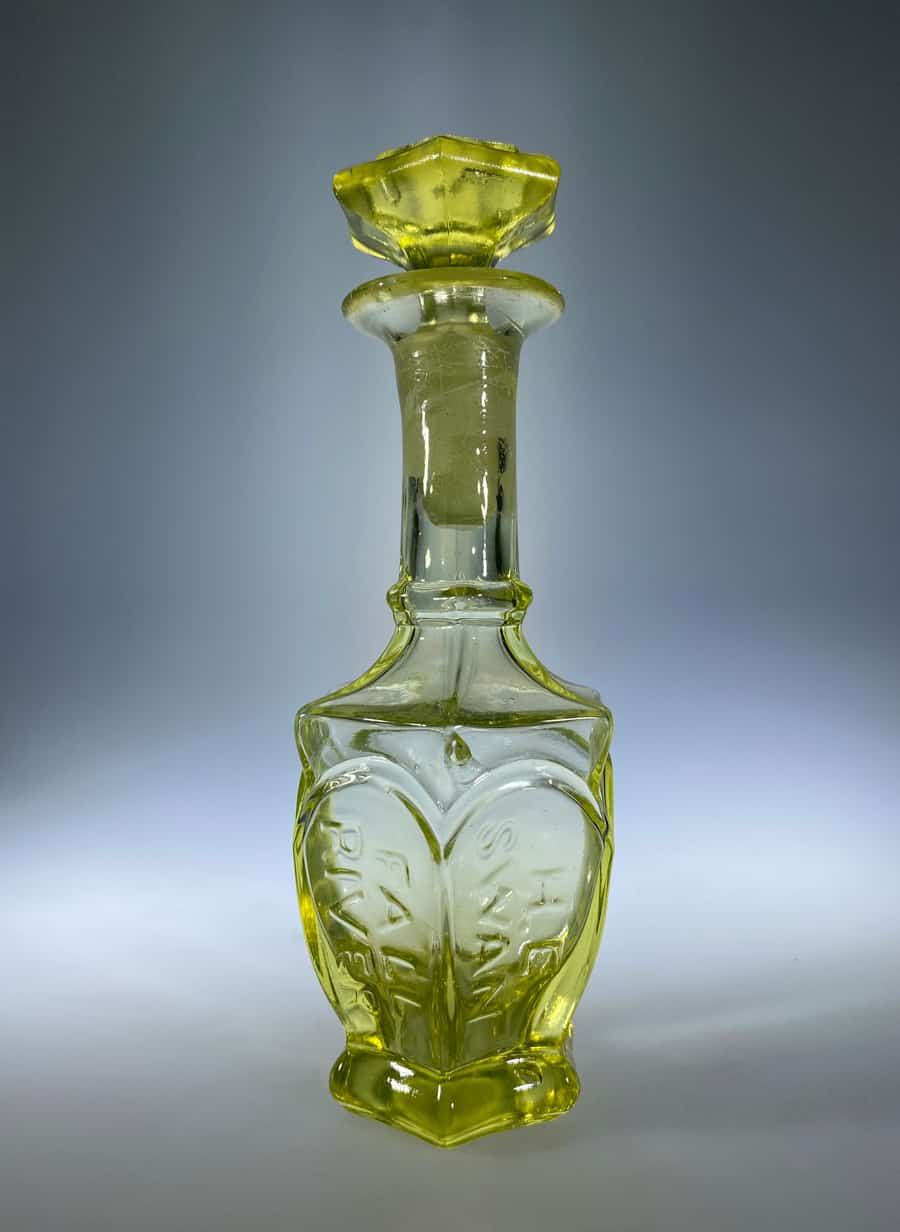 Our third example represents an H. E. Swan blown-molded loop hexagonal commercial cologne with a pressed hexagonal stopper. The smaller bottle was made in a canary tone glass and is pontiled. The fancy bottle is 4-¼ inches tall without the stopper and 5 inches tall with the stopper. The pattern comprises one loop in each of the six panels. The embossed name 'H. E. SWAN' is enclosed by one loop and 'FALL RIVER' by another. The typestyle is sans serif. Four open panels may have contained a paper label. This cologne would have been the earliest H. E. Swan bottle from 1850 to 1857.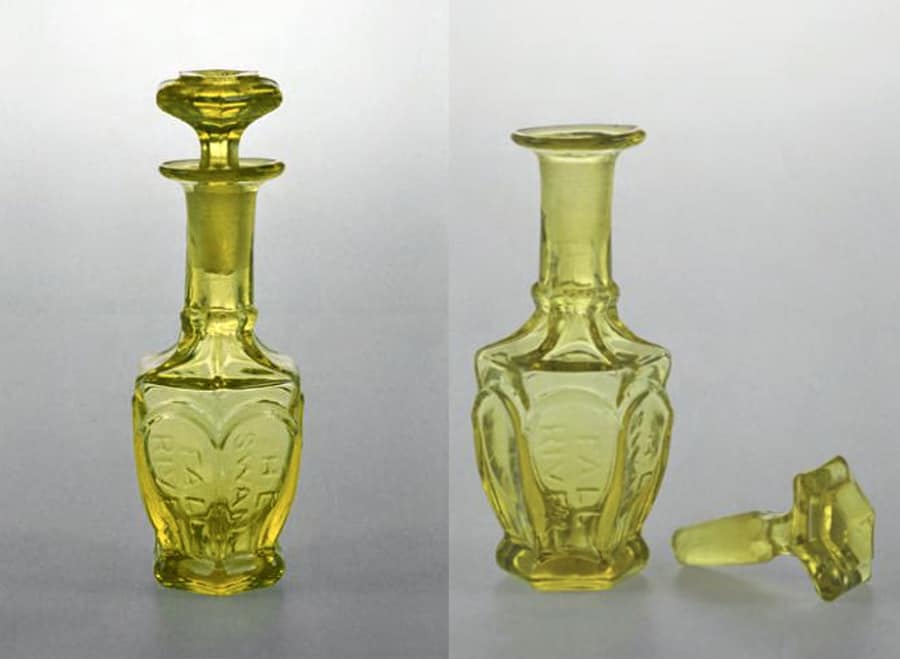 This canary cologne bridged the gap between a throwaway commercial bottle in which cologne was sold and a decorative cologne purchased empty that would be filled by the retail consumer. It is a commercial piece, but it is attractive enough to have been placed on a dressing table. Raymond E. Barlow, co-author of The Glass Industry in Sandwich, attributed this commercial cologne to the Mount Washington Glass Works in South Boston. When molds were privately owned, they were sent to the glass company that quoted the lowest price. Most likely, H. E. Swan, owner of the mold in which this cologne was blown, sent it at different times to both South Boston glassworks.
See the spinning Museum example of the "H. E. Swan Fall River" bottle. (coming soon)
H. E. Swan also had a 2 ½ inch tall by 1 5/8 inch wide aquamarine six-panel jar embossed 'H. E. SWAN' vertically on the side. The jar used a tin press on cap that was stamped 'SWAN'S EMPIRE ENAMEL' around the edge and 'TOOTH POWDER' in the center, embellished by an eight-lobed oval rosette above and an intricate cartouche below.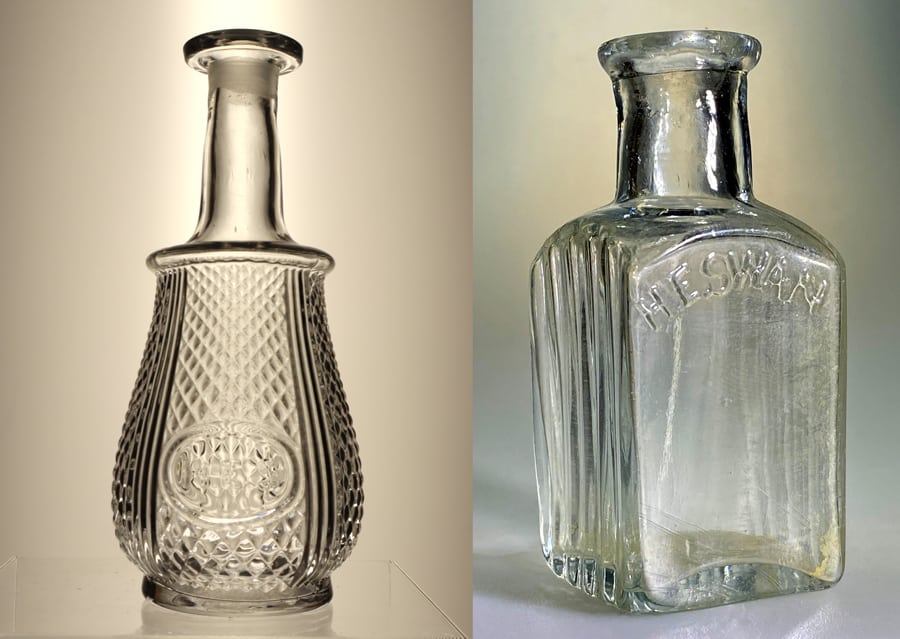 Primary Images: H. E. Swan cylindrical and square perfume bottles imaged by Eric McGuire, FOHBC Virtual Museum West Coast Studio.
Support Image: H. E. Swan Fall River perfume in yellow glass from the Eric McGuire collection.
Support Images: Two examples of clear H. E. Swan perfume bottles from the Eric McGuire collection.
Support: Reference to The Glass Industry of South Boston by Joan E. Kaiser, January 2010
Join the FOHBC: The Virtual Museum is a project of the Federation of Historical Bottle Collectors (FOHBC). To become a member.