Capt. H. Niehaus Mineral Water Cincinnati
Capt H. Niehaus
Mineral Water
Cincinnati
B (Bick)
Henry Niehaus, Cincinnati, Ohio
10-Paneled Green Aqua Soda
Provenance: Doug Shutler Collection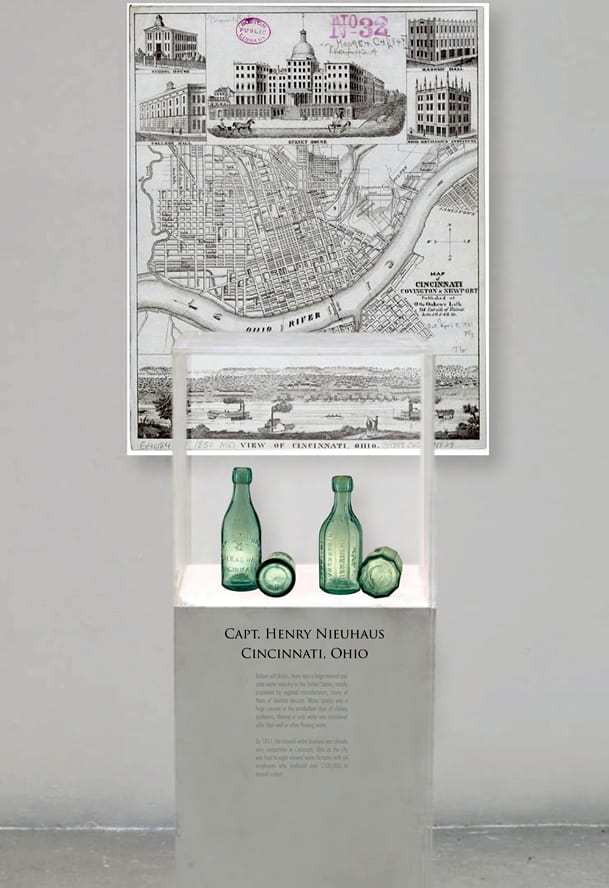 Before soft drinks, there was a large mineral and soda water industry in the United States, mostly populated by regional manufacturers, many of them of German descent. Water quality was a huge concern in the antebellum days of cholera epidemics. Mineral or soda water was considered safer than well or other flowing water.
By 1851, the mineral water business was already very competitive in Cincinnati, Ohio as the city was host to eight mineral water factories with 64 employees who produced over $100,000 in annual output.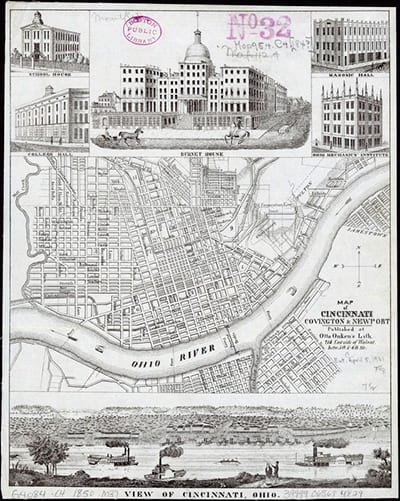 The difference between "soda water" and "mineral water" during the 19th century was often vague. Soda water was generally considered flavored artificial mineral water with the purposeful addition of carbonation and various compounds and flavoring. Mineral or spring water as it was also called, would generally be natural waters from spring sources that were typically highly mineralized with carbonates like alkaline, sulfurous compounds, and or various salts which often carbonated naturally. The confusion sometimes arises when mineral water was used as a generic term applied to various natural and artificially carbonated, non-artificially flavored waters including many utilized for their perceived medicinal qualities. Please visit the museum Spring & Mineral Water Gallery.
In 1859, S. Hanbury Smith, M.D. was the proprietor of the Medicinal Mineral Water Depot, at the Carlsbad Spa located at 128 West Fourth Street in Cincinnati. His advertising stated that "The most Celebrated Mineral Waters in the world are sold in bottles or dispensed in draught, of the natural temperature, and from the large choice afforded, those suffering from Constipation, Piles, Dyspepsia, Rheumatism, Female Disorders, and other Chronic Ailments, may expect a speedier and more certain cure than at any one natural source, at one-tenth of the expense, and without leaving home."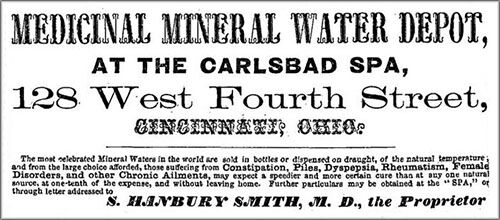 At the end of 1862, the leading mineral water manufacturers in Cincinnati posted a joint notice in the Cincinnati Enquirer stating that as of January 1, 1863, they wanted to inform their customers that, "in consequence of the Government tax, and the advance of Bottles, Corks, Sugar, &c., in our manufacture, we are compelled to advance the price to 35 cents per dozen and have, furthermore, adopted this rule that for all Bottles short we will have to charge at the rate of 5 cents each." The notice was signed by H. & J. Alwes, J. Born & Greiwe, G. & H. Muhlhauser, H. & C. Overdick, Capt. H. Niehaus, Wm. Wilke & Co., H. Verhage, and A. Ritter.
Our subject museum example is a 7-¼" tall, ten-paneled, blob-top, aqua soda that is embossed vertically top-to-bottom 'CAPT' on panel 1. The 'T' in CAPT is smaller and raised with two dots beneath. The second panel is embossed 'H. NIEHAUS'; the third-panel 'MINERAL WATER'; and the fourth panel 'CINCINNATI.' The next three panels are blank. The 8th panel has a large ¾" tall embossed 'B' which stands for 'Bick'. Panels 9 and 10 are blank.
There are teardrop beads on the shoulder panels and the base is smooth. The glass house is unknown and we can date the bottle to the late early 1870s. Another variant of the Capt. H. Niehaus bottle is embossed W. McCully & Co., Pittsburgh, Pa. The McCully name is well-known in bottle manufacturing.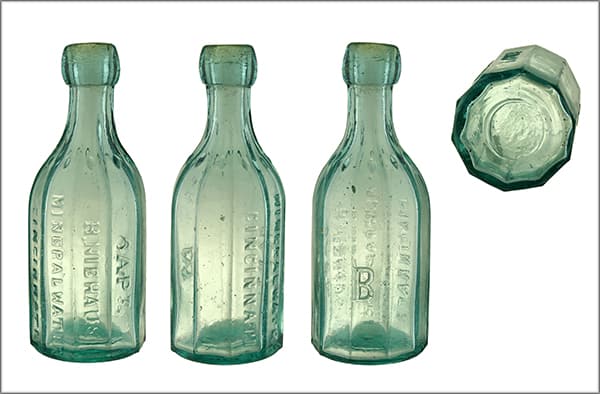 Heinrich Niehaus
Heinrich Niehaus was born in 1809 in Astrup, in the then Kingdom of Hannover (Hanover, Germany). He came to America in 1827 and made his way, like many Germans, to Cincinnati, Ohio. On April 30th, 1851, Niehaus married Margaret Hackman in Cincinnati, and their eventual children were Clara, Mathilda, Henry, and Emma Niehaus.
In the early 1850s, Henry Niehaus was listed as working at the Eagle Garden in Cincinnati which was a well-known restaurant and possibly an inn. By 1858, Henry's occupation was listed as Mineral Water Manufacturer at 450 Sycamore Street. In the 1860 United States Federal Census, Henry had his real estate value listed at $15,000 with a personal estate value of $3,000 so he must have been doing reasonably well. From 1861 to 1869, Captain Henry Niehaus listings in the city directories included Mineral Water, Ginger Pop, Cider, Ale, and Porter Manufacturer as his specialties and he was still located at 450 Sycamore Street. It is not known where he obtained the Captain designation though these years were the Civil War era.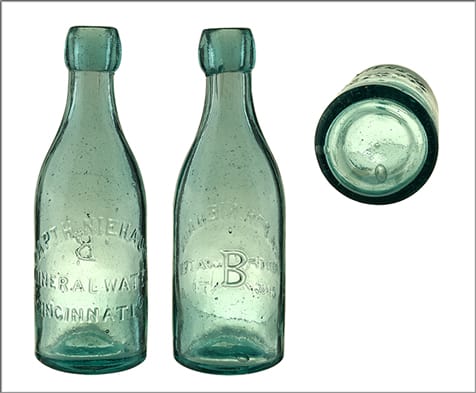 See the museum example of a Capt. H. Niehaus Mineral Water Cincinnati O. cylindrical pony.
By 1870, Henry Niehaus had moved into the real estate business as a listing for Klugman & Niehaus (N. J. Klugman and Capt. H. Niehaus), real estate, 30 W. Court occurred in the Williams Cincinnati Ohio Directory. His United States Federal Census that year listed his occupation as Real Estate Agent Auctioneer. He died on March 19, 1873, leaving a widow and four children.
Bernard Bick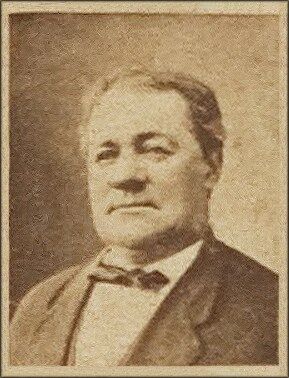 Bernard Bick was prominent in the mineral water business in Cincinnati. As noted previously, his last name initial "B" is prominently embossed on the obverse of our two Niehaus museum bottles. Bernard or Barney was affectionately called "Keuster" Bick as he was always happy, always in a good mood, and was a friend of all. He was born on March 12, 1821, in Osterkappein bei Osnabrueck, in the Kingdom of Hannover. Bick emigrated in 1839, via Bremen with a number of other young people to the United States, coming in through Baltimore, Maryland. After an overland trip by foot via Cumberland and Wheeling, he arrived by steamboat in Cincinnati.
Bernard Bick worked at various jobs such as being a salesman for Joseph Niehaus, the well-known brewer. He was elected a policeman in the Ninth Ward until he was dismissed when a new Mayor was elected as he was not aligned with the same political party. From there, he established the mineral water depot Bick & Reibel in 1871 at the northwest corner of Bremen and 12th Streets. Bick engaged with Henry Reibel and his saloon where they sold their seltzer, soda, sarsaparilla, and ginger pop. The company name changed to B. Bick and Co. in 1872 as John A. Kasling was taken in as a new partner. Their factory was still on 12th street. Bick then went to work with Capt. Henry Niehaus at his mineral water factory and managed after Niehaus died in 1873. The subject "B" embossed mineral water bottles are referred to as modified Bick molds. Bernand Bick would die not much later on April 24, 1877.
Joseph Niehaus
There is some confusion with Cincinnati Niehaus bottles as Joseph Niehaus established Niehaus Brewery and operated it from 1850 to 1862. Joseph was born in 1819 in Hanover, Germany to a farming family. He worked in the fields until he was 13. At 16, almost as a whim, he sailed to the United States to see what he could do on his own. Being accustomed to hard work, he found employment immediately in the construction of the Miami-Erie Canal on which he worked for two years. After working for a year on a railroad near Vicksburg, Mississippi, he returned to Cincinnati. Here he worked at the Niles Iron Foundry on Main Street near Woodward (13th). Three years later, he joined Walkers Brewery on Sycamore Street.
In 1849, Joseph Niehaus went back to Germany to see his parents. After staying with them for six months, he returned to America as a guide for three hundred immigrants, all Germans. He brought them to Cincinnati. Soon after his arrival, he established his brewery to make ale and porter.
Joseph Niehaus moved his brewery to the southwest corner of Race and 13th Streets and began using the Park Brewery name in 1862. Niehaus and his partner George Bach had purchased the brewery for the purpose of producing lager beer. They operated the brewery from 1862 to 1872. Niehaus & Klinckheimer (Joseph Niehaus & Henry Klinckheimer) was formed in 1873 and they were the new proprietors of the Park Brewery, which they operated until 1884.
Primary Image: The Capt. H. Niehaus Mineral Water Cincinnati O. bottle imaged by the FOHBC Virtual Museum midwest studio led by Alan DeMaison.
Support: Reference to Soda & Beer Bottles of North America, Tod von Mechow
Support: Reference to The American Pontiled Soda Database Project, Tod von Mechow
Support: Bernard Bick research provided by Chris Bubash.
Support: Reference to Early Nineteenth-Century German Settlers in Ohio (Mainly Cincinnati and Environs), Kentucky, and other States. Parts 1, 2, 3, 4a, 4b, and 4C, Clifford Neal Smith, Genealogical Publishing Com., 2009, 267 pages
Support Images: Capt. H. Niehaus Mineral Water Cincinnati O. – B cylindrical pony and the same, multi-paneled in blue aqua. – Jim Hagenbuch, Glass Works Auctions