Fred. D. Alling's Mercantile Ink
Fred. D. Alling's Mercantile Ink
Rochester, N.Y.

Frederick Dwight Alling, Rochester, New York

Light Green Cylinder
Provenance: John Hinkel Collection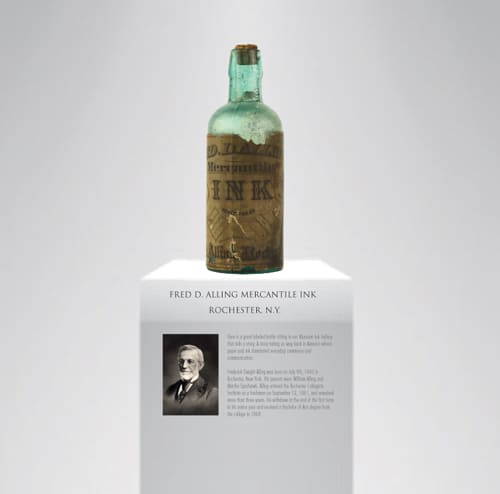 Our Frederick D. Ailings Mercantile Ink is a wonderful labeled bottle sitting in our Museum Ink Gallery that tells a story. A story taking us back to America when paper and ink dominated everyday commerce and communication.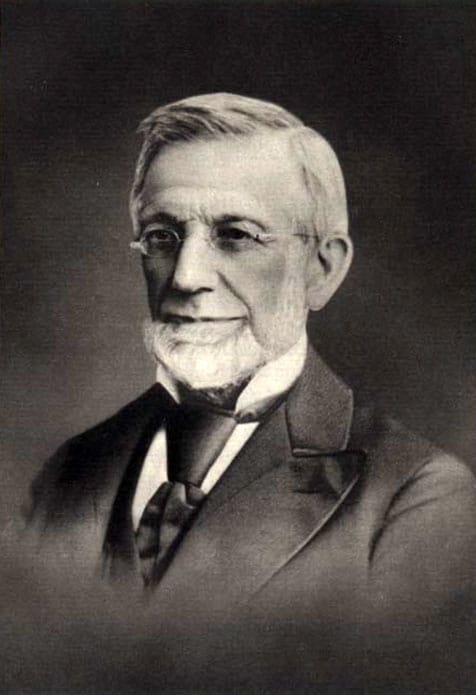 William Alling
William Alling was born in Ballston, New York near Saratoga and Albany in 1811. When he was four years old, his parents moved their family to Sodus, New York and in 1826, he and his older brother moved to Rochester. In 1831, William began his clerkship at the Marshall and Dean bookstore. In 1834, William Alling began a company with Samuel D. Porter and David Hoyt; in the same year, he brought his partner's interests and opened the doors to the William Alling Paper Company. In 1859, William's cousin David Cory and William's son, William S. became partners, renaming the company, the Allings and Cory Company. In 1872, the company again changed its name to the Alling and Cory Company due to the death of William S. Alling. In 1881, Joseph Tilden Alling, William Allings' youngest son became a partner of the company. William Alling remained a partner until the time of his death in 1890.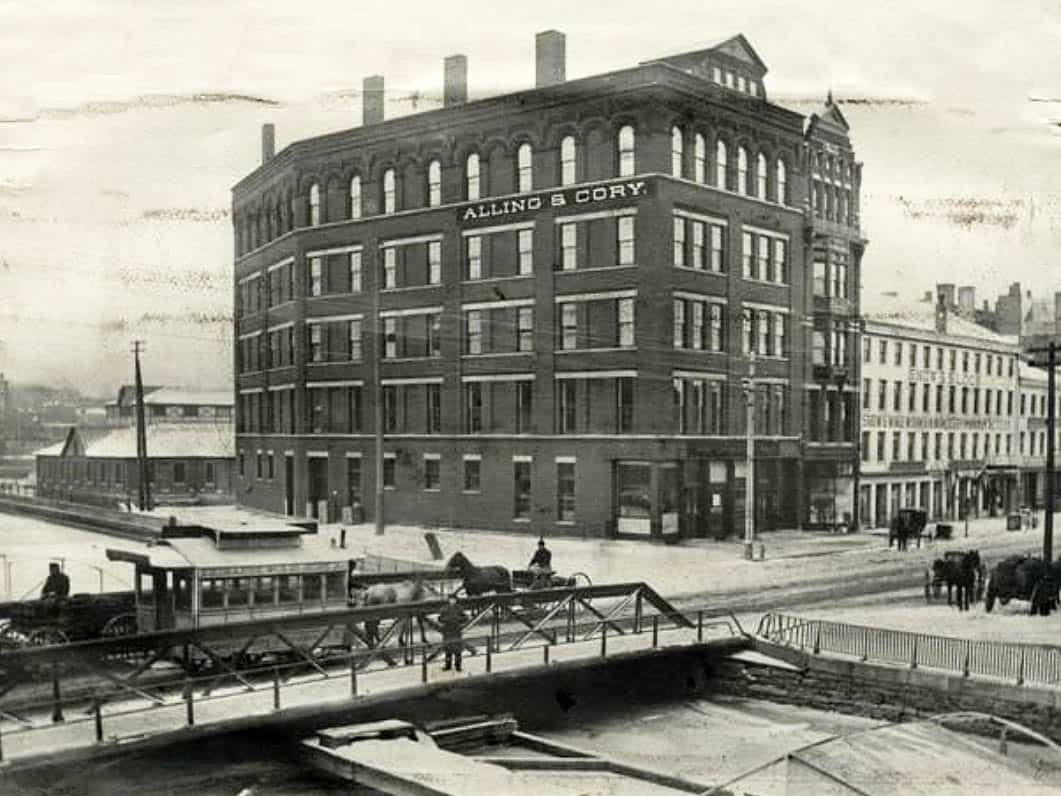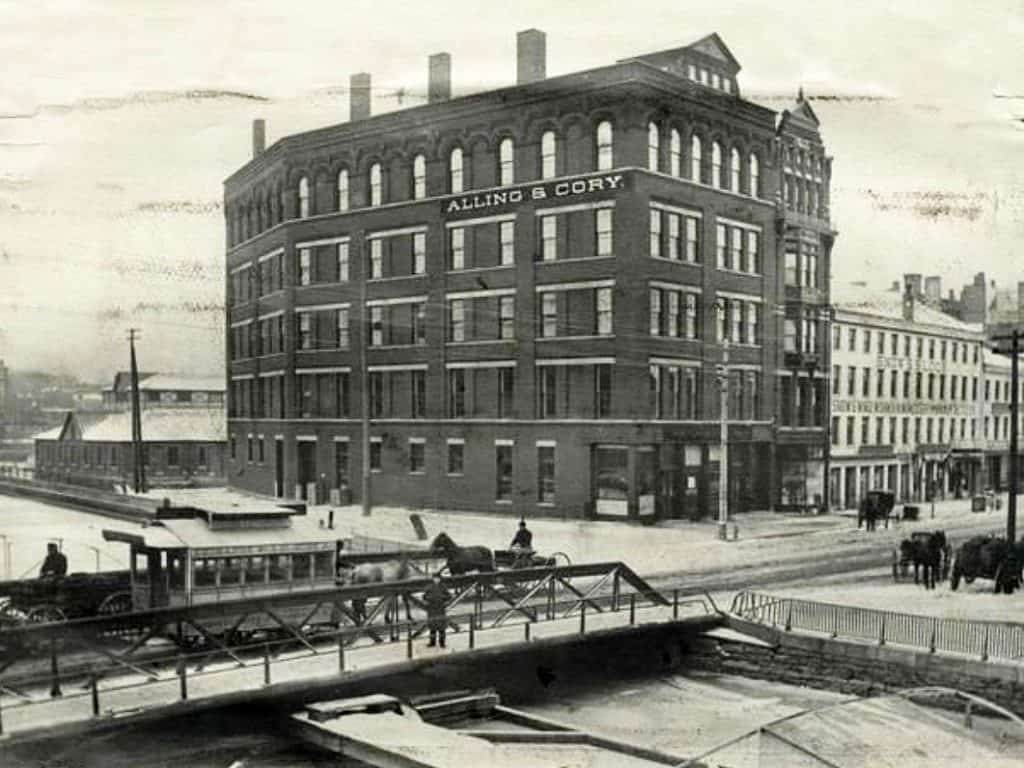 Frederick D. Alling
Frederick Dwight Alling was born on July 9th, 1843 in Rochester, New York. His parents were William Alling and Martha Sparhawk. Alling entered the Rochester Collegiate Institute as a freshman on September 12, 1861, and remained more than three years. He withdrew at the end of the first term in his senior year and received a Bachelor of Arts degree from the college in 1868.
New to the business world, young Frederick was employed in Rochester for two and a half years as a clerk and traveling salesman in the paper and stationery trade conducted by his father William Alling at Alling & Cory. This paper-making business originated early in 1819 when two Quakers named Marshall and Dean started a stationery, bookselling, and publishing business at No. 12 Exchange Street in Rochester. In 1834, they sold the business to William Ailing. This business would grow significantly well into the 20th century.
In July 1867, Frederick D. Alling started his own business providing fine stationery, engraving, and fancy goods. In 1869, he closed out the fancy goods, stationery, and engraving departments, and devoted himself exclusively to the manufacture of all kinds of inks and mucilage. He would remain in this business his whole career.

Inks would become his specialty to the point where he produced many varieties for business and schools. Once when pressed on the types of inks he made, Alling said, "I manufacture seventeen different varieties of Alling's Ink. I manufacture no other ink. There are different varieties of Alling's inks. We manufacture nutgall ink writing fluid. My No. 1 commercial ink is the principal ink; the next is No. 2; the next is No. 3. Not as high up No. 17. They are not numerically designated. We make a school ink and black ink. No. 5 is a brilliant carmine. The next black ink is a nigrosine ink. The next one a black marking ink. The next one a Banker's Safety Ink, violets, blue and green. There are perhaps six or seven black ones. So, there are only six or seven black inks that I make."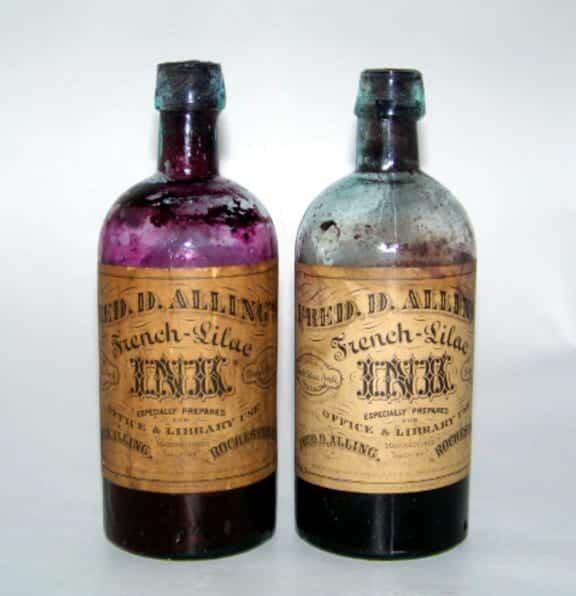 Allings continued, "The different grades are intended for different purposes. The banker's ink is not fit for school. No. 1, No. 2, and No. 3 are used commercially. The banker's ink is specially prepared for the prevention of alterations of drafts and checks. The commercial inks are more liable to be erased than the banker's ink. Possibly the logwood inks might be easier to erase than the commercial ink. "
"These mercantile inks are made from nut gall and the school inks from logwood. I manufacture but one writing fluid, which is a commercial ink; its designation is No. 1 mercantile ink. I have a No. 2 mercantile ink, which is a combined writing and copying fluid. Primarily they are writing fluids, which I designate as ink. I sell it as ink. It is designated as a writing fluid on the label. I sell writing fluid and call it ink."
In many instances, Alling was called to provide expert witness testimony on the ink signatures on wills and testaments. In one instance he testified the following which is interesting as it mentions other companies in the ink business.
"There are some fifteen prominent manufacturers of ink. They are Arnold, Stevens, Blackwood, Davis, Carter, Barnes, Stafford, David's, Pomeroy, Hall, Underwood, Sanford, Levison, Blythe and Wood. All these men are selling inks and fluids. That is their business and my business. We have no trust as yet. I have never known of meetings at which we talked over business. I meet these gentlemen occasionally."
Alling never entered the army, and never participated in any engagement excepting the one which brought him his wife as he was married in Rochester on May 14, 1868, to Miss Emily A. McKaye, also of Rochester. They were blessed with two girls and a boy. He was a member of the Central Presbyterian Church. He never sought or held any office and focused on his own business office, which constituted most of his time and effort. He accumulated a comfortable existence and provided for his family, but was far from wealthy according to his own words. He fully established his business, and at one point was selling his inks in twenty-eight states which was quite an accomplishment. He would die in 1910 though his company would live on providing inks to the populace.
Primary Image: Alling Ink bottle imaged on location by the FOHBC Virtual Museum midwest studio led by Alan DeMaison.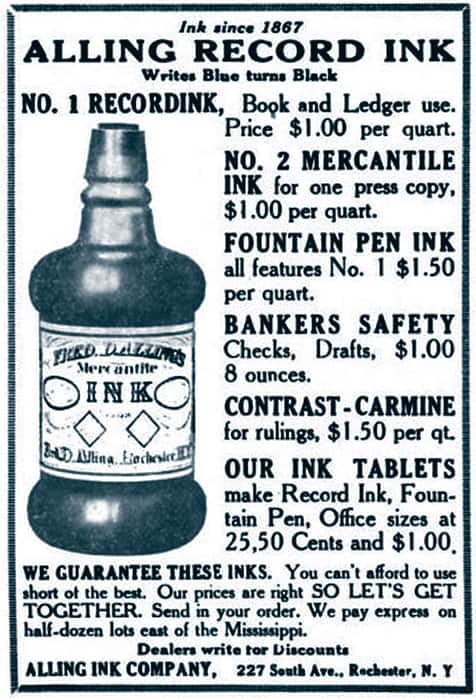 Support Images: Auction Lot 77: Two "Alling's / Patd. Apl, 25 1871" Ink Bottles, America, 1871-1880. Triangular forms with offset necks, medium blue-green and rich yellow-green, sheared and tooled mouths – smooth bases, ht. 1 7/8 inches; (label has minor loss and ink stain). C #704 Yellow-green example has a label which reads in part "Jet Black High School Ink". Beautiful colors. Fine condition. Bill Dyer collection. – Norman Heckler, Norman C. Heckler & Company, Auction #170
Support Image: Fred. D. Alling's French-Lilac Ink examples – John Hinkel collection. See Hinks Inks – Post 2 "John hINKel"
Support: Reference to Alling, J. T. (Joseph Tilden)., Alling & Cory Company. (1919). One hundred years in the paper business, 1819-1919: being a brief history of the founding of the paper business of the Alling & Cory Company, together with an account of its growth during the centenary period of its existence. Rochester, N.Y.: Designed and printed for the Alling & Cory Co.
Support: Reference to The Alling Family Plot, Tinna Kim, December 2000 Speaking Stones Religion 167 Prof. Homerin