Sure Break Target Ball
Sure Break
Patent Apl'd For

Yellowish Golden-Amber Target Ball
Provenance: Ex: Ralph Finch collection, American Glass Gallery
Our museum has on display the extremely rare, multi-sided embossed 'SURE BREAK – PATENT APL'D FOR' target ball. The ball is somewhat of an oddity as we do not know who made the ball or the two similar variants that are also pictured in our Target Ball Gallery.
Our Sure Break ball is in a yellowish golden-amber glass with an octagonal body with four concave panels around the shoulders and base. It was made in a 2-piece mold with a rough sheared mouth and is 2 ½" wide. It is considered a very rare and desirable ball to collectors.
According to Ralph Finch, The "Sure Break" balls are very rare and come in three similar-yet-different molds. While two actually say "Sure Break," the third is only embossed "Patent Apld For". It seems that the unknown ball maker just couldn't figure out what worked best.
See the museum example of a "PATENT / APLD / FOR." (Sure Break), Target Ball
I own three Sure Breaks, and I set a record (twice) when I bought the first two; one with sharp edges, and one with the more-rounded corners. The first ball, embossed "Sure Break," brought: $14,850, the record price! "Sure / Break – Patent / Apl'd For", yellow with amber tone, three series of concave panels around the entire ball."

Ralph Finch
Through the use of patent records and a circa 1880 advertisement seen here, this multi-sided ball was known for years to exist, even though no example was ever found. Alex Kerr thought that if there was one ball that never made it past the patent stage – or at least past the first production line – it was the Sure Break target ball. It had to have been too difficult to manufacture with far too many ridges and edges to be blown successfully.
A few days after the first record-setter was sold, another Sure Break was uncovered, with three series of panels around the entire ball, with the upper and lower panels being concave and the center panels al-ternating between concave and flat. It went for $10,450.

Ralph Finch
At the March, 2007 Baltimore bottle show, Richard Tucker of Easton, Pa., said he had sold Alex Kerr a rounded-shoulder Sure Break ball, adding: "I found the target ball in the early 1980s at a flea market near Easton, in a box of Christmas tree balls. It had a wire hook in the open neck for hanging."

Ralph Finch
There are six (6) to ten (10) known of each of the two versions. The balls are primarily in yellow-amber glass with some in medium amber.
There is only one of the "PATENT APL'D FOR" variants and it was dug in Trenton, New Jersey. The man who found it put it aside for years, not knowing what it was. It was auctioned in 2013.
The Sure Break design is one of only two multi-sided target balls (the other being the Purdy's). See the C.G. Purdy's Bulls E(ye) in the museum Target Ball Gallery.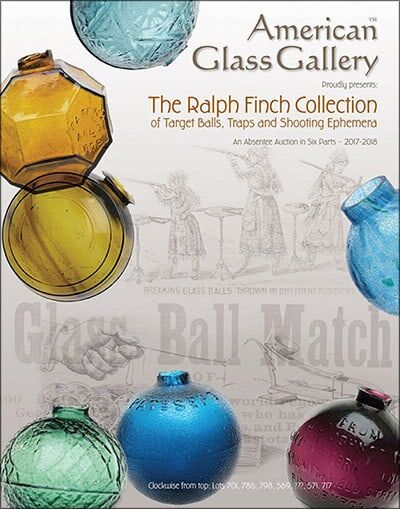 Support: Read What are target balls? I'm glad you asked! by Ralph Finch
Support Primary Image: Auction Lot 667: "SURE / BREAK – PATENT / APL'D / FOR" Target Ball, America, 1875-1890. Yellowish golden amber, octagonal body with four concave panels around the shoulders and base, 2-piece mold, rough sheared mouth, 2 ½" wide, very near mint; (a superficial, light scratch, approx. ½", near the "T" in "PATENT", other-wise perfect!) An extremely rare and desirable ball. The "SURE BREAK" balls have always been revered and would be at the pinnacle of almost any collection of target balls. – The Ralph Finch Collection of Target Balls, Traps and Shooting Ephemera, An Absentee Auction in Six Parts – 2017-2019, John Pastor and American Glass Gallery
Support Secondary Image: Lot 717: "PATENT / APLD / FOR." (Sure Break), Target Ball, America, 1875-1900. Honey amber, octagonal body with alternating square and diamond-shaped panels, four concave diamond-shaped panels around the shoulders and base, 2-piece mold, rough sheared mouth, 2 ½" wide, perfect! There are actually three different "Sure Break" mold variations (all three represented in this collection). However, this mold variant of the Sure Break ball is believed to be unique. An exceptional target ball. – The Ralph Finch Collection of Target Balls, Traps and Shooting Ephemera, An Absentee Auction in Six Parts – 2017-2019, John Pastor and American Glass Gallery
Support: Reference to the American Glass Gallery, The Ralph Finch Collection of Target Balls, Traps and Shooting Ephemera, An Absentee Auction in Six Parts – 2017-2019