Midwest Footed Bowl
Pattern Molded
Stiegel Type Footed Bowl
15 Diamond
Early American Blown Glass
Midwestern–Pittsburgh District
Cobalt Blue
Provenance: Richard S. Ciralli Collection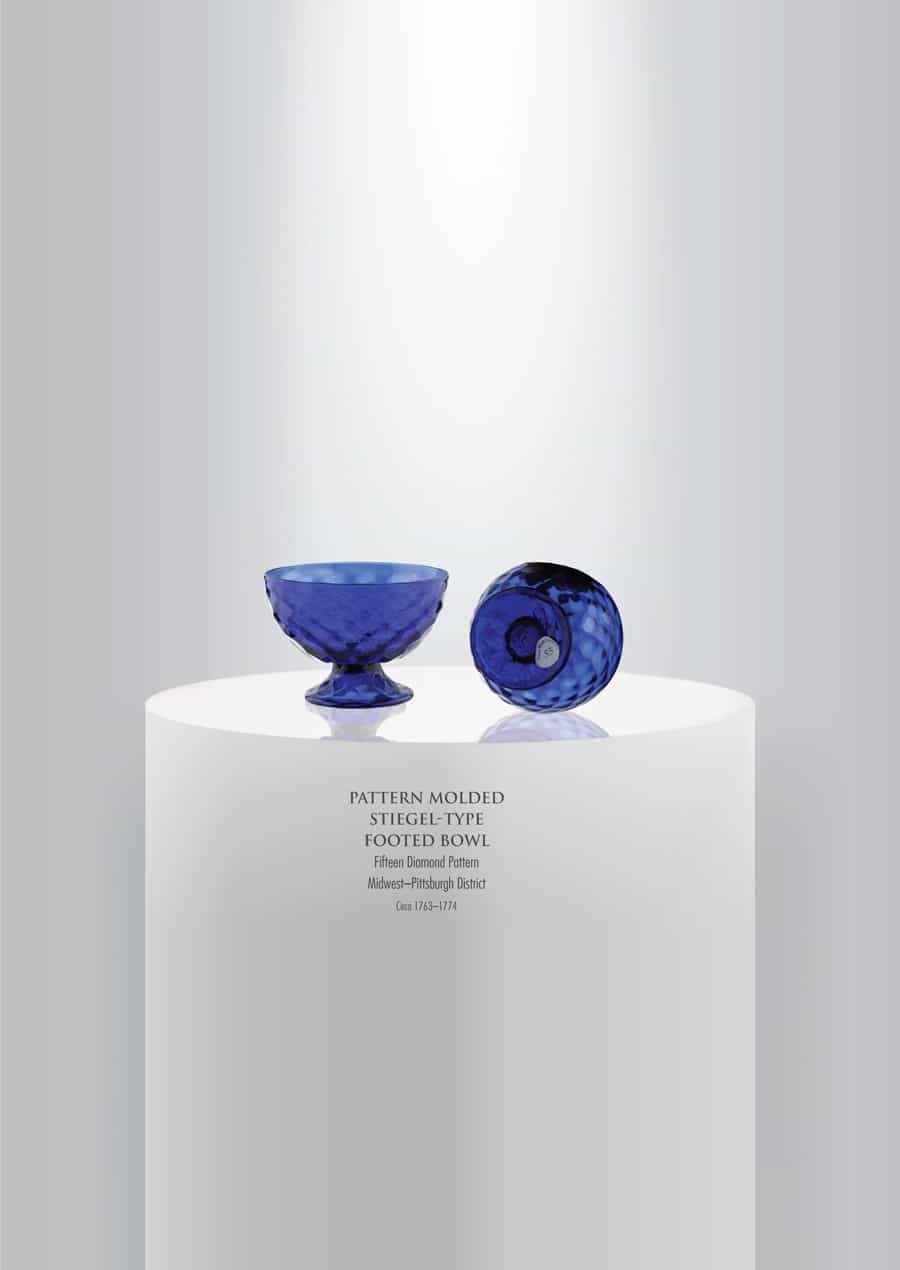 On display in our Early American Glass wing Tableware Room, we present this wonderful three-inch tall by four-inch diameter pattern molded fifteen-diamond Stiegel-Type Footed Bowl in a medium cobalt blue glass. The piece, in pristine condition, is sometimes referred to as having a "baluster" stem. When you ping the glass it rings on and on signifying the high-quality lead glass. The bowl is attributed to a Midwest–Pittsburgh District glasshouse late 18th century and possibly Stiegel's American Flint Glass Manufactory, Manheim, Pennsylvania, 1763-1774.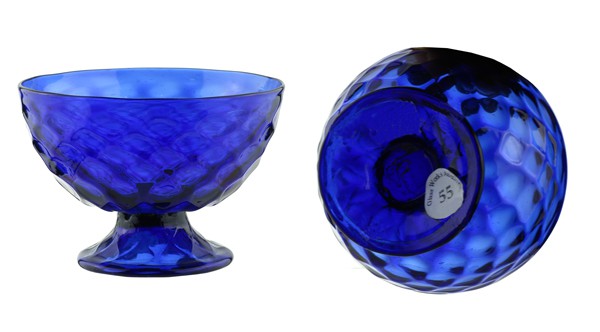 See the museum example of a Stiegel Type Pocket Bottle, honeycomb over flutes pattern in light to medium pink amethyst glass.
Henry William Stiegel is best known as a German-American glassmaker and ironmaster. He was born on May 13, 1729, in Cologne, Germany. Stiegel was the eldest of six children born to John Frederick and Dorothea Elizabeth Stiegel in the Free Imperial City of Cologne. He emigrated to British North America in 1750 with his mother and younger brother, Anthony as his father and other siblings had died. The Stiegel's sailed on the ship Nancy and arrived in Philadelphia, Pennsylvania on August 31, 1750.
After arriving, Stiegel took a job at the busy wharves of Philadelphia with Charles and Alexander Stedman, most likely as a clerk or bookkeeper. The Stedmans were prominent English ship-faring merchants and port agents who years before had escaped persecution in Scotland after a failed attempt to support a retaking of the Crown.
In 1752, Stiegel moved to what is now Lancaster County, Pennsylvania to work with Jacob Huber, an ironworker. He married Huber's daughter, eighteen-year-old Elizabeth, the same year. The couple had two daughters, Barbara, born in 1756, and Elizabeth born in 1758. Elizabeth Huber Stiegel died on February 13, 1758, only ten days after giving birth to their second daughter. Stiegel married his second wife, Elizabeth Holtz, within a year. They had a son named Jacob.
When Jacob Huber retired in 1758, Stiegel and several business partners from Philadelphia assumed ownership and operation of Huber's foundry and renamed it, Elizabeth Furnace, in honor of his wife. They made kettles, pans, and sugar boiling equipment. Stiegel later purchased another forge in Berks County near Lancaster called the Tulpehocken Eisenhammer to support the operations at Elizabeth Furnace. He called the place Charming Forge.
Stiegel next turned his attention to the glass-making industry. At the time, the majority of glassware was imported to the colonies and priced so high that it was considered a luxury item. After a trial period of glass blowing at Elizabeth Furnace, Stiegel founded the American Flint Glass Manufactory near Manheim, Pennsylvania in 1763. Initially, the firm made utilitarian bottles and window glass. He enlarged the plant several times and hired skilled workmen from the European glassmaking centers, which contributed materially to the quality and variety of tableware and chemical ware manufactured at the works. Later, the factory produced blown glass tableware, including wine glasses, cream pitchers, salt dishes, pocket bottles, and sugar bowls all in vibrant blue, green, and purple colors. Extensive newspaper advertising brought increased patronage from the cities of Philadelphia, New York, and Boston and from nearby towns in Pennsylvania as his glass was now equal to that imported from Europe. He now was very successful in glassmaking and the iron industry. At some point thereafter, Stiegel was dubbed "Baron" and the title has persisted, and even to this day he is spoken of and written of, as Baron Von Stiegel.
An active Lutheran and associate of Henry Melchior Muhlenberg, Stiegel donated the land on which the Lutheran church in Manheim, Pennsylvania is now built. Stiegel was also a founding member of the German Society of Pennsylvania, formed in 1764 to aid newly arrived German immigrants. He led the fundraising efforts to secure the plot of land on which the Society's first building was eventually erected. Stiegel's wealth provided him with the means to construct a brick mansion in Manheim and furnish it with a lavish interior. He held Lutheran services on the second-floor chapel. Imported Delft tiles, depicting various Biblical scenes, surrounded the fireplace. Two large painted wall-hangings, which featured a hunting party on horseback, graced the ballroom walls. He loved music and purchased several instruments including a harpsichord. His loyal employees played the instruments for their master's enjoyment upon a roof-top balcony. According to folklore, Stiegel erected a tower and placed a cannon on top. The cannon was supposedly fired to welcome him home after extended periods of travel.
Economic conditions were uncertain after the French and Indian War and the British colonies were growing restless. Stiegel acquired large amounts of real estate surrounding his home, glass factory, and iron furnace, totaling over 14,000 acres in all. This, combined with his lavish lifestyle, meant he was unable to repay his partners and investors. Selling his property and possessions was not enough and he was ultimately thrown into debtor's prison in late 1774. Released by an order of the Colonial Assembly, Stiegel relied upon his relatives for support and worked as the bookkeeper at Elizabeth Furnace, then owned by his nephew, and later as a school teacher. Henry William Stiegel was never able to recover from his indebtedness and died a pauper on January 10, 1785. In 1934, the Lancaster County Historical Society erected a memorial to Stiegel in Manheim, Pennsylvania.
Primary Image: Pattern Molded Stiegel-Type Footed Bowl imaged on location by Alan DeMaison, FOHBC Virtual Museum Midwest Studio
Support: Auction Lot 18: Pattern Molded Covered Sugar Bowl, fifteen diamond pattern, probably Stiegel's American Flint Glass Manufactory, Manheim, Pennsylvania, 1763-1774. Double ogee form bowl with galleried rim, applied solid circular foot, matching cover with applied swirled finial, medium to deep cobalt blue, tooled rim – pontil scar, ht. with cover 6 5/8 inches, greatest dia. 4 3/4 inches. Similar in form and construction to McK plate 52, #1. A wonderful piece of American-blown tableware. Beautiful rich color. An unusual form for this type of bowl! Fine condition. – Norman Heckler Jr. & Sr., Norman C. Heckler & Company, Auction #177
Support: Auction Lot 620: Diamond open sugar bowl. Stiegel type. Manheim Pennsylvania, circa 1770. H 3-5/8″ D 4″. Condition: Fine original condition. Fred Giampietro – New Haven Auctions, The Americana Collection of David Good Part 2, January 09, 2022
Support: Auction Lot 415: Late 18th c pattern molded Stiegel type expanded diamond pattern master salt, deep cobalt blue, open pontil, ht 2 1/2", dia 2 1/2", Dr. Oliver Eastman collection, #304 Garth's auction May 27, 1967, ex Bough collection, undamaged – Early American Glass, Americana and Fine Arts By Duane Merrill and Co., September 4, 2016 – September 5, 2016
Support: Reference to American Glass by George S. and Helen McKearin, Crown Publishers Inc., New York, 1989.
Support: Reference to American Bottles and Flasks and Their Ancestry by Helen McKearin and Kenneth M. Wilson, Crown Publishers, New York, 1978.
Support: Reference to History of Manheim and "Baron" Henry William Stiegel, Manheim Historical Society
Support: Reference to Henry William Stiegel – Ironmaster and Glass Maker by Valerie Seiber
Join the FOHBC: The Virtual Museum is a project of the Federation of Historical Bottle Collectors (FOHBC). To become a member.