Old Woodburn Whiskey
Old Woodburn Whiskey
M R C & Co. (Monogram )
N. Van Bergen & Co.
Agents
San Francisco

Nicholas Van Bergen, San Francisco, California
Red Amber Fifth
Provenance: Ken Schwartz Collection
Old Woodburn Whiskey is one of the most desirable of the early western whiskey bottles. It was produced in the mid-1870s with only three specimens known. The bottle ranked high in the Best of the West list at the FOHBC 2016 Sacramento National Antique Bottle Convention & Expo. You can read the Souvenir Program and see the list within.
Old Woodburn Whiskey bottles when found, are in shades of red amber with an applied top and are very crude. It is remarkable because the bottle lettering is in a serif typestyle which is pretty rare. As noted above, three examples are confirmed to exist in collections. John L. Thomas, in Whiskey Bottles of the Old West, wrote that one example was dug in southern Oregon, a second in Belleville, Nevada, and the third, along with broken pieces of another, in San Jose, California.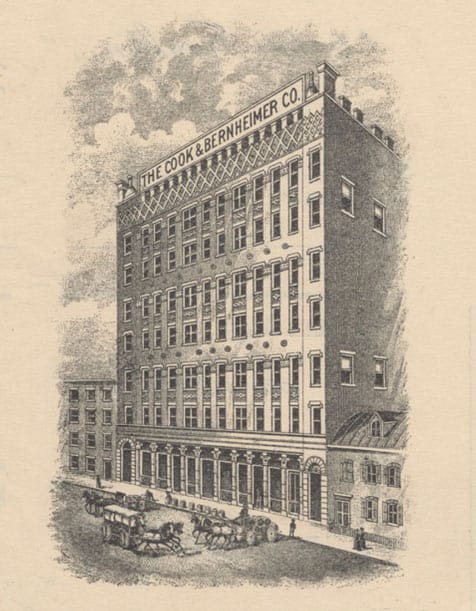 The Old Woodburn brand was recorded to M. R. Cook in August 1870, of Cook & Bernheimer Company of New York. This is his monogram on the bottle. Cook & Bernheimer were New York wholesalers who distributed their brands throughout the United States, including the west coast. Branch offices were located in Chicago and Cincinnati, among other locations. There was even a branch office in London. They were in business from 1863 to 1917. 
John Van Bergen 
John Van Bergen is first noted in Sacramento, California, in 1850. By 1851, he was selling liquors, merchandise, and provisions with his partner Allrich Scheper in San Francisco. Scheper left the firm in 1858 and returned to New York, where he died in 1866. John Van Bergen returned to his old home of New York in May of 1858 but came back to San Francisco in November 1859 and created a new company named John Van Bergen & Co., which included his brother Nicholas and Henry Voorman.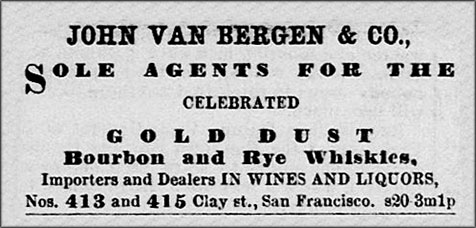 With the removal of Voorman in 1865, a new partnership was formed which consisted only of brothers John and Nicholas Van Bergen, still under the banner of John Van Bergen & Co. In 1868, John Van Bergen & Co. purchased the wholesale wine and liquor business of Taylor & Bendel of San Francisco. Taylor & Bendel kept its grocery business as well as the agency for Dr. Hufeland's Swiss Stomach Bitters. Van Bergen later purchased the bitters brand. The business continued under the partnership of the two Van Bergen brothers until 1874 when John sold his interest to his brother, and it became N. Van Bergen & Co.
Although the Old Woodburn brand was an early one, the Van Bergen Company only began to offer it to the west coast trade starting in 1874, when Nicholas took over control of the company. The brand evidently did not go over, as the bottle is extremely rare and therefore could have only been produced for one or two years.
Nicholas Van Bergen
Nicholas Van Bergen was born on August 24, 1821, in Germany and came from New York to San Francisco in 1856. He died a wealthy man on November 10, 1898. Besides being a successful wholesale liquor dealer, he was connected with other large firms and was the director of First National Bank and German Savings & Loan Society.
Note: A young Edward A. Kolb first worked at Kohler & Van Bergen in San Francisco. Kolb is known for a few great bottles such as Nonpareil and Old Tom Parker, both in our museum.
Primary Image: Old Woodburn Whiskey bottle imaged on location by the FOHBC Virtual Museum midwest studio led by Alan DeMaison.
Secondary image: Old Woodburn Whiskey – Anonymous collection
Support: See the related Barkhouse Bros. & Co. Gold Dust Kentucky Bourbon in the museum on an adjacent shelf.
Support: Reference to Whiskey Bottles of the Old West by John L. Thomas, 2002
Support: Research by FOHBC Western Region Director, Eric McGuire.
Support: Reference to George Carragan, the Money Man of Cook & Bernheimer by Jack Sullivan at Those Pre-Pro Whiskey Men!