Class of 1846 W Patent Dylttville Glass Works Phila
Class of 1846
W
Patent
Dyottville Glass Works Phila
Probably the McClellan Family, Philadelphia, Pennsylvania
Yellow Olive Spirits or Wine Bottle
Provenance: Chip Cable Collection
The "Class of 1846" bottle tells a fascinating story that was well-researched and recounted in FOHBC archives. The tale involves and touches upon the West Point Military Academy, our country's early Mexican and Indian Wars, our greatest Civil War generals, President Abraham Lincoln, Philadelphia and Point Isabel, Texas, a great American glassworks, and a "Fandango," to name a few.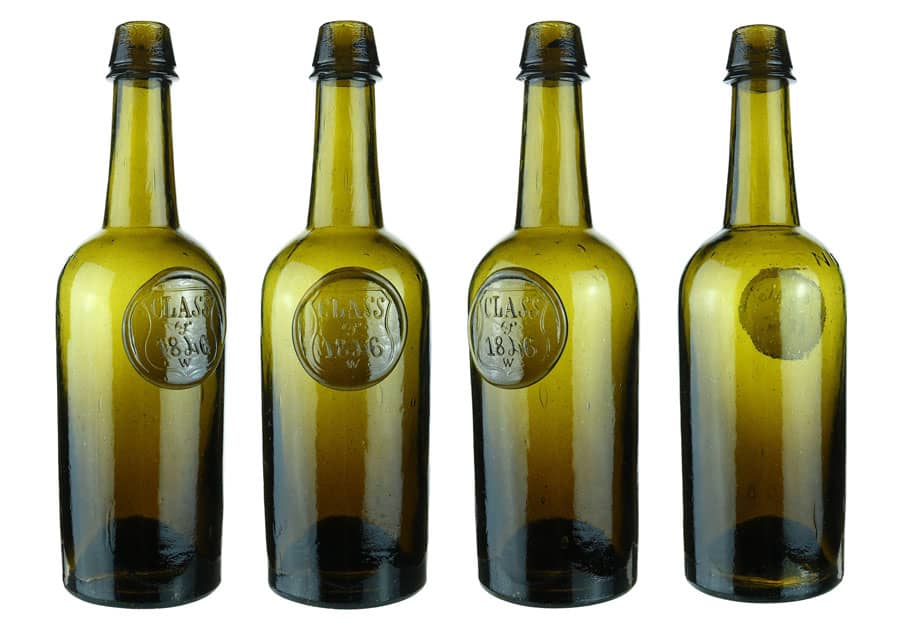 The applied seal spirits or wine bottle is embossed 'CLASS OF 1846' in a decorative, almost lyrical, thin serif typestyle, set within an outline of a shield all within a thick round-bordered face applied seal. The serifed letter 'W' is positioned beneath the "1846" copy within the shield. The word 'PATENT' is embossed horizontally on the rounded bottle shoulder in a serif typestyle. The yellow-olive bottle is 11 7/8 inches tall and was blown in a two-part mold. There is an applied double-tapered collar or mouth on a graceful tapered neck. The base is embossed 'DYOTTVILLE GLASS WORKS PHILA' in a sans serif typestyle around an iron pontil. The "A" of "PHILA" is raised and smaller. The bottle is in outstanding condition.
The United States Military Academy West Point Class of 1846 was the largest in Academy's history and, historically, the most famous. In 1842, 122 cadets were accepted. In 1846, 59 graduated. From this Class came 22 Civil War Generals; 12 Union and 10 Confederate. Commander of the Army of the Potomac George B. McClellan, Confederate General Thomas "Stonewall" Jackson, and Confederate General George E. Pickett are the top three household names of the West Point Class of 1846.
In October 1846, just three months after graduation, 53 of the 59 class members were ordered to the southernmost tip of Texas. In what was then known as Point Isabel (now called Port Isabel), General Zachary Taylor and his men were encamped. Having just begun, the Mexican War loomed largely on all attendees. After the victory, next came the Indian Wars. But it was the soul-testing Civil War, in which, unbeknownst to them at that time, these classmates would choose sides, take up arms, and fight each other. From the first shots fired on Fort Sumter in 1861, they would endure the bloody battles and heartbreak for four long years until their poignant reunion on the courthouse steps at Appomattox.
Under this canopy, it is believed that a bottle was commissioned by the McClellan family in Philadelphia to commemorate this historic Class of 1846. The bottles were ordered from Dyottville Glass Works in Philadelphia in the late spring of 1846. Graduation was on June 12th. The wealthy and socially prominent McClellan family lived on Spruce Street in Philadelphia. George B. McClellan, son of the prominent surgeon Dr. George McClellan, had graduated second in his Class after a rather dismal start. There was every reason to have a celebration party. One can easily imagine George's father riding his carriage over sunny cobblestone streets to Dyottville, by the Delaware River, to order the bottles for his son's graduation party.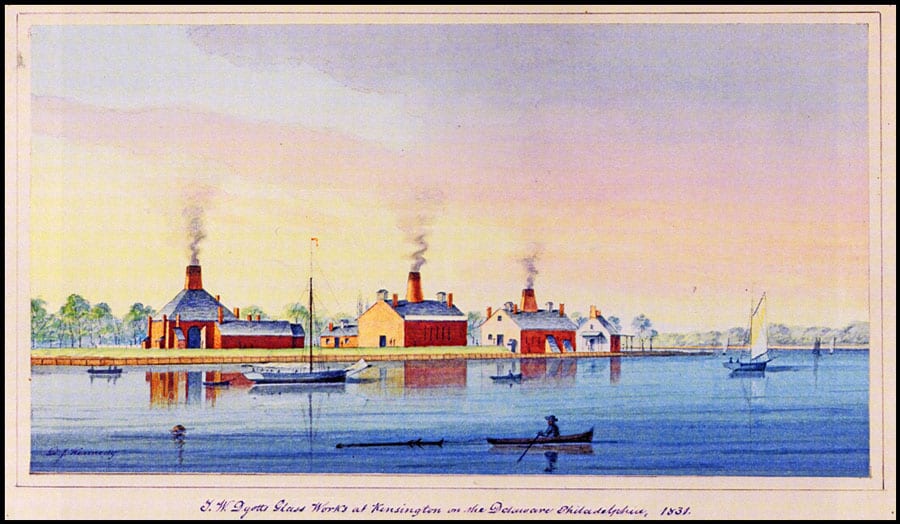 Thomas W. Dyott was the American patent-medicine king, glassmaker, temperance advocate, and reformer. Born in England in 1771, Dyott started out as a druggist's apprentice in London and came to America arriving in Philadelphia in the 1790s. He was close to penniless and rented a basement room where by day he polished shoes and by night manufactured shoeblack. In 1807, Dyott opened a drugstore, added "M.D." to his name, and soon became the largest dealer of what he called 'Family Medicines' in the country. In 1833, Thomas Dyott purchased the Kensington Glass Works in Philadelphia, where he eventually employed 400 workers to make the bottles for his many medicines. This eventually was renamed Dyott or Dyottville Glass Works.
The reason Dr. McClellan asked for an applied seal on the Dyott-made "Class of 1846" bottles rather than embossing had everything to do with practicality. Making a mold would take time, whereas making the bottles with an applied seal could be done as quickly as making the bottles themselves. Most importantly, he must have surmised it made little sense to have an expensive mold made for just a one-time production. Unfortunately, Dr. George McClellan died a year later, in May 1847, due to a perforation in his small intestine. He was a brilliant surgeon who not only founded the Jefferson Medical College; he was the first to advocate teaching medical students by having them observe experienced doctors treating patients.
Through networking and research, It is thought that only a dozen or so "Class of 1846" examples reside in collections, and it is unknown how many of the bottles were ordered. It is improbable that all 59 class members attended the graduation party. A McClellan family party with classmates who were able to attend, relatives, and close friends, and Philadelphia society seems most likely and would put the number close to 250, but that is only a guess.
Looking back at the Mexican American War, especially the Port Isabel location where the Class was first ordered in 1846, there is a surprising connection. Even if just a coincidence, it is a concrete one. A "Class of 1846" bottle in the southernmost tip of Texas turned up in the late 1980s. A glass collector, now deceased, sold an example to an owner of one of the most prominent collections of Mexican American War artifacts. The bottle was sold as a West Point bottle and is currently displayed as a centerpiece in the Port Isabel Museum collection. The museum stands on the grounds where General Zachary Taylor and his men camped in 1846. Did a class member who attended the McClellan graduation party bring out his gift at a "Fandango" that was held at Point Isabel?
For more information on the bottle, the generals, our president at the time, the story locations, in-depth research leading to West Point, the "W" monogram, and side comments, read the July–August 2014 issue of Bottles and Extras, p38-45.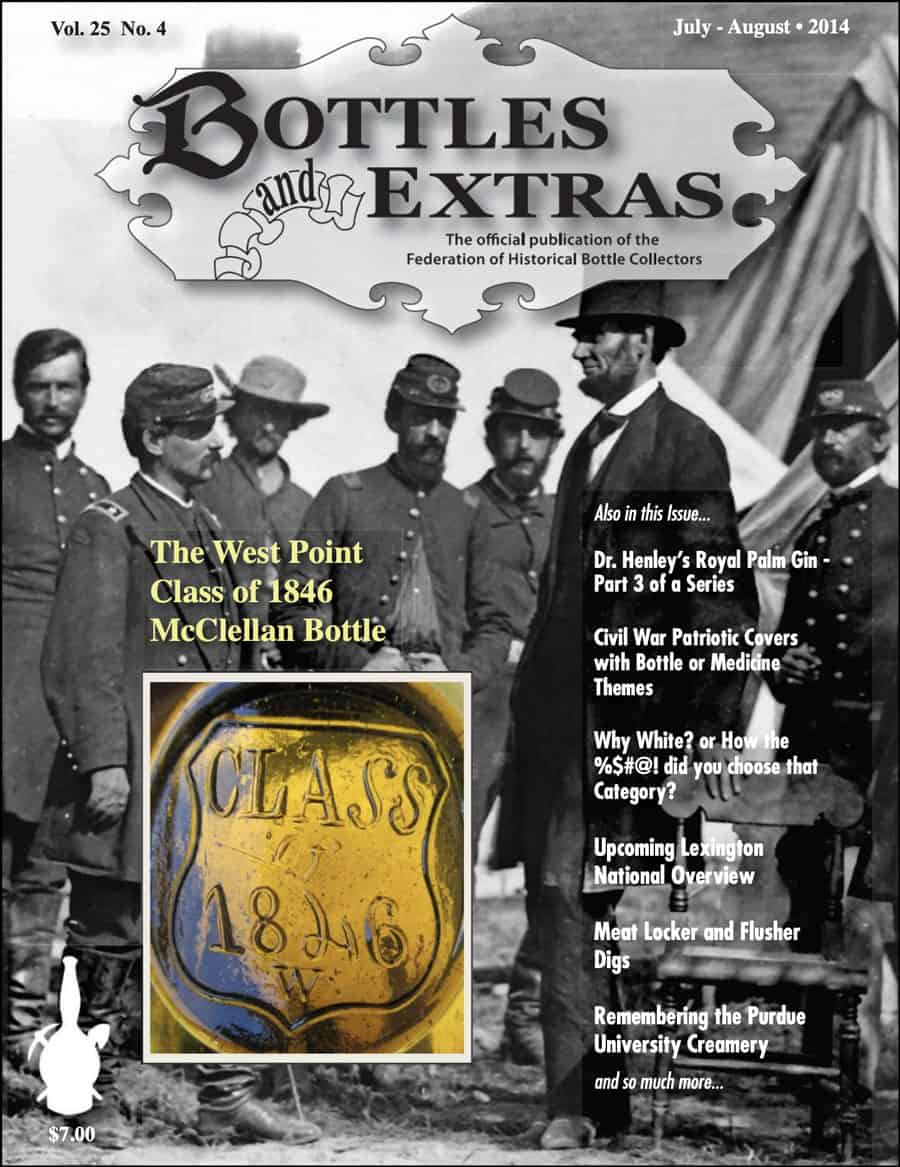 Primary Image: "Class of 1846" yellow olive seal bottle imaged on location by Alan DeMaison, FOHBC Virtual Museum Midwest Studio.
Support: Primary reference to The West Point Class of 1846 McClellan Bottle by Eric Richter, FOHBC Bottles and Extras, July–August 2014.
Support: Reference Class of 1846 – West Point Bottle, Ferdinand Meyer V, Peachridgeglass.com, September 25, 2012.
Support Image: Black Glass Seal Bottle, "CLASS / OF / 1846 / W" (inside an embossed shield on applied seal) – "PATENT" (on shoulder), American, ca. 1846, yellowish olive green, 11 1/8"h, "DYOTTVILLE GLASS WORKS PHILA" embossed on iron pontiled base, applied tapered double collar mouth and seal. A flat 1/8" chip is off the underside of the collar at the neck, otherwise perfect. – Jim Hagenbuch, Glass Works Auctions, Auction #96
Join the FOHBC: The Virtual Museum is a project of the Federation of Historical Bottle Collectors (FOHBC). To become a member.