GII-58 Eagle – Cornucopia Flask
GII – 58
Eagle – Cornucopia Flask

Attributed to Pitkin Glass Works
East Hartford, Connecticut
Yellow Olive Half Pint
Provenance: Anonymous
The half-pint GII-58 Eagle – Cornucopia flask is an important and extremely rare flask attributed to the Pitkin Glass Works that was located in Orford Parish of East Hartford, Connecticut. For most of its active existence, the Pitkin Glass Works was located in East Hartford until it became part of Manchester in 1823 when Manchester incorporated to become a separate town. This flask is early and was made from 1815 to 1828 or so.
The larger GII-57 pint flask is a twin in design except that it has embossed lettering on both sides of the flask. See the museum example of an olive green wide-mouth GII-57 "J.P.F." Eagle – Cornucopis "Conn" pint.
The obverse side of the Eagle – Cornucopia flask has a crude embossed American eagle with its head erect and turned to the right on what is considered the primary face of the flask. Above the eagle are thirteen small five-pointed stars in two arcs, four placed over nine. The large breast shield has six verticle bars. There are three arrows or thunderbolts in the left talon and a large olive branch in the right talon. The tail of the eagle is visible pointing straight down from the bottom point of the shield. The olive branch extends below the tail.
The reverse side of the flask displays a large embossed cornucopia filled with produce and coiled to the left.
The flask neck has three continuous horizontal ribs around the flask. The bottom of the flask has two continuous horizontal ribs that extend to both sides and the edges. The pint flask has a plain lip and pontil mark. The flask edges are corrugated horizontally with the corrugations extending around the flask at the base and juncture of the neck. Known glass colors are yellow-olive, light yellow-olive, and olive amber.
The Pitkin Glass Works 1783-1830

Connecticut's first successful glassworks was known initially as the East Hartford Glass Works. It was formed by William Pitkin, his cousin Elisha Pitkin and Samuel Bishop in 1783 on the Pitkin farm. The trio was granted a 25-year exclusive privilege from the Connecticut General Assembly to manufacture all types of glass as recompense for their providing gun powder, at a loss, to the Connecticut militia during the American Revolutionary War. The Pitkin family was large, old, and influential and had many landholdings and business ties with glass, guns, gunpowder, textiles, flour, iron, silver, tobacco, and snuff.
Two names of former Pitkin superintendents and managers are Robert Hewes from the New England Glass Works in Temple, New Hampshire, and John P. Foster, whose initials are embossed and appear on an inkwell and the figured GII-57 "J.P.F." Eagle – Cornucopia and "Conn" flask. The glassworks has always been considered a bottle glasshouse of which commercial products blown there consisted of chestnuts, demijohns for the West Indian trade, utilities, snuffs, globular bottles, and tableware like pitchers, creamers, bowls, and pans. The most popular and recognizable wares were the inkwells and molded flasks blown in the German half-post method consisting of ribs and swirls. The figured and sunburst flasks are all prized by collectors which include some extreme rarities. Window glass and clock faces were also manufactured at Pitkin in the early years.
Pitkin products were considered to be the best color and design in the country. The Pitkin glass colors are yellow-amber, olive-amber, olive-yellow, yellow-olive, olive-green, yellow-green, and a bluish to deep green. These are the New England "earthy" tones and were basically carried on in future Connecticut glasshouses.
Pitkin Glass Works remained in operation until about 1830 as they ran into financial difficulties. Several lotteries were held to raise additional funds, but the endeavor failed and the doors had to close.
The site containing the romantic ruins of the glassworks is owned and managed by Pitkin Glass Works Inc. and professional excavations are conducted there on a regular basis. Some examples of Pitkin glass are on display at the Old Manchester Museum in Manchester, Connecticut.

An article from the Manchester Historical Society's website on the Pitkin Glassworks describes the glassworks as it exists today with links to an article on an archaeological excavation undertaken there in 2012.
Support Primary Image: Example of the half-pint GII-58 imaged by the FOHBC Virtual Museum midwest studio by Alan DeMaison.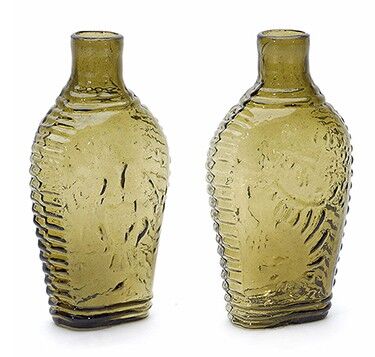 Support Secondary image: Auction Lot 70 [above]: Eagle – Cornucopia Historical Flask, Pitkin Glass Works, Manchester, Connecticut, 1815-1830. Light yellow olive, sheared mouth – pontil scar, half-pint. GII-58. A rare and important flask. Brilliant and beautiful color. Fine condition. Estimate: $15,000 – $30,000 Minimum bid: $7,500. Price Realized: $39,780. Norman C. Heckler Auction 100, The Warren C. Lane, Jr., Esquire Collection of Historical Flasks, September 2012
Support Secondary image: Auction Lot 55: Eagle – Cornucopia Historical Flask, probably Pitkin Glass Works, Manchester, Connecticut, 1815-1830. Brilliant light yellow olive, sheared mouth – pontil scar, half pint; (light exterior high point wear). GII-58. An extremely rare early American flask. Fine condition. – Norman Heckler, Norman C. Heckler & Company, Auction #187
Support Secondary image: Auction Lot 42: Eagle – Cornucopia Historical Flask, Pitkin Glass Works, Manchester, Connecticut, 1815-1830. Brilliant yellow olive, sheared mouth – pontil scar, half pint; (1/4 inch manufacturer's fissure in a lower corrugated rib). GII-58 Strong embossing, interesting crude Eagle and Cornucopia motifs, fine Pitkin flask, good color. Ex Sam Laidacker, ex Edmund and Jayne Blaske collection #378, Warren "Bud" Lane collection. – Norman Heckler, Norman C. Heckler & Company, Auction #100
Support Secondary image: GII-58 – Olive amber glass; mold-blown; plain lip, pontil mark. Obverse: American Eagle, rather crudely depicted, head held erect and turned to right. Shield with six bars on breast; wings partly raised, legs bent at right angles. Thunderbolt (three arrows) in eagle's right talons, large olive branch in left. Lower part of branch extends below tail which is straight downward from point of shield. Above eagle thirteen small five-pointed stars. Reverse: large cornucopia coiled to left and filled with produce. Edges: corrugated horizontally, corrugations extend around flask at base and juncture of neck and body. – Corning Museum of Glass
Support Secondary Image: EAGLE – CORNUCOPIA Historical Flask, Pitkin Glass Works, Manchester, CT, 1815 – 1830. Beautiful, light yellowish olive coloration, sheared mouth, blowpipe pontil scar, ½ Pt, virtually perfect; (a little in-manufacture glass extrusion at the mold seam, mentioned for completeness, not considered damage). GII-58. An extremely rare and important, early New England flask, almost no wear, nice light color. McKearin – Most Desirable Flasks, Group A, #6. Provenance: Fred Swiechowicz collection. A very historical, top New England flask. Very few collections will have this important mold. Originally purchased from Oliver Auctions, Kennebunk, ME, in the early 90's, and has been in Fred's collection for the past 30+ years! – John Pastor, American Glass Gallery, Auction #34
Support: Reference to The Museum of Connecticut Glass description of Pitkin Glass Works.
Support: Reference to American Bottles and Flasks and Their Ancestry by Helen McKearin and Kenneth M. Wilson, Crown Publishers Inc., New York, 1978.
Read More: Looking at Six Gorgeous Historical Flasks in the Heckler 100 Auction
Join the FOHBC: The Virtual Museum is a project of the Federation of Historical Bottle Collectors (FOHBC). To become a member.