E.E. Sage & Co. – Chicago
E. E. Sage & Co,
Glass Manufacturers.
Chicago, Illinois.
Patented August 21st
1877.

Edwin E. Sage, Chicago, Illinois
Golden Amber Target Ball
Provenance: Ex: Ralph Finch Collection, American Glass Gallery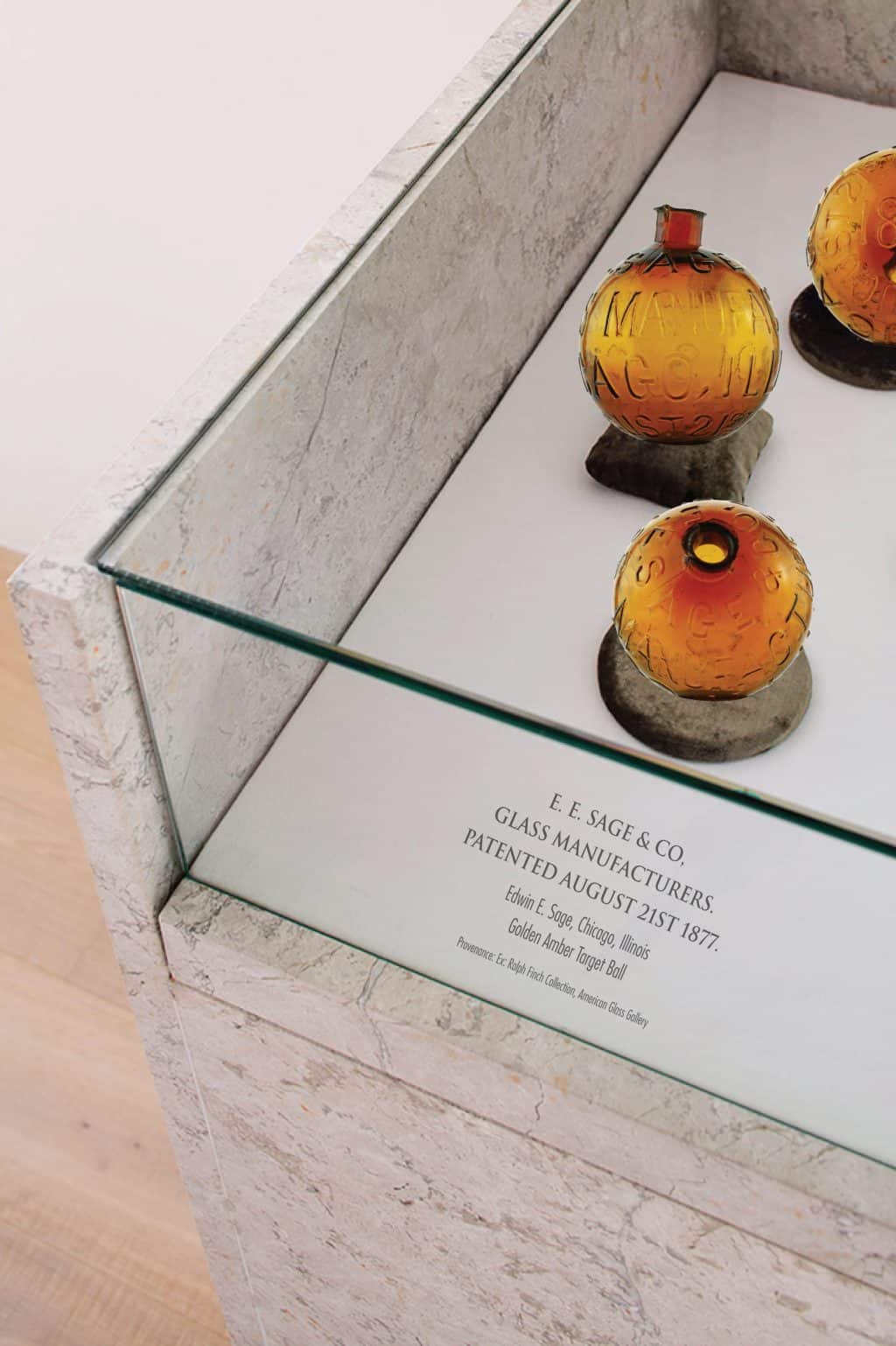 Here is a typographer's dream advertising ball as there is pronounced embossed copy on the entire face of the glass target ball.
Starting at the top and reading down, in five lines and sizes of type, is embossed copy reading, 'E.E. SAGE & CO,' (top line) 'GLASS MANUFACTURERS.' (second line) 'CHICAGO, ILLINOIS.' (third line), 'PATENTED AUGUST 21ST' (fourth line) and '1877.' (fifth line across the bottom).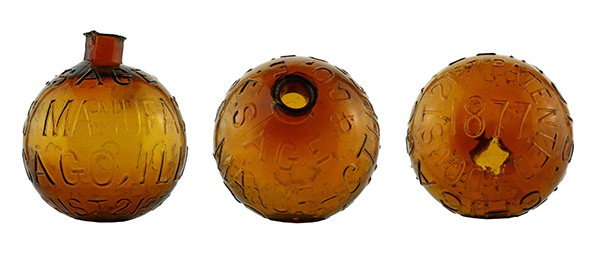 It is an extremely rare target ball that can be found in three variants. One variant has embossed copy that reads top to bottom with the mouth pointed up (similar to our museum example), another variant reads with the mouth down, so the copy starts at the bottom if inverted. It was probably made in 1877 only which would attest to there being only six or so known examples in collections. These examples have been reported in blue and amber glass.
Our impressive golden amber target ball was made in a 3-piece mold and has a short neck and a rough sheared mouth. It is in perfect condition.
Edwin E. Sage
Edwin E. Sage was born in Waukegan, Lake County, Illinois on November 21, 1845. His father was Harley Sage and his mother was named Elenor. They were both born in New York. When Edwin was 14 years old he was being raised by George and Helen Farnsworth in Buckeye, Stephenson, Illinois according to an 1860 census report. His parents had moved to South Dakota probably leaving Edwin to learn a trade and start off in a city like Chicago where there was more opportunity.
We first see a listing for Edwin in 1865 when he was a 20-year-old sheet metal worker boarding at 72 Hasted in Chicago, Illinois. By 1869, he is a glass cutter at Heath & Milligan boarding at 342 Fulton.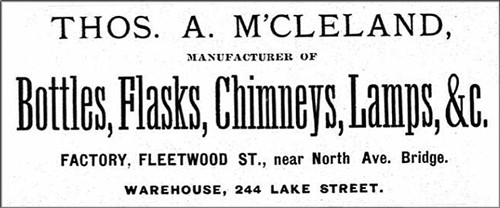 In the mid-1870s, Sage would partner with Thomas A. M'Cleland as M'Cleland & Sage. Their glass business would fail and fold in September 1876 with unsecured debts of $95,823.22. Any assets were assigned to three gentlemen in Pittsburgh for bankruptcy proceedings for the benefit of their creditors. M'Cleland himself personally owed $10,493.76, all unsecured. His assets comprised of a stock of bottles worth $2,333.64 located at their store on 244 Lake Street. Edwin E. Sage, fortunately, had neither debts nor property.
Edwin E. Sage would start afresh as E. E. Sage & Co. at nos. 200 and 202 Randolph Street. In 1877, he would expand and move to 195 Washington Street in the same neighborhood in downtown Chicago. Sage would remain at that address through most of 1878. Advertising stated that E. E. Sage & Co. was the leading Western dealer in window glass, bottles, corks, demijohns, jugs, flasks, fine bar goods, etc.

Sage would patent his advertising target ball on August 21st, 1877. The next year he was advertising his target balls for trap-shooting and was looking for agents to sell his "superior ball" so he was looking to expand.
By late 1878, Edwin E. Sage had left Chicago and was living and working in Sioux Falls, South Dakota. It seems as though that non-other than Captain Adam Henry Bogardus, of Elkhart, Indiana filed a bill against Edwin E. Sage to restrain him from infringing on his patent for spherical glass target balls issued on April 10, 1877. Bogardus said his glass balls were two and a half inches in diameter and were used by marksmen, being thrown from a trap to be shot at. It was claimed by Bogardus that Sage was making a similar target ball known as "E. E. Sage's advertising balls," which are advertised as the "Sage Rough Ball." Bogardus triumphed over Sage for trademark infringement. This development and declining health would close the doors for Sage in late 1878.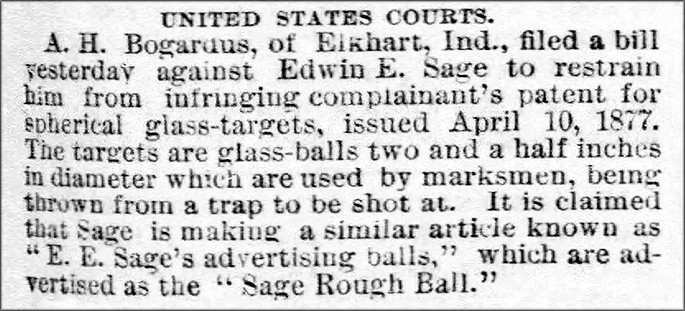 See our museum examples of a Bogardus 'D' Glass Ball Patd Apr 10th 1877 and a Bogardus Glass Ball Pat'd Apr 10 1877 target ball.
In Sioux Falls, looking to regain his health, Edwin E. Sage first served as city treasurer for three years. He then got involved with real estate with the city but again, failing strength and poor health led to his demise. Edwin died a relatively young man on November 16, 1886, in Sioux Falls, Minnehaha County, South Dakota just shy of his 41st birthday. He left a wife and two daughters and a brother and sister in Chicago.
Support Primary Image: The E. E. Sage & Co. target ball was imaged by the FOHBC Virtual Museum midwest studio by Alan DeMaison.
Support: Auction Lot 70: "E. E. SAGE & CO, / GLASS MANUFACTURERS. / CHICAGO, ILLINOIS. / PATENTED AUGUST 21ST / 1877." Target Ball, 1877 – 1885. Golden amber, 3-piece mold, short neck with rough sheared mouth, perfect! A most impressive, and extremely rare advertising target ball with large lettering embossed around the entire surface of the ball. In Ralph's years of collecting, he is aware of three different molds, and as few as six known examples. – The Ralph Finch Collection of Target Balls, Traps and Shooting Ephemera, An Absentee Auction in Six Parts – 2017-2019, John Pastor and American Glass Gallery
Support: Reference to the American Glass Gallery, The Ralph Finch Collection of Target Balls, Traps and Shooting Ephemera, An Absentee Auction in Six Parts – 2017-2019
Join the FOHBC: The Virtual Museum is a project of the Federation of Historical Bottle Collectors (FOHBC). To become a member.