GVIII-5a • Sunburst Flask
GVIII – 5a
Sunburst Flask
Possibly Pitkin Glass Works, Manchester, Connecticut
Yellow Olive Pint
Provenance: Richard S. Ciralli Collection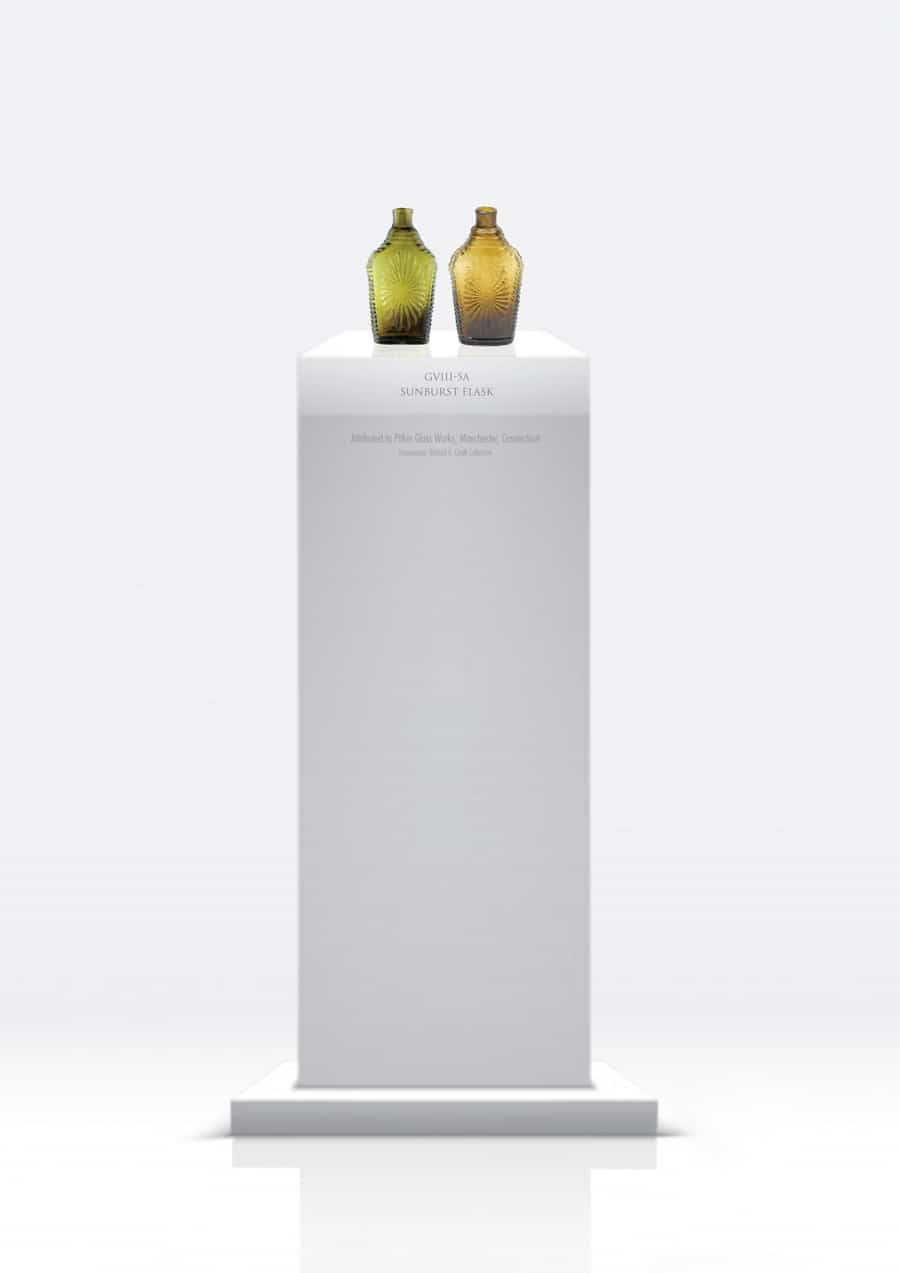 Our museum example of a crisp yellow-olive pint GVIII-5a Sunburst Flask is different from the charted GVIII-5 flask in that it is slightly larger and has two embossed concentric rings and a centered dot positioned in the center of the rays on both sides of the flask. The GVIII-5a is extremely rare as the GVIII-5 is common. The flask is attributed to the Pitkin Glass Works, in East Hartford, Connecticut. East Hartford was renamed Manchester in 1823. This flask was acquired from Jeff and Holly Noordsy years ago, who found it in Vergennes, Vermont. The woman they got it from found it in the rafters of a Bakersfield, Vermont house she was living in that was built in 1820. It would have been brought there by a Connecticut settler.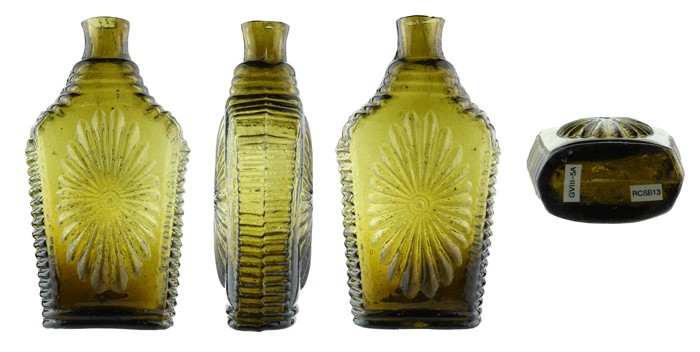 On both sides of our subject flask is a large embossed elliptical sunburst motif made up of 24 rounded rays rounding down to the surface of the flask and forming the scalloped ellipse. As noted previously, there are two dotted concentric rings enclosing a medium-sized dot in the center of the starting point of the rays. There are three neck rings and two base rings. The sides are horizontally corrugated. The 24 corrugations extend around the flask at the base and around the upper part between the neck and squared and concave shoulders. There is a plain or sheared lip and a pontil mark. The flask can be found in golden-olive amber, golden-amber, olive-amber, and yellow-olive.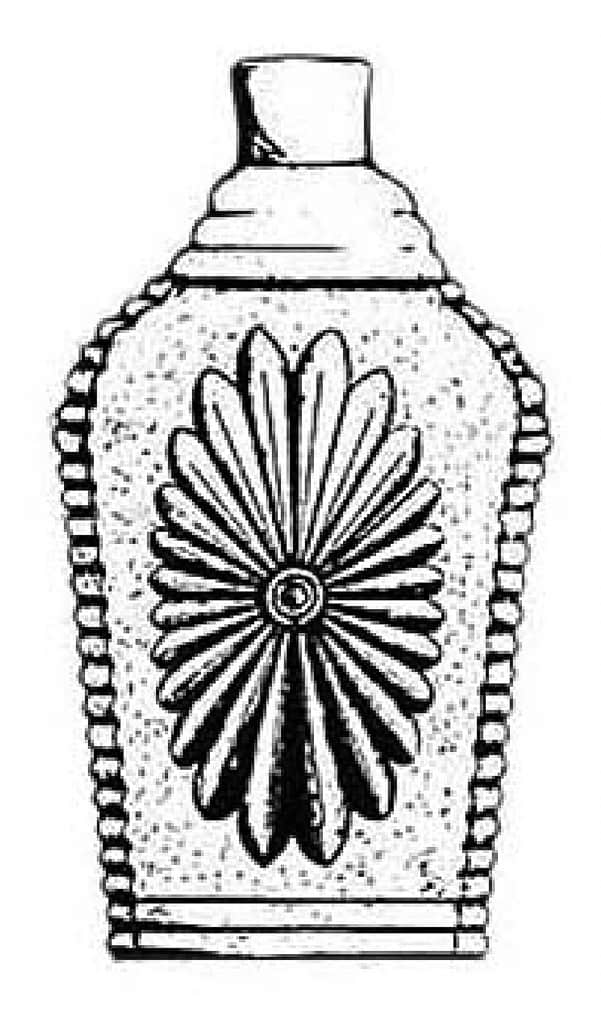 Sunbursts are considered one of the oldest of the American geometric and historical flasks and are generally attributed to the period of 1815 to the early 1830s. This dating results from historical research and the manufacturing techniques of the flasks. Sunburst Flasks are all made with two-piece molds with pontil scar bases and most having sheared mouths. Except for the letter embossing on three forms, the sunburst patterns on both sides of the sunburst flask forms are essentially identical.
With many types of antique bottles and flasks, such as bitters, sodas, and medicines, the embossed names, products and locations, advertising, and paper labels greatly simplify their historical research. Very limited historical information is available for Sunburst Flasks because they are from the early periods of the glasshouses when good records were not maintained, or destroyed in glasshouse fires. Only three of the approximately 33 Sunburst forms are letter embossed. There were no paper labels on the flasks because they were purchased without contents and then filled and refilled in bars and saloons.
Sunburst flasks were mainly blown at a number of New England glasshouses during the approximate 1815-1830 period including two in Connecticut, the Pitkin Glass Works, East Hartford, and the Coventry Glass Works, Coventry.
See the museum example of a GVIII-18 Sunburst Flask attributed to Coventry Glass Works.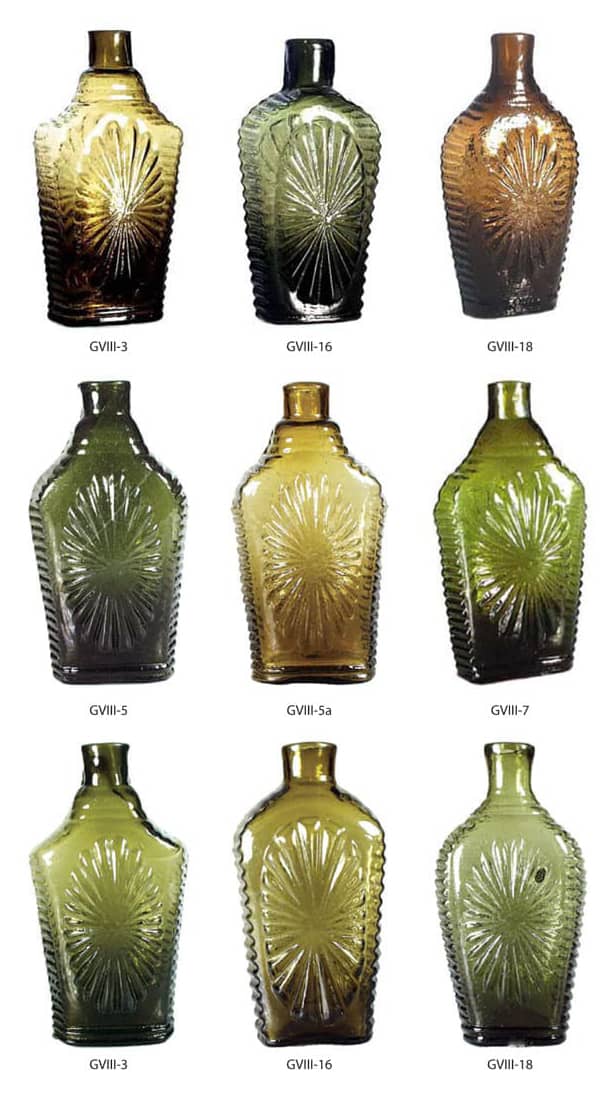 Primary Image: The GVIII-5a Sunburst Flask imaged on location by the FOHBC Virtual Museum Midwest studio led by Alan DeMaison.
Support: Reference to American Bottles and Flasks and Their Ancestry by Helen McKearin and Kenneth M. Wilson, Crown Publishers Inc., New York, 1978.
Support Image: Auction Lot 17: Sunburst Flask, probably Pitkin Glass Works, Manchester, Connecticut, 1815-1830. Bright olive amber, sheared mouth – pontil scar, pint; (light exterior high point wear). GVIII-5a An extremely rare flask in a pleasing, bright color. Fine condition. Robert and Janice Weekes collection. – Norman Heckler Jr. & Sr., Norman C. Heckler & Company, Auction #167
Support Image: Auction Lot 34: SUNBURST FLASK, possibly Pitkin Glassworks, Manchester, CT, 1815 – 1830. Bright medium olive amber, sheared mouth – blowpipe pontil scar, Pt; (some scattered light exterior wear; a minor 1/8" flake on the inside edge of the lip, and a small, partially open bubble on the interior of the neck, otherwise very near mint). GVIII-5a. A very nice example of this extremely rare Sunburst Flask, nice clarity, excellent character, and excellent overall condition. – John Pastor, American Glass Gallery, Auction #34
Support Image: Sunburst Flask GVIII-5a Olive amber glass; mold-blown; plain lip, pontil mark. Obverse: large elliptical sunburst, twenty-four rounded rays rounding downward to surface of flask, and forming scalloped ellipse; similar to GVIII-5 but slightly larger and rays do not come to a focal point but at the center is a slightly concave circle; at right and at left of sunburst is a similar concave circle. Reverse: similar to obverse but circle at centre of sunburst not as pronounced and circles at right and left missing. Edges: horizontally corrugated; corrugations extend around flask at the base and around upper part between neck and shoulders; shoulders not so sharply angled and squared. – Corning Museum of Glass
Support: Reference to The McKearin Group VIII – Sunburst Flasks, Ferdinand Meyer V, Peachridgeglass.com, May 4, 2012
Join the FOHBC: The Virtual Museum is a project of the Federation of Historical Bottle Collectors (FOHBC). To become a member.