Cadiz Jar
Cadiz Jar
PATD CADIZ JAR
1
Cadiz Glass Works, Cadiz, Ohio
Aquamarine Half Gallon
Provenance: Ron Hands Collection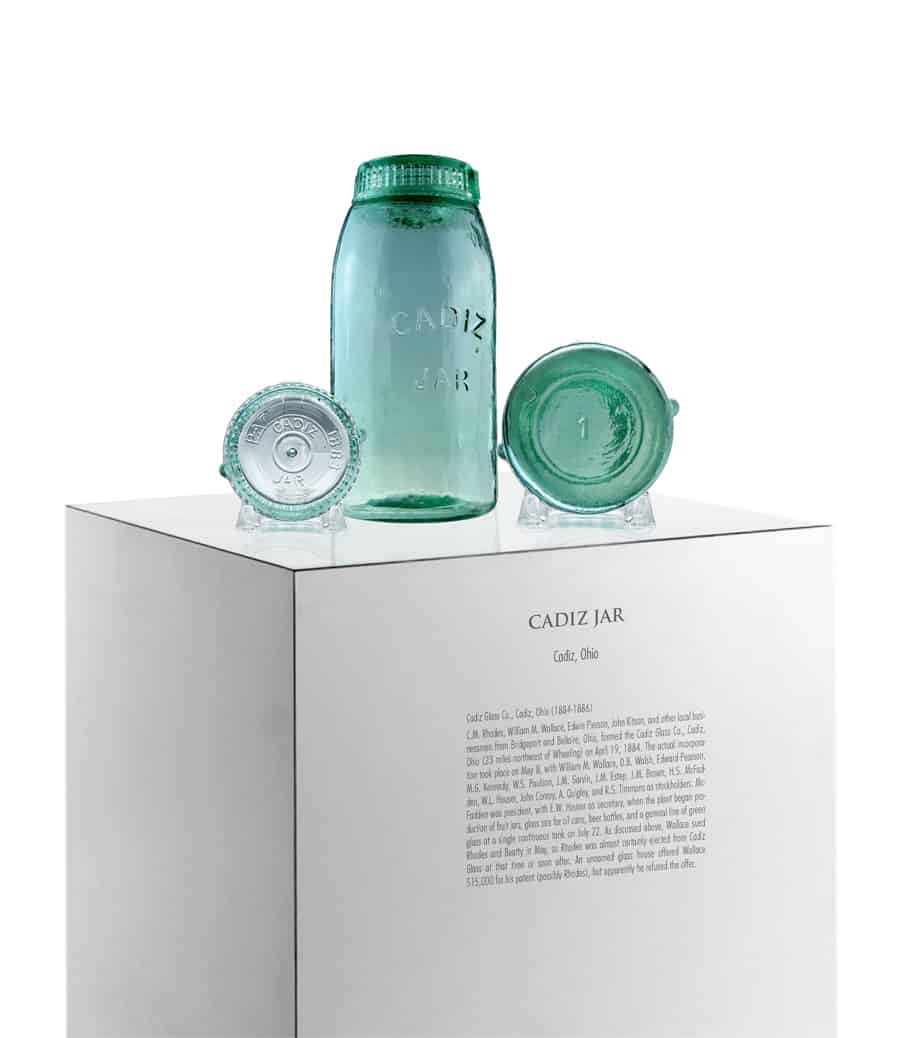 Our embossed aquamarine half-gallon "Cadiz Jar" is very rare and was made in a relatively short period of time by the Cadiz Glass Works in Cadiz, Ohio. This jar is from the late Doc Dawson Ford collection. Doc Ford was a past Ohio Bottle Club president and considered one of the chief ambassadors of the bottle hobby. He received the FOHBC Hall of Fame award in 1997. After his death, the consignor purchased the jar from his daughter at the 2011 Mansfield Ohio Antique Bottle Show.
The patentee of the Cadiz Jar was William M. Wallace of Bridgeport, Ohio. He was issued a patent on September 12, 1882, for a "Mode of Making Glass Screw Caps." On January 2, 1883, he received another patent for a " Mold for Forming Glass Screw Caps." His caps were also used for the Hoosier and Eclipse jars.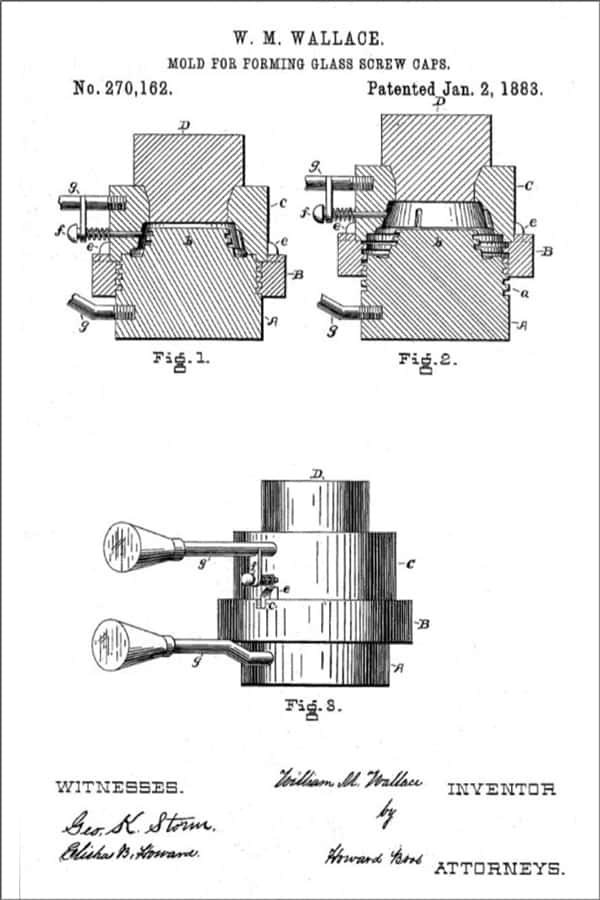 Established in 1803, Cadiz is the County Seat of Harrison County, Ohio. The town was named after Cadiz, Spain, and was laid at the junction of roads coming from Pittsburgh, and Washington, Pennsylvania. By 1846, four churches and twenty-one stores made their home in a town of 1,028 residents. Manufacturing goods and processing farm products were the main vocations of the time. Cadiz also played an important part in the Civil War as a portal in the Underground Railroad.
Our 9″ tall, rich aquamarine half-gallon specimen was hand-blown in high-quality glass and has a ground lip. The jar closure is a shoulder seal with a glass screw cap with ribbed sides that are quite attractive. The jar face is embossed in two lines with sans-serif copy reading 'CADIZ JAR.' The copy "Cadiz" is centered over "Jar" and is slightly arched down. The cap is embossed 'PATd' and 'CADIZ JAR' around a portion of the cap. The "D" is smaller, raised, and underlined. There is an embossed '1' on the base. The jar can also be found in an aqua 7-½" tall quart size with a variant embossed cap that reads, 'PATd 1883' around 'CADIZ JAR.'
Cadiz Glass Company
C. M. Rhodes, William M. Wallace, Edwin Pierson, John Kitson, and other local businessmen from Bridgeport and Bellaire, Ohio, formed the Cadiz Glass Co., on April 19, 1884. Cadiz, Ohio is 23 miles northwest of Wheeling, West Virginia. The actual incorporation took place on May 8, 1884, with William M. Wallace, D. B. Walsh, Edward Pearson, M. G. Kennedy, W. S. Paulson, J. M. Garvin, J. M. Estep, J. M. Brown, H. S. McFadden, W. L. Houser, John Conroy, A. Quigley, and R. S. Timmons as stockholders. H. S. McFadden was named President of the company, and Richard Lyons secretary and treasurer.
William M. Wallace sued C. M. Rhodes in May 1884, so Rhodes was most likely not with Cadiz Glass Co. at that time or soon after. An unnamed glass house offered Wallace $15,000 for his patent but he apparently refused the offer. The timing was odd. The company was apparently formed in reaction to a dispute between Wallace and the directors of the Ohio Valley Glass Co., yet Rhodes was one of the founding incorporators of Cadiz Glass Co.
With the formation of the company, a two-acre plot was purchased next to a railroad in Cadiz for a factory. On Thursday, May 8, 1884, the Cambridge Jeffersonian of Cambridge, Ohio, reported that "Work has been begun on the buildings for the Cadiz Glass Works. The works will be fitted for manufacturing all kinds of table hollow ware, fruit jars, etc. At the start, about sixty men and boys will be employed. It to the intention to use sand made from stone found near Cadiz."
By July 1884, the brickwork was complete and the roof work was quickly nearing completion. In September 1884, the Cadiz Glass Works began operations under favorable auspices and would have a good production run of fruit jars, glass jars for oil cans, beer bottles, and a general line of green glass at a single continuous tank. They would then shut down until February 1885 when they fired up again starting with oil cans. By March 1885, the glass factory was put on double-turn and doubled their force to make jars and bottles. One reason was that in April, the concern received an order for 1,000 gross of jars. In May 1885, Col. John Conwell was elected President, and Ellsworth W. Houser, Secretary, of the Cadiz Glass Works for the ensuing Year. The glasshouse was booming – running at its fullest capacity.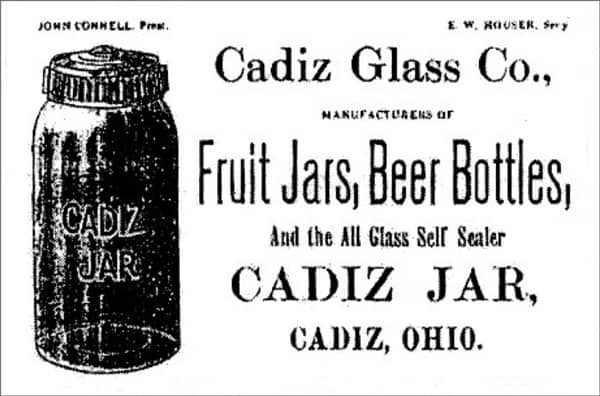 The dispute between William Wallace and the Ohio Valley Glass Co. was apparently short-lived. After a fire destroyed the Ohio Valley plant on April 1, 1885, the officers negotiated a plan to lease the Cadiz factory for one blast, apparently gaining control of the entire plant. After Ohio Valley Glass Co. resumed its own production at Bridgeport, the Cadiz factory advertised the Cadiz Jars on March 11, 1886.
In mid-July 1885, Cadiz Glass Works put out a notice in the Belmont Chronicle that they had shut down until September 1st, after a long and successful run. They also must have had some major repairs too as noted in the same newspaper on August 20, 1885. Interestingly enough, on the same date the North Wheeling Glass Works shut down for eight weeks, and a newspaper notice said the employees had gone fishing, Belmont Chronicle (Saint Clairsville, Ohio).
The Lythgoe brothers leased the Cadiz Glass Co. plant in March 1887, making fruit jars. By March 31, the brothers had apparently purchased the factory, renaming it Lythgoe Bros. The firm made jars for the Consolidated Fruit Jar Co. and other glass jobbers. They closed the Cadiz Glass Co. in July and moved to Bowling Green, Ohio.
In the Crockery & Glass Journal on Thursday, January 19, 1888, it was announced that "The glassworks at Cadiz, O., that were operated on fruit jars last season is advertised for sale or rent, but nobody seems willing to take hold of them. This is another practical illustration of what becomes of factories built solely because inducements are offered by some town to build a glass factory. There are other just as forcible illustrations in various towns in this part of the country. Practical glass workers started the Cadiz works, but failed the first year, and never since that time has anybody been able to take hold of them and make any money. Even last year, when the fruit jar trade was the cream of all the glass business, the receiver who operated the works failed to make any money and is unwilling to try it again. At Canton, Massillon, Ravenna, East Liverpool, and other towns the same kind of idle factories can be found. It requires business tact as well as practical experience to make the glass business a success."
A notice in the Paint, Oil and Drug Review, Volume 9, 1890 noted that "The Cadiz Glass Works which have been idle most of the time since they were built, nearly five years ago, have been sold to J. T. Brown and W. Houser, of the place for $24,000. The original cost was $10,000. It is understood that the new proprietors will resume operation in a short time." The factory remained idle until a sheriff's sale disposed of the works in 1896.
Primary Image: Cadiz Jar imaged on location by Alan DeMaison, FOHBC Virtual Museum Midwest Studio
Support Image: Auction Lot 310: "Cadiz / Jar / Patd 1883" Fruit Jar Lid, America, 1883-1890. Cylindrical with raised vertical lug on each side, aquamarine, ht. 1 inch, dia. 3 5/8 inches; (pinpoint flake on edge of base). This lid fits jar L #548. Brilliant glass with bold embossing. Generally fine condition. – Norman Heckler Jr. & Sr., Norman C. Heckler & Company, Auction #189
Support Image: Auction Lot 6131: CADIZ JAR PATd 1883 Half Gallon, Aquamarine, original glass screw cap, sparkling glass, edge chipping of the ground mouth, embossing: strong, Base: unmarked, Age: late 1800s, Availability: scarce and a sharp all-original example. – Greg Spurgeon, North American Glass
Support: Reference to The Ohio Valley Glass Co. and Related Firms by Bill Lockhart, Beau Schriever, Carol Serr, and Bill Lindsey
Support: Reference to the Glass Discoveries Auction March 2009 Catalogue of Scarce, Rare & Colorful Bottles – Ray and Meri Lynn Klingensmith
Support: Reference to Fruit Jar Annual 2020 – The Guide to Collecting Fruit Jars by Jerome J. McCann
Support: Reference to Red Book #11, the Collector's Guide to Old Fruit Jars by Douglas M. Leybourne, Jr.
Join the FOHBC: The Virtual Museum is a project of the Federation of Historical Bottle Collectors (FOHBC). To become a member.