John F. Snow's Victory
John F. Snow's
Victory
John F. Snow, San Francisco, California
Oval Aquamarine Hair Tonic
Provenance: Eric McGuire Collection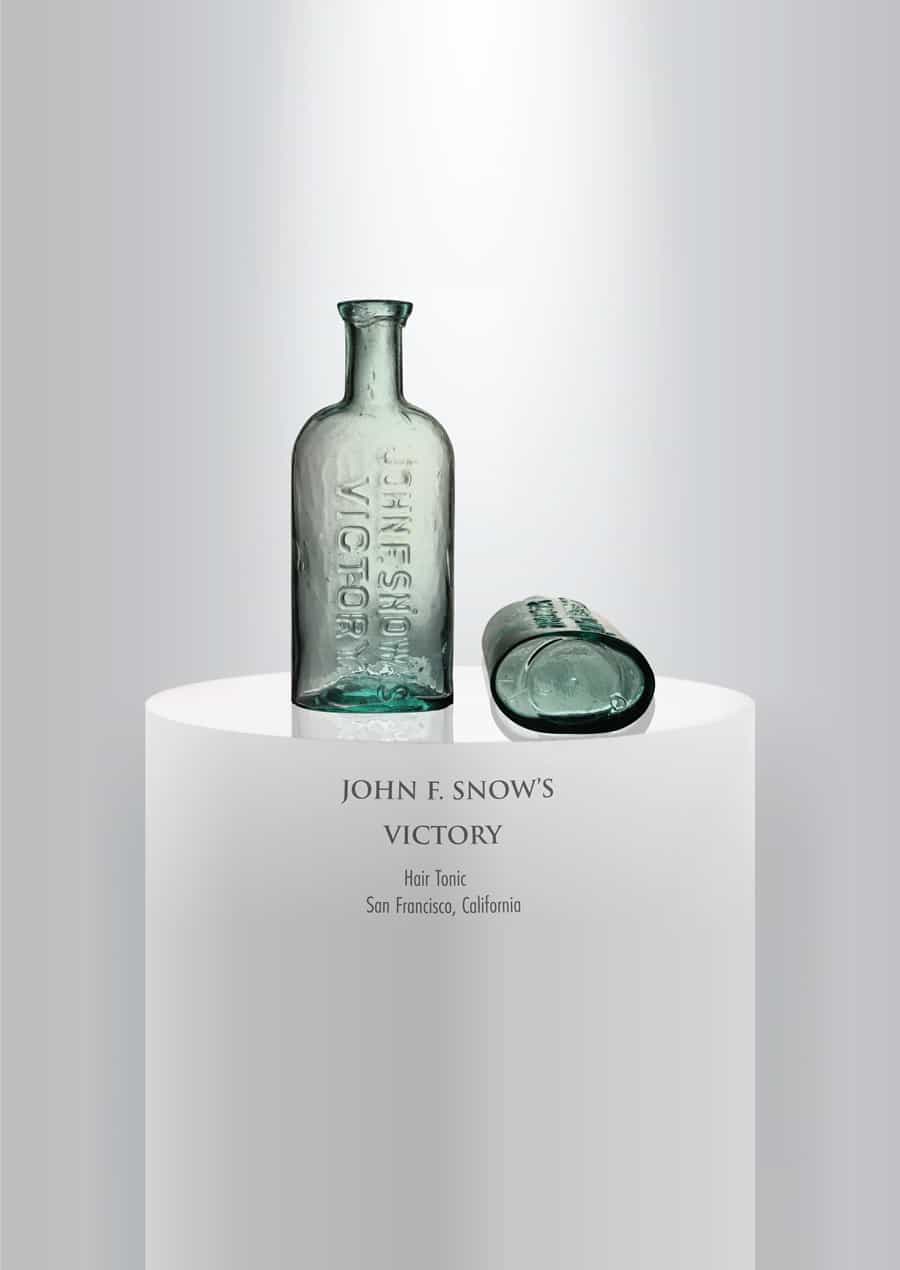 This wonderful "Snow's Victory" bottle is 6″ tall with a crude top and an early smooth base. The bottle, which probably contained a hair restorer, is considered extremely rare, with several coming from a few privies years ago in Marysville, California. Most examples and shards were aquamarine, like our museum example, while a few others were light green.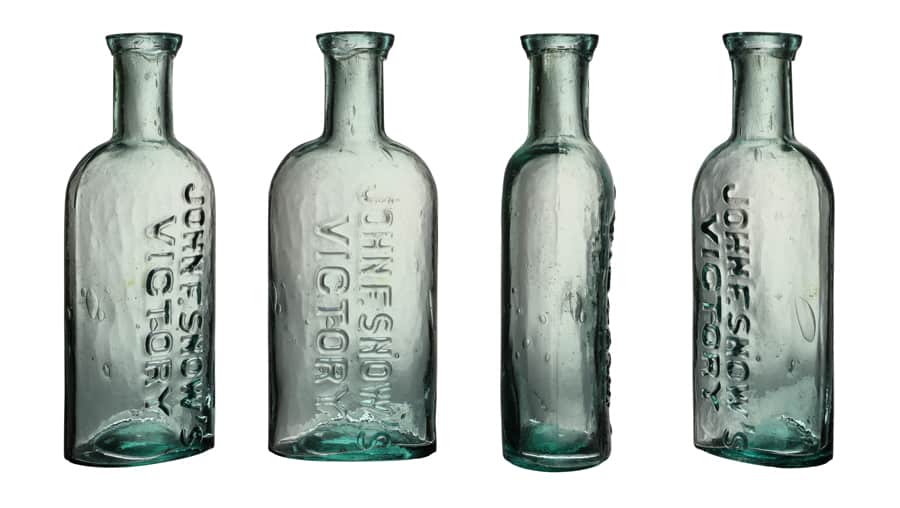 The oval aquamarine bottle is embossed shoulder to base in a pronounced sans serif type 'JOHN F. SNOW'S VICTORY' in two lines on the face of the bottle. The reverse was probably used for a paper label. Western glass authority Warren Friederich notes that when comparing the typestyle on Snow's bottle and Dr. Wonser's Indian Root Bitters cylinder, the letter font is identical, even including the apostrophe on both bottles.
See the museum example of Dr. Wonser's U.S.A. Indian Root Bitters.  
John F. Snow
John Francis Snow was born in Burlington, Middlesex, Massachusetts, about 1820 and married Charlotte Lucretia Reed there on September 19, 1839. There is scant historical record of his early life until the middle 1840s when he opened a book stand in nearby Boston for a few years. By 1849, Snow landed a job as a policeman in Boston, even though he was listed as a trader in the 1850 United States Federal Census.
In 1852 Snow gave notice that he was leaving his job and Boston for California. The Boston Daily Atlas of January 14, 1852, reported, "On Monday evening, Mr. John F. Snow, an officer of the Washington Associates, Ex-3's, and also a police officer, who is about leaving with his family for California, was presented with a splendid revolver by the Associates, through Capt. A. F. Bressey." Snow must have gone directly to Marysville, California, for he and his wife are listed in the 1852 census.
Snow worked as a jailer for Yuba County until a startling jailbreak in 1853 involving his wife, Charlotte. This incident probably gave him pause about the safety of his job. His wife was seriously injured and awarded $100 for her heroism in attempting to stop the jailbreak. Active in his community, he served as First Lieutenant in the military unit "Yuba Guards" and was involved in the Eureka and Tiger Engine Co. The couple left California by 1857, but by 1860 he and his wife were back in their hometown of Burlington, where John Snow was briefly listed as a farmer.
Once again, John F. Snow departed Massachusetts for California, this time for San Francisco, arriving there on October 19, 1864. He began advertising his dyeing works business in early 1865. The 1865 San Francisco directory lists Snow as "coloring and cleansing gloves, silks, feathers, and agent patent medicines." While his period advertisements list the dye services, there is no mention of him representing or selling his hair dye, tonic or restorer. Snow was, however, an agent for Ring's Vegetable Ambrosia as early as 1865, which was an Eastern-made hair restorative. In the early 1870s, he advertised as an agent for Connell's East India Remedies.
See the museum example of Connell's Brahminical Moonplant East Indian Remedies. 
In 1874 John F. Snow placed an advertisement in the San Francisco Business Directory for his Snow's Victory Hair Tonic. The product was short-lived, attesting to the bottle's rareness.

John Snow was also involved with the California Centennial Exhibition. He was chosen as a delegate to judge San Francisco companies who wished to participate in showcasing business acumen, wealth and ingenuity for the Golden State. With the conclusion of the Exposition, Snow and his wife took a long vacation back east to Burlington to celebrate their 50th wedding anniversary in 1879.
Snow continued in the dyeing and cleaning trade for several years, apparently quite successful. He also invested in real estate and mining. By 1880, John F. Snow sold his business to his partner, Charles J. Holmes. In selling the business, Holmes also purchased the right to use his old partner's name. Within two years, Snow constructed a building directly in front of and on the same lot as his old business. Holmes was incensed and took Snow to court, beginning a multi-year legal morass. Snow gained his business name back and continued in the dyeing trade until he died, in San Francisco, on June 10, 1897. His wife Charlotte continued the business until she died there in 1904. They had no children.
Primary Image: "John F. Snow's Victory" hair tonic bottle imaged by Eric McGuire, FOHBC Virtual Museum West Coast Studio.
Support: Reference to Western Bottle News, Will the Real John Snow Please Stand Up! by Eric McGuire, January 2013 and various related posts by McGuire, Simi and Mlasko, 2013-2018
Join the FOHBC: The Virtual Museum is a project of the Federation of Historical Bottle Collectors (FOHBC). To become a member.