The Great Eastern
PATENT
The Great Eastern
PhiladA.
E. T. Whitehead

Edward T. Whitehead, Philadelphia, Pennsylvania
Aquamarine Quart
Provenance: Jerry McCann Collection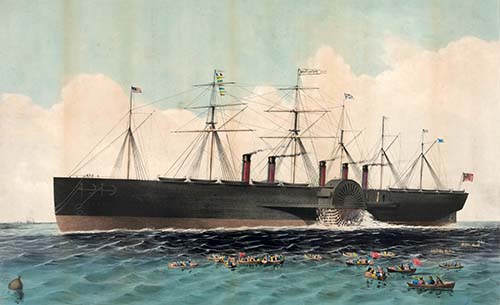 Our museum example of an extremely rare "The Great Eastern" jar is hand blown with an applied tooled lip. The face of the jar is embossed 'THE GREAT EASTERN' in a convex arch. 'PHILADa.' is embossed horizontally beneath. 'E. T. WHITEHEAD' is embossed in a concave arch beneath to create an ovoid shape with the typography. The word 'PATENT' is embossed on the face of the short neck of the jar. The aqua jar closure uses a stopper seal, threaded glass stopper-like lid that engages threads inside the mouth of the jar. The jar is only found in a quart.
The jar lid is embossed 'THE GREAT EASTERN E.T. WHITEHEAD' around the outer edge. There are two opposite-facing knobs on top. 'PHILADA' is embossed on the underside of the lid.
The patentee was Amasa Stone of Philadelphia, Pennsylvania on August 7, 1855. See our similar A. Stone & Co. Philada and A. Stone & Co. Cunninghams & Co. jars in the Museum Jar Gallery.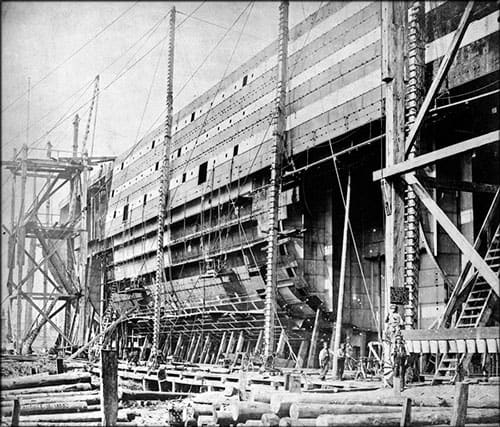 SS Great Eastern
The SS Great Eastern was an iron sailing steamship designed by Isambard Kingdom Brunel and built by J. Scott Russell & Co. at Millwall Iron Works on the River Thames, London. She was by far the largest ship ever built at the time of her 1858 launch and had the capacity to carry 4,000 passengers from England to Australia without refueling. The ship successfully laid the first transatlantic telegraph cable in 1866 allowing for the first time rapid communications between England and the United States. The event stimulated all manner of souvenir items including presumably this fruit jar that was made from an altered A. Stone & Co. jar mold.
Edward T. Whitehead and his company E. T. Whitehead & Co. were located at 131 Arch Street in Philadelphia, Pennsylvania. The company specialized in oils, lamps, chandeliers, and glass.
Primary Image: The Great Eastern Jar imaged by the FOHBC Virtual Museum midwest studio by Alan DeMaison.
Support: Reference to Red Book #11, the Collector's Guide to Old Fruit Jars by Douglas M. Leybourne, Jr.
Support: Reference to Fruit Jar Annual 2020 – The Guide to Collecting Fruit Jars by Jerome J. McCann
Support Images: Auction Lot 861: THE GREAT EASTERN PHILADa E.T. WHITEHEAD Quart, An aqua quart that was blown from a reworked "A STONE" mold to read "THE GREAT EASTERN PHILADa E.T WHITEHEAD". Original threaded glass stopper with correct GREAT EASTERN / ET WHITEHEAD lettering. Fine condition with no damage or stains. Even the internal screw threads are in good shape with minimal flaking, which is rare to find. There is a small flake on the edge of the glass lid. This fine example of the jar was obtained from the Alex Kerr collection. est 1,500-2,500. This item is from the Cay & Erv Bettinghaus Collection. – Greg Spurgeon, North American Glass
Support Images: Auction Lot 287: "The Great Eastern / E.T. Whitehead" – "Philada" Fruit Jar Lid, America, 1870-1890. Cylindrical with two raised circular lugs and screw threads, aquamarine with olive-yellow striations, ht. 1 1/2 inches, dia. 2 3/4 inches; (several chips on edges of lid, the largest being 1/2 inch). This lid fits jar L #1150. Generally fine condition. – Norman C. Heckler & Company