Joel Haines West Middleburg Ohio
Joel Haines
West Middleburg Ohio
Possibly Putnam Glass Works, Putnam, Ohio
Aquamarine Quart
Provenance: Ron Hands Collection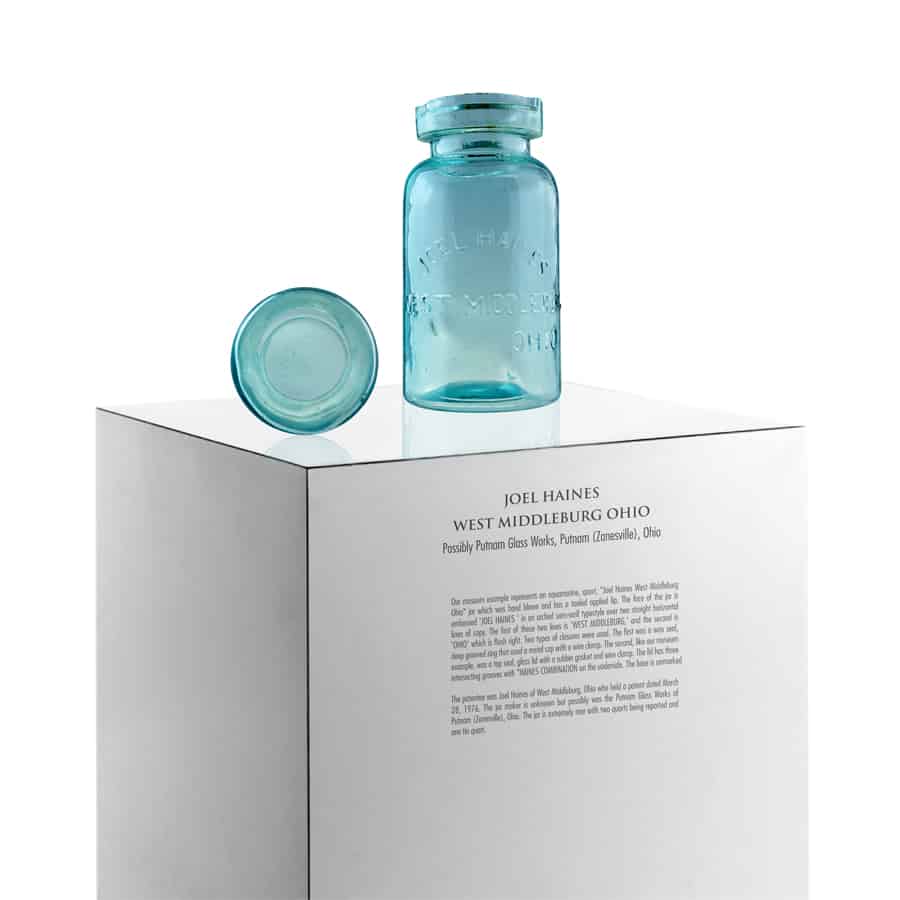 Joel Haines was an inventor living and working in West Middleburg, Ohio who developed a series of patents for fruit jars and other contraptions such as an Extension Table (1855), Planter Hand Seed (1857), Fence Connecting Panel (1859), Fence Field (1859), Fuel Dumper (1866), Show Case (1866), and Bucket Dinner (1867). Our subject Joel Haines jar was made circa 1867–1868.
This jar was probably the earliest of the family of Haines' fruit jars. The closure description was taken from a jar found with fruit inside and the original seal intact. The jar maker is unknown but possibly was the Putnam Glass Works of Putnam, Ohio. The village of Putnam was annexed by Zanesville in 1872. The jar is extremely rare with two quarts being reported and one tin quart.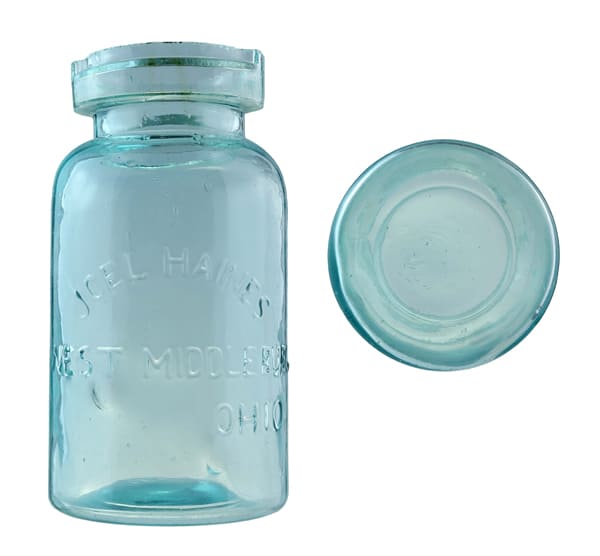 Our museum example is an aquamarine, quart jar which was hand blown and has a tooled applied lip. The face of the jar is embossed 'JOEL HAINES ' in an arched sans-serif typestyle over two straight horizontal lines of copy. The first of these two lines is 'WEST MIDDLEBURG,' and the second is 'OHIO' which is flush right. Two types of closures were used. The first was a wax seal, deep grooved ring that used a metal cap with a wire clamp. The second, like our museum example, was a top seal, glass lid with a rubber gasket, and wire clamp. The lid has three intersecting grooves with "HAINES COMBINATION on the underside. The base is unmarked.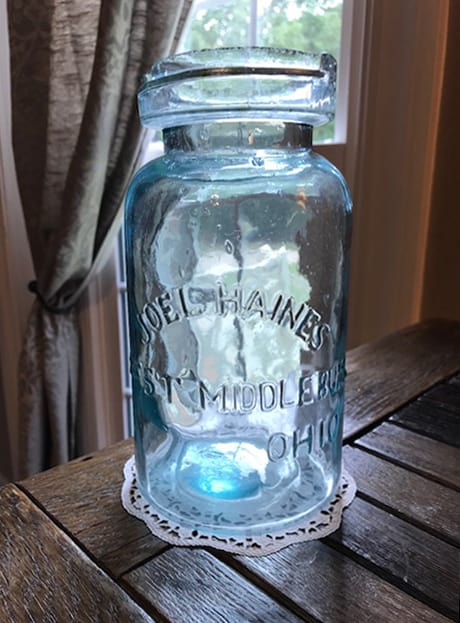 Primary Image: Joel Haines West Middleburg Ohio jar imaged on location by Alan DeMaison, FOHBC Virtual Museum Midwest Studio
Support: Reference to Fruit Jar Annual 2020 – The Guide to Collecting Fruit Jars by Jerome J. McCann
Support: Reference to Red Book #11, the Collector's Guide to Old Fruit Jars by Douglas M. Leybourne, Jr.
Support: Reference to The Kearns Glass Companies of Zanesville by Bill Lockhart, Pete Schulz, Beau Schriever, Bill Lindsey, and Carol Serr with contributions by Bill Barrett and David Whitten
Support Image: Auction Listing 2998: JOEL HAINES WEST MIDDLEBURG OHIO, quart, aquamarine, Closure: modern, Appearance: shiny. Condition: has a small reflective ding embedded in the glass in the back. Strength of embossing: strong. Base: unmarked. Age: late 1800s – Greg Spurgeon, North American Glass, September 2011
Support Image: Auction Listing 2362: JOEL HAINES WEST MIDDLEBURG OHIO, quart, aquamarine, Closure: made for a layered sealing disk tightened by a wooden bar that fits into the rectangular notches molded into the neck of the jar (closure not included). Appearance: sparkling with a faint trace of inside deposit. Condition: normal minor nicking of the ground mouth. Strength of embossing: strong (note the backward-embossed "N", a mold-maker's error, Base: "3", Age: late 1800s – Availability: rare Greg Spurgeon, North American Glass, April 2011
Join the FOHBC: The Virtual Museum is a project of the Federation of Historical Bottle Collectors (FOHBC). To become a member.