Figural Skull (Large Size)
Figural Skull
POISON
PAT. APPL'D FOR
PAT JUNE 26TH 1894
C. H. Lee & Co., Boston, Massachusetts
Cobalt Blue Figural Skull and Crossbones (Large size of three sizes) KU-10
Provenance: Michael Newman Collection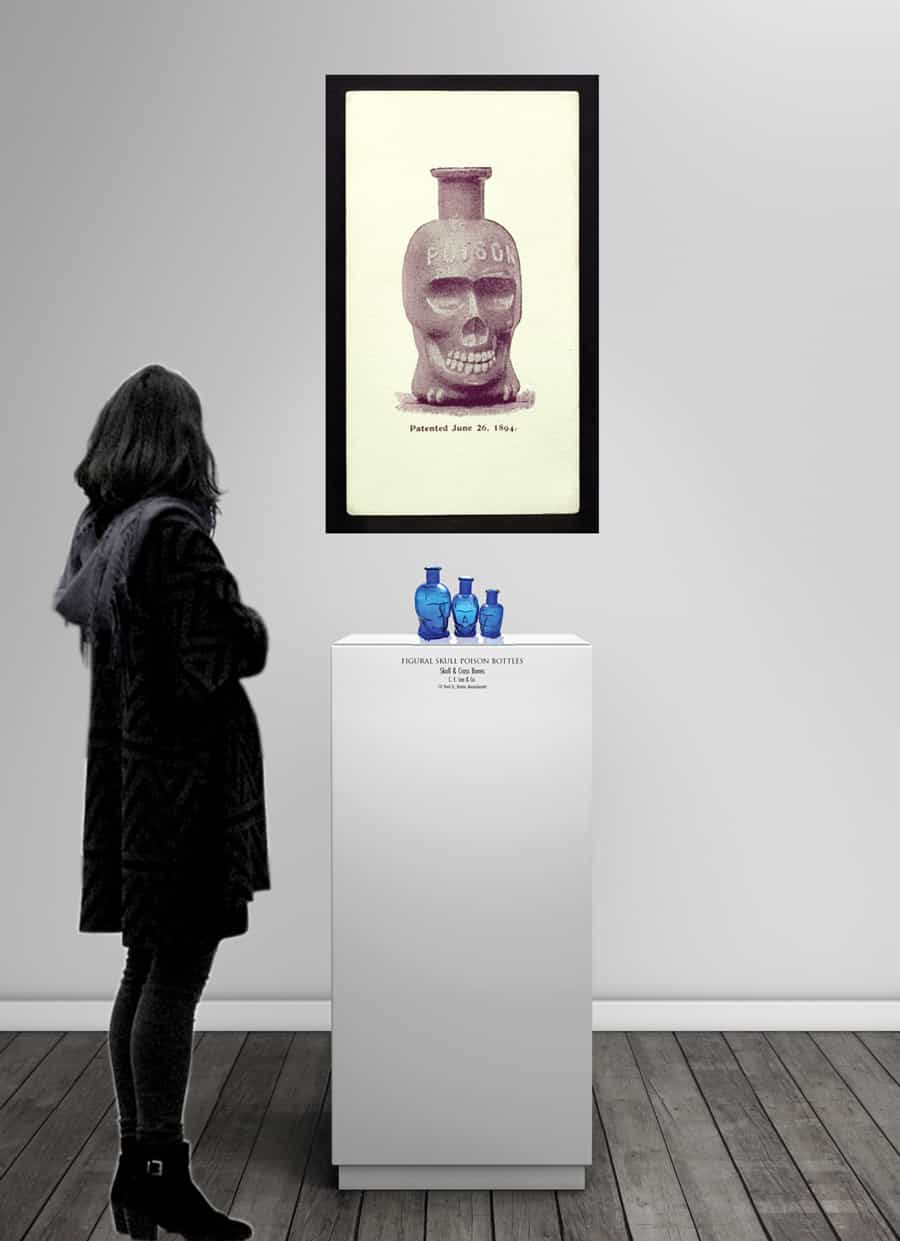 The three sizes of skull "Poison" bottles are classic figurals in the same league as the American Indian queens, log cabins, ears of corn, pigs, monuments, and other great bottles cherished by antique bottle collectors.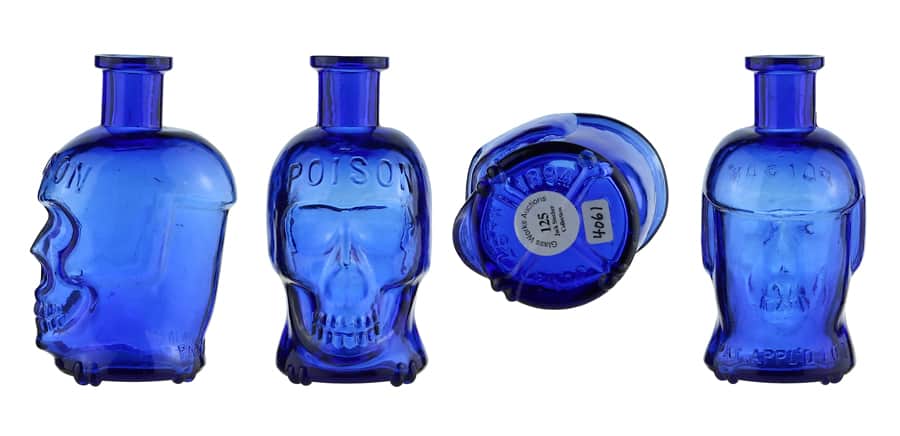 Our feature example is the larger size of the three cobalt blue glass skulls. The height is 4 1/8 inches tall and has the word 'POISON' embossed in a sans serif type on the contour of the forehead. On the reverse side of the skull, on the base, is embossed 'PAT. APPL'D. FOR' while the smooth base has embossed crossbones and copy in each quadrant reading 'PAT JUNE 26TH 1894.' The neck sits above the skull and has a tooled lip. The reverse is smooth and is where a red paper label was placed that told the nature of the contents. This size is not the rarest, but the large skull poison is one of the most desirable of all poison bottles. There is a Glass Works Auctions, Lot 125 sticker from the Jack Stecher collection. The bottles were sold from 1894 to a little after the turn of the century.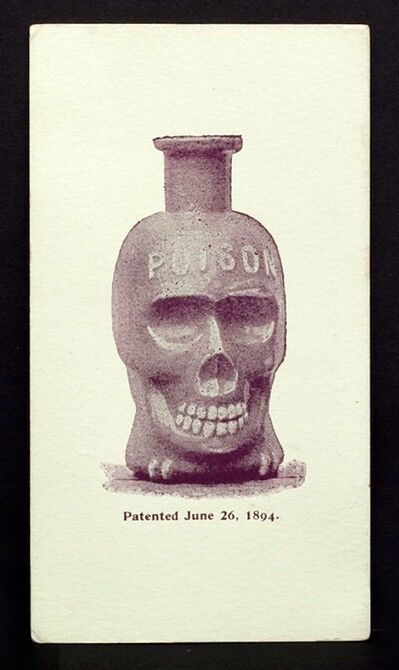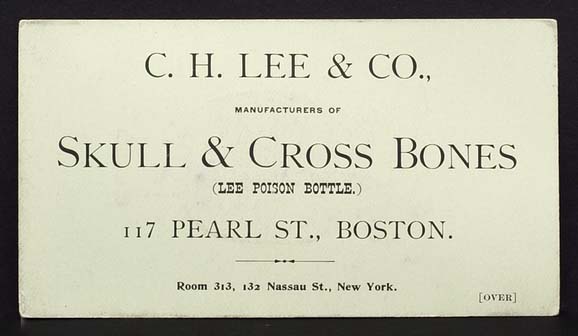 C. H. Lee & Company were the manufacturers of "Skull & Cross Bones" or the "Lee Poison Bottle." They were addressed at 117 Pearl Street in Boston, Massachusetts. They had a second office on Nassau Street in New York City, N.Y. Lee was not a druggist or doctor but a plain, everyday jobber in boots and shoes.
There is a little story that goes that his invention came to him in a peculiar way. To use his words, "a very dear friend of mine, the invalid daughter of C. H. Bowker, while groping about in the dark one night searching for her medicine, drank a solution of carbolic acid by mistake. The effect was frightful and almost fatal. I was immediately possessed with an idea to get up a poison bottle for universal use that would be distinguished from anything else, even by a blind man. Well, my reflections resulted in the glass skull. What could be more appropriate or better understood?"
The only criticism offered by the drug trade was that it might frighten sensitive people. Lee responded, "That is exactly what I wanted to do. I would rather be frightened than killed at any time."
Poison Bottles
Poison bottles were primarily for products and not for internal human consumption. Content possibilities were virtually limitless and included ammonia or other cleaning compounds, formaldehyde, insecticide or other pest chemicals, iodine, liniments, acids, embalming fluids, various antiseptic compounds, vaporizer substances, and many other substances which were known to be toxic if ingested.
To prevent mishaps that could be fatal, poison bottles were often given distinctive patterns or marked with distinct raised shapes, which were especially useful if you were fumbling to find a bottle by candlelight or sight impaired.
Antique poison bottles were made in colors like cobalt blue, inky black, and dark green with raised lettering or inlays spelling the words "Poison" or "Death" amid patterns of raised latticework, deep grooves, geometric shapes, and, most commonly, the skull and crossbones. Some of the more unique poison bottles from the late 19th century include a coffin-shaped bottle by James Bowles of Louisville, Kentucky, a femur-bone design by Edward Cone of Newark, New Jersey, and our subject skull-over-bones figural invented by Carlton Lee of Boston, Mass.
New York became the first state to require labeling with the word "poison" via an 1829 law. A few decades later, in 1853, the American Pharmaceutical Association passed a resolution that recommended using either the word "poison" or a death's head symbol—meaning a skull and crossbones—to label harmful contents. In 1872, the American Medical Association recommended both rough texturing on one side and the use of the word "poison."
It wasn't until the 1930s that the medical community realized that colorful and unusually shaped bottles attracted children's attention rather than repelled them, resulting in a switch to plainer bottles with safer lids.
Primary Image: "Figural Skull" bottle imaged on location by Alan DeMaison, FOHBC Virtual Museum Midwest Studio.
Primary Image Auction Description Lot 125: "POISON – PAT. APPL'D FOR," (Kuhn, KU-10), American, ca. 1895 – 1910, cobalt blue figural skull, 4 1/8"h, "PAT JUNE 26TH 1894" on smooth base, tooled lip. A less than pinhead in size flake is off the outer edge of the lip that we mention only for accuracy. Not the rarest, but certainly one of the most desirable of all poison bottles! Jack Stecher Collection. – Jim Hagenbuch, Glass Works Auctions, July 2015
Support Image: Auction Lot 241: (Image of Skull Poison) / "Patented June 26 1894 – C.H. LEE & CO., / MANUFACTURERS OF / SKULL & CROSS BONES / (LEE POISON BOTTLE) / 117 PEARL ST., BOSTON. / ROOM 313, 132 NASSAU St., New York." Original Skull Poison Trade Card, 1894 – 1900. Card measures 4 ½" x 2 ½", and is virtually perfect. Originally found in an old apothecary shop in Wales (England), early 1980s. As scarce and desirable as the bottles are, the trade card is 10 times more rare! Only a small handful of the trade cards are believed to be in existence. The ultimate 'go-with' for the poison collector. – John Pastor, American Glass Gallery, Auction #31
Support Image: Auction Lot 244: "POISON" – "PAT. APPL'D. FOR" Figural Skull, 1894 – 1905. Cobalt blue, figural skull on crossbones, tooled prescription-type collar – smooth (unembossed) base, ht. 2 ¾"; (a minor pinhead flake on the side of the lip; the top of the lip is a bit uneven and may have been lightly polished; a tiny potstone in the side of the bottle has a faint moonstone iridescence and line, barely visible without a loop, otherwise excellent). KU-10. The smallest and most difficult size of the three to obtain. Note; as mentioned, the base on this example is not embossed, and this smaller size is what most collectors consider the most difficult of the three sizes to acquire. The noted condition issues are all relatively minor, the bottle displays as near perfect. – John Pastor, American Glass Gallery, Auction #31
Support: Reference to Poison Bottles, CW, Collectors Weekly.
Join the Antique Poison Bottle Collectors Association.
Join the FOHBC: The Virtual Museum is a project of the Federation of Historical Bottle Collectors (FOHBC). To become a member.