Old Tom Parker Whiskey – E.A. KoLb
Old Tom Parker Whiskey
Trade Mark (Deer HeaD)
E. A. Kolb Co. Inc.
San Francisco

Edward A. Kolb, San Francisco, California
Red-Amber Fifth
Provenance: Ken Schwartz Collection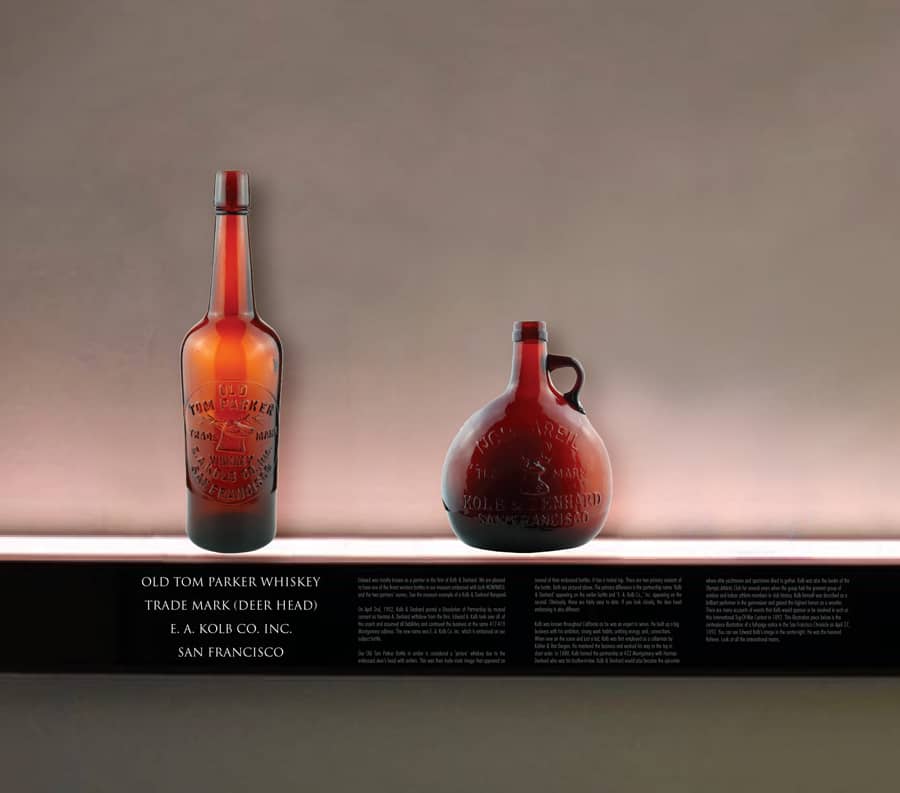 Edward A. Kolb accomplished much in his life which sadly ended early at the age of forty. His many friends, associates, and customers were shocked as news came to them that on January 22, 1904, Kolb died unexpectedly at his Palo Alto, California country home.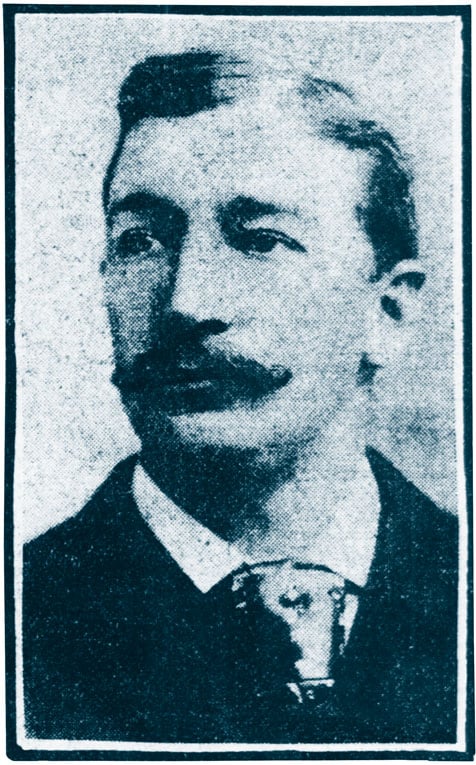 E. A. Kolb was widely known and grouped with a younger generation of merchants setting the business tone in growing San Francisco. Although his family had much concern over him in previous months, both they and his many friends were still shocked by his untimely death.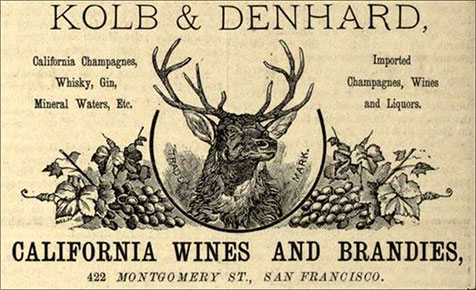 Edward A. Kolb was mostly known as a partner in the firm of Kolb & Denhard. We are pleased to have one of the finest western bottles in our museum embossed with both NONPAREIL and the two partners' names. See the museum example of a Kolb & Denhard Nonpareil.
On April 2nd, 1902, Kolb & Denhard posted a Dissolution of Partnership by mutual consent as Herman A. Denhard withdrew from the firm. Edward A. Kolb took over all of the assets and assumed all liabilities and continued the business at the same 417-419 Montgomery address. The new name was E. A. Kolb Co. Inc. which is embossed on our subject bottle.
In amber, Our Old Tom Parker bottle is considered a "picture" whiskey due to the embossed deer's head with antlers. This was their trademark image that appeared on several of their embossed bottles. It has a tooled top. There are two primary variants of the bottle. Both are pictured above. The primary difference is the partnership name 'Kolb & Denhard' appearing on the earlier bottle and 'E. A. Kolb Co.,' Inc. appearing on the second. Obviously, these are fairly easy to date. If you look closely, the deer head embossing is also different.
Kolb was known throughout California as he was an expert in wines. He built up a big business with his ambition, strong work habits, untiring energy, and, connections. When new on the scene and just a lad, Kolb was first employed as a cellarman by Kohler & Van Bergen. He mastered the business and worked his way to the top in short order.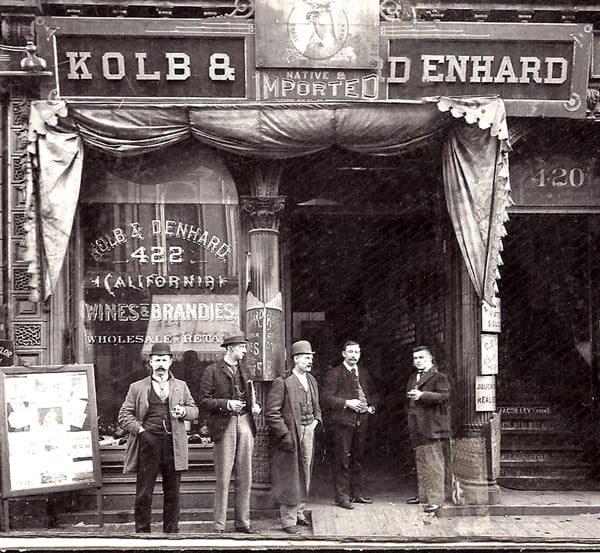 In 1888, Kolb formed the partnership at 422 Montgomery with Herman Denhard who was his brother-in-law. Kolb & Denhard would also become the epicenter where elite yachtsmen and sportsmen liked to gather. Kolb was also the leader of the Olympic Athletic Club for several years when the group had the greatest group of outdoor and indoor athlete members in club history. Kolb himself was described as a brilliant performer in the gymnasium and gained the highest honors as a wrestler. There are many accounts of events that Kolb would sponsor or be involved in such as this International Tug-Of-War contest in 1892. This illustration piece below is the centerpiece illustration of a full-page notice in the San Francisco Chronicle on April 27, 1892. You can see Edward Kolb's image in the center-right. He was the honored Referee. Look at all the international teams.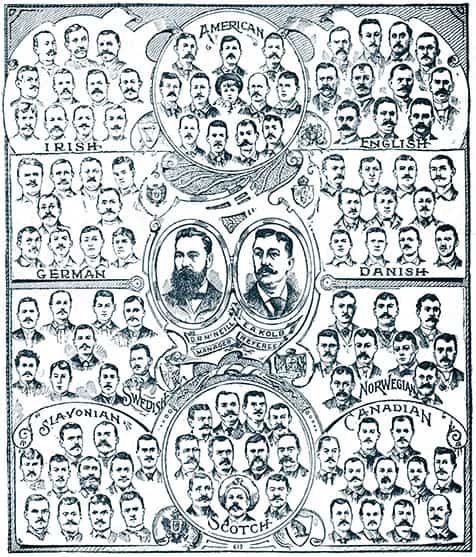 As the business thrived, Kolb was extremely pleased that his firm could occupy the vacant space created when Kohler & Van Bergen removed from their space. He was back to where he started as a young boy.
Unfortunately, this would all catch up to Edward Kolb as he suffered a nervous breakdown in 1903 brought on by his zest for life and his untiring work habits. He left his business and returned home to rest but this wish-for relief did not happen. He left behind his wife and five children and some great bottles with his name proudly embossed. The remnants of the business were sold to Golden Eagle Distilleries Company. Their proud eagle bottle is also represented in our museum. See Golden Eagle Bourbon.
Primary Image: Old Tom Parker Whiskey bottle imaged on location by the FOHBC Virtual Museum midwest studio led by Alan DeMaison.
Support Image: Second Old Tom Parker Whiskey bottle courtesy Jeff Wichmann, American Bottle Auctions.
Support: Whiskey Bottles of the Old West by John L. Thomas, 2002
Support: Hand of Death Stills Heart That Throbbed With Kindness, The San Francisco Call, January 23, 1904